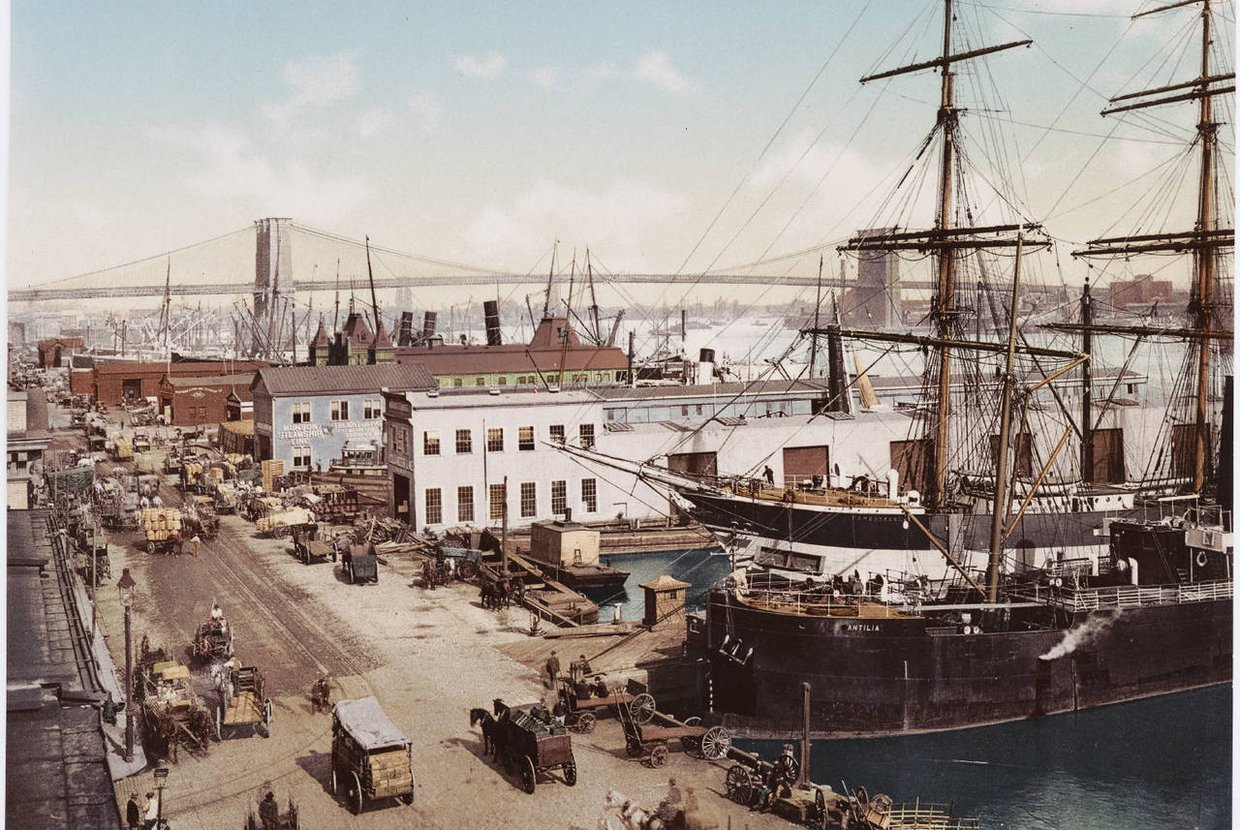 Howard Hughes Corporation's highly controversial plans to build a supertall luxury residential tower got some serious revisions earlier this summer. Howard Hughes CEO David Weinreb wrote a letter to Mayor De Blasio ensuring they are "working on a significantly revised plan to address the height issue...following thoughtful planning and discussions with local officials and members of the community."
Plans for the 494-foot striated tower has been maligned for clashing with the architecture and history of the buildings that make up the South Street Seaport and its surrounding area.
The developers, who own the Seaport in full, have long countered that the multi-use residential and retail building will infuse the Seaport with much needed community amenities.
The history of the South Street Seaport dates back to its earliest days as a 17th century port. The Dutch West India Company founded an outpost there in 1625, bringing rapid growth to the area.
Pearl Street, aptly named for the prevalence of coastal pearl shells lining it, became its most highly trafficked trading post.
During the Revolutionary War, the British occupied the port, interrupting trade for almost a decade, but it quickly bounced back from the war, becoming one of the country's largest mercantile ports for maritime trade.
In 1822 the Fulton Fish Market opened in the Seaport, bringing immense commerce to the area and acting as the biggest wholesale fish market in the United States. The market was named for Robert Fulton, the engineering tycoon and inventor who developed commercial steamboat travel. He was also commissioned by Napoleon Bonaparte to develop the "Nautilus", the world's first usable submarine.
The market's reputation went downhill in the 20th century, when it became a notorious front for organized crime, with the Italian-American Mafia's "Five Families" conducting their nefarious business there.
Increasing real estate value in the area, as well as redevelopment pressure led the Fulton Fish Market to move to the Bronx in 2005.
The South Street Seaport Museum opened in 1967, but was redeveloped in the '80s to increase tourism to the marketplace and to bring preservation awareness to the early 19th century mercantile buildings along Schermerhorn Row on the south side of Fulton Street. The museum now sits in the Seaport's 12-block historic district.
Fulton Street's architecture remains largely preserved, with cobblestone streets and original dutch buildings housing the restaurants, shops, and bar that line the street. It's also home to The Bridge Cafe, one of the oldest bars in New York.
When Hurricane Sandy ravaged the Seaport in 2012, The Howard Hughes Corporation decided to tear down Pier 17, its prominent shopping area, and replace it with a new, super luxury multi-use space that will incorporate their controversial luxury tower.
For now it seems, the fate of this development, and its effect on the historic Seaport, remains to be seen.