10 Luxurious Homes Over $10M
Stephanie Lovelle
| September 09, 2015 | Published in
Neighborhood News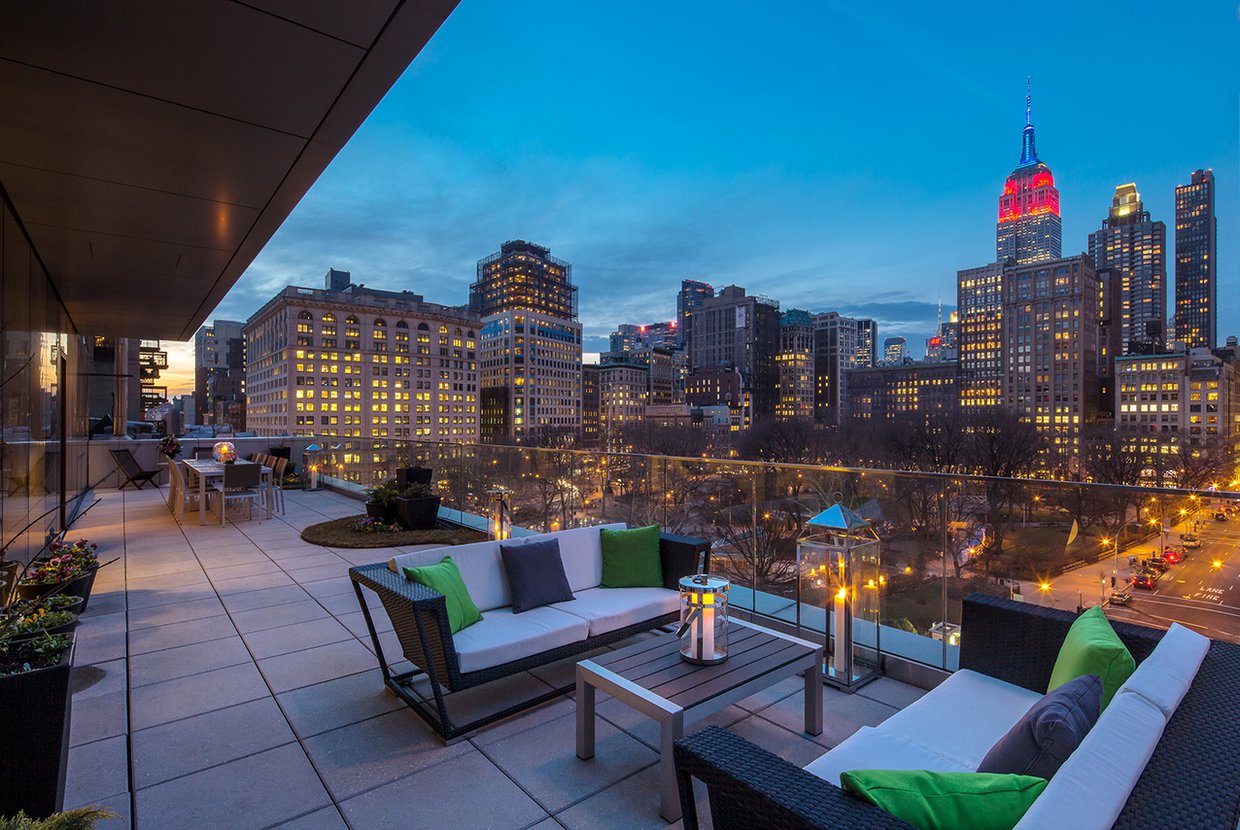 With the consistent development of new luxury towers, it may be difficult to sift through all of the options throughout the city. Among them, are some of New York City's most jaw-dropping, luxurious and priciest listings.

Feast your eyes on these 10 homes over $10M.
The Atelier, APT 45FLR — $85,000,000
There's plenty of room on the 45th floor of The Atelier.

One of the reasons to point out this unique is that the whole 45th floor is for sale. With a total of 10 bedrooms and 13 bathrooms, the $2M construction credit, included in the condo's price tag, permits knocking down a few walls to create a massive penthouse. (The highest listing for a pre-made penthouse in the building is set at $3M.)
Not to be confused with The Atelier in Lincoln Square, this 2006 development located at 635 W 42nd Street in Midtown West, makes for great consideration due to its unobstructed views. Standing tall next to the Hudson River and a rooftop view of Manhattan comparable to the skyline view while crossing the Brooklyn or Manhattan Bridge, there's no shortage of reasons that this listing is grand.
One Beacon Court, PH51/52W — $79,000,000
A penthouse duplex, this penthouse is the only duplex at this location. Sporting a stunning Central Park view, the 24' ceiling is the interior definition of being taken to great heights. Natural lighting decorates the space due to an abundance of windows, a characteristic that further highlights the large amount of spaciness within these walls.
Also referred to as Bloomberg Tower due to Bloomberg L.P. offices located below the residences, One Beacon Court is a true darling of Sutton Plaza. The penthouse (4-bedroom, 5.5-bathroom), comes in on the list as one of the more spacious listings. At a whopping $71,950,000M more expensive than the second priciest listing at One Beacon Court, sealing a deal for this home is sure to turn heads.
The Puck Building, PH 1 — $66,000,000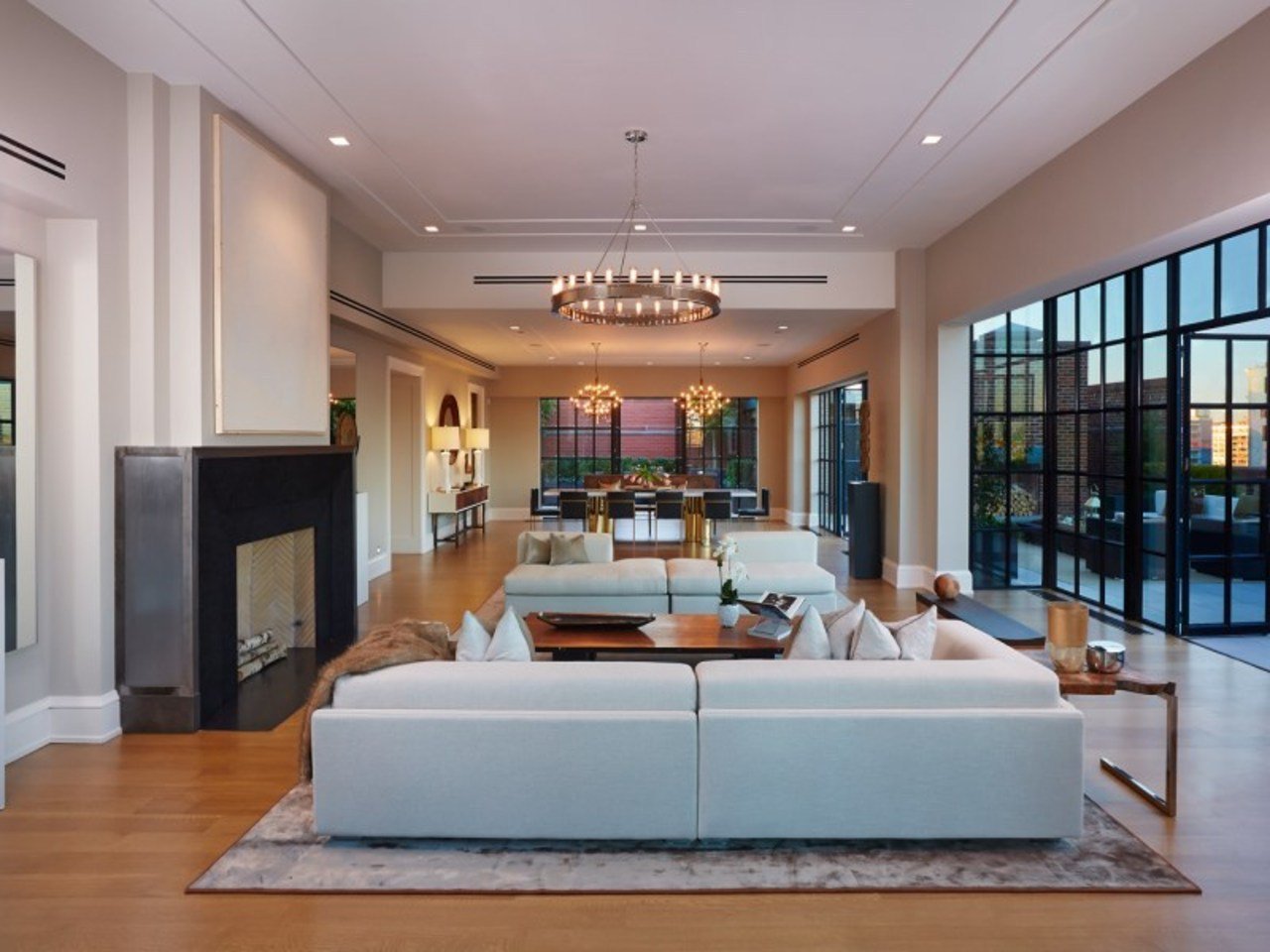 Much like its Nolita location, Penthouse 1 of The Puck Building has a keen point-of-view for the old and the new. Complete with a gym, home theater, and wine cellar, if it's to sell, it'll hold the record in Downtown listings. Its penthouse brethren are just as gorgeous and grand but it's this 5-bedroom, 6.5-bathroom pad that reigns supreme in price.
Guarded by Shakespeare's character, Puck, from A Midsummer's Night Dream, the building was designed in the German Rundbogenstil variety of the Romanesque Revival style by Albert Wagner between 1892 and 1893. The building served as the printing location for the first successful satirical magazine, Puck Magazine, which was founded by Austrian-born cartoonist Joseph Ferdinand Keppler and printed in both English and German.
737 Park Ave., APT 12A — $25,000,000
Within this pre-war, Park Avenue building in Lenox Hill lies the classical charm of Apt. 12A.
The apartment relies heavily on a color palette where natural light bounces off the corners and fixtures of every room, with oak flooring providing further contrast. (Along Park Avenue are 14 windows that trail the living and dining area.)
A massive space that includes 5-bedrooms, 7.5-bathrooms, the minimalism of color adds a very homey feel to the space and also leaves room for the addition of other design elements.
Time Warner Center, APT 70B — $24,750,000

There's something rather retro about this apartment in Lincoln Square's Time Warner Center. Guaranteeing a stunning view overlooking Central Park, t's design and layout is meant to be a hybrid of loft and traditional apartment living. Through paintings and pops of dark blues and purples, carefully accenting wall and ceiling space, there's a sense of interior uniqueness from most of the other places on this list.
The developers, The Related Companies, were also involved with the redesign and planning of another list maker, One Madison.
High-end brilliance, indeed, runs in the family.
The Carhart Mansion, APT Duplex — $34,900,000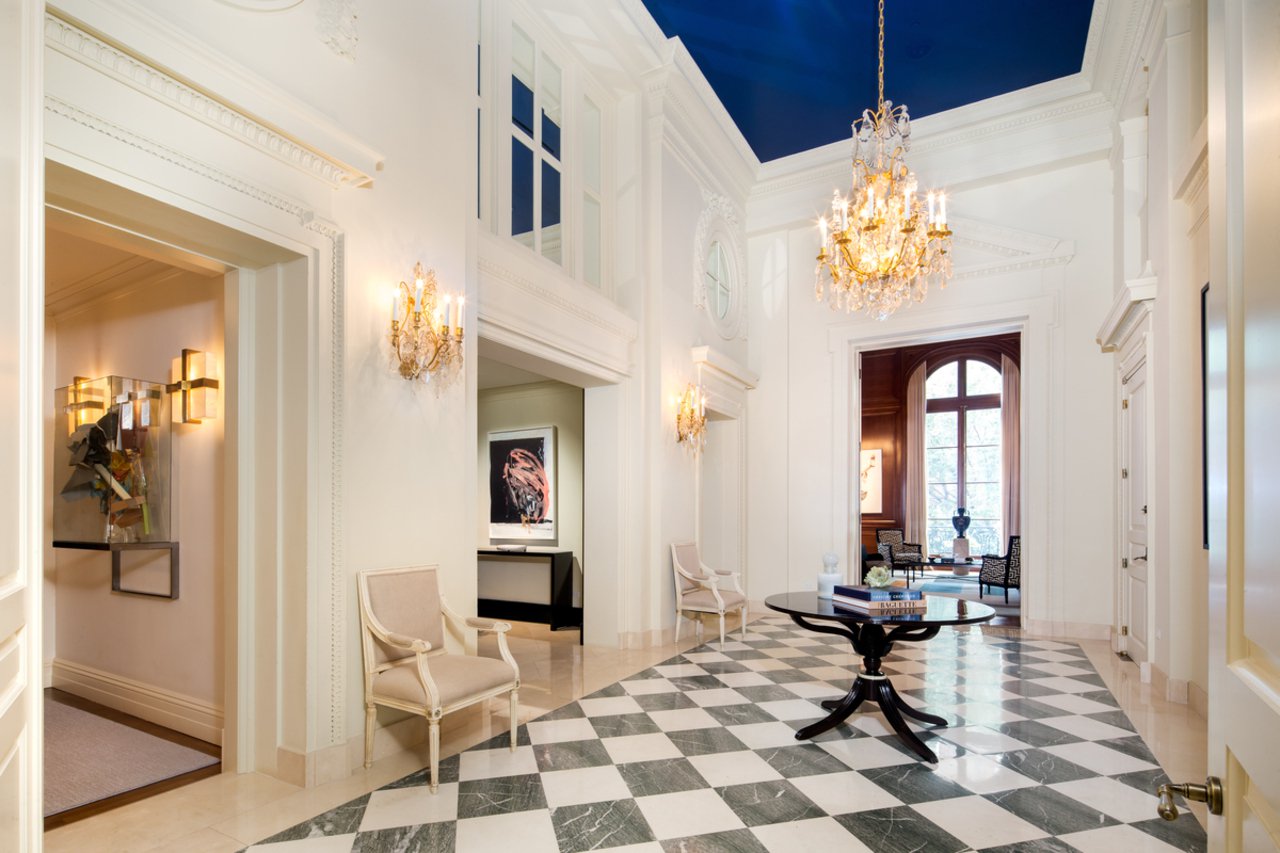 Tucked away in Carnegie Hill is the Central Park adjacent Carhart Mansion, this stately listing has includes 7-bedroom, 6.5-bathroom, and hosts a total of 17 rooms, including spaces and features like a breakfast room, an exercise room, staff room, playroom/media room, a library and a his and her dressing room within the 2-story master suite.
A play on the original designed in the French neoclassical style by celebrated architect Horace Trumbauer in 1913, this version was conceived by Zivkovic Connolly Architects and London-based architect, John Simpson, winning the Palladio Award for Classical Architecture and the Carnegie Hill Neighbor's Association Enrichment Award for its continuation of Carnegie Hill's rich architectural history.
7 E 84th Street — $29,000,000
This building on the affluent Upper East Side comes in as the oldest on this list, built in 1884. This Regency-style Flemish red brick mansion, which has a total of 6 floors, 6-bedrooms and 9-bathrooms, is a stone's throw from Central Park and two block walk to Manhattan's most expensive street, Fifth Avenue.
The grand kitchen trumps all other examples of a chef's kitchen with its massive amount of prep and storage space. The parlour and bedrooms don't skimp on space and appear ready-made for an exhibition.
95 Charles Street, APT 1 — $16,250,000
One of the misconceptions about city living is that unless you live in a single-family home, you're quite unlikely to have decent yard space, if any at all.
But alas, here you have a 4-bedroom, 6-bath quadruplex in the West Village that provides a sizable garden that gels naturally with the space. With its three other bedrooms on the third floor, the master claims the second floor to itself for a more private feel in the home.
Built in 2002, 95 Charles stands on the lot of what was a 20th century loft building. This condo, just off of Bleecker Street, is a rarity in the city considering the huge, multi-floor space complete with a garden, media room, recreational room two offices, not to mention its location and its price tag.
200 Eleventh Avenue, APT 1 — $19,900,000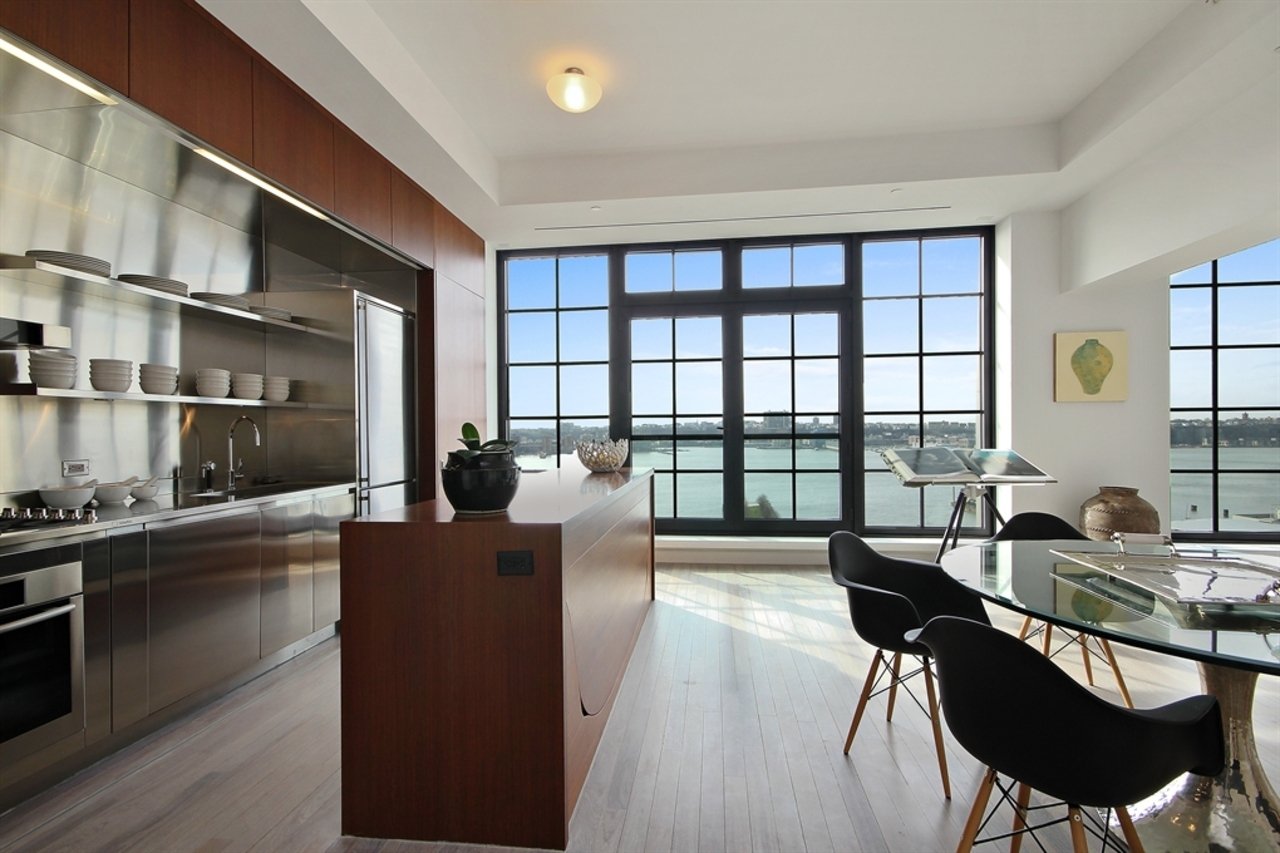 Parking in the city isn't particularly easy so it's quite a curiosity that no one's picked up this lavish listing. 200 Eleventh Avenue, often referred to as the Sky Garage building, was designed by Annabelle Selldorf, whose credentials can be spotted around the city. In Chelsea and steps away from the High Line, this 3-bedroom, 3.5-bath has an outstanding view of the Hudson River. Its two terraces weave together the outside and in, a statement of a refusal to ignore the up and coming area of West Chelsea.
At 19-stories high, there are only 15 luxury condos, highlighting the buildings exclusiveness.
One Madison, Apt 8FLR — $10,495,000
Just try to say no to One Madison. Coming in the closest to $10, this 3-bedroom, 3.5-bath apartment keeps it simple.
Conveniently located in the Flatiron and formally known as One Madison Park, the building plans were once at risk of being dropped but like a phoenix, One Madison rose (60-stories) from the ashes of its predecessor into a quintessential idea of luxury.
The interior is about standing out through traditional charm compared to a use of overwhelming statement pieces without sacrificing luxury or being too bland. Generally, there are two apartments to a floor but buying this listing is to have the entire 8th floor to yourself. Its terrace, which wraps around two sides, gifts you with views of city standards like Madison Square Park and the Empire State Building.