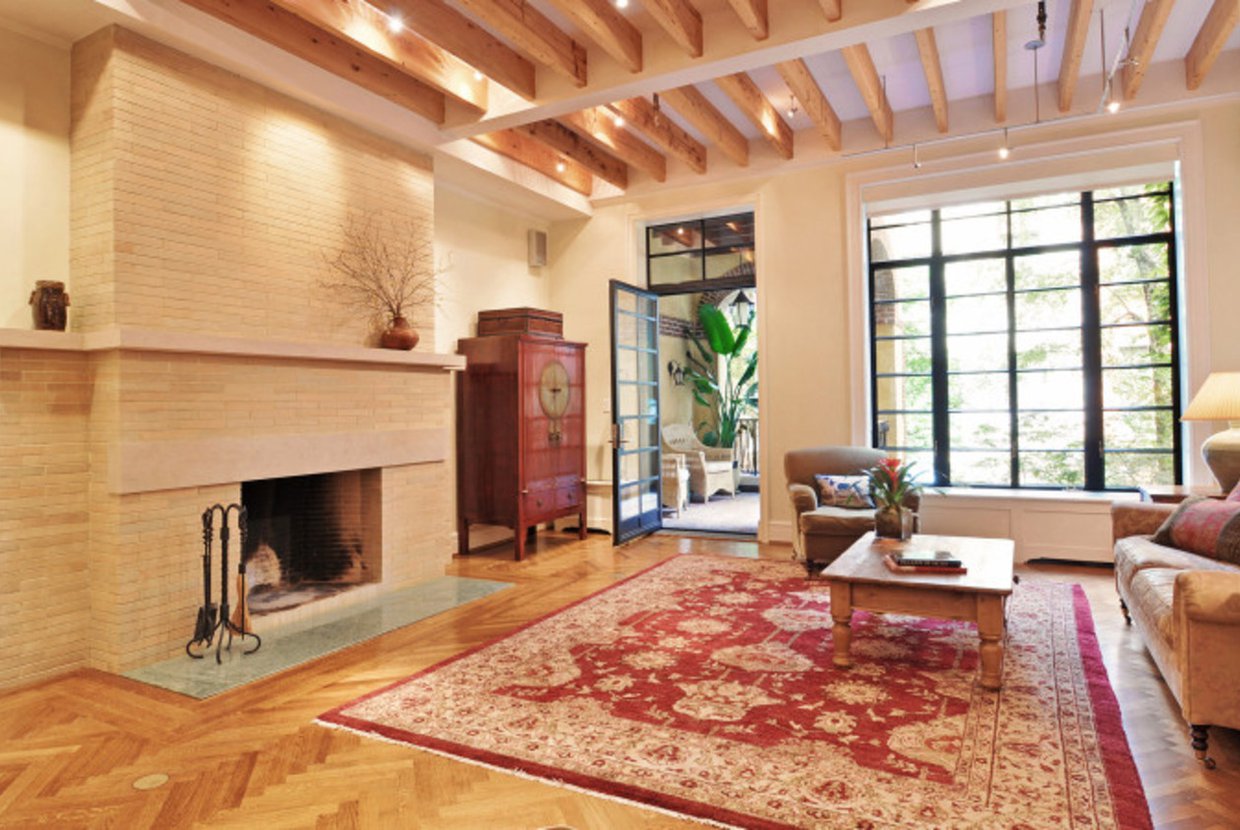 With most developments appearing restricted to luxury high-rises, single-family townhouses are increasingly hard to come by in Manhattan. But a lack of "standard" houses on the market doesn't mean there aren't any worth considering— it's just a matter of which ones are on the market. Here are seven that are up for grabs.
31 Morton St — $6,499,000
There's a sense of natural character with homes built in the 1800s. What's interesting about this 1852-built townhouse is its dedication to a more classical exterior that may even suggest architectural charm that predates its year of completion. A trace of the West Village's past, the townhouse slightly strays away from the bohemian lifestyle of the West Village and the norm of new developments.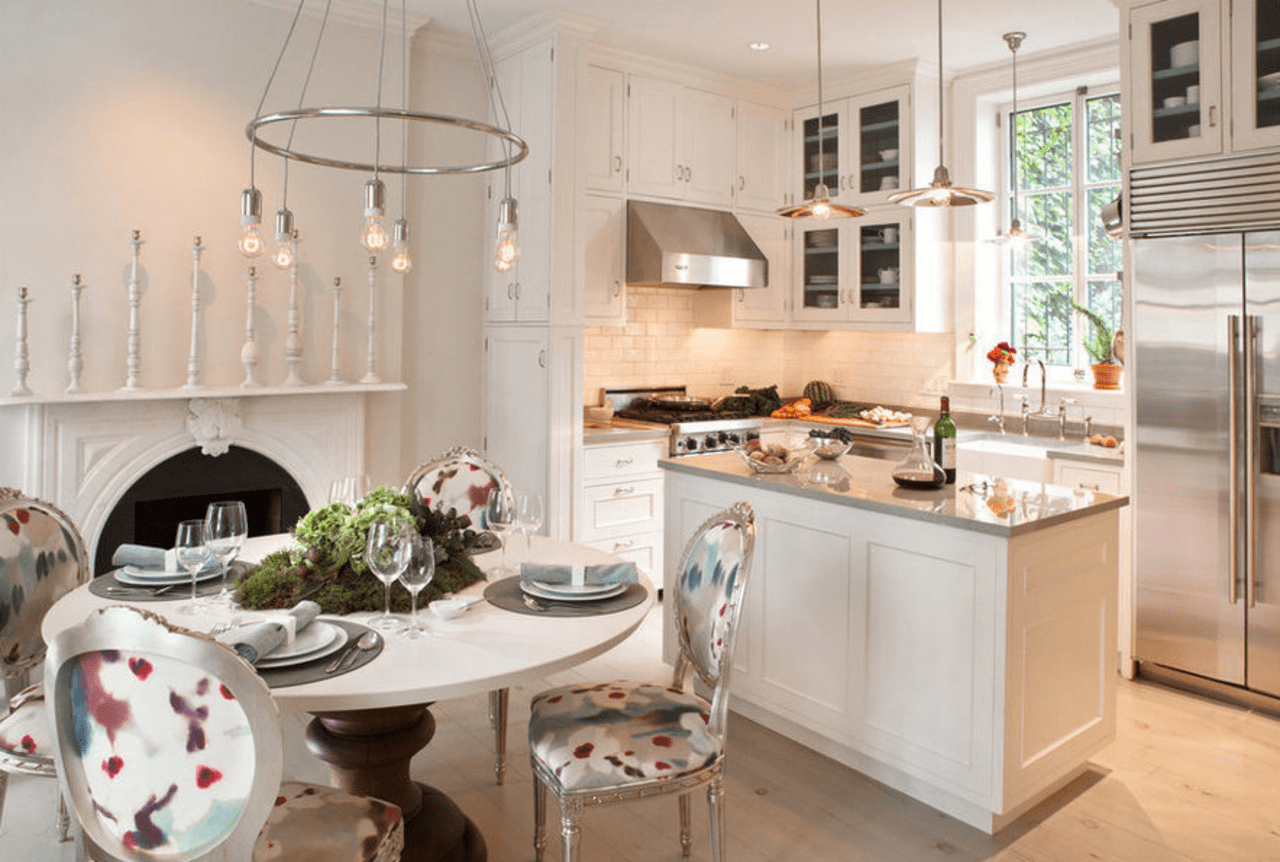 Despite renovations, the townhouse stays true to some of its original beauty. You'll get additional warmth in colder weather from the three wood burning fireplaces stationed around the home, complete with nineteenth century marble mantels. The pinewood floors, which are complemented by natural sunlight that bounces off the silvers and whites of modern amenities and cabinetry, were restored to premier form.
At a 22 foot width, the building doesn't overwhelm. Its layout is unique and relies on simplicity by dedicating its space to fewer rooms: the parlor possesses the dining area and kitchen; the first floors holds a den and guest bedroom; the third is devoted to the living room; and the fourth contains the master suite. The layout shouldn't turn a potential buyer off, options exist in converting the space (turning the first floor into a living room and turning the third into bedrooms), into something more practical and suitable for your needs.
52 W 10th St — $8,990,000
Approximately an 11 minute walk from 31 Morton Street, is 52 West 10th Street. An older townhouse built in 1830, this home assumed its space on one of Greenwich Village's quaintest townhouse blocks, between Fifth and Sixth Avenues.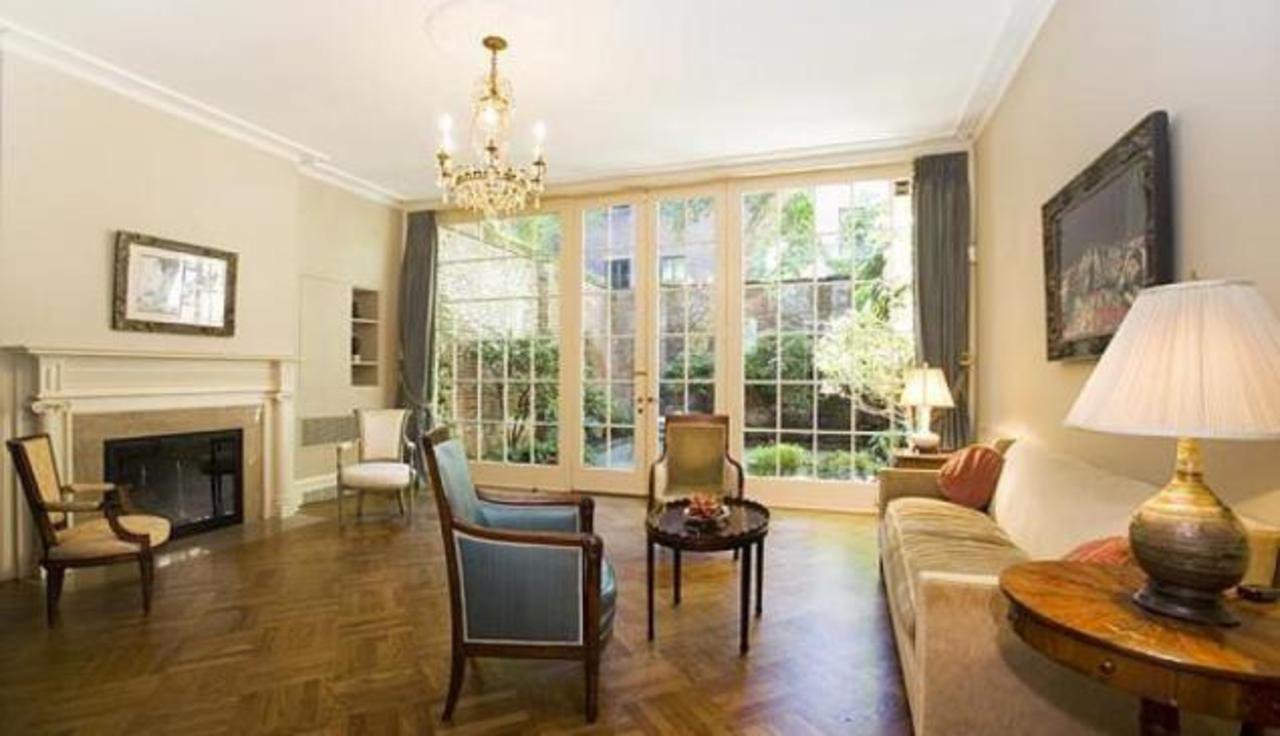 This three-story, Federal-style townhouse also retains much of its historic and traditional detail, all of which promises charm. One of the more noteworthy qualities about the home is the brickwork. The facade, garden and second floor terrace all have largely intact brick that expresses the home's overall age and seniority appeal in comparison to its 10th Street brethren. Classic, dark brown wood flooring resembles that of a brownstone that also kept to original details, and what would otherwise be dark, ominous rooms are brightened with natural light, and white and cream-colored wall and ceiling tones.
Also a wide home, there are four spacious bedrooms to choose from, all of which divide between the second and third floors. The home does come with a garage, definitely not an amenity of 1830, but nevertheless a plus in city living.
241 W 17th St — $9,995,000
If the luster of historic prominence isn't quite your style, this five-story, modern townhouse might be your cup of tea. This townhouse is full-on symbolic of the ultra-hip, ultra-luxe Chelsea vibe. Reminiscent of the art galleries that trail the elevated High Line park, this townhouse is striking and polished.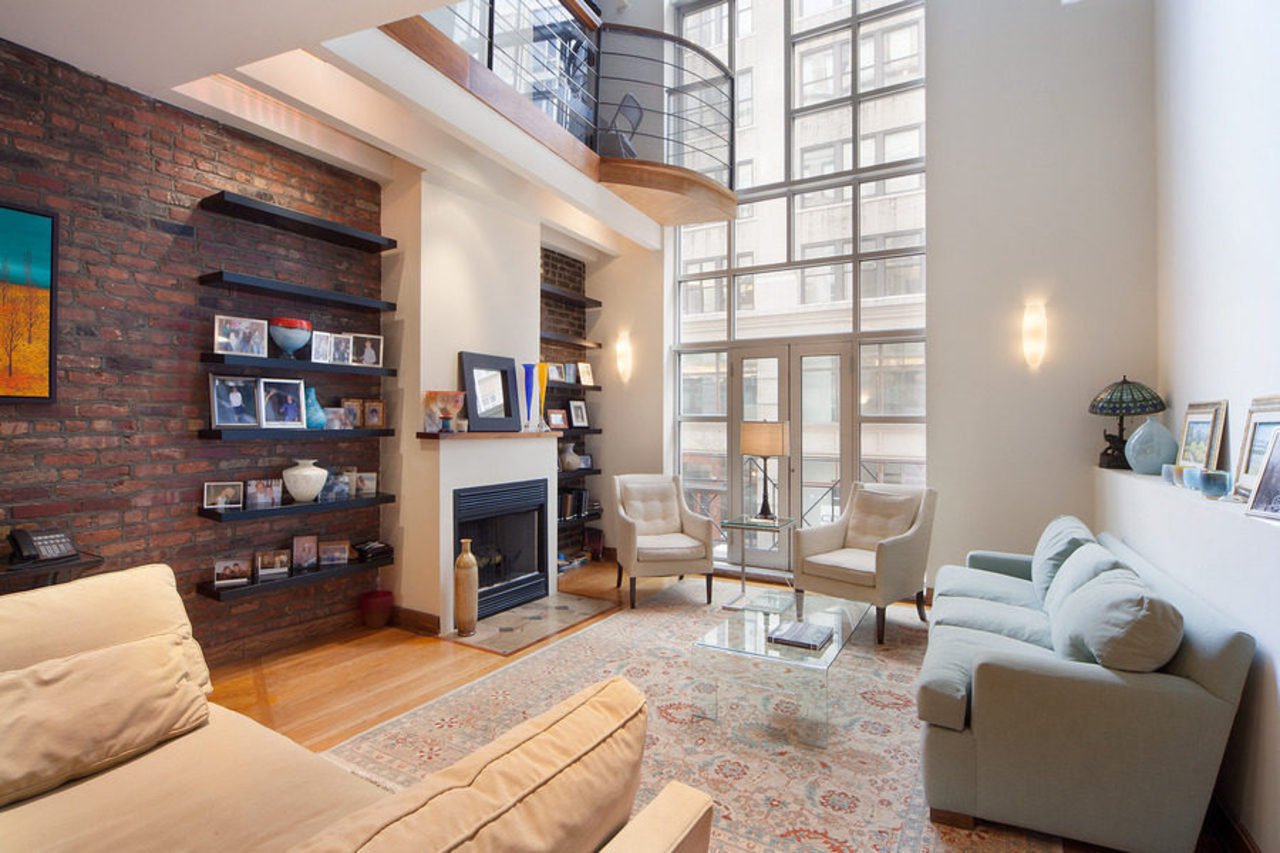 Unlike the previous two homes, there's no yard space, but there's a generous offering of three Juliet balconies and terraces. (The living room, master bedroom, and the fourth floor, street-facing bedroom have balconies, while the smaller of the two back, fourth floor bedrooms has a terrace. The rooftop also has a terrace divided into an upper and lower deck.) A highlight of the townhouse is the fifth floor dedication to the master suite, designed for complete coziness, with its wood-burning fireplace, large windows, and spa-quality bathroom.
This is a home that might actually enable you to check off all of your buyer requirements. Have a car? There's a garage for that! Not too keen on walking up five flights of the cantilevered steel staircase? Feel free to take the elevator! Prefer to keep the home strictly for the family, or need peace and quiet when you're working? There's an entrance that leads to a separate apartment suitable for guests, a live-in housekeeper, or an office space!
There's no denying this home has you covered.
12 W 83rd St — $11,500,000
When you're looking for a single-family townhouse, it doesn't hurt that this four-story house is just steps away from the Museum of Natural History and Central Park, approximately nine minutes from the Children's Museum of Manhattan, and under 30 minutes by foot or train to reach Lincoln Center.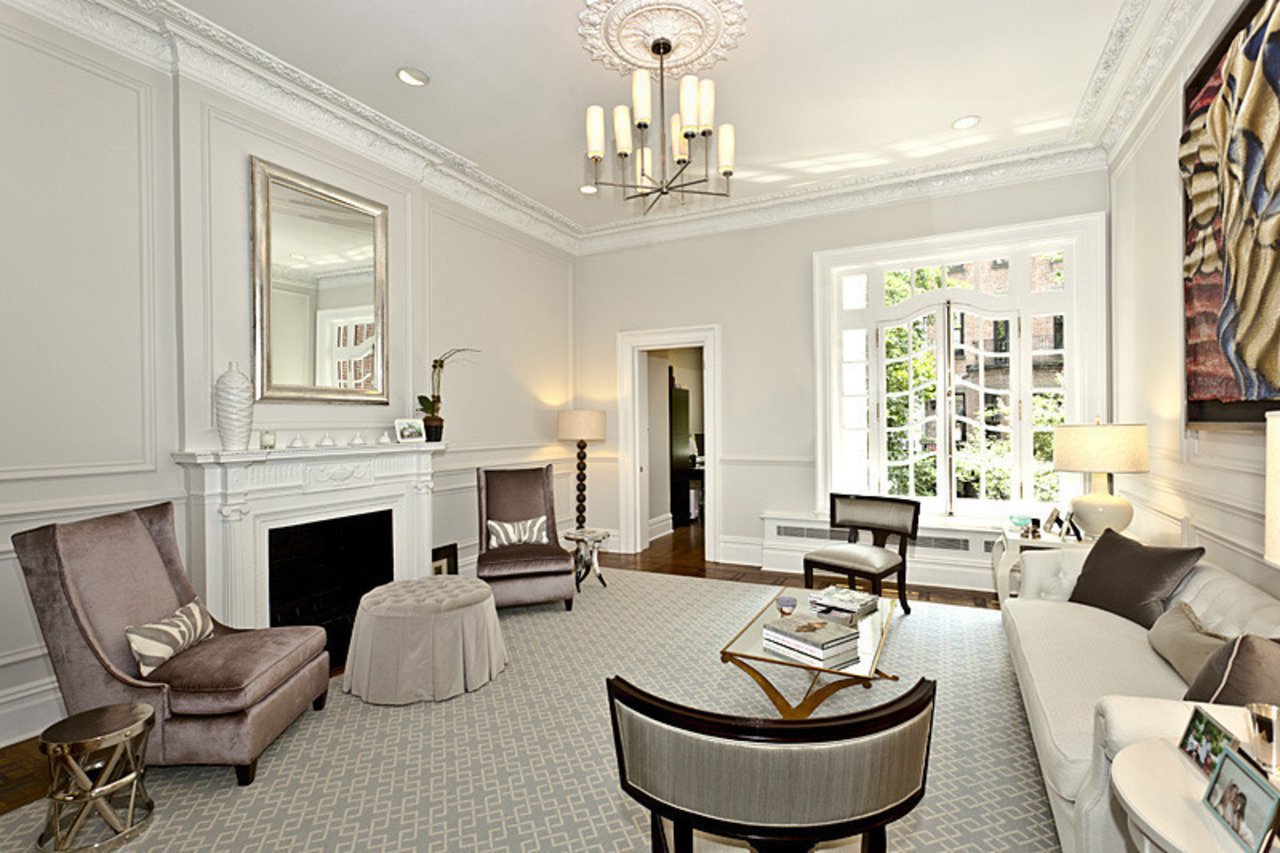 Built in 1890 and located on the Upper West Side, it's one of the original five brownstone townhouses to be built in this landmarked historic district. There are hints of countryside charm in its southern exposures over the garden, pure and polished color choices that highlight the gorgeous hardwood floors, original moldings, window panes decorated in floral designs, and the massive kitchen, living room, library and den areas.
The attention to original details and the work put into restoration and renovation creates a home flush with tranquility and a great example of luxe, single-family living in a beautiful Manhattan location.
22 E 78th St — $12,500,000
Across the park from 12 W 83rd Street on the Upper East Side is this 1910 brownstone townhouse. Conveniently close to Central Park and falling between Fifth Avenue and Madison Avenue, 22 E 78th Street is a fine example of a luxurious single-family home.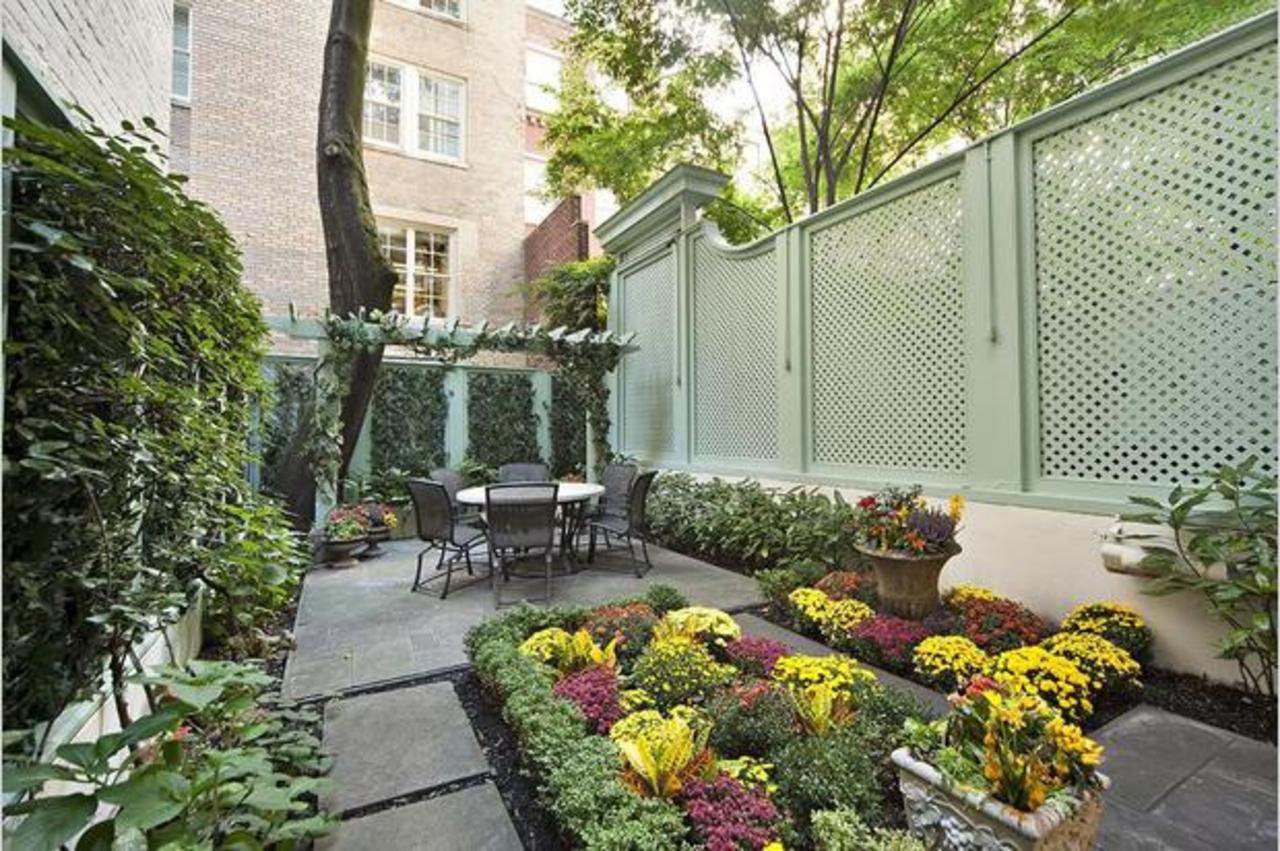 Accented with dark browns, tans, silvers, and golds, the effect is a home that exudes an elegant appeal, typical to its Venetian style choice. One of the finer notes of the home is the garden patio. Roped in greenery and vibrant flowers, there's the chance of second guessing whether you're still in the city or in a garden designed for European royalty. Its dining area, expansive in size and lavish, has the resemblance of a jewelry box, its design stitched together in blacks, silvers and golds, awaiting to be filled with new memories of family gatherings or a simple weeknight meal.
This Upper East Sider, appearing reasonably slim and tiny on the outside, truly packs a punch of grandeur behind its double wrought iron doors.    
41 W 70th St — $17,900,000
The outside of this Gilbert A. Schellinger, 1891 Renaissance-style, Lincoln Square townhouse looks typical of New York housing architecture, but the inside hosts a warm welcome of Spanish/Mediterranean style influence among its more traditional details.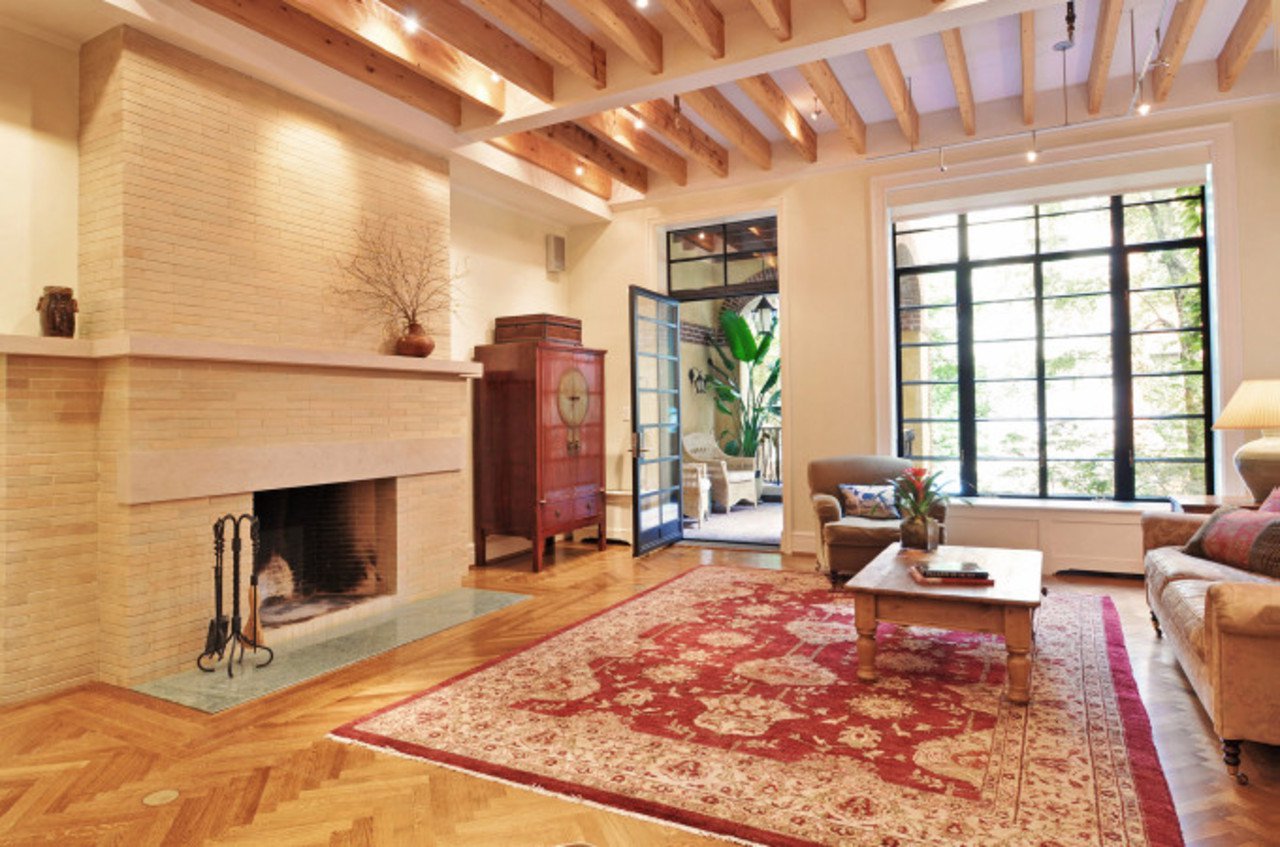 The interior was completely demolished, rebuilt and eventually renovated to its current modern layout and style. Its low ceilings, terracotta kitchen floor, brick laced porch arches, and an interior palette of warm colors (although, the warmth may also come from the four wood-burning fireplaces) consisting of yellows, oranges, light and dark browns, whites, and coppers creates an allusion to a Spanish style of interior design. With its sunroom, terrace, and porch, this is a home that longs to keep you close to the outdoors while also inviting the outside in through the its large, 7' x 7' steel casement, operable, windows.
The cellar holds a room that can easily become a playroom or a gym while the fifth floor has a room suitable for a den or office. Since there's a work room in the cellar, a potential idea is to have a designated gym area in the cellar, making the entire space a complete sanctuary. The den/office could then be turned into a recreation room.
47 W 9th St — $26,000,000
The final townhouse takes us back to Greenwich Village. Located conveniently close to Washington Square Park and an decent stroll to Union Square, this home is perfectly situated in a neighborhood with numerous options of places to eat and shop.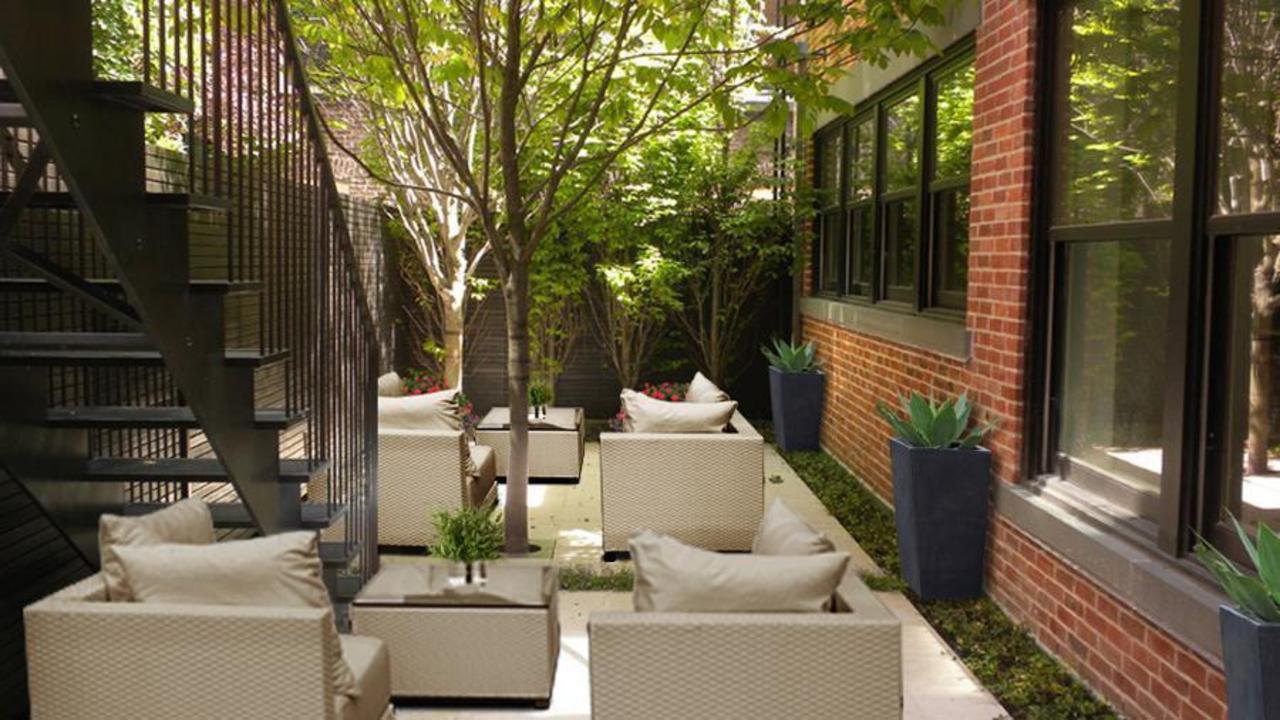 A total of five floors, the home was designed with total luxury in mind. The third floor is dedicated to the master suit, keen to impress not just with its double bathrooms, fireplace, and sitting area but the suite is highlighted by the lengthy terrace with a stairs leading to the parlor level terrace and the lower level garden. Promising hours of entertainment is the home theatre, the only home on the list to feature one. However, it's not the only unique amenity as the basement level also contains a bath and steam room and wine cellar. Here's to you, homeowner.
The single-family home is a special thing. They are the townhouses that, like skyscrapers and fire escaped apartments, symbolize the glow of old New York City. So when your moving options may seem restricted to condos, co-ops, and rentals, keep in mind that these seven, city gems, and possibly others like them, are also out there waiting for you.