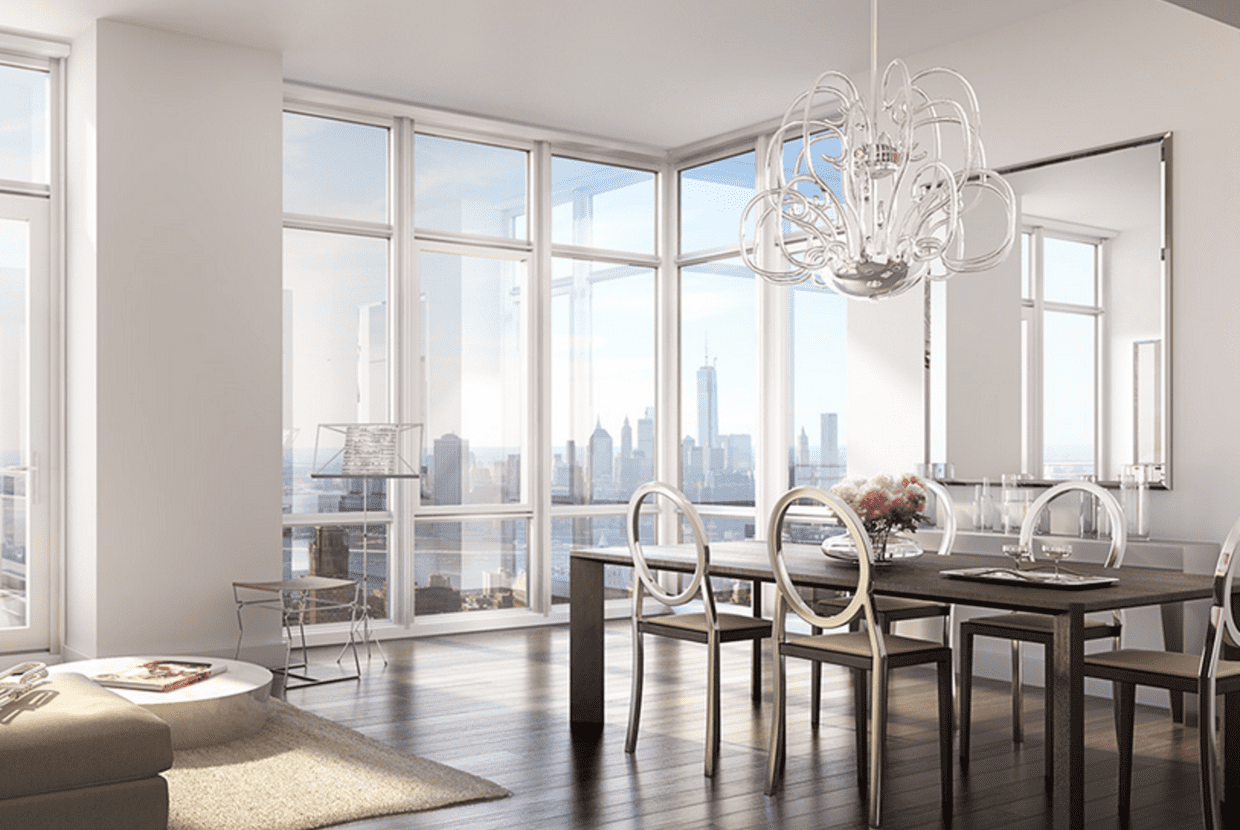 Brooklyn's development boom is not exactly news anymore, but the rate and scale of the residential projects taking over is truly daunting. According to the Real Deal, between January 1, 2011 and July 31st, 2015, Brooklyn's development has exceeded 41.6 million sq. ft., with close to 600 project and a whopping 45,359 apartments. More than 80 percent of those development plans have been submitted in the past two and a half years, with 534 projects and 38,375 residential units totalling 35.3 million sq. ft.
Of all the developers in the mix, Hudson Companies has dominated this most recent Brooklyn boom. Since 2011 the firm has submitted proposals for 14 projects with 2,307 apartments and 2.71 million sq.ft. Gowanus Green promises to be the largest of their endeavors, which is a rental and condo project spanning eight towers and totalling 790,000 sq ft.
The runners-up for developers with the most projects on the horizon are Two Trees Management, Forest City Ratner, and the Rabsky Group, with 1.96 million sq. ft., 1.92 million sq. ft., and 1.66 million sq. ft., respectively.
Two Trees are the powerhouse behind the Domino Sugar Refinery's massive $1.5 billion redevelopment in Williamsburg. Forest City Ratners hold 550 Vanderbilt in Pacific Park amongst their projects. Thirteen of the 16 projects the Rabsky Group announced have been in the past two years.
Brooklyn's mega-development has not reached its tipping point however; far from it. City Realty's residential report earlier this summer reported that 2016 will see a 10-year high in the borough's building surge. Downtown Brooklyn, Williamsburg, and Greenpoint are slated to make up 13,708 of these 22,000 new sales and rental apartments.
Among current and projected projects, rentals dominate in Brooklyn, accounting more than 17,000 of the total projected units. This may change soon however, as developers get increasingly priced out of the rental market and begin shifting their attention toward buyers. This trend is already starting to show signs of acceleration with the big name Brooklyn developers.
For instance, Hudson Companies is in the process of developing a 139-unit condo project at Cadman Plaza and Clinton Street. Ratners' 550 Vanderbilt will house 278 condo units.
Big players Kushner Companies, LIVWRK, and the Rockpoint Group have joined forces to convert 184 Kent Avenue from rentals to condos.
With these high-end projects come high-end price tags. The top tier of development projects are easily costing $2,000 per sq. ft., a sticker price previously not seen outside Manhattan.
388 Bridge Street, a luxury condo project in Downtown Brooklyn, averages more than $2,000 per sq. ft. Dumbo's $4.3 million penthouse at 51 Jay Street clocked in at $2,065 per sq. ft., as did the Pierhouse in Brooklyn Heights, whose condos top out at $10,490,000.
As the most sought after Brooklyn neighborhoods are becoming saturated, developers are also beginning to look deeper into the borough for better deals and cheaper property prices. Gowanus, which recently got a Whole Foods, is one such neighborhood whose rapidly changing identity is getting the attention of a slew of developers.
Even the dominating developers are taking the opportunity to delve deeper into the borough.
Hudson Properties, for instance, is hedging its inner-borough bets on Prospect Lefferts Gardens, a series of three large scale projects, the largest being a 254 unit 80/20 rental project. CEO David Kramer explains the impetus for this new project, stating, "We expect by charging lower rents than buildings in prime neighborhoods, we'll be successful."