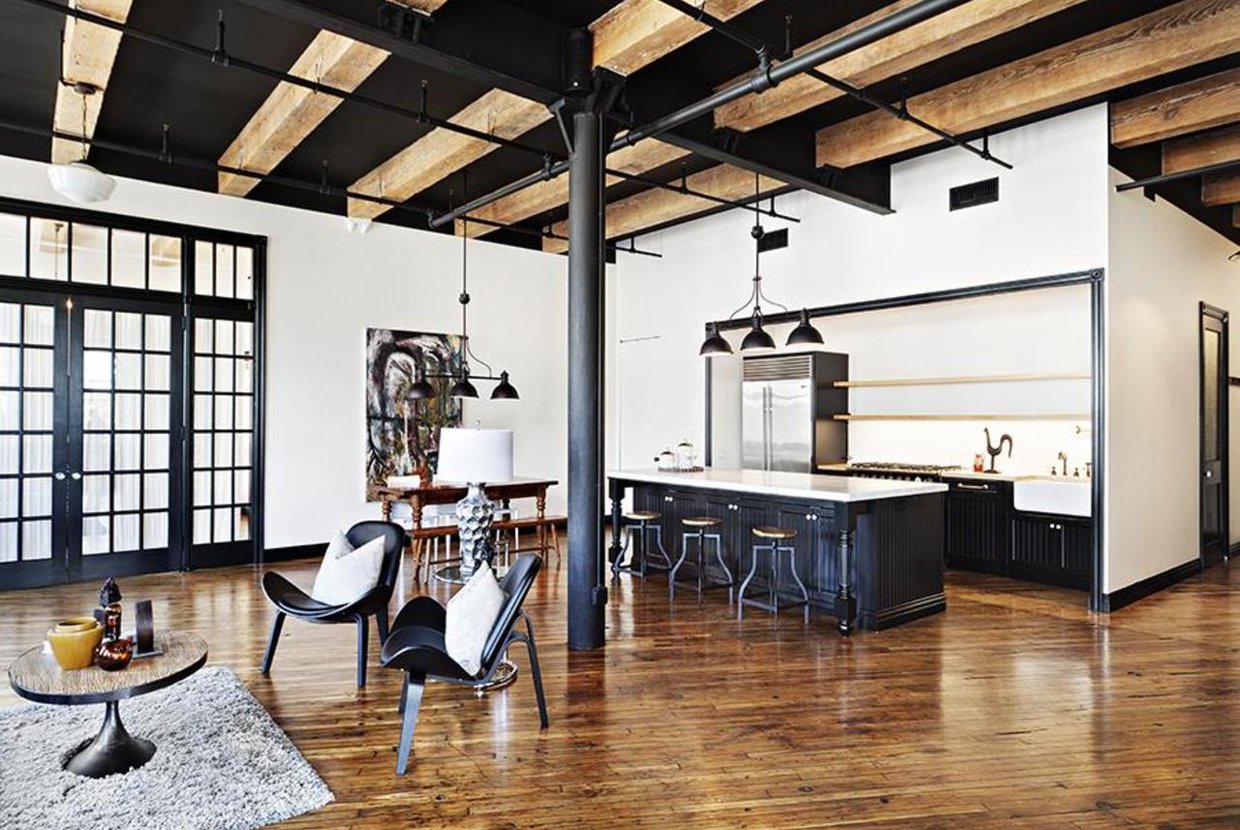 The Mill Building, Apt 302303
The exposed brick, the support beams, the high ceilings, and oversized windows — qualities that make lofts the highlight of modern and chic real estate. Most people look to maximize space during their apartment hunt! While lofts arguably aren't the biggest homes in terms of size, what lofts miss in sq ft, they definitely make up in perceived space.
It's going to be hard to look at these listings without going, "wow" — just try it.
Embrace the loft living experience with no wall in sight. (Except for the walls that frame the space, of course.)
10 Leonard St, Apt 5NE, Tribeca - $1,345,000
This L-shaped loft is detailed with original oak floors, exposed brick walls that frame the windows, and no partitioning walls with the exception of the bathroom. Upon entering this gem of a loft, you're warmly welcomed by the sleeping area, which is amazing, because after a long day, just walk in, drop the bags, and faceplant right onto your soft bed. Located in the heart of the Tribeca triangle on one of New York's last remaining cobblestone streets, you're steps away from indulging in some of the best luxury that Tribeca has to offer.
Dramatic sun-filled home setting with fantastic views of three New York boroughs.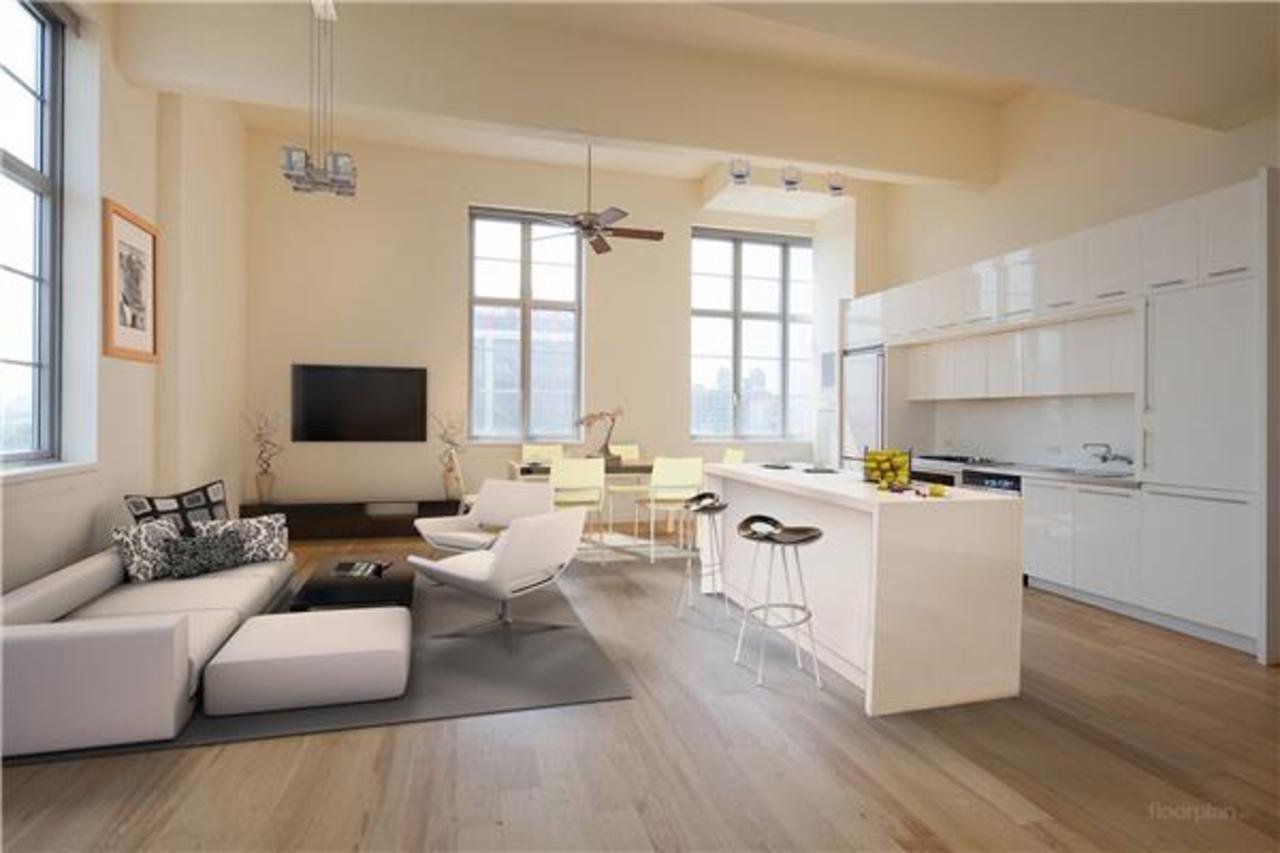 Arris Lofts, Unit 530, Long Island City - $1,995,000
The stunning high ceilings, wide plank hardwood floors, and tall windows make this loft one worth checking out. Out in Long Island City, this 3-bedroom, 3-bathroom loft offers breathtaking views, especially from it's great room — the open concept of the kitchen, living and dining room maximizes the comfort and pleasure of what a home should convey. The building was designed by Costas Kondylis and pre-existed as the Eagle Electric Factory. Living in this condo offers the escape and convenience of the city with the 10-minute commute to Manhattan.
Industrial two-bedroom duplex loft with a huge private deck — wait, what?
Kirkman Lofts, Apt 4F, Dumbo - $1,585,000
Dumbo has rapidly developed into a luxurious residential neighborhood, and this 2-floor, 2-bedroom, 2-bathroom loft has everything to represent Dumbo. First, let's talk about the huge private deck that is accessed through the master suite. This is a rare opportunity that most New Yorkers don't get: enjoy the luxuries of owning a 17' x 22' private deck — and keep in mind that the living/dining room is 20'2'' x 11'8''. The entire second floor is the master suite, which features a full bath and a large walk-in closet. Downstairs has a state-of-the-art equipped kitchen, a living/dining room and a bedroom — rigged out in restored steel and reclaimed wood. The condo's amenities include a virtual doorman, bike storage, fitness center, package room, and a refrigerator room for perishable deliveries, which can definitely come in handy when you're taking advantage of having groceries delivered to you. No longer do you have to cut down on your workout time to grocery shop; you can just take your bike (parked at the bike storage) and ride down to the Brooklyn Bridge Park.
This adorable studio loft interior is as vibrant and full of life as it is on the exterior.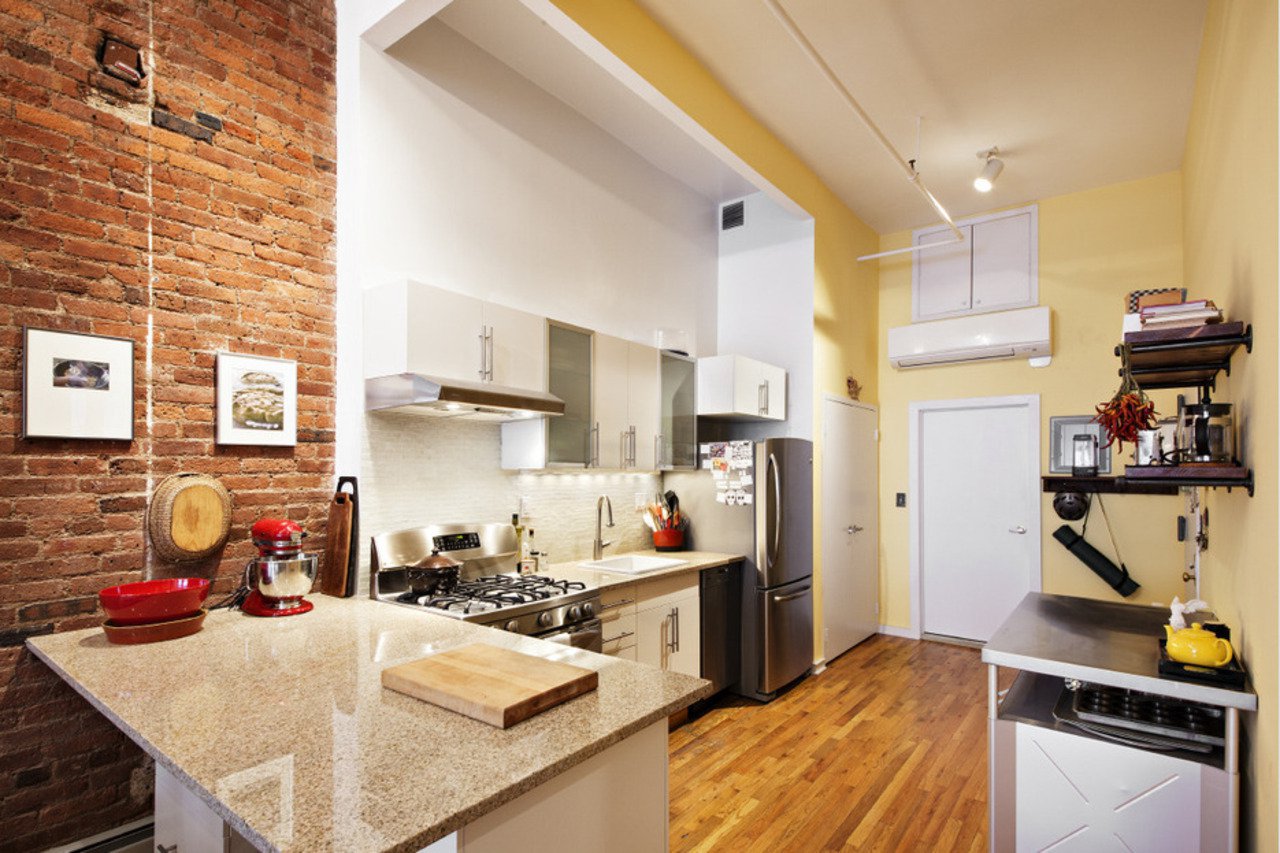 The Seaport Loft, Apt 1F, Fulton/Seaport - $975,000
This 860 sq ft studio loft offers the services of everything you need in a home, with quintessential designs — original ceramic tiled columns, oversized windows, central air conditioning, high ceilings, and exposed brick wall. This loft offers all the comforts of a home, and that's not all — its convenience to New York entertainment is unparalleled. Additionally, around the corner of this boutique condominium is the famous South Street Seaport.
Every inch of detail designed into this greenhouse-esque loft distinguishes this one-of-a-kind New York City apartment. Doubt you'll find something like it.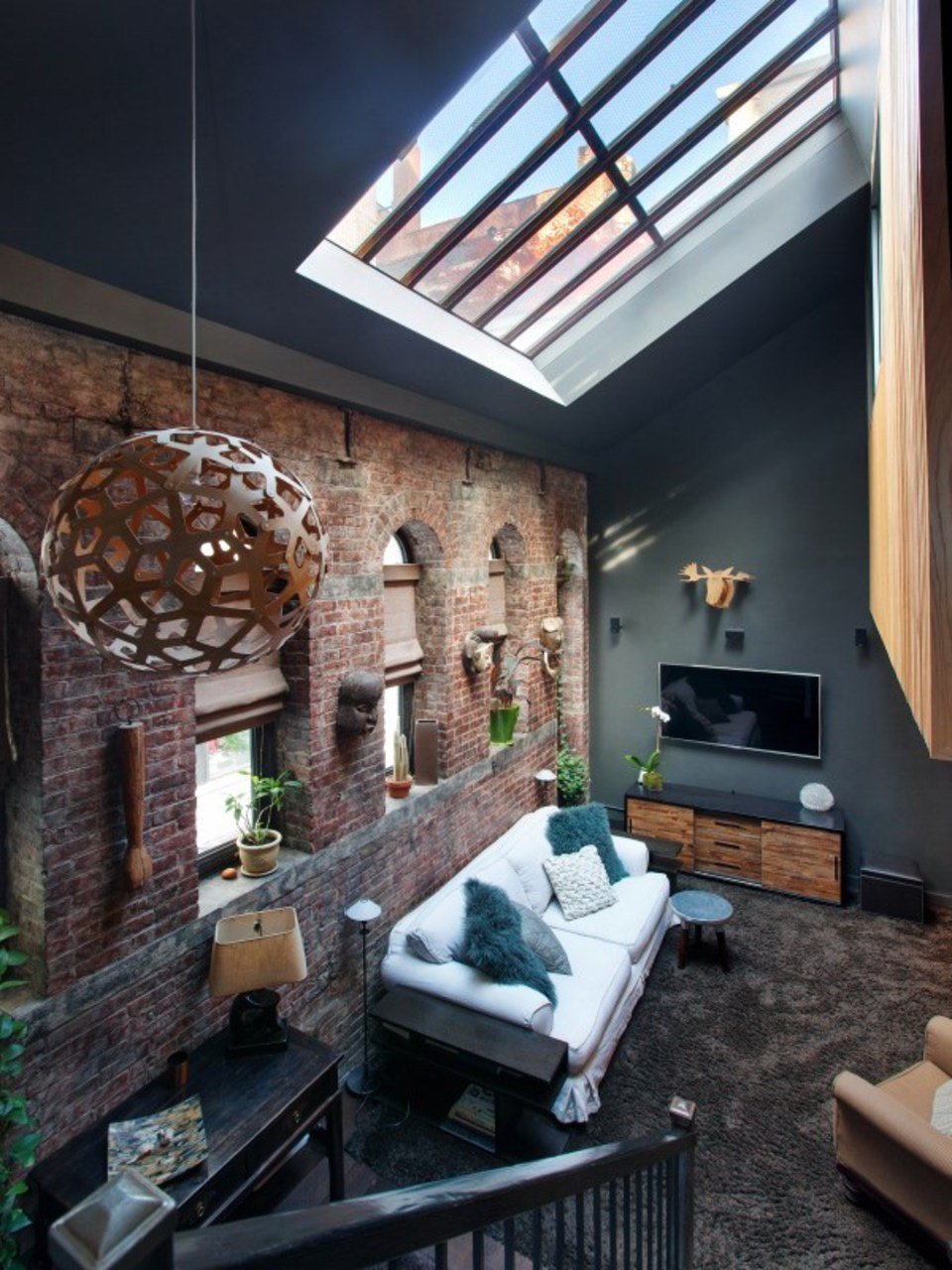 196 6th Ave, Apt 1F, Soho - $2,250,000

This co-op loft has an eccentric floor plan that works well for its unusual-shaped space. When stepping into this triplex loft, you're exposed to the extraordinary high ceiling, amazingly large skylight, and beautiful arched windows embedded in the weathered brick wall. The great room is mainly lit by the skylight, but nonetheless you can still keep your house looking fantastic at sundown. Upstairs travels to the mezzanine-style master bedroom that looks over the great room, while the downstairs accesses the shared patio and the other bedroom. The amazing detail about this loft is the stunning design that manages to create space for storage.
If The Beauty and the Beast's Belle lived in NYC, it'd be here.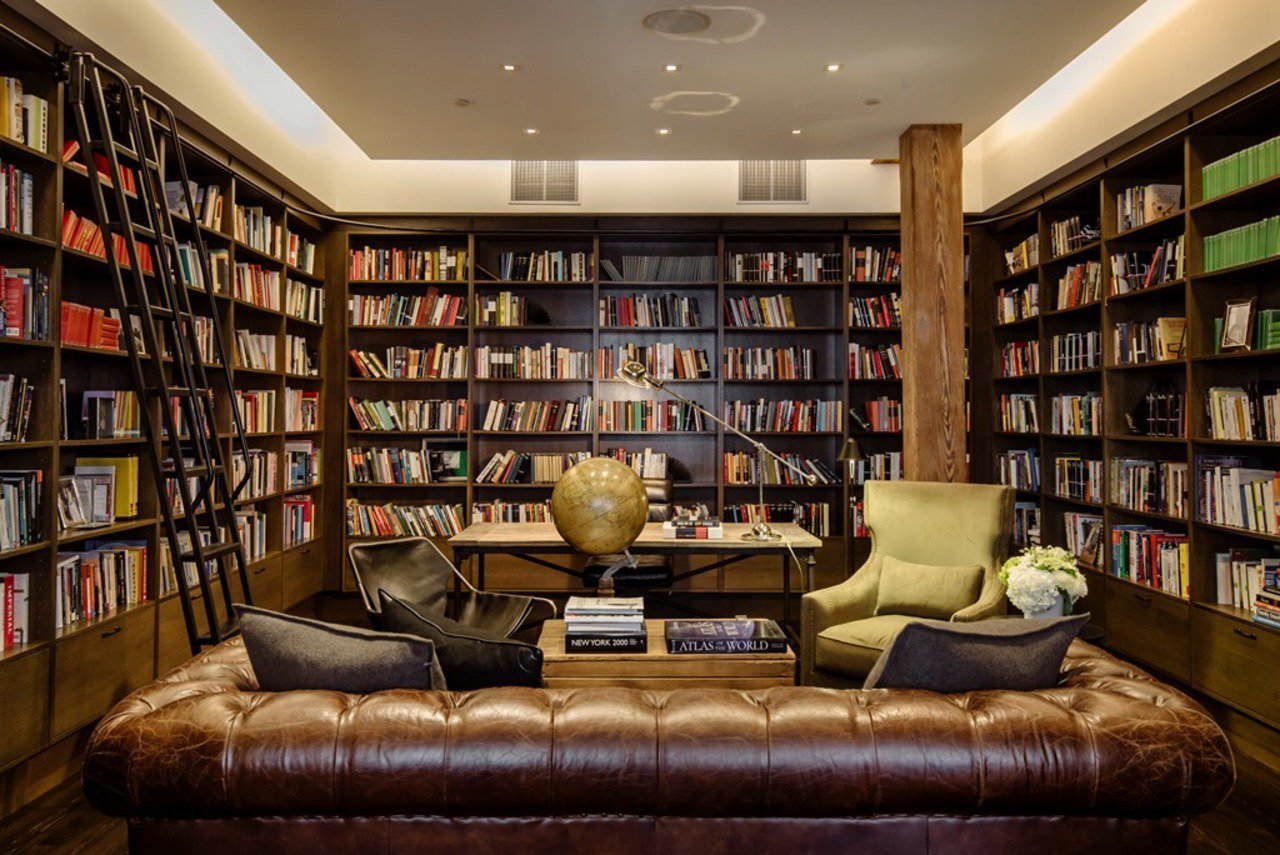 The Loft, Apt 3A, Soho - $8,750,000
This 4,164 sq ft, 3-bedroom, 3-bathroom loft is one for the taking. It's hard to ignore the underlying structure with exposed timber beams and brick walls. Stepping in, you're welcomed with a grandiose, gallery-style living room and its six enormous mahogany-framed windows. This home features a library with custom-crafted floor-to-ceiling bookshelves and that would have anyone in awe. But wait, there's more — this library goes perfectly with the kitchen wine cooler and the condo's wine cellar, because what's better than enjoying a book with a glass of wine? Adjoining the top-of-the-line equipped kitchen is the breakfast area, bright from the lights flooding in from the windows. This apartment's bedrooms are well-lit and the master bedroom is equipped with a spa-like bathroom and a 11'6'' x 11'6'' walk-in closet. The unbelievable aspect to this loft is the condo that comes with a Vinoteca dining room, exclusive to residents. We couldn't help but imagine a modern day Beauty and the Beast story playing out in this space, between the library, the generous amounts of space, and the fireplace.
Be the host of the century with your friends.
200 Mercer St, Apt 1C, Greenwich Village - $2,500,000
This 2-floor, 2-bedroom, 2-bathroom loft offers the luxury of respite and entertainment. The spacious living room that carries into the dining room gives more than enough space to entertain guests. As for the more intimate moments, the great room adjacent to the kitchen services those who prefer privacy. The mezzanine upstairs contains storage space, and who doesn't need that? And if you travel down the spiral staircase, you'll find the bedrooms. Also featured in this loft is a patio that is shared with three other houses, another space to host guests or have a private moment.
This loft could be your one-bedroom home now and your three-bedroom house later.
The Mill Building, Apt 302303, Williamsburg - $3,650,000

The streams of light that fill the space have earned this loft a spot on the list. Upon entering this loft, you're immediately welcomed by original industrial details and the extremely spacious great room — accentuated by large windows and a high ceiling. French doors lead you to the master bedroom, which includes a large dressing room and an en-suite bathroom. The loft is also designed with more than enough storage space and it even comes with a spare room that could be either a den or an office. According to Curbed, this loft was configured into a one-bedroom apartment, but it can also be built out to be a three- or two-bedroom home.
Surely one of these lofts must've made you awe-struck or at least sparked your interest. We encourage you to take advantage of checking out these unique luxury New York City lofts.