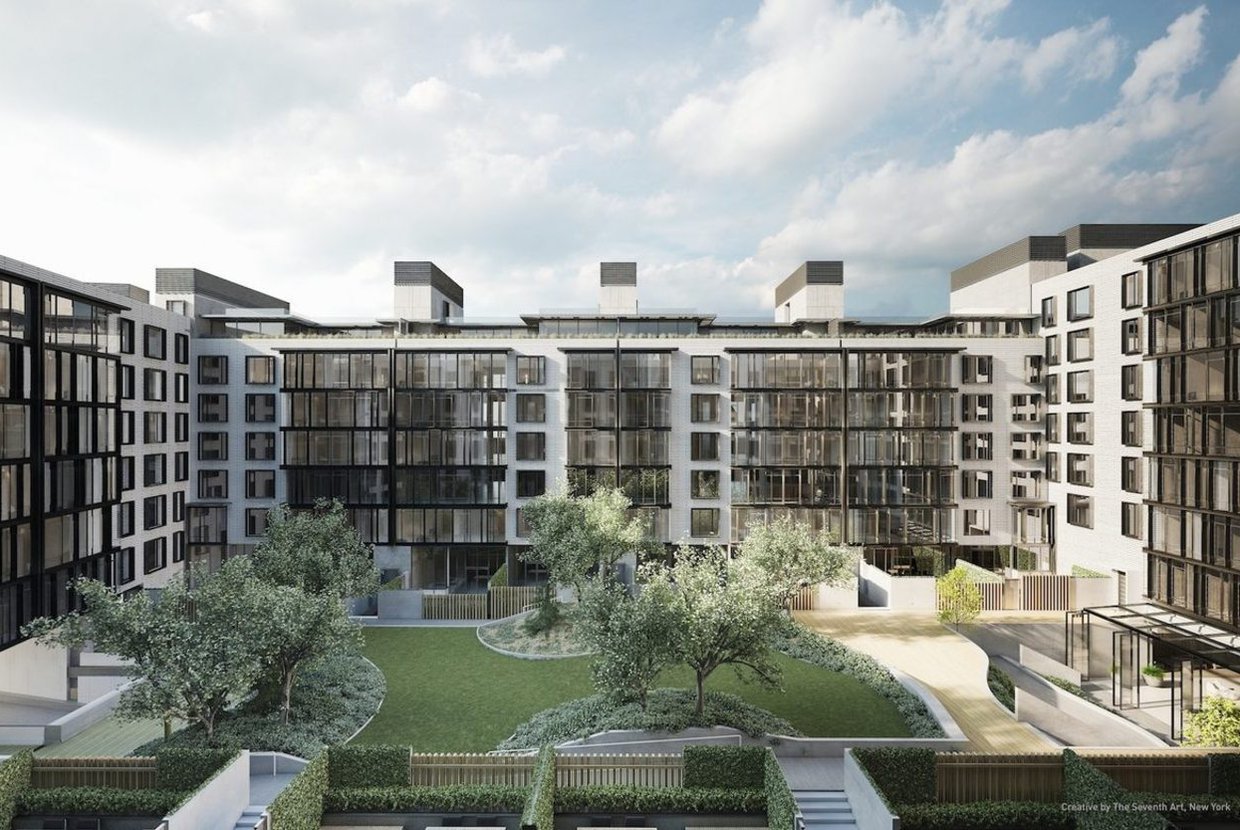 Rendering via The Seventh Art
Williamsburg is home to indie rock music, small independent businesses, a large art community, beanies, and hipsters — and due to the rapidly growing popularity of all of the above, it's become synonymous with gentrification.

Nowadays, Williamsburg is turning out to be more high-end than ever. Recently, Oosten Condominiums just entered a contract to sell a penthouse for $6.49 million, a Williamsburg real estate record. This is the same condo building that would give any buyer of a penthouse, townhouse, or loft an all-expenses paid trip to Amsterdam to meet the building's architect, Piet Boon.
The Oosten's 6-bedroom, 6.5-bathroom PH5 is on the market for $6.42 million, and this 5,000 square foot, two-level home — located on the top two floors of the building — features a top-floor kitchen, an amazing view of the Manhattan skyline, and a private elevator that grants easy access to a private garage.
The glassy Oosten's other listings range from a little under a million to $3.5 million.
Speaking of glassy, Williamsburg has three new "glassy" developments underway. Among them is former governor Eliot Spitzer's newest real estate project: three 24-story glass, waterfront residential towers.
As reported in a 6sqft article, Thor Equities' president Joseph Sitt bought a string of properties for approximately $22 million, in order to construct a 10,000 sq ft, two-story building, rigged out in brick and glass. Thor Equities has been really good about not spoiling too much about this project, aside from that the building is addressed as 130 North 6th Street, and will host retail or restaurant space.
Around the corner from the retail jewelry box on Bedford Avenue and North 4th Street, is a glass structured Whole Foods, which is starting to take form after a long hiatus. The store is a part of a 150,000 sq ft complex that will also have a New York Sports Club and a luxury rental apartment. Since initial word of this development three years ago, the store is finally set to open in Spring 2016.
With all the new developments, Williamsburg 2K16 will offer the timeliness of luxury living. The Oosten is a couple minutes away from the retail jewelry box and the new complex which is next door to the Duane Reade across the street from the Apple Store near the J. Crew steps from the Starbucks.
"I'll be all right in a minute, I'm just bewildered - by life…" - Tennessee Williams, The Glass Menagerie.