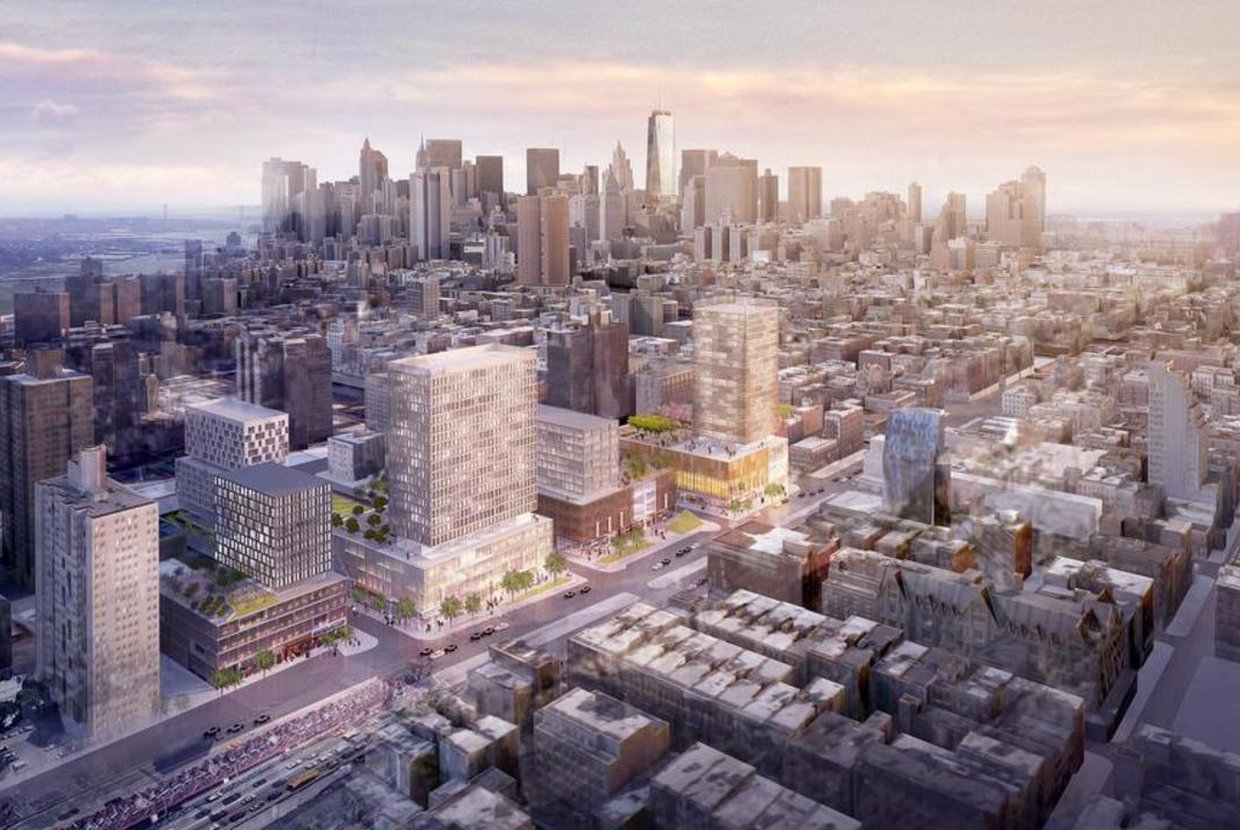 Draped in copper, the buildings of 626 First Avenue look over the East River. They don't stand tall like its surrounding neighbors or most other new developments, but tilt slightly at its unique curvature.
They aren't sulking or shy; they are in movement, drawn together by a shared skybridge as if it's an outstretched arm.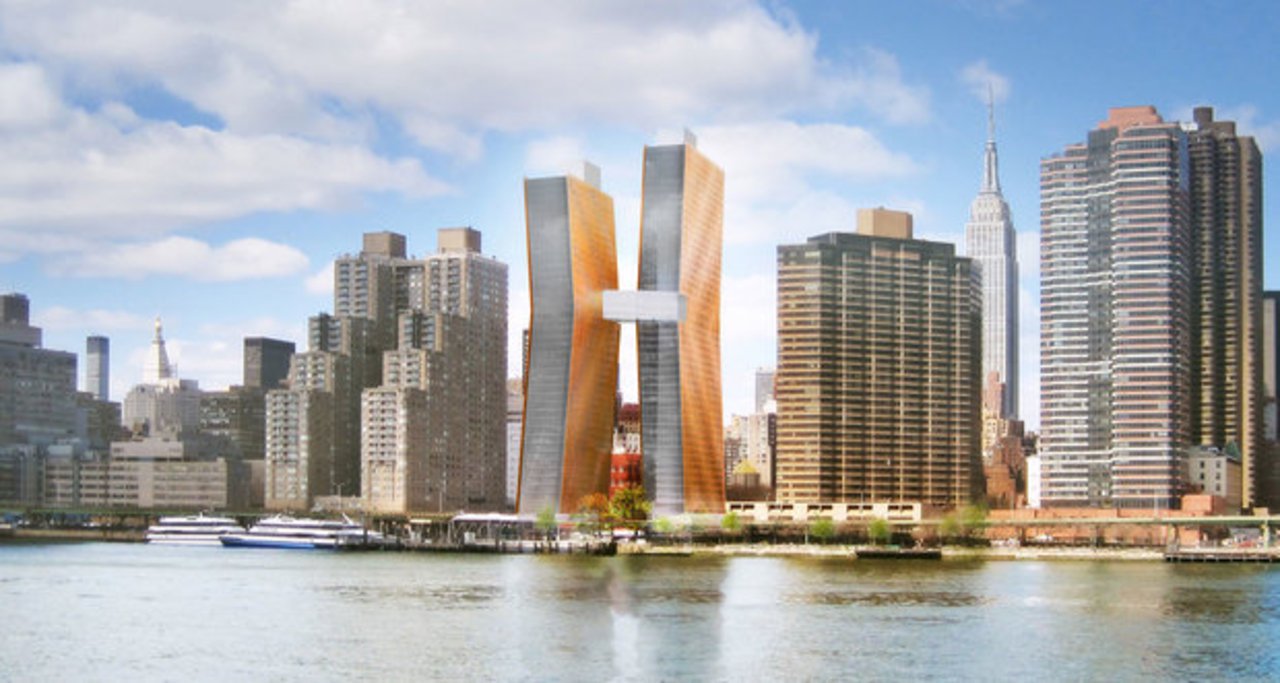 Slated for completion in 2017 and destined to influence creativity among future developments along the East River, 626 First Avenue speaks to SHoP's point-of-view: there's no law of conventionality. Limitations are myths. Creativity, never stifled.
Representing a new generation of architectural design and a formula that says the next, great structure comes from a collaboration of untamed, vivid minds, SHoP challenges the norms of architecture with designs that go beyond what many can fathom. As new developments aim for what is now the tall and glassy standard in residential architecture, the Tribeca-based firm chooses to tackle expectations of their own design, expectations that reflect their vision and brand, with gracious consideration that fits into the larger perspective of the neighborhoods they'll rise in.
To summarize, SHoP is no average architectural firm.
The clever name is derived from the initials of the original principals of the firm; twin brothers Christopher and William Sharples, William's wife, Coren Sharples, and married couple Kimberly Holden and Greg Pasquarelli, creating the mini anagram. In 2012, Vishaan Chakrabarti, a professor at Columbia University's Graduate School of Architecture, Planning & Preservation, joined SHoP as a seventh partner but recently left  to start his own firm, Partnership for Architecture and Urbanism. (The sixth partner, Jonathan Mallie, whom headed SHoP Construction, a separate firm, left SHoP earlier this year.)
SHoP, formed in 1996, has left their mark on world architecture with planned projects such as Konza Techno City in Nairobi, Kenya and the Botswana Innovation Hub in Gaborone in addition to a range of local work including Prospect Height's Barclays Center, the planned, mixed-use Essex Crossing development, and their own offices in the Woolworth Building.
But NYC based residential projects, like 626 First Avenue, have stolen the show, something that's very much owed to SHoP's attention to space and location.
In Williamsburg, Brooklyn, the renderings of the Domino Sugar Refinery resembles a Tetris-esque ensemble of buildings, appearing as if they'll fit together seamlessly. Surrounded by a selection of green space and standing alongside the East River, just like 626 First Avenue, Domino Sugar is an example of new development of SHoP's creation that follows the guidelines of the area it encompasses.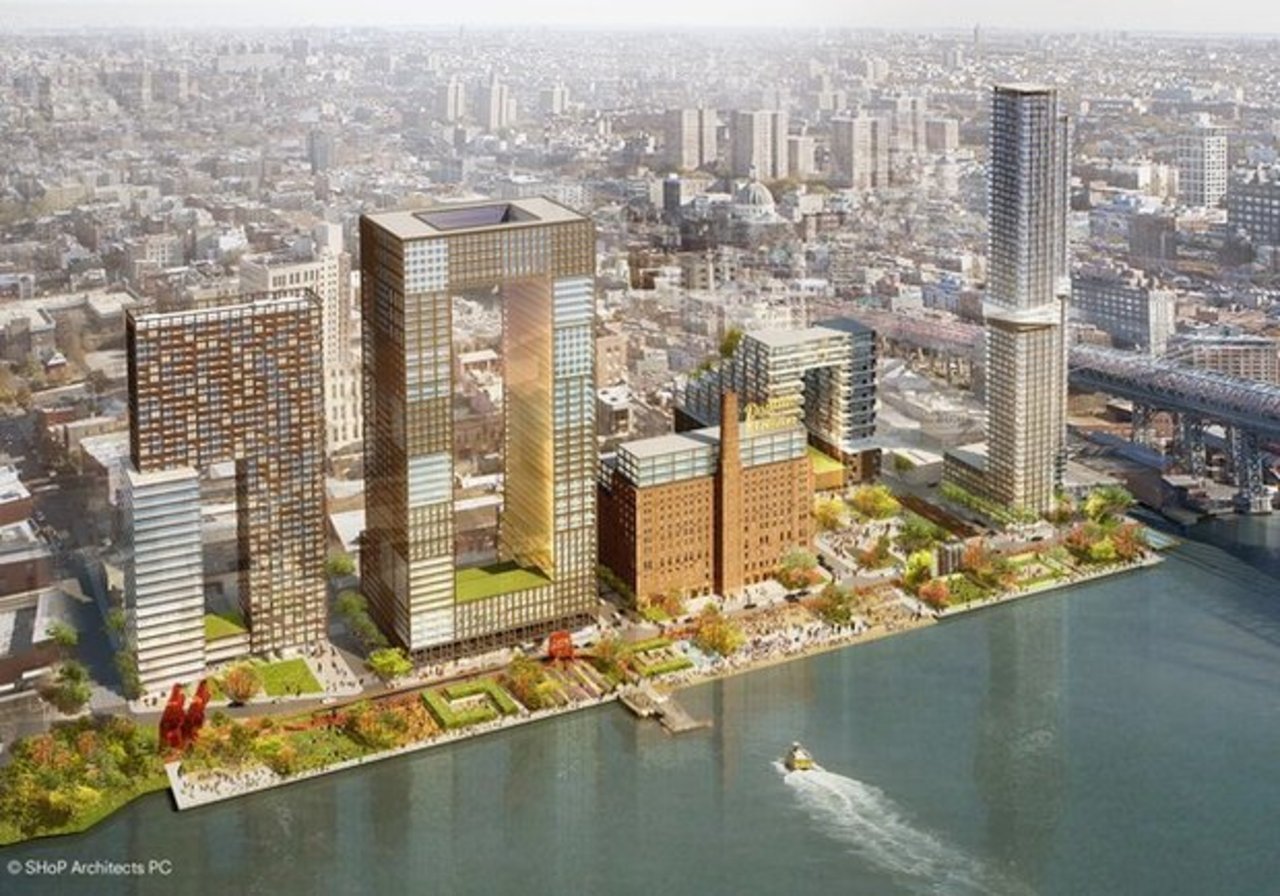 "The plan also envisions a new skyline for Brooklyn—one that relates to the height of the Williamsburg bridge and scales down to meet the neighborhood. ...While exuberant on the skyline as great global architecture, the buildings responsibly meet the streets of Williamsburg."
What SHoP arguably does well is factor in surroundings when detailing a project. SHoP provides a description of an array of refined, mixed-use buildings, each as industrial in appearance as the original Domino Sugar factory, that makes sure not to overpower the Williamsburg Bridge (set to turn 112 years old this December) and all the while stay inclusive of the neighborhood below.
And yet, as much as 626 First Avenue and the Domino Sugar Refinery can be declared as major eye candy, 475 West 18th Street may just be the main course.
In a competition organized by the United States Department of Agriculture, architectural firms were commissioned to design a structure that was a minimum of 80-feet and made of wood. (Yes, you read correctly, a structure made of wood.) While being both practical and sustainable, the building must use "mass timber, composite wood technologies and innovation building techniques.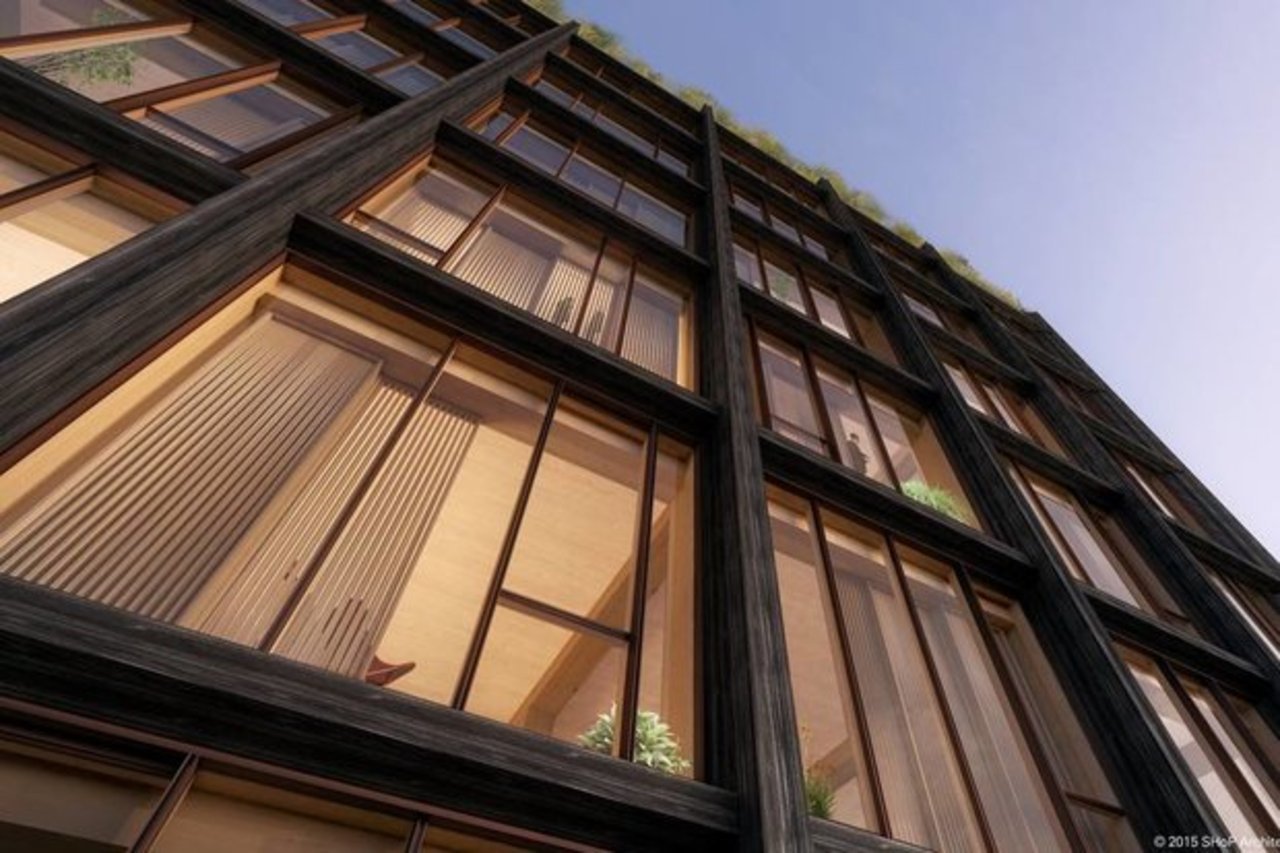 SHoP's design for 475 West 18th Street, which was awarded a grant for a combined total of $3 million along with a project based out of Portland, Oregon, will be quite the accomplishment in terms of NYC architecture, one that doesn't flirt with a need to challenge the sky.
"The building will be the first in New York City to use modern mass wood systems, and will be the tallest building in the city to use structural timber, pending approvals from the New York City Department of Buildings."
Having a building predominantly made of wood may appear to be a recipe for disaster but the reality details otherwise. According to the USDA, mass timber wood is "flexible, strong, and fire resistant." Other anticipated benefits include the reduction of greenhouse gas emissions, and the creation of jobs in the wake of the Recession where new construction was scarce and fewer homes were being remodeled, impacting the wood manufacturing industry.
475 West 18th is only in the design development phase, but its High Line location in West Chelsea, a neighborhood that's creating a new identity for itself, is guaranteed to be an additional point of interest for anyone with hopes of cementing a place in the planned 10-story building.
SHoP is by no means an average architectural firm, nor is it young. But what SHoP happens to be is an architectural firm that hasn't merely moved on with the times or the trends and changes of New York City living, but rather accepted those trends and changes, enforcing an idea that architecture should be limitless.
And limitless architecture certainly is at SHoP Architects.  
Corrections:
Article initially read that Jonathan Mallie and Vishaan Chakrabarti were SHoP partners. Mallie left the firm earlier this year while Chakrabarti recently left to start his own.