Behind the Scenes of Hudson Yards
Written by Frank Nicholas Poon
November 9, 2015
Published in Elegran Insider, Neighborhood News, Urban Design
Elegran attended the Look Inside: Hudson Yards lecture at the New York School of Interior Design. The speakers consisted of the project's lead team members, sharing behind the scene details of the megaproject construction.
Taking over seven city-blocks in Manhattan's west side and above an active train yard is a major construction project that is Hudson Yards. Hudson Yards is the largest development in New York City since the Rockefeller Center and the largest private real estate development in United States history.
What they're creating is not just a building — it's an entirely new neighborhood.
The project is split into two phases, focusing on the eastern and western yards, respectively. Stephen Ross, CEO of the Related Companies, the company behind the Hudson Yards redevelopment project, wanted a presence on New York City's skyline — but more important was efficiency.
Currently, the project is in its first phase — constructing the eastern yard. Set to have 11,240,000 sqft, the majority of space will be for offices. There will also be an Equinox gym–centric hotel, a retail pavilion, restaurants, residential space, and the strikingly designed Culture Shed.
Developers are expected to commence phase two, next year. The 6,220,000 sqft western yard will develop primarily into residential space, with a school, along with office and retail space. Aside from the buildings, there will be 14 acres of open space — that's 50% of the ground-level capacity.
"Looking at the site, you can see the traps and the challenges of building on this site, and of course, we were not allowed to use those challenges as an excuse." —Marianne Kwok, director of KPF Architects and lead master plan designer of the Hudson Yards.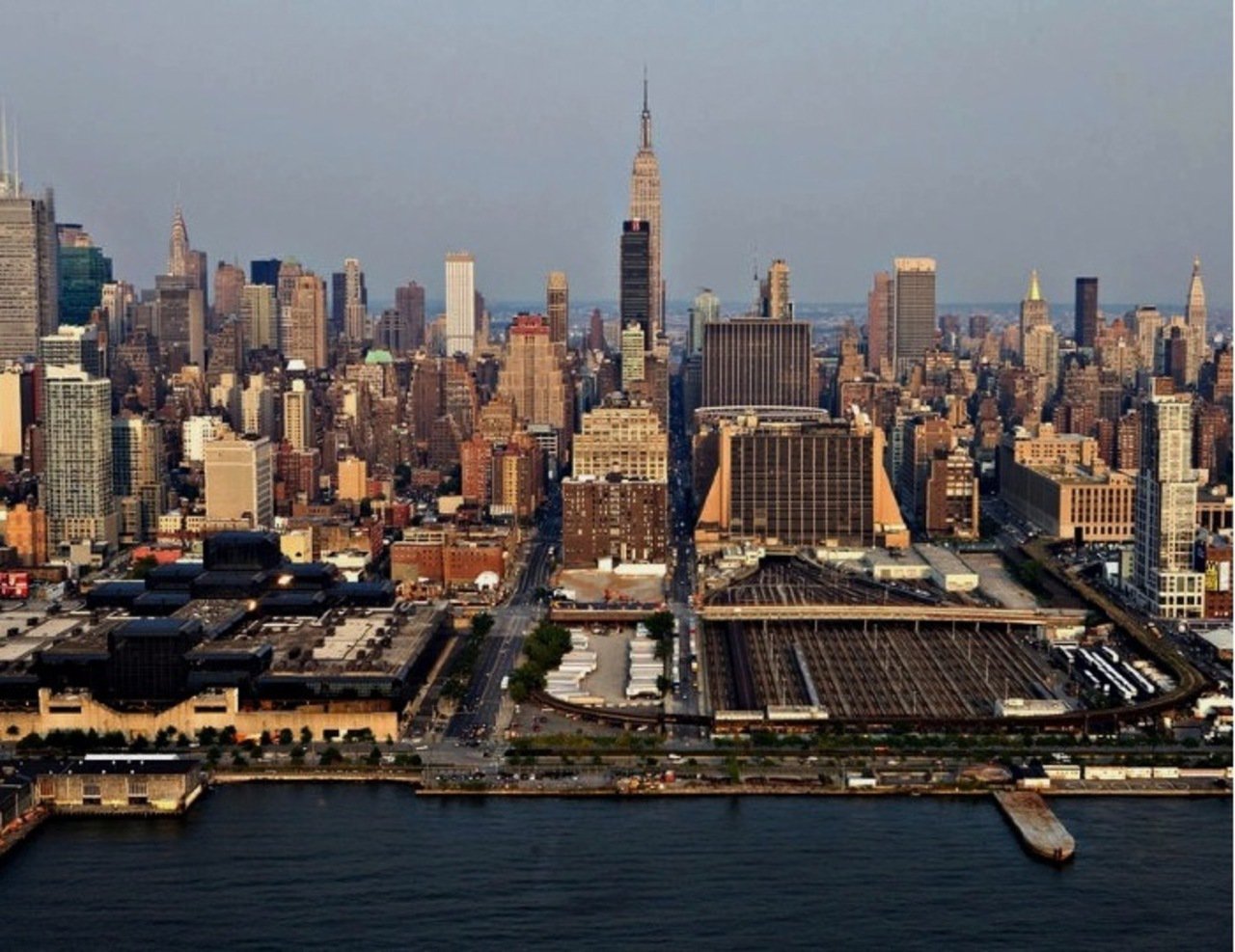 10 Hudson Yards and 30 Hudson Yards are two office towers that are innovatively designed that Kwok specifically mentions. These Hudson Yards towers are architecturally designed so that one tower faces the river while the other faces the city. Kwok mentions the towers do this "little dance" that is exhibited when viewing the site from different angles, creating a dynamic relationship between the two. Rather than adopting the form of the typical, International-style boxes that dot Manhattan's skyline, the structure of the towers is designed to be sloped. When it comes to tall buildings, a typical elevator bank would have 8–10 elevators and usually have designated elevators for low-rise, mid-rise, and high-rise travel distances, leaving too much unused space at the top of the building. The sloping of the buildings allows for more efficient use of space.
With the large amount of attention generated by the High Line — which wraps around the site — Hudson Yards is going to rally in even more attention with its design features. Thomas Heatherwick, the sculptor who designed the cauldron for the 2012 Olympics, will create a $150 million grand sculpture centerpiece.
After Hurricane Sandy, people worried about their businesses losing power. Mark Boekenheide, design director for the Hudson Yards, says that the team is designing an infrastructure that is more robust. Mechanical systems in the lower floors that are susceptible to water are placed higher in the building, but if the systems are required by code to be in a lower floor, then a concrete box with a submarine-sealed door encloses it. Even if the city grid went down, the campus has a feature that allows it to generate a certain amount of power to keep critical systems going. Theoretically, the power would still be there.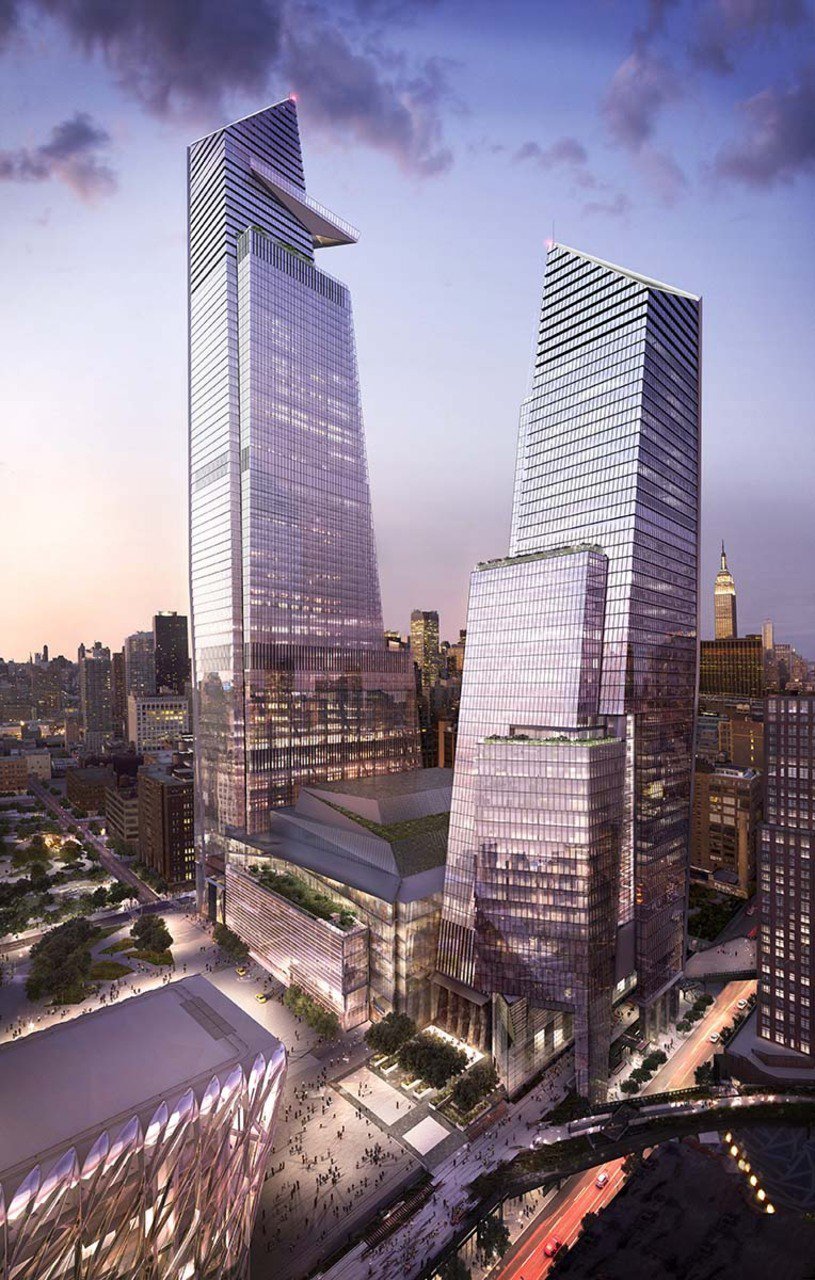 30 Hudson Yards — Four words: Glass. Floor. Observation. Deck.

Time Warner is set to occupy the majority of the office tower. Not to be mistaken with Time Warner Cable, Time Warner is inclusive of HBO, CNN, and Warner Brothers. Together, the companies have seven separate locations in New York City, but will be under one roof once 30 Hudson Yards is completed.
Representing Time Warner was Joel Brenner, VP Project Management, and he shared what Time Warner foresaw when they first got involved with Hudson Yards. Time Warner is driven to change the media. They wanted to see what inspires people, how they could be more innovative, and where the best talent is. Their office space design focuses on promoting collaboration. Rather than the typical office grid, they have an open workspace design that emphasizes a unique atmosphere that people were free to work together. Within the building were three separate screening rooms that fit 250–300 people. With a building that accommodated about 5,000 people, they've made efficient use of the building.
30 Hudson Yards features a glass floor observation deck. This observation deck will be higher than the Empire State Building.
10 Hudson Yards — High Line, Highly Impressed.

Coach quickly got on board with this project as it was difficult to find other tenants who share Hudson Yards' vision, after working on immature grounds. For Coach, they're already in the neighborhood and this was an opportunity for them to find a new, more efficient headquarters. They took over 800,000 sqft of the 10 Hudson Yards.
Working on immature grounds, it was difficult to find tenants who share Hudson Yards' vision, but Coach quickly got on board. For Coach, they're already in the neighborhood and this was an opportunity for them to find a new, more efficient headquarters. They took over 800,000 sqft of 10 Hudson Yards.
Unispace's global design director, Brian Tolman, was approached with three big requirements for Coach's new office space design. It needs to:
-Be responsive to the building but make the building responsive to Coach.
-Make sure it works for Coach's business.
-Make it reflect a New York City modernized 1940s loft.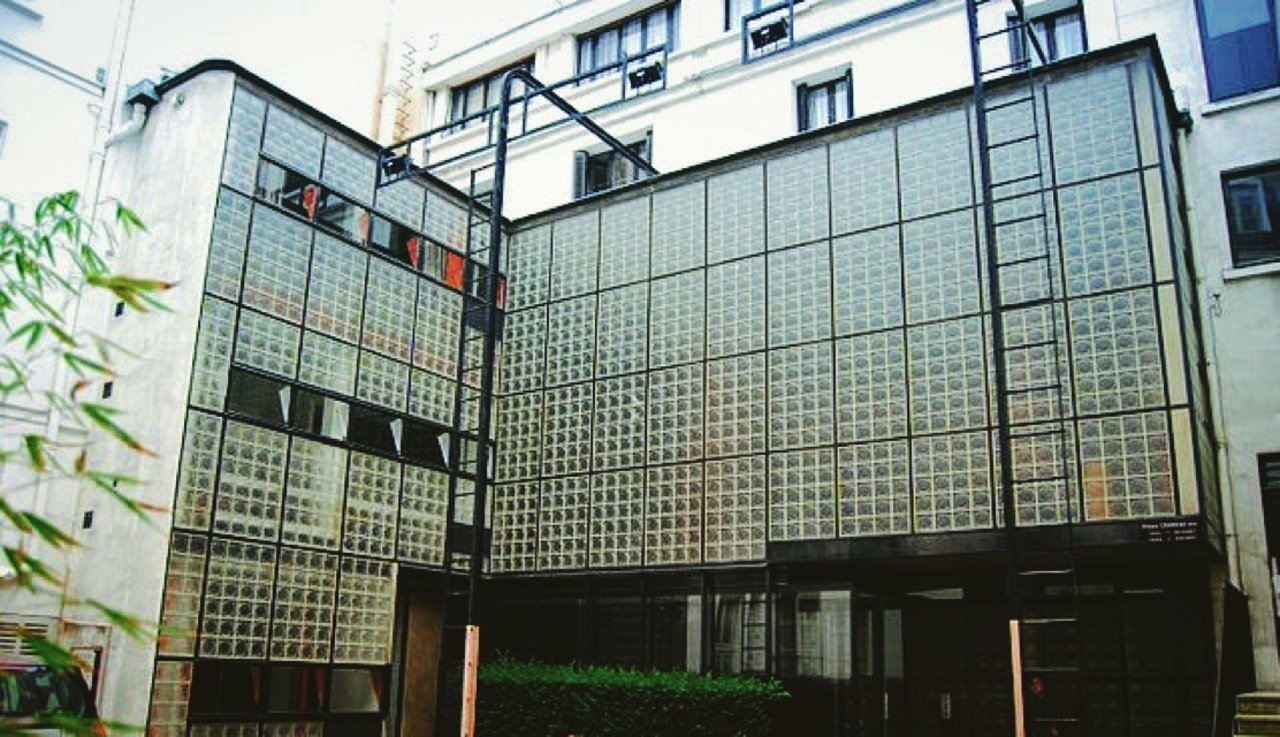 This building doesn't exist yet, and given that Coach has the ability to shape the building, as they desire, this is a rare opportunity. To start, Tolman was given the image of the Maison de Verre in Paris, France and Tolman described it exude warmth, texture and a vocabulary that reflect what isn't the ordinary modernism. They explored different glass structures, going to exhibiting PJ Glass House in Connecticut, and the Beinecke Library at Yale University. The Beinecke struck a chord with the design team with it's great void of space. The Beinecke has an atrium that practically defines the whole structure. Proposing this atrium concept to Kwok, she states, "what you get when you create an atrium in a building is a campus".

Tolman supports that statement with this image: looking outside from the office space, you're looking at your own entity, your own organization. In a typical setting, the view outside from the office space another organization's office space. This idea felt like an entirely new experience and they decided to embrace this concept wholeheartedly. Focusing on atriums, the research came across the Ford Foundation Building in Midtown East and the Genzyme Building in Cambridge, and they were enamored by how these atriums were extremely dynamic and animated.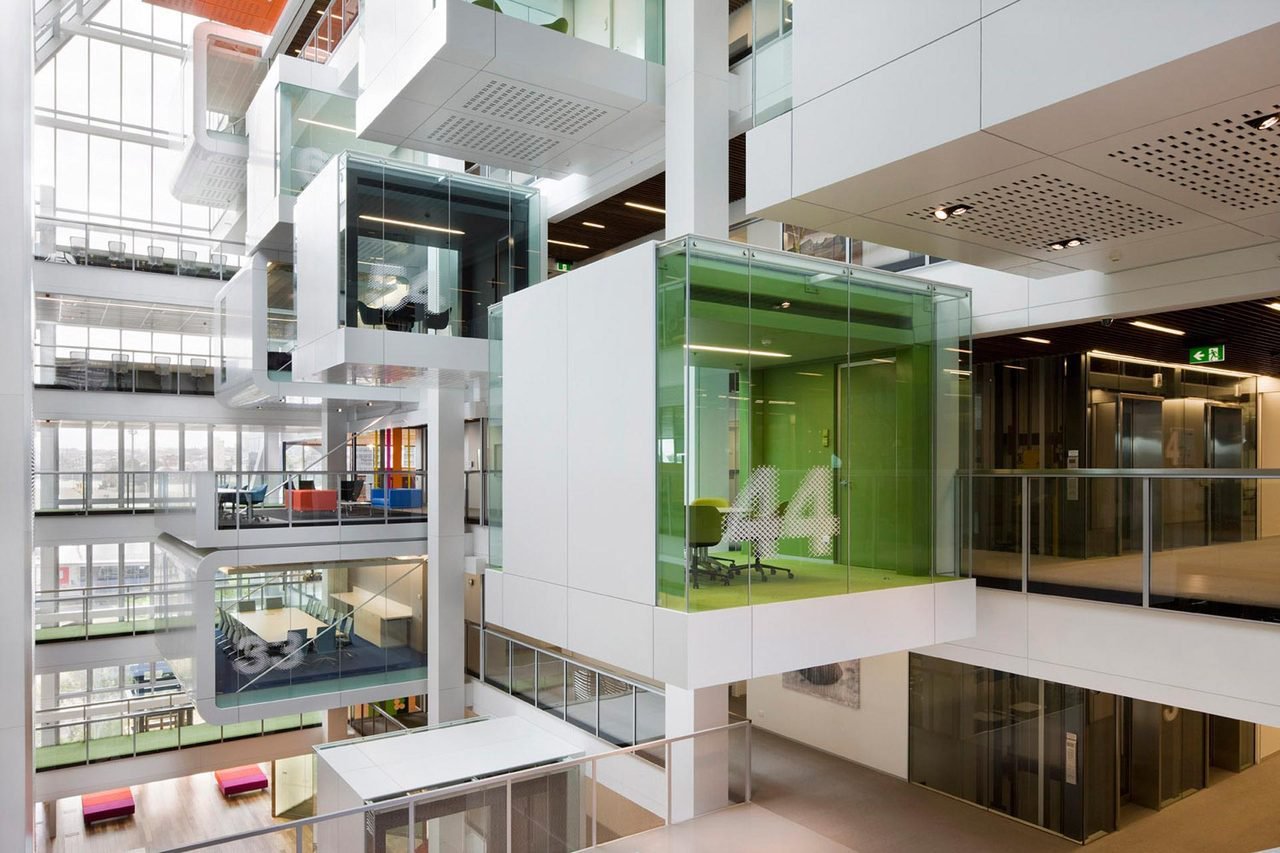 The atriums have plenty of unique staircases and brought in streams of natural light that poured down from above. The most distinguishable factor is the jig–and–jag detailing: atriums have a way with designing balconies, perches and places for people to interact, such as the Macquarie in Sydney — designed by Clive Wilkinson architects — which animated its design by puncturing the space with boxes that slip out.

Implementing this design into 10 Hudson Yards, the team created a 300-foot tall atrium with a phenomenal view of the city and the High Line. The lobby is just 4 ft off from being equally elevated with the High Line. Tolman took the opportunity to design the lobby with a ~200 ft long display wall that will encase 1500 bags in Coach's archives.
Meeting the third requirement of the design, 10 Hudson Yards is being constructed with a concrete frame, which inherently creates the loft atmosphere. Additionally, if it used a steel frame, construction would extend beyond its completion deadline. Looking at the other floors of the building and going back to the 1940s-style infrastructure, the team designed 14-inch raised floors to store the systems that would usually be in the ceiling and finishing the design with ingrained wood floors, and paint-covered walls. One problem that came up was with the ingrained wood floors, and how they would make everything in the raised floors inaccessible. To address this, they've come up with an innovative solution that involves laminating the ingrained wood floor panels with refrigerator magnets for controllable sealing.
Once it's completed, Hudson Yards will be more than 17 million sqft of commercial and residential space. This will be an ideal location with the new 7-train stop that opened in September; the 7 train has easy access to all the trains that run north and south in Manhattan.