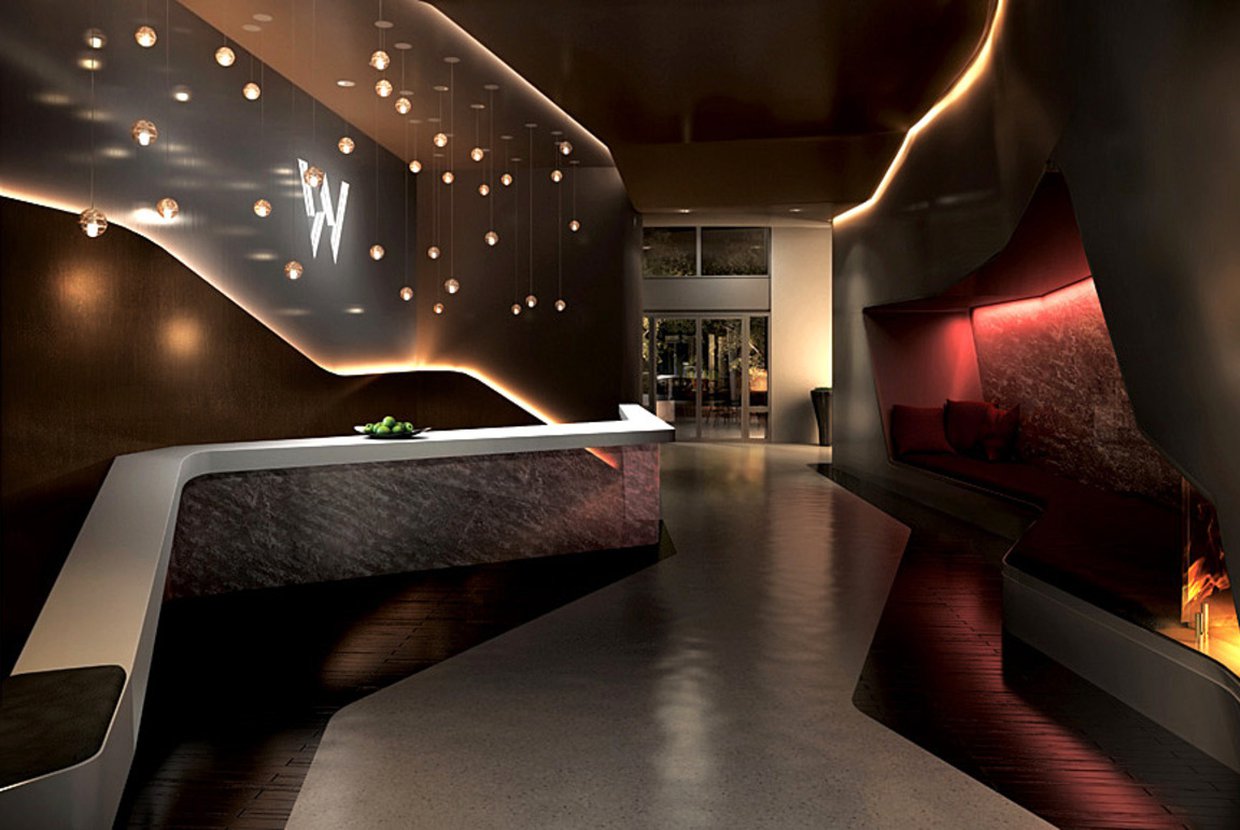 We are all familiar with the feeling of overwhelming gratitude after returning home from a long vacation; happy to be in your own space for all-of-an-hour until something breaks or a chore was left undone. At that point many of us spend a few moments pondering what life would be like living in a hotel. Room service, housekeeping, valet, and pet services are only some of the many standard amenities most New York hotels offer. Yes, there are 'Hotel Collection' sheets and 'Hilton Duvets' and even blogs on '
How to: Make Your Home More Like a Hotel
.' Unfortunately, no matter how high the thread count or how plush the sheets, there is no comparison to hotel service.
The W New York Downtown: Residences make part of that dream a reality. The 4 of 5 star Starwood Preferred Guest hotel/residence has introduced New York to a new kind of residential amenity.

The residency has a private entrance to a 24-hour front desk and stark lobby. Buyers can choose from studio, 1-, and 2-bedroom apartments with optional views of North Manhattan, Brooklyn, and the Hudson River. The state-of-the-art fitness center, the BLT Bar and Grille, and Living Room Terrace are accessible to residents and hotel guests. Living Room, an elegant bar located in most W hotels nationwide, is a great place for residents to mingle with guests and drink custom cocktails.
The W combines residential and hotel living in an elegant yet modern setting. Fortunately for city dwellers, the W is not the only hotel offering these hospitality services. Buildings like the Baccarat Hotel and Residence and The Pierre also house guests and residents alike. Mixing travelers and residents is wonderful, however, what about those of us looking for these amenities in a solely private high-rise?
Walking into a hotel at the end of a long day is wonderful. The beds are made, clothes tidied, and garbage emptied. Normally this luxury is isolated to hotels, but at 40 Bond in Noho the residents receive this treatment, and more everyday. Designed by Ian Schrager, the building fulfills his concept of "effortless luxury living." In addition to 22 individual floorplans, concierge, and a state of the art gym facility, 40 Bond has an extensive housekeeping staff. Trained at the Gramercy Park Hotel, these individuals are on call 24-hours a day, seven days a week for hospitality services, concierge, and pet care.
What would life be without our four-legged furry friends? So many New Yorkers struggle daily knowing their pets are home alone all day long. Residents at One Brooklyn Bridge Park in Brooklyn Heights enjoy 'The Wag Club.' The daycare center, located within the 12 story 453 unit tower, offers the luxury pet spa treatment. In addition to dog-sitting and training, "The Wag Club" also has grooming services. The building, located at 360 Furman Street overlooks Governors Island and Downtown Manhattan, a fantastic view for our four-legged friends and their paw-loving owners.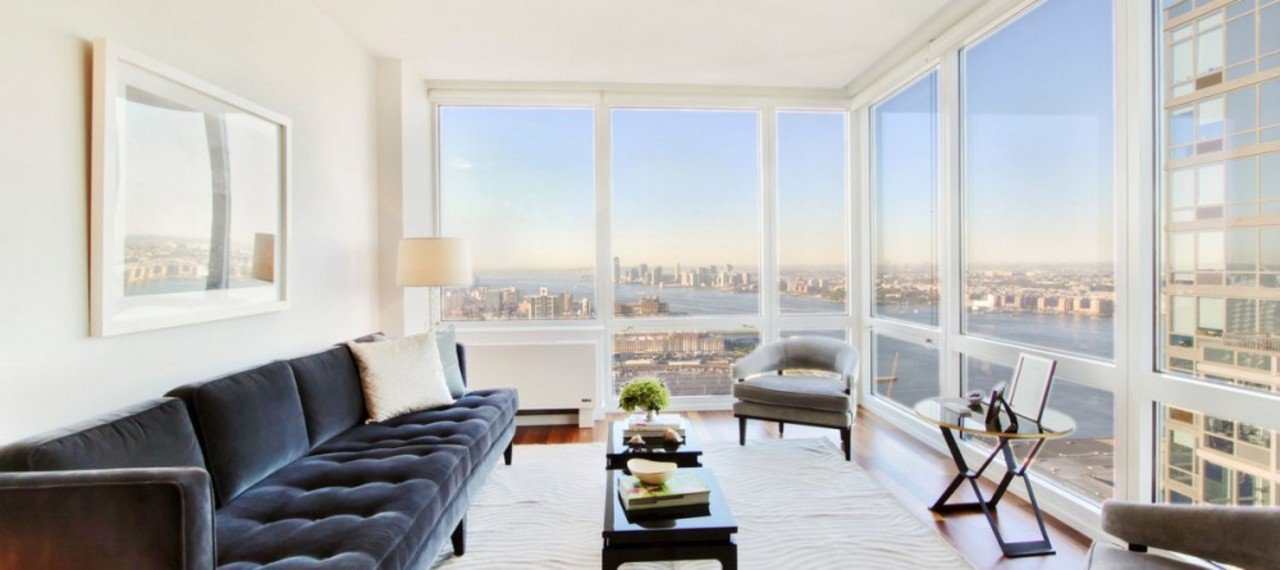 Oh my, what a view! Have you ever opened the window at your hotel to see a magnificent landscape or ocean? The residents of Silver Towers in Times Square (Midtown West) savor and re-savor the ever-cherished Manhattan view day in and day out. The 60 story luxury building also offers 'The Sky Collection.' Apartments on floors 50 through 60 have exclusive multi-directional views of Midtown North, Midtown West, and Downtown. The extraordinary scene comes at a price, with Sky Collection apartments starting at $5,890 per month for a 1- bedroom.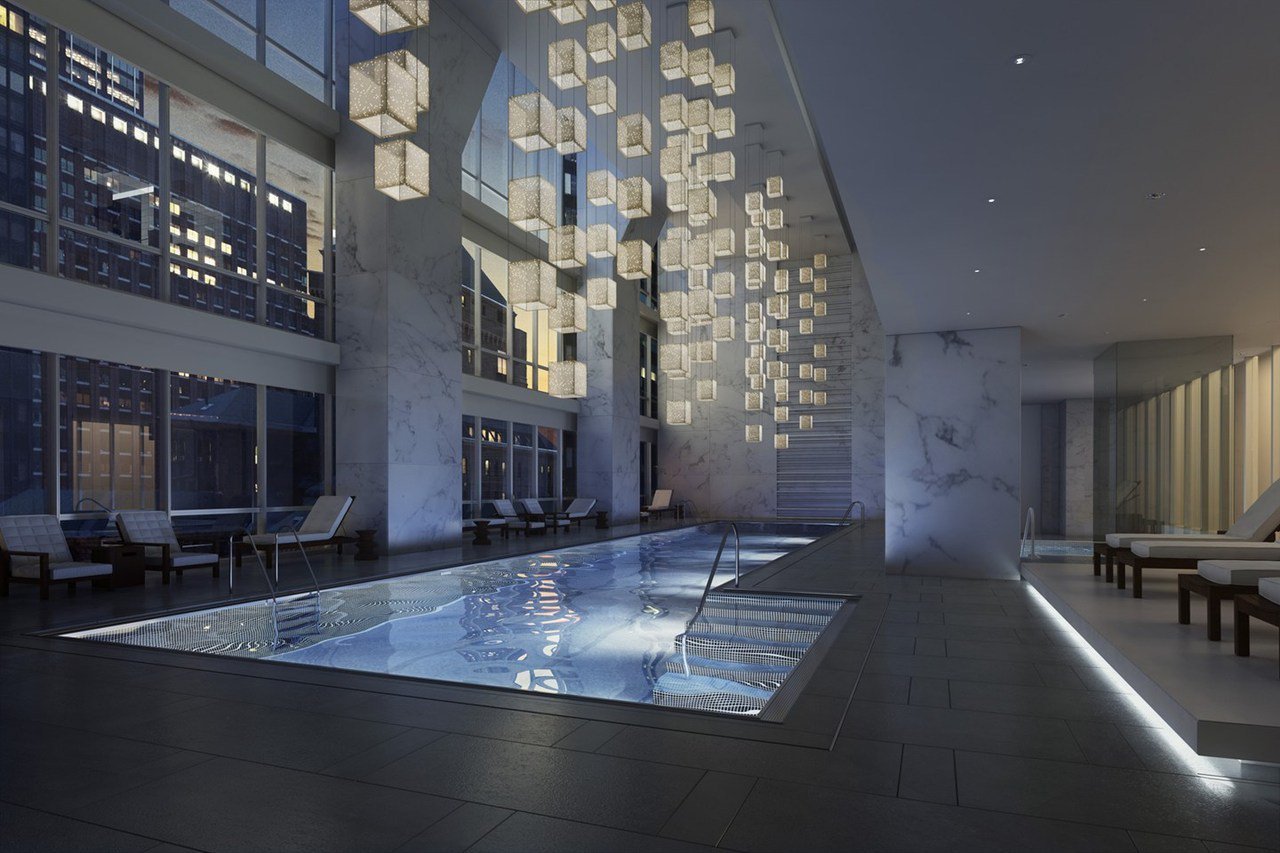 One57, a staple on Billionaires' Row is one of New York City's most luxury buildings. Midtown North is home to several iconic residential skyscrapers, however One57 exceeds expectations with their amenities. In addition to the indoor pool, fitness center and library lounge, One57 offers a full catering kitchen and private dining room. Can you say room service? Apartments like 54B, a 5-bedroom 5,475 sq ft unit, listed for 35,200,000, are among the luxury apartments still on the market. Residents of One57 also have access to the Park Hyatt Hotel amenities including the multilingual, high-energy hospitality staff.

Hotels possess a certain allure: travel, new experiences, and time away from work or home. These residences and their amenities come as close as possible to the true luxury hotel experience, yet they allow their residents to enjoy the privacy of their own home, customs, and space. With amenities like these, it's a wonder why any of these residents ever go on vacation!