#SotW: Great Jones Street (and Alley), From Grit to Glamour
Serena Horrigan
| December 01, 2015 | Published in
Elegran Insider
,
NYC Lifestyle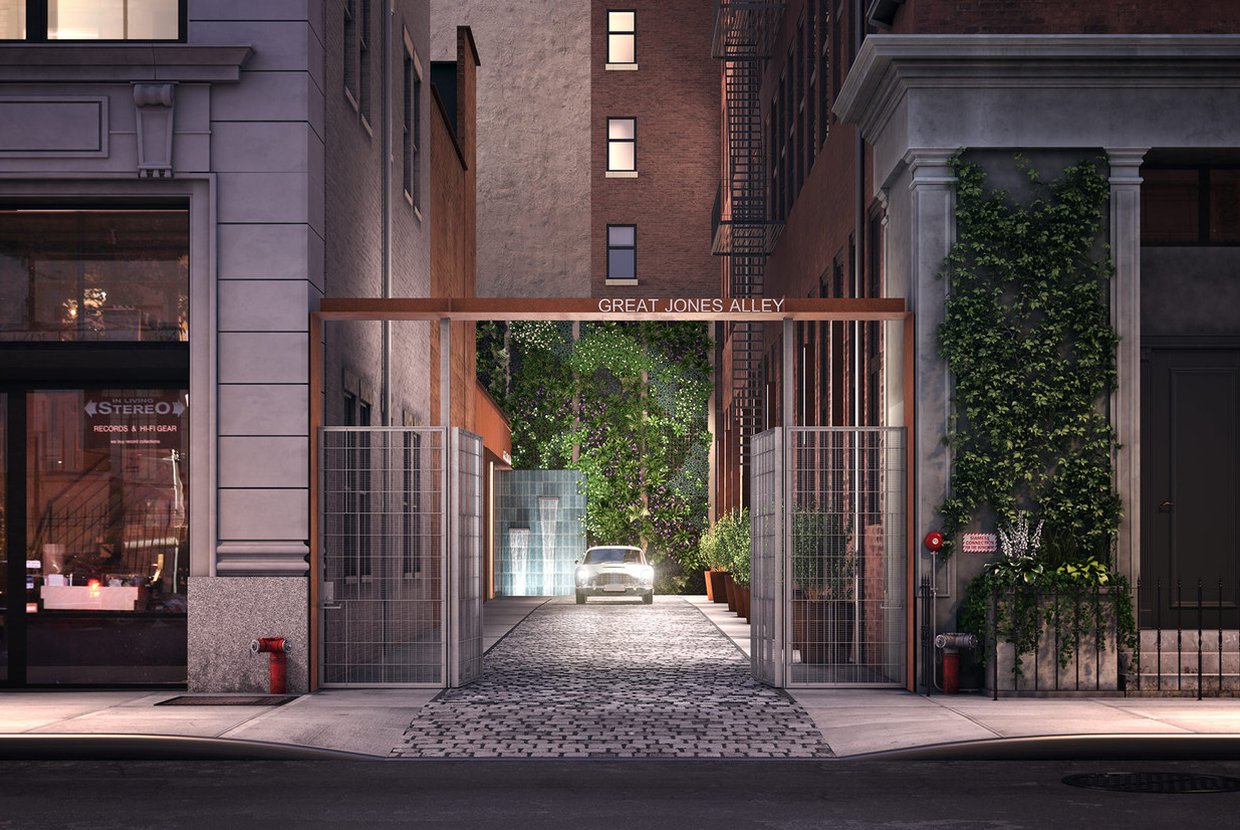 Rendering via 1 Great Jones Alley.
Back in the 1960s, when the streets of downtown were particularly turbulent, the alley just off Great Jones Street and nestled between Broadway and Lafayette Street, became synonymous with drug addicts and derelicts, so much so that the term "jonesing" allegedly originated as a reference to the street's notorious reputation.
Those days are long gone, however, and you're far more likely to stumble over a boutique hotel or Juice Press in the area than a junkie jonesing for a fix. Meanwhile, the luxury residential trend has become so far-reaching that it's spread to even the most unassuming streets and, in the case of 1 Great Jones Alley, a thoroughly transformed private entryway and luxury residential condo nestled in a charming and exclusive alleyway.
Designed by BKSK Architects of One Madison fame, 1 Great Jones Alley will feature a mesh Corten steel gateway leading to a private drive repaved in Belgian block. Indeed, discretion and exclusivity are key to the property's allure, so much so that you need a password to access the "Sneak Peak" feature on their website.
Privately exclusive luxuries will include an underground spa featuring stone thermal baths and 14 loft-like residences starting at $3.75 million for a 1,778 sqft 2-bedroom.
Great Jones Alley takes up a tiny ribbon of land from Great Jones Street in Noho and Nolita, past Bond Street, and crossing Lafayette, but when it was laid out in 1806, it ran from Mott and Bleecker Street up to East 4th Street. Its namesake, Great Jones Street, is tiny in of itself, running just two blocks long, but has quite a historic past. When it was named in the late 1700s, Jones Street in the West Village already existed, so its prefix was added to differentiate it.
Before the late 19th century, Age of Innocence-era, high-society uptown, Great Jones Street was one of Manhattan's most elite addresses. A series of fires in the late 18th and early 19th century left behind architecturally mismatched buildings, leading to the very eccentric and unique ambiance the street evokes to this day. In addition, its industrial loft spaces made the street a haven for artists and musicians. The postmodern author Don DeLillo wrote a novel entitled Great Jones Street that followed the journey of a washed-up rock star, and the infamous downtown street artist Jean-Michel Basquiat died of a heroin overdose at 57 Great Jones Street, a building owned by his close friend and artistic peer Andy Warhol.
These days, many of the architecturally unique lofts on Great Jones Street are home to some stunning luxury residences that still evoke the street's unique and artistic roots. 27 Great Jones Street is a charming pre-war condo loft building with classic downtown style. Apartment 5W is a Parisian-inspired 2-bedroom, 2-bath loft with a private, keyed elevator that enters into a vast, open home with soaring ceilings and a wall of oversized windows showcasing sweeping city views. It features a home office complete with a murphy bed, laundry room, a charming ivy-clad balcony, and a woodburning fireplace in the 2100 sqft great room. The open, eat-in chef's kitchen has veined marble slab countertops, Miele dishwasher, Sub-Zero fridge, and vented Viking 6-burner range. There is central heating and air throughout.
Built in 1910, 55 Great Jones Street is an architecturally historic loft building with seven unique residences and classic Noho charm. Apartment 6FLR is a full-floor 2-bedroom, 2-bathroom loft with quadruple exposure. Stunning arched, north-facing windows offer breathtaking city views. The vast living, dining, and entertaining room is open and airy, with high, whitewashed ceilings, and exposed industrial elements. There is a spacious master suite. The open chef's kitchen features stainless steel appliances, dishwasher included, and oversized sink with gooseneck faucet. The large master suite has a home office, and the master bath features a king-sized pedestal soaking tub that puts your favorite spa to shame. This loft can be easily and comfortably converted to a 3- or 4-bedroom.