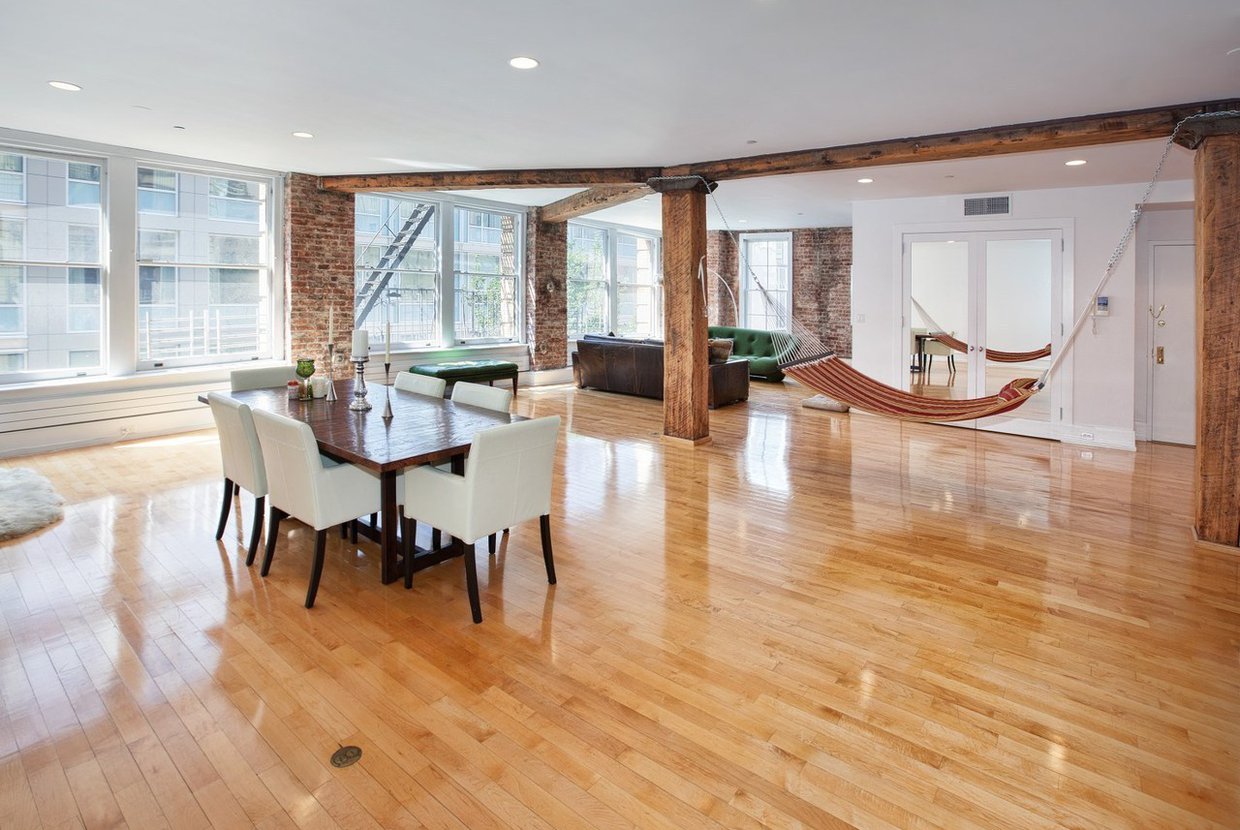 Photo above: 14 Wooster Street, 3 FL
This weekend, Curbed covered 104 Wooster Street 4S, the rustically chic Soho loft that just hit the market for $8.75 million. The 3,162 sqft, 3-bedroom loft features 12-foot-tall, dark wood beamed ceilings, an enclosed marble fireplace, and private keyed elevator, as well as an address boasting the "Best Soho Street". So what makes Wooster Street such a special part of Soho? Let's meander its charming cobblestones to find out.

Wooster Street runs north-south from Canal Street to West Houston Street and gets its name from Revolutionary War general David Wooster, who led Connecticut regiments in the Battle of Harlem and the Battle of Long Island. The street is part of Soho's Cast-Iron Historic District, which dates back to 1842 and was designated by the New York City Landmarks Preservation Commission in 1973, and is the largest historic collection of cast-iron architecture in the world.
In the 1960s and '70s, Wooster Street became a destination for artists drawn to the vast lofts housed in these cast-iron buildings, and a vibrant Downtown arts community was formed here and on surrounding Soho streets. Loft-living on present day Wooster Street offers apartments and penthouses that reflect the unique artistic vibe of the street while artistic movements maintain its cultural spirit. The Wooster Collective is an online store and exhibition devoted to documenting, showcasing, and celebrating worldwide street art that embodies Wooster Street's unique creative aesthetic.
The Lyall House at 35 Wooster Street is a spectacular example of historic cast-iron architecture.
Penthouse 5F is a sprawling 2,500 sqft, 3-bedroom, 3-bathroom loft with 15 ft ceilings featuring greenhouse-style skylights that offer a stunning aesthetic and an abundance of natural light. The massive grand room features a stately fireplace and is perfect for entertaining, as is the dramatic, landscaped 1,504 sqft private terrace with unobstructed downtown views. The pristine and stylishly renovated kitchen features state-of-the-art stainless steel appliances, custom cabinets, and a washer /dryer.
Amenities at The Lyall House include an additional rooftop deck and ample private storage space.
14 Wooster Street is a charming co-op building and is home to six distinguished full-floor lofts that are at once utterly unique and quintessentially Soho.
Apartment 3FL is a full-floor, 3,800 sqft 3-bedroom with private key-locked elevator, original rustic wood beams and columns, exposed brick walls, high-shine blonde hardwood floors, and red brick fireplace. The open chef's kitchen features black granite countertops, white custom cabinetry, and a spacious breakfast bar. The all-white windowed master bathroom features classic subway tiling and a gardened planting terrace offering sublime tranquil charm.
Built in 1900, 115 Wooster Street is a truly unique luxury rental loft building between Prince and Spring Street in the heart of Soho. With only two units per floor, it offers private and spacious luxury.
Apartment 6F is 1-bedroom plus a home office that has been meticulously renovated to embody its original, gritty charm while featuring the most sophisticated modern design, including cherry hardwood flooring, exposed brick, pressed white-tin rococo ceilings, and whitewashed doric columns. An east-facing wall of six arched windows offers an abundance of natural light and city views. The integrated kitchen features state-of-the-art stainless steel appliances, chef's range, and custom blond wood cabinetry. The master bedroom features French doors accented in dark wood and has two spacious walk-in closets.The private master bath is appointed with stunning, amber-hued spa tiling and dual square basin sinks, and a separate utility closet offers a washer/dryer.