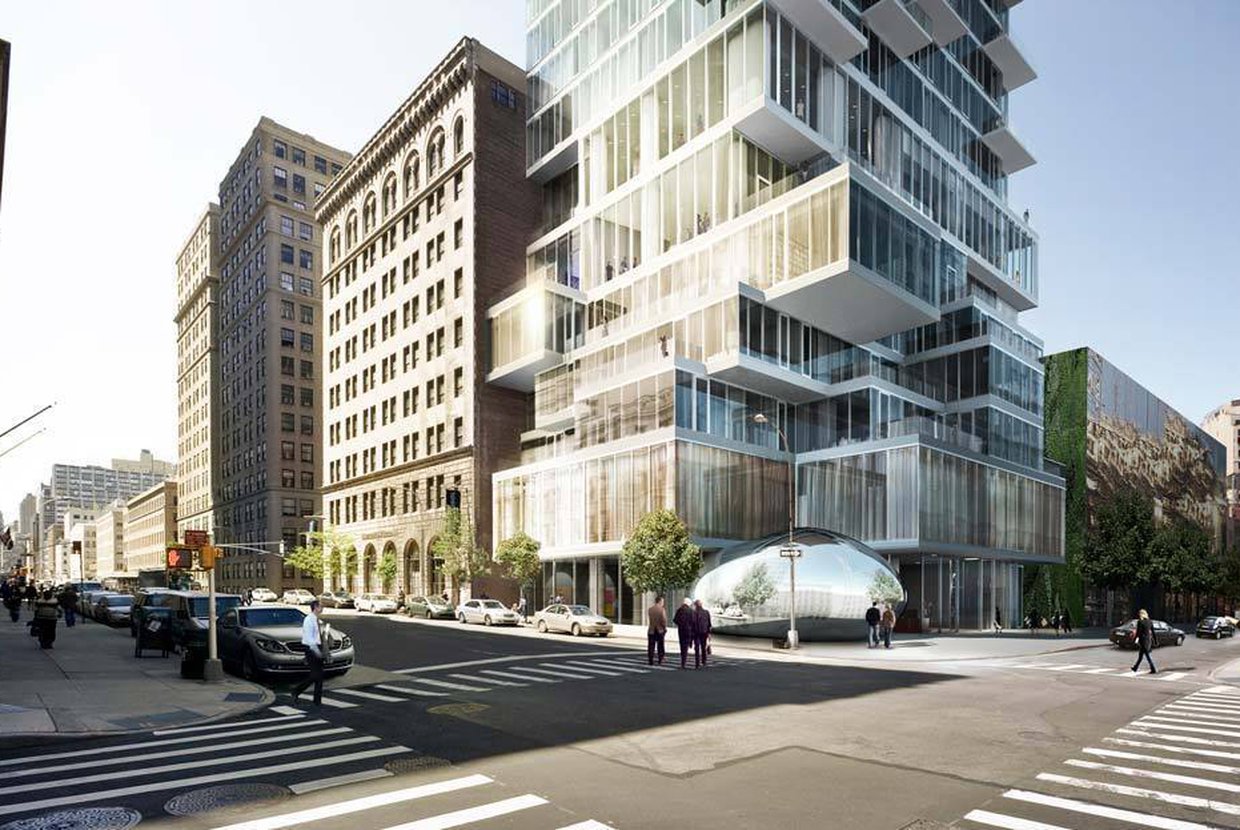 In NYC's current real estate market, it seems as if nothing is ever too tall, too flashy, or too over the top; that is, until renderings for a behemoth luxury residential tower popped up online. Plans for a 102-story residential tower on 57th Street show gold panelled facades and gargoyle-like eagle structures, and a truly ostentatious gold watchtower as its crown jewel. Were it to be built, the lavish and incredibly tall building would dwarf its fellow Billionaire' Row towers in scope and scale. The proposed structure, designed by architect Mark Foster Gage, is just a concept, but even without it, the city's most luxurious new residential towers have some behemoth stats of their own, not the least of which being their projected total sellouts.
Of the 200 current condo projects in Manhattan, 44 percent of their aggregated projected sellout comes from a mere 12 buildings, the most expensive of these unsurprisingly being the most newsworthy.
220 Central Park South — Earlier this week, we reported this Central Park–facing residential tower is costing its developer, Vornado Realty Trust, an astronomical $1.3 billion in total costs. It's also home to the city's most expensive condo sale, with a three-apartment purchase by hedge funder Ken Griffin for $200 million in total. With numbers like that, it's no surprise that the tower's projected sellout is $3 billion.
The Greenwich Lane — Actually a collection of five townhouses and five addresses, this West Village residential complex has a sellout projection of $1.7 billion. Currently, a 3-bedroom penthouse at 160 West 12th Street is asking $17.5 million, while a townhouse at 141 West 11th Street is going for $26.5 million. Development for the project began in 2013.
111 W 57th Street — Currently the tallest and narrowest tower in the city skyline, this SHoP Architects–designed residential project on Billionaire's Row has a projected sellout of $1.5 billion. While that number is less than that of many of the shorter buildings on the list, sales prices are still sky high. Residences in the 1,418-foot, 60-unit tower will start at $16 million.
53 W 53 — French starchitect Jean Nouvel's much-hyped and long-awaited MoMA Tower in Midtown has a projected total sellout of $2.2 billion. Sales launched in September, and a 3-bedroom with city, park, and river views is currently on the market for $21.7 million and spans almost 4,000 sqft.
432 Park Avenue — The most expensive projected sellout to date is the city's second highest tower, at least for now. At $3.1 billion in total expected sales and an average price of $6,894 per sqft, it will more than return on its investment: developer Harry Macklowe paid $440 million for it back in 2006.
56 Leonard Street — The Jenga-like Tribeca tower by Herzog & de Meuron has a projection sales totalling an even $1 billion. The 821-foot tower is the neighborhood's tallest, and apartments range from 1-bedrooms for $2,975 million to a 4-bedroom for $47 million. All units in the building are currently in contract.
111 Murray Street — Also in Tribeca, this all-glass tower is projecting $1.9 billion in total sales and a 2018 completion date. 2-bedrooms in the building are currently selling for between $4.35 and $4.9 million.
520 Park Avenue — The total sales projections for this 54-story condo building slated to finish completion on Park Avenue in 2017 are $1.3 billion. While it's one of the shorter buildings to make the list of most expensive projections, the residences inside are anything but small, and neither are the price tags. A 6-bedroom, 9,138 sqft penthouse is currently on the market for $70 million.
550 Madison Avenue — This Robert A. M. Stern–designed conversion of the iconic Sony Building in Midtown has a sellout projection totalling $1.9 million, barely breaking even of the $1.1 billion it was acquired for by The Chetrit Group in 2013. The hotel/condo hybrid will be ready for occupancy in 2018, with a triplex penthouse currently going for $150 million.
You might be wondering why One57 didn't make the list of most expensive projected sellouts. The CityRealty analysis of condos only included buildings where fewer than 50 percent of units had closed, and One57 now exceeds that.