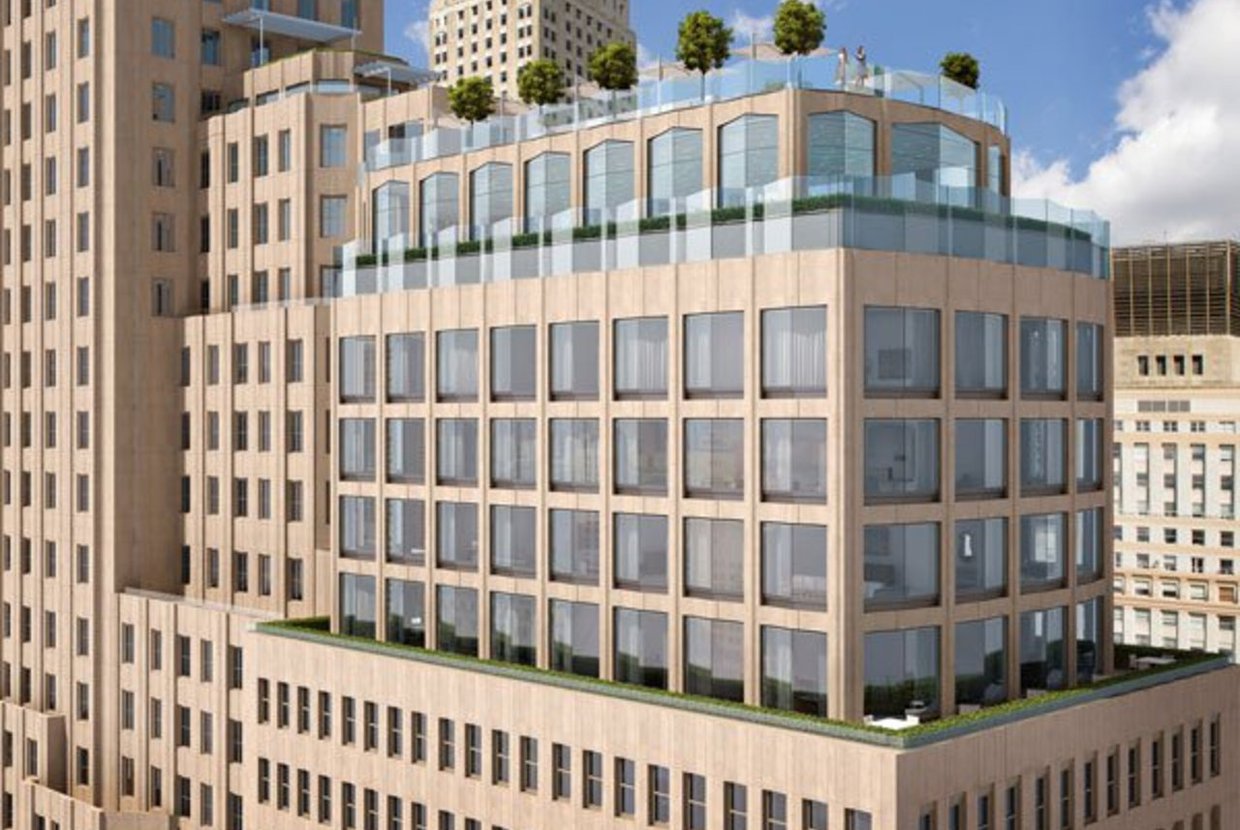 Rendering of One Wall Street courtesy of Robert A. M. Stern Architects
Any fears that the Landmarks Preservation Commission would hold up Harry Macklowe's Macklowe Properties' One Wall Street conversion project have been quelled – the LPC has approved the developer's plan to convert the landmarked art deco office building into a mixed-use retail and residential building.
The most recent renderings of the former Bank of New York are designed by Robert A.M. Stern Architects and show a stark contrast from the bank's original design, with a glassy facade of clean lines and plenty of greenery and open outdoor space. SLCE Architects were listed as the architect of record at first, but it seems Stern and co. have won Macklowe over for the design. The renderings show the building's main tower – built in 1929, with the annex added in 1961 – expanded and redesigned. The new annex and tower feature large windows and setbacks, creating ample outdoor terrain and an open, airy aesthetic.
Macklowe, who bought the landmarked building in 2014 for $585 million, will use 848,000 sqft to build 524 residentials units – half condo, half rental. The top four floors will be dedicated to four full-floor penthouses.
The project will also have 95,000 sqft of retail space, marketed by RKF, with Whole Foods as the potential frontrunner for occupancy in the building. This would be the first Whole Foods to open in the Financial District and would further foster the neighborhood's move toward a more residential feel. Other details on the ground-level retail space is as of yet unavailable since those permit applications have yet to be filed.
Macklowe is seeking to raise $100 million, or 7 percent of the total projection, through the EB-5 program, which garners capital investment from foreign investors, to fund a portion of the estimated $1.5 billion project.
Deutsche Bank provided $465 million in loans on the purchase of the property when Macklowe purchased it two years ago.