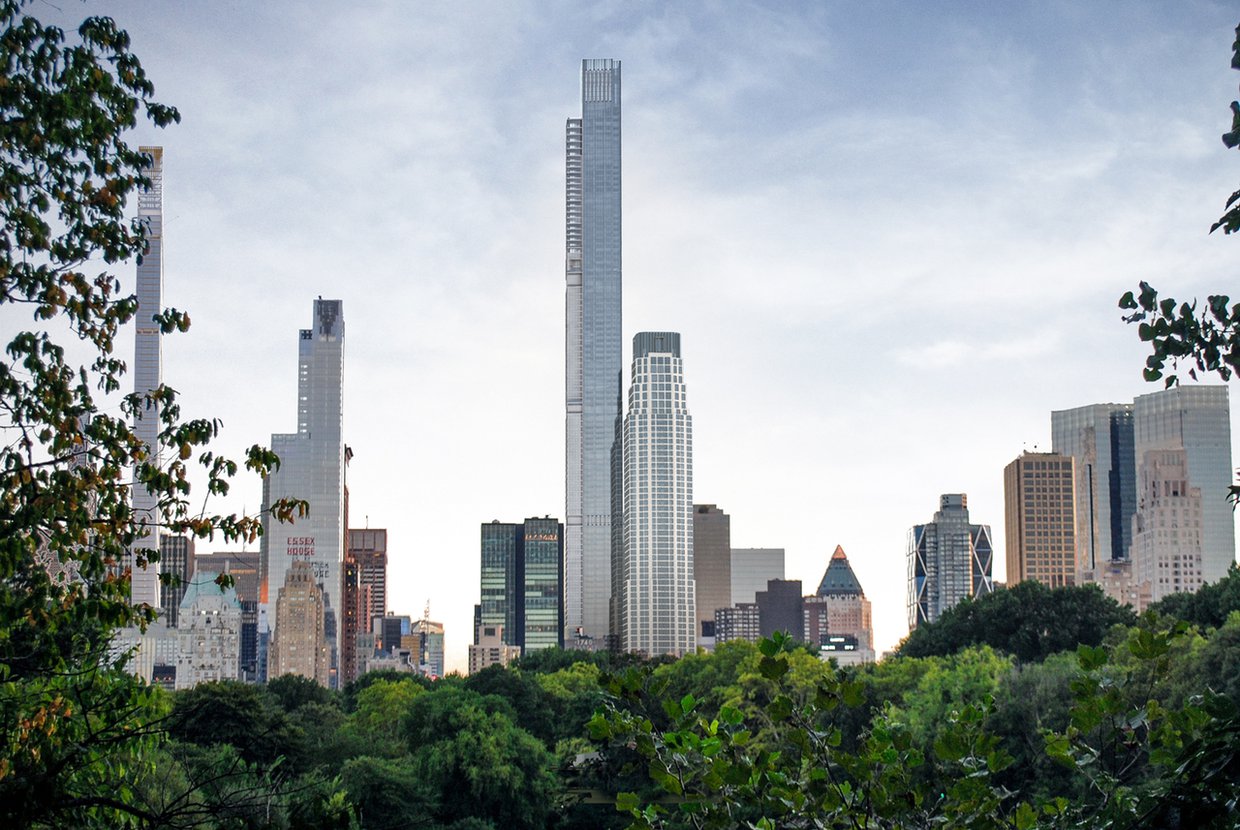 Rendering of Central Park Tower
It seems a week doesn't pass without another pencil thin glass tower climbing upwards and discreetly altering the NYC skyline yet again. The supertall tower, which is defined by the Council on Tall Buildings and Urban Habitat as a building 984 feet or higher, has become the construction trend of the 21st century due in large part to intense competition between developers.

According to the Real Deal, the current NYC real estate cycle is slated to produce as many record-tall residential buildings as the previous eight decades, and the city's top developers are in a fierce race to build the tallest residential tower.
There are currently 20-plus projects city-wide in the planning or construction stages that exceed 900 feet, but these towers aren't just breaking records in their heights; they're also the narrowest. For a supertall tower to also be considered slender, it must have a 1 to 10 width-to-height ratio, though current projects like Harry Macklowe-developed 432 Park Avenue, which has a 1 to 15 ratio, are pushing even those extreme boundaries. To put that in visual terms, this means the tower can rise 15 feet for every foot at its base. And if that sounds dauntingly slender, Property Market Group and JDS Development's 111 West 57th Street will be 1,418 feet and have a ratio of 1 to 23 when it reaches completion in 2018. These dizzying dimensions will make it the narrowest residential tower not just in New York, but in the world.
Though undeniably visually striking, this trend of supertall and superthin is less about aesthetics than one might think at first glance — the lack of available land for building has led developers to purchase the smallest patches of land possible and then procure as many air rights to make up for the lack of land use.
So who are the current leaders in this super tall and thin trend? Here are the 5 tallest residential supertower projects and the developers and architects behind them.
5. 53 W 53 (1,050 feet): This Jean Nouvel-designed tower, also known as the MoMA Tower, is still under construction–as it has been for years–but its high concept residences are finally on the market. Current sales range between $3 million to close to $60 million. Move-in dates are slated for 2108.
4. 125 Greenwich Street (1,050 feet): Though the details of this Michael Shvo-developed Financial District tower is still somewhat a mystery, the proposed project will be designed by Rafael Viñoly (also of 432 Park Avenue fame). Renderings show a skinny rectangle with blocks of floor carved out for terraces and roof decks.
3. 432 Park Avenue (1,396 feet): Designed by Rafael Viñoly, 432 Park Avenue is NYC's tallest completed residential tower. CIM Group & Macklowe Properties, the developers behind the project, recently divided five floor-through residences on the 91st–95th floors into two condos, and reduced their prices from $75 million to $40.25 million and $39.75 million.
2. 111 West 57th Street (1,438 feet): Designed by mega-starchitedit SHoP and developed by Property Market Group and JDS Development Group, 111 West 57th Street will be the city's skinniest tower. At approximately $8,000 per sqft, it also promises to be home to some of NYC's most expensive residences.
1. Central Park Tower (1,550 feet): When completed, the Extell-developed project formally known as the Nordstrom Tower will cap out as the city's tallest residential tower and a 182 feet taller than one World Trade Center. Designs for Central Park Tower have been kept largely under wraps, though Extell recently released renderings without the spire that earlier depictions had originally boasted.
Of course, there are quite a few other buildings which could supersede these in the next months and years. The height of One Park Lane is currently in question, but it could reach as tall as 1,200 feet. Proposed project 42 Trinity Place will be 1,015 at the very minimum, and 3 Hudson Boulevard, still in its proposal stages, will be anywhere between 1,500–1,600 feet.