The Top Ten Most Valuable Residential Buildings in NYC
Helen Olivo
| February 25, 2016 | Published in
Real Estate Market Trends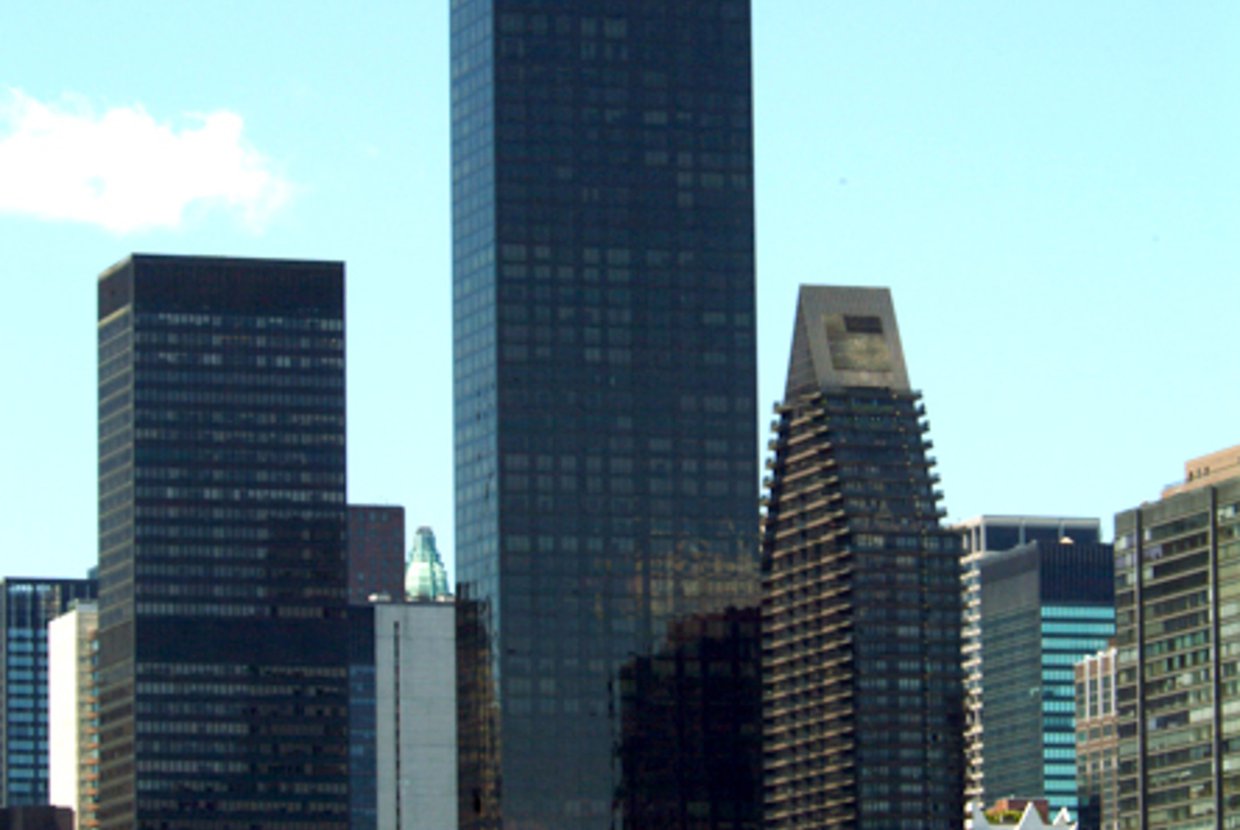 The Trump World Tower stands in first place with a value of $238.27 million in the fiscal year 2016. According to The Real Deal, other buildings such as Zeckendorf development's 15 Central Park West and Extell Development's One57 take the number 2 and 3 spots on the list, respectively. Here's a run-through of the most valuable buildings in the city.
1. Trump World Tower (845 United Nations Plaza)
Market Value: $238,273,008
Nestled in the charming neighborhood of Turtle Bay, the most valuable residential building in the big city has a total of 362 high-luxury, spacious condominiums, plenty of which overlook the East River with floor-to-ceiling windows that range from 10–15 feet high. Amenities include a 10,000 sqft health club and private spa, with a 60-ft pool.
Market Value: $216,320,007

Coming in as the second most valuable building in the city, 15 Central Park West on the Upper West Side has a total market value of $216.32 million in the fiscal year 2016. It's been said that each of its 362 condominiums can be exhibited as a work of art, due to the unparalleled details in interior design. The floor-to-ceiling windows let in plenty of natural light, and resident exclusives include a private dining room, a screening room, a walnut-paneled library, and a 75-foot pool. Own a pet? No worries: this building is also cat and dog-friendly. Because of its renowned security and highly dedicated staff, it comes as no surprise that the building has a history of celebrity dwellers, ranging from baseball superstar Alex Rodriguez to international supermodel Naomi Campbell.
Market Value: $209,841,006
With unbelievably modern interiors and breathtaking views from floor-to-ceiling windows, it's no surprise that One57 is a frontrunner as one of the most valuable buildings in the city. Building amenities feature: a state-of-the-art private fitness center, a yoga studio, an arts and crafts "atelier" room, a screening and performance room, a library with a billiards table and a 24-foot aquarium, and even a pet wash room!
4. Lincoln Plaza (20 West 64th St)
Market value: 195,726,985
The thriving midtown neighborhood surrounding the building is reason enough to label Lincoln Plaza as one of the most desirable properties for luxury living. The building features a rooftop health club, with an outdoor pool that has a retractable dome. You'll never be bored with cultural centers such as the Lincoln Center and Columbus Square as your neighbors, in an area that is renowned for its seemingly endless shops, restaurant variety, and booming nightlife.
5. The Sheffield (322 West 57th St)
Market value: $194,612,258
As one of the largest apartment buildings in New York City, the Sheffield boasts astonishing views of the Hudson. The state-of-the-art fitness center includes a spa, pilates studio, screening room. In addition to a swimming pool protected by magnificent glass walls and a roof-top paddle tennis court, there's something for everyone in this sizable property.
6. Zeckendorf Towers (1 Irving Place)
Market value: $192,122,006
If you're looking for an apartment with a private terrace, oversized windows with city and park views, a 60-foot pool, and a full-service health club, you should look no further than 1 Irving Place in Gramercy Park. The health center also includes extensive exercise equipment, free classes, a jacuzzi and sauna for a post-workout steam, and a large sun deck with posh lounge chairs. It's hard to compete with one of the city's largest and most important residential developments.
7. The Orion (350 West 42nd Street)
Market value: $191,085,874
The Orion in Midtown West is known for its sleek glass exterior, with even more magnificently contemporary interior designs. Residents will never bore with the Theater District, Times Square, and Broadway nearby. Additionally, they can enjoy three-story amenities suite with a 24-hour fitness center by La Palestra, a lap pool, a business center and multiple sundecks.
8. Trump Place (220 Riverside Boulevard)
Market value: $187,313,990
Combine the leisure opportunities Central and Riverside Park, the business opportunities of Midtown Manhattan, and the endless dining and shopping options of the city, and you have the eighth most valuable property in the city, also known as Trump Place. Enjoy floor-to-ceiling views of both the Hudson River and the Manhattan Skyline. The building's residents can also indulge in a fitness center with an adjoining spa to a billiards room, movie screening room, with full-time service from dependable concierge, valet, and a doorman.
Market value: $181,643,997
Coming in at number nine on the list, the apartments at 25 Central Park West include sunken living rooms, formal dining rooms, windowed eat-in kitchens, and high-luxury entry galleries. The residents have direct access to both Central Park and North Park views from their floor-to-ceiling windows. The pre-war building is one of the few buildings based in Central Park with retail uses. This, in conjunction to its proximity to the Lincoln Center, and its stance as an Art Deco landmark marks the residential building as a prime location to live, complete with a doorman, concierge service, and accessible public transportation just a short walk away.
10. The Rushmore (80 Riverside Boulevard)
Market Value: $179,525,997
Standing at an incredible 40 stories, The Rushmore features generous layouts with modern appliances for its residents. Adults who live in the building can enjoy a swimming pool and the fitness center while their children play in the playroom. The Rushmore also offers a stunning garden atrium and a private screening room for its guests.
Source: TRData analysis of Department of Finance's preliminary tax roll