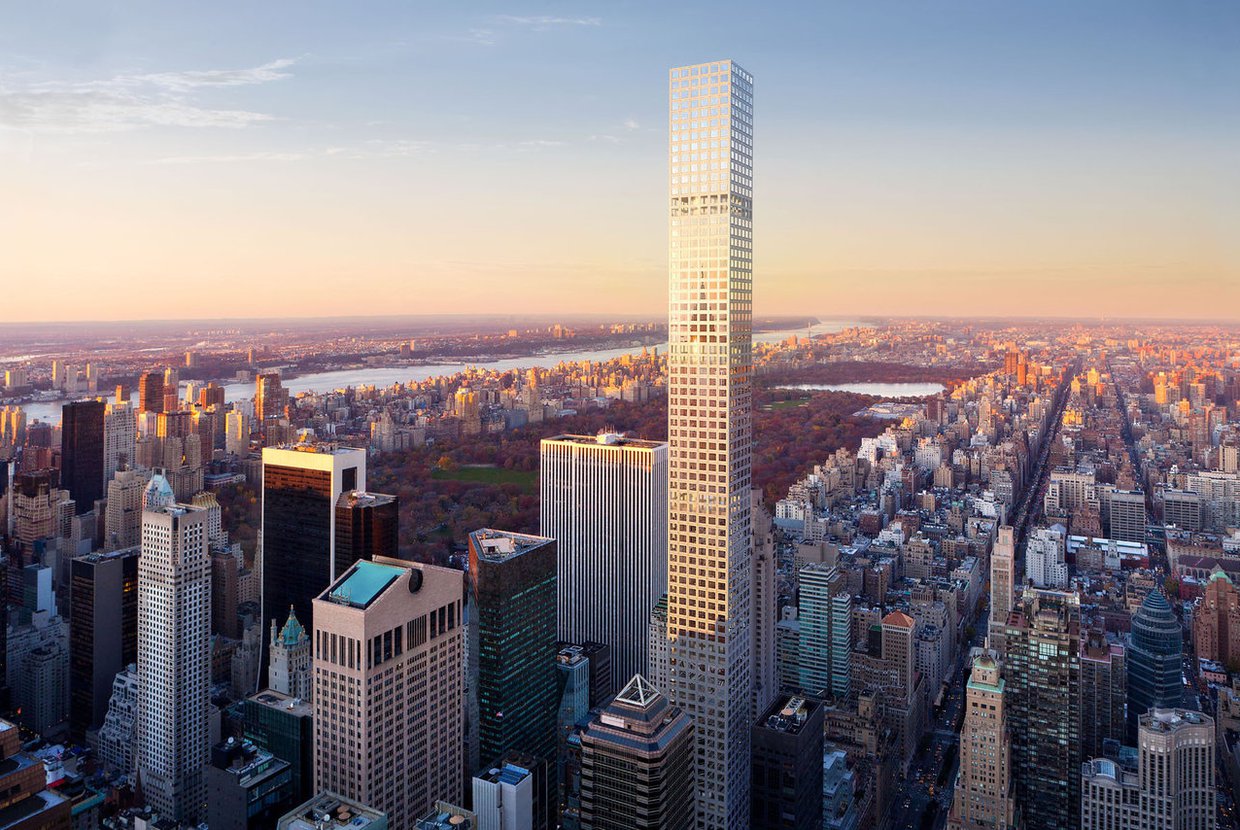 432 Park Avenue, the tallest residential building in the western hemisphere, stands near a whopping 1,400 feet, slightly taller than Manhattan's former tallest building when measured by roof height. The building was designed by Rafael Viñoly and developed by CIM group and Harry Macklowe, a well-known New York developer.
Construction for the supertall building began in 2012 and was completed December of last year, but marketing for the residential project began as early as 2013. A contract opened up for a penthouse around this time. It sold for $95 million with sources pointing to Saudi billionaire Fawaz Al Hokair. As of November 2015, more than 70% of its units are in contract, characterizing it as a hot commodity for high-end living.
This hefty project has a myriad of first-evers and most-evers. According to the Wall Street Journal, the project developers raised $1.25 billion from high-profile investors for its development, the highest amount raised for a project of this caliber. Additionally, the 126-unit building has a projected sellout of $3.1 billion, the most expensive in the history of any Manhattan residential building. It is also the 100th supertall building in the world, as defined by the Council on Tall Buildings and Urban Habitat.
Though it may be breaking NYC real estate records, the building stays true to Viñoly's typical geometric and symmetrical aesthetic with its perfectly square architecture.
Aside from the multi-billion dollar residential structure in the big city, his past ventures include Jazz at the Lincoln Center and the Brooklyn Children's Museum. Jazz at the Lincoln Center, completed in 2004, boasts three symmetrical performance spaces and a jazz hall of fame, with an objective of reintroducing jazz to NYC's social life and differentiating itself from what lies below it — the Time Warner Center's shops and restaurants.
The goal of re-opening the Brooklyn Children's Museum was to increase the accessibility of the museum's art and culture not only to children, but to people of all ages. The building's bright yellow color and simple L-shaped design conveys the museum's inner playfulness, staying true to Viñoly's aesthetic. The May 2008 reopening was also an attempt to ignite a previously fading physical presence of what is said to be the country's oldest children's museum.
In his free time, Viñoly enjoys playing classical piano, owning nine of them himself, and even one in his workspace. Some criticize his work as too conventional, but this is a man who has found the keys to success in routine and familiarity, beginning his career in Guatemala in the 1960's and moving his work to America, gracing NYC with his gift.