#SotW: West 11th Street's Illustrious History
Serena Horrigan
| February 23, 2016 | Published in
Elegran Insider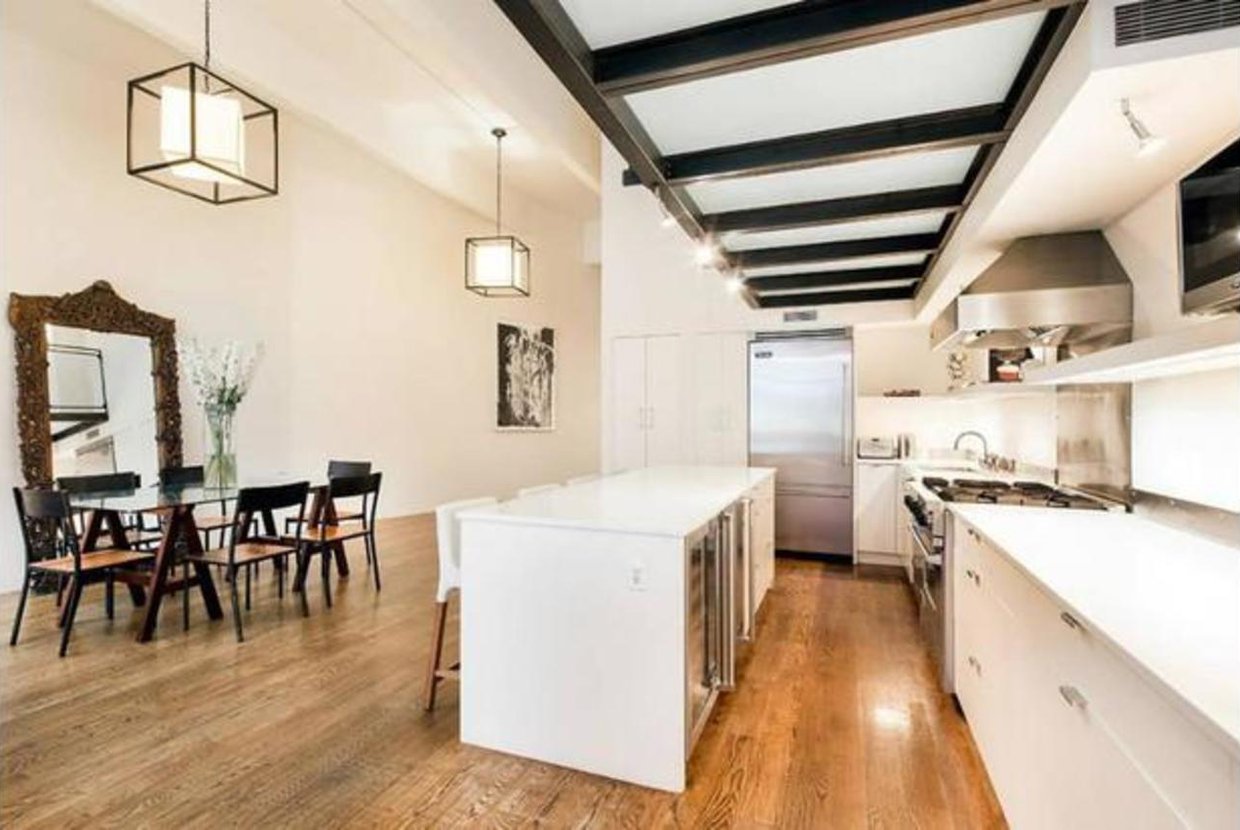 New York restaurateur Keith McNally is no stranger to making real estate news—his ventures such as Balthazar, Morandi, Schiller's Liquor Bar, and Cherche Midi have been downtown neighborhood game changers for the past two decades—but this time it's his home that's in the press. McNally has reportedly been attempting to unload his rustic French West Village townhouse for a few years now, first attempting to rent the 4,600 sqft 5-bedroom home for $25,000 a month. Now, 105 W. 11th St. is on the market for $13.995 million, and features wood burning fireplaces, exposed timber beams, reclaimed wood flooring, and befitting of the owner, a jaw-droppingly gorgeous farmhouse-style kitchen, complete with subway tiling, copper countertops, and slatted glass ceiling.
While perhaps the only culinary mastermind to call West 11th Street home, McNally has by no means been the only resident of notoriety on this West Village thoroughfare, which runs from West Street to Fifth Avenue: it's had a long history as a prime street for artists, writers, and cultural figures, as well as some cult-status eateries and truly remarkable homes.
Poet and playwright Oscar Wilde lived on West 11th between Fifth and Sixth Avenues in 1882.
In 1893, architecture firm McKim, Mead and White added a chapel to the 18th-century Gothic Revival First Presbyterian Church on the same block. Also on the block in the 1800s was the original Weatherman House, which later became the home of Charles Merrill of Merrill Lynch. It was also a hideout for a group of radicals in 1970 known as The Weatherman Group, who used the space to make bombs until 60 sticks of dynamite exploded there, killing three and destroying the house. Actor Dustin Hoffman, who was living next door in the '60s, witnessed the explosion.
Journalist Harold Ross lived on the street from 1919–1920, just prior to founding The New Yorker.
In the 1950s, Beat novelist Jack Kerouac's girlfriend lived at 307 W. 11th St., and he revised his classic On the Road in her courtyard apartment. Superstar photographer Annie Leibovitz now owns the apartment.
Speaking of Kerouac, his old neighborhood haunt White Horse Tavern is on the corner of West 11th and Hudson Street, and is one of the most historic bars in all of New York.
Nearby to the infamous tavern is the equally iconic eatery that started the gastropub craze in New York: The Spotted Pig. British superstar chef April Bloomfield and her business partner Ken Friedman opened the haute-comfort food spot in 2004, and it's been a choice destination for such elevated classics, as their world-famous roquefort burger with shoestring fries, ever since.
In 1932, the influential director and acting coach Lee Strasberg moved to 285 W. 11th St. Just a few years before, author Thomas Wolfe lived a few doors down while completing his masterpiece "Look Homeward Angel". If either Wolf or Strasberg was a present day resident, neighborhood institution Tartine would've likely been their go to for homemade French pastry and BYOB bistro fare.
If cult-worthy destinations and centuries of literary and artistic history weren't enough, West 11th Street has some stunning and one-of-a-kind luxe residences that offer stunning architectural design elements.
Located at 377 W. 11th St., Riverbank South is a classically chic pre-war that emanates quiet and elegant charm. Apartment 3A is an almost 3,200 sqft 3-bedroom duplex loft, evoking all the tranquil luxury of a private oasis. It features soaring 20-ft ceilings, regal columns, classic detailing, and an abundance of natural light from oversize south and east facing exposures. The grand room has a wood-burning fireplace and a spacious floorplan that opens up to a chef's kitchen with state-of-the-art stainless steel appliances, stark white custom cabinetry, and island bar. The airy mezzanine has a spectacular glass encased catwalk floating high above the kitchen. the master bedroom is vast enough for a home office or a cozy den.
Riverbank South has a flexible co-op board; pied-a-terres and co-purchased are welcome.
327 W. 11th St. is a mixed-use, pre-war co-op between Greenwich and Washington Streets, and offers beautiful apartments, duplexes, and lofts. Apartment 3R is a 2-bedroom duplex renovated by SU11 Architecture+Design, who created this conceptual, sun-drenched living space. The focal point of the space is the curved, white staircase with steel banister and postmodern cut-out display wall that connects the main living space with the bedroom suite. The two bathrooms feature subway tiling, sleek white vanities, and top of the line Duravit fixtures.The windowed all-white kitchen has a minimalist aesthetic and top-of-the-line Liebherr and Miele appliances.
Amenities in this pre-war co-op building include an on-site laundry facility.