The Biggest, Most Impactful Infrastructure Developments for NYC
Nikko Espina
| February 02, 2016 | Published in
Urban Design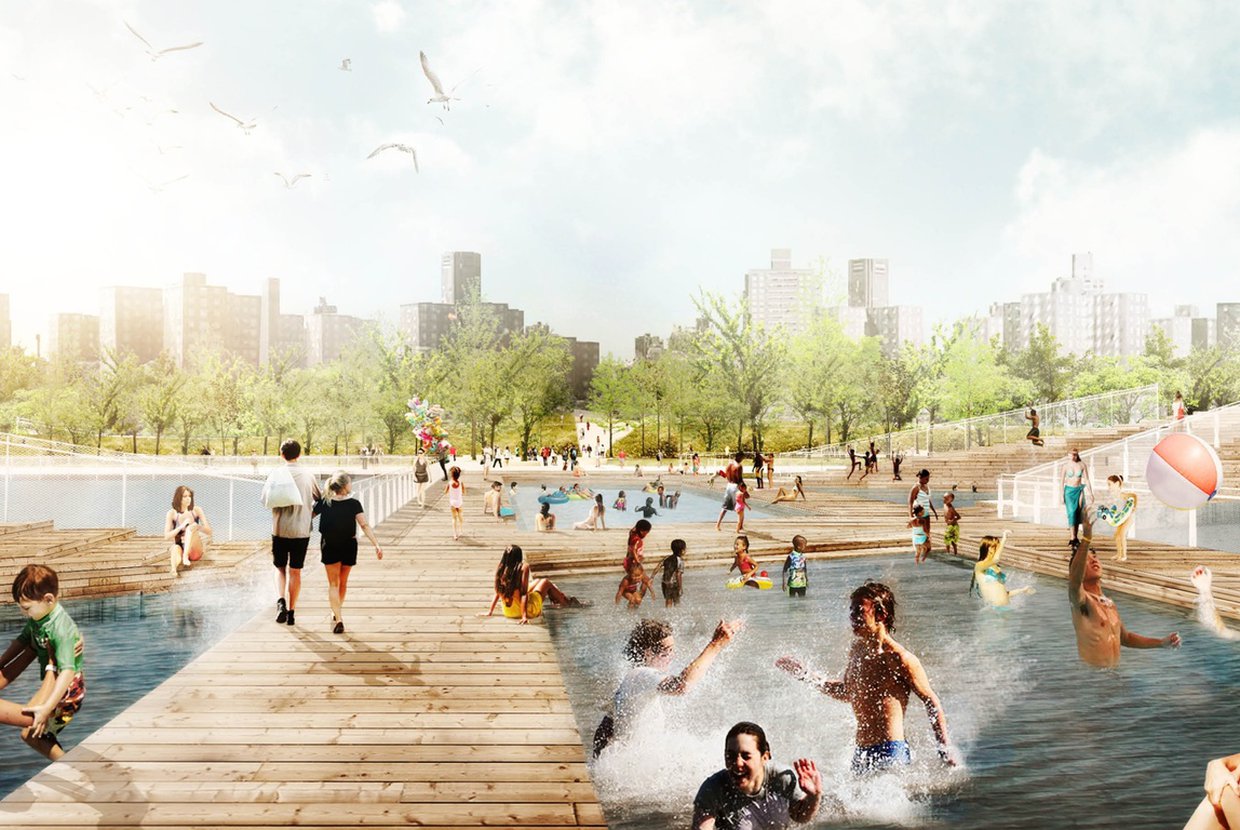 The future of New York relies heavily on the speed and effective progress of much needed infrastructure developments to coincide with the effects of an expanding population. Current infrastructure projects must accommodate various realities, including: the tremendous population growth in the city (half a million people per decade), the steady growth of commuters, and the shift in urban mentality from cars to public transportation. On January 6th, Governor Andrew Cuomo announced plans for a $3 billion revamp of Penn Station intended to reinstate timeless design features, such as skylit glass pathways, and other elements sorely lacking from the current incarnation. The announcement comes as part of Cuomo's ambitious $100 billion strategy to improve transit infrastructure. Other significant plans range from a $3.6 billion overhaul of LaGuardia airport, which was announced in late July of last year, to "a new Hudson River rail tunnel into Penn Station and a system to protect Lower Manhattan from flooding during future storms."

Stephen Sigmund, executive director of the Global Gateway Alliance, explains that "There's a significant correlation" between improving infrastructure and its impact on the real estate industry. Expanded accessibility and upgraded transportation systems effectively boost property value and desirability while inversely open up the possibilities for new neighborhoods to be developed. The speed at which NYC population continues to grow will enforce a more prominent role on public transportation. These combined factors propel the players of the New York infrastructure discussion to consider what's best for the future of the city. Let's take a look at three of the biggest projects that would have the most impact:
LaGuardia Renovation

Once crowned "America's worst airport" by Travel and Leisure Magazine, with conditions recently compared to a "third world country" by Vice President Joe Biden, work on the LaGuardia renewal is set to begin later this year and is projected to be completed in 2019. The redesign will connect its three main terminals and will also include the development of a mass-transit, Airtrain-like system that will reportedly cost $450 million. The accessibility provided by this transit link system would smoothen transportation for both LaGuardia's employees and its domestic and international travelers.
In a statement released to the New York Times, Joseph Sitt, president of Thor Equities, and chairman of the Global Gateway Alliance, which advocates for the improvements of airports within NYC, called Cuomo's announcement "'an important step in bringing New York's airports into the 21st century' and 'a win for the more than 117 million annual passengers that use our airports and for a regional economy that relies on the airports for more than $50 billion in activity.'"
The Dryline for "A Stronger, More Resilient New York"

After the widespread damage caused by Hurricane Sandy in 2012, which delivered a total of $4.5 billion of damage to the city and $8.6 million for real estate owners, the U.S. Department of Housing and Urban Development launched the "Rebuild by Design" contest, which offered federal funding to projects that would rehabilitate and strengthen the tri-state area; the Dryline, a flood protection berm conceived by Danish architect Bjarke Ingels, received $335 million. The first segment of the project will stretch for two miles and act as a "bridging berm," reaching a peak of 15 feet, matching the "once every 100 year" flood line and will snake around "57th Street on the West Side, down around Lower Manhattan and back up to 42nd Street on the East Side". The final project will be a 10-mile long storm protection barrier that will include new landscaped foot bridges and a new park showcasing lush greenery and solitude developed along the initial two-mile stretch.
"Lower Manhattan was devastated by Sandy. Residents went without water and power for days," she said in a City Hall news release about phase two of the plan. "There are no quick fixes or easy solutions. We need, and are grateful for, this substantial long-term investment in our future."
Triboro Rx
One may wonder and shake their head at the lack of conventional direct transit connections between New York boroughs. Most residents of Queens and Brooklyn ride the subway into Manhattan to travel between boroughs, while the Bronx has virtually no subway link into any borough besides Manhattan. The 20-year-old proposition, birthed by the Regional Plan Association, called the Triboro Rx, consists of using the existing rail rights-of-way and freight lines "that stretch from Bay Ridge in Brooklyn to Co-Op City South in the Bronx" to install the new subway route.
When the Triboro Rx was first proposed, it was projected to attract 76,000 riders per day. However, the amount of subway riders has increased by over 22% since its 1996 introduction; this number will expectedly increase as population does. Additionally, public transportation use is expected to increase as our reliance on fossil fueled modes of transportation slide downhill. Though progress on its development has been a long time coming, the idea was re-proposed by the RPA with an estimated cost of $1 billion according to "a report on outer-borough transportation investments."
The effect of the investment on real estate could eventually be comparable to the revitalization of the L train and the booming of Brooklyn. Tim King, managing partner of Brooklyn's CPEX Real Estate commercial brokerage explains that "transportation is the key to successful residential development. I don't think you need to be the reincarnation of Harry Helmsley to see the effect the L train has had on Brooklyn neighborhoods."