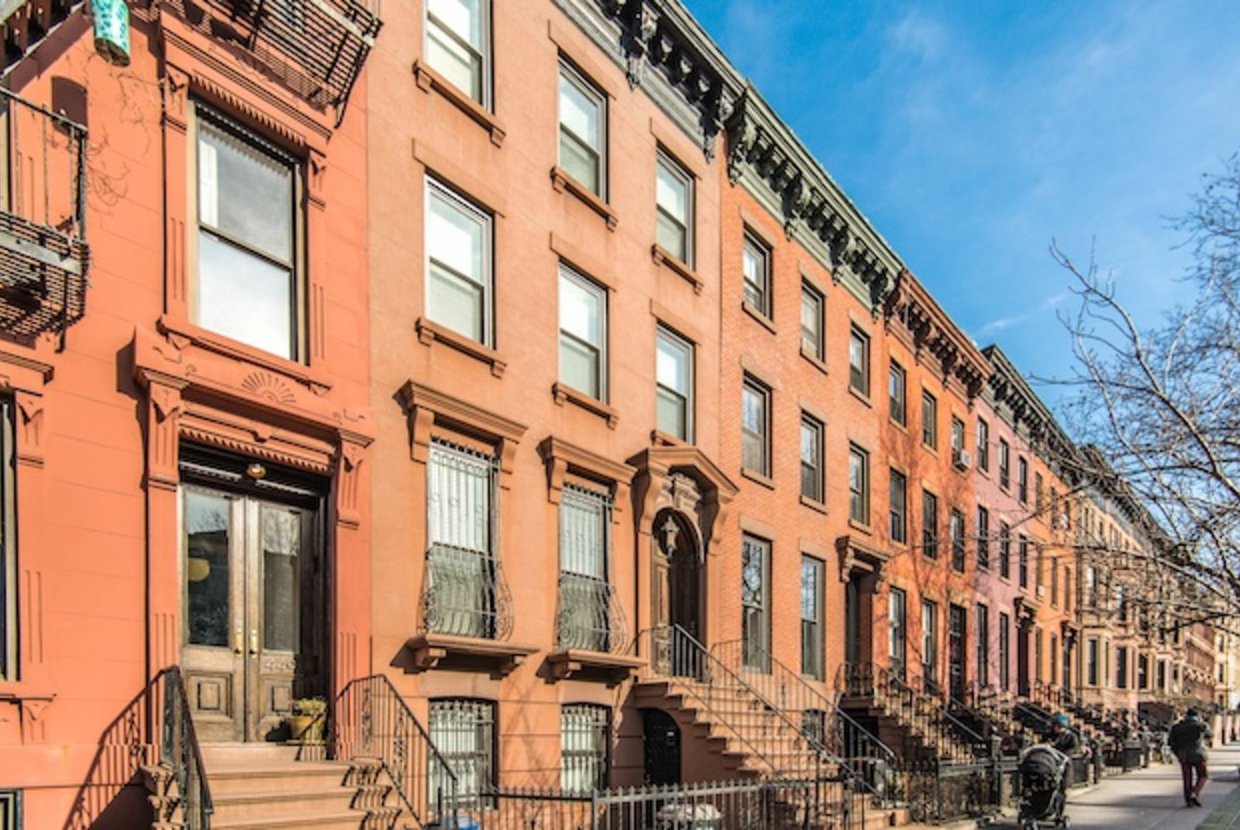 New York buyers have the luxury of choosing between old and new architectural styles, from high-rise condos to quaint Victorian interiors. Yet, the popularity of the classic New York brownstone prevails due to their desirable floor plans, stately fireplaces, and original hardwood flooring. The first examples of the burnt red brownstone appeared in the 1830s on Manhattan's Upper West Side; the sandstone material was considered a more economical substitute for marble and limestone. Construction for brownstones flourished from the 1860s until the 1930s when developers shifted towards modern designs.
Elegran has several listings on the market including 154 Hicks St in Brooklyn. Located in the up-and-coming Brooklyn Heights the building features original fireplaces, and a classic burnished red exterior,offering the perfect restoration opportunity for buyers.
Similarly, in trendy Park Slope is 846 President St, which offers a co-op buy in, pre-war moldings, and recently renovated windows which allow for tons of natural light.
Considering the brownstone's longevity in New York they are like any other home and require upkeep and possible renovations. Elegran has compiled a list of tips, considerations and tricks to keep in mind when investing in a brownstone.
1. Finding a reliable contractor
Hiring and working with a contractor can be stressful in any situation: finding a contractor who understands and specializes in older buildings can be downright discouraging.
Don't worry though, life can made easier through the contractor matchmaking services of Sweeten. According to Apartmentality, the site uses an extensive vetting process before recommending a contractor. Additionally Sweeten offers a rating system and profile of the contractor's work and effectively streamlines the search process for home renovators.
2. Factoring in the need for amenities
Although the Manhattan brownstone has a lot to offer in terms of space and privacy, unlike modern luxury buildings, pre-war brownstones don't have lobbies and therefore don't have doormen. Luckily, modern technology is catching with "The Virtual Doorman"—essentially a remote full-service doorman who receives packages, lets friends and guests into the apartment, and if you forget your keys even unlocks you out of the apartment.
3. Facade Maintenance
The classic brownstone exterior plays an undeniably major part in its appeal, but like all buildings experiences wear and tear in the New York climate. Once the stone starts flaking, experts say your best bet is to start repairing as soon as possible. It might be tempting to redo the whole job at once but it's actually more cost-effective to repair a little at a time. Alternatively "The Brownstoner" is a solid place to start looking; it's essentially a local blog spot and forum for New York brownstone owners. Their recommendations are locally based and familiar with the quirks of owning a brownstone.
4. Zoning Laws
Chances are, your cute brownstone will be in one of New York City's historic districts and so every change you want to make will need to be approved by the LPC. Probably not something you'd think of initially but down the line you're going to want to maintain and upgrade your home. It's better to know that you'll want to stick with classic design down the line.