Spotlighting Karim Rashid: Inside the Pink Swirls of His Pop Colored Brain
Nikko Espina
| March 10, 2016 | Published in
Urban Design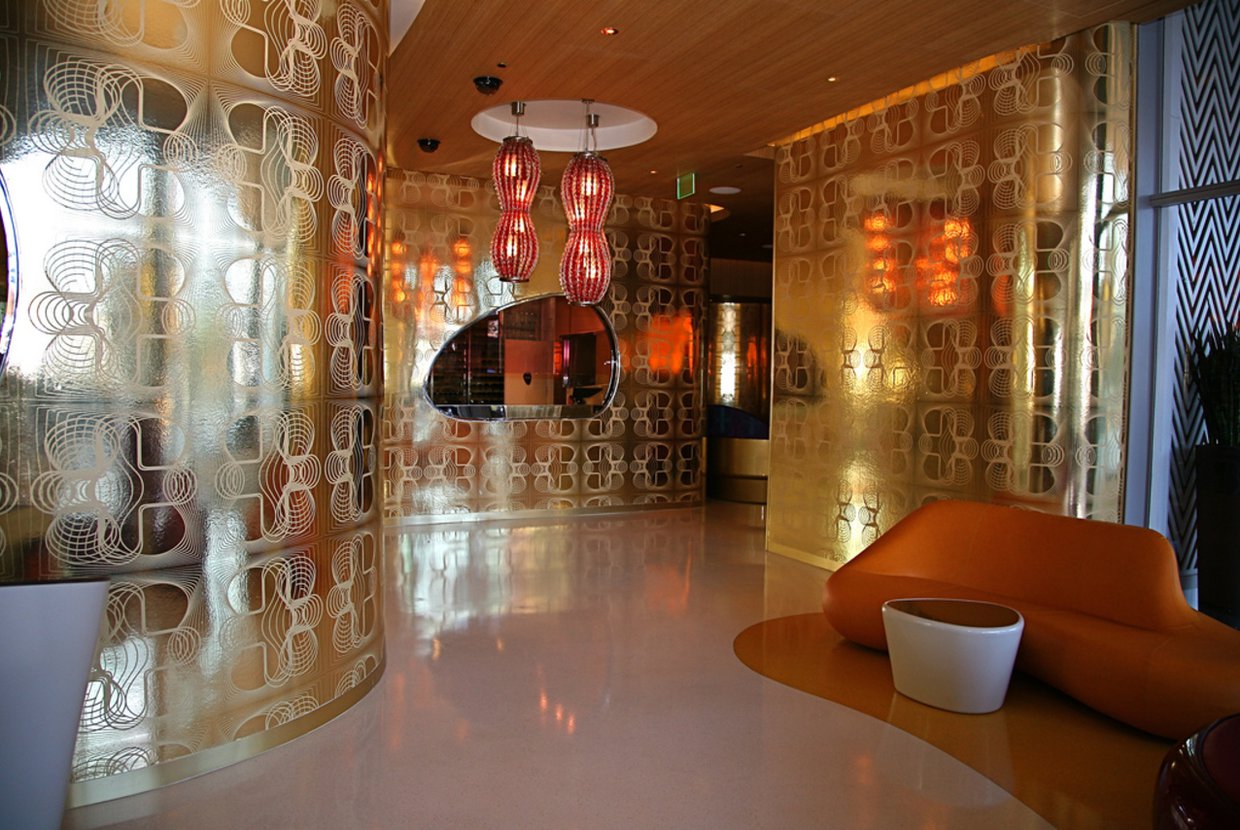 Karim Rashid, world-renowned industrial designer, embodies the perpetual vivacity of 1980s pop color and pours them into alien shapes of a sensual dimension that defy the shackles of safety and convention; he calls these objects "blobjects, shapes that have no lines." Rashid is an undisputed icon who has cemented himself as a self-proclaimed "legend of design," a title that holds oceans of inspired discussion of either disdain or acclaim; his world is uninhabitable for feelings of indifference. According to his website, he has "over 3000 designs in production, over 300 awards," and has worked in over 40 countries. His design portfolio contains an endless array of award-winning designs including furniture, household and commercial products, lighting, brand packaging, restaurants and bars, hospitality and residential buildings, public and retail spaces, graphics, fashion, media, art, and global design concepts, all of which vibrate with shocks of colour and shout with the decibels of blazing drag queens in neon. Rashid's trademark style presents a globally recognized identity that is quite dizzying and at times, slightly visually assaulting.
Throughout his career, he's reinvented a new shade of "classic," one that's informed by the effervescence of the 1980s with sprinkles of Warholian flavor, and fused with the blobjects of a playful and strangely timeless bubblegum future. His futuristic works are crafted with nods to the past, and ultimately emanate an aura that confounds the beholder so that one cannot help but wonder if they've entered the past or the future. This new classic, helmed to establish the future in the present, mainly rests on a trifecta of energetic color, sustainability (an increasingly necessary aspect for design moving forward), and the expansion of digital possibilities.
Chelsea loft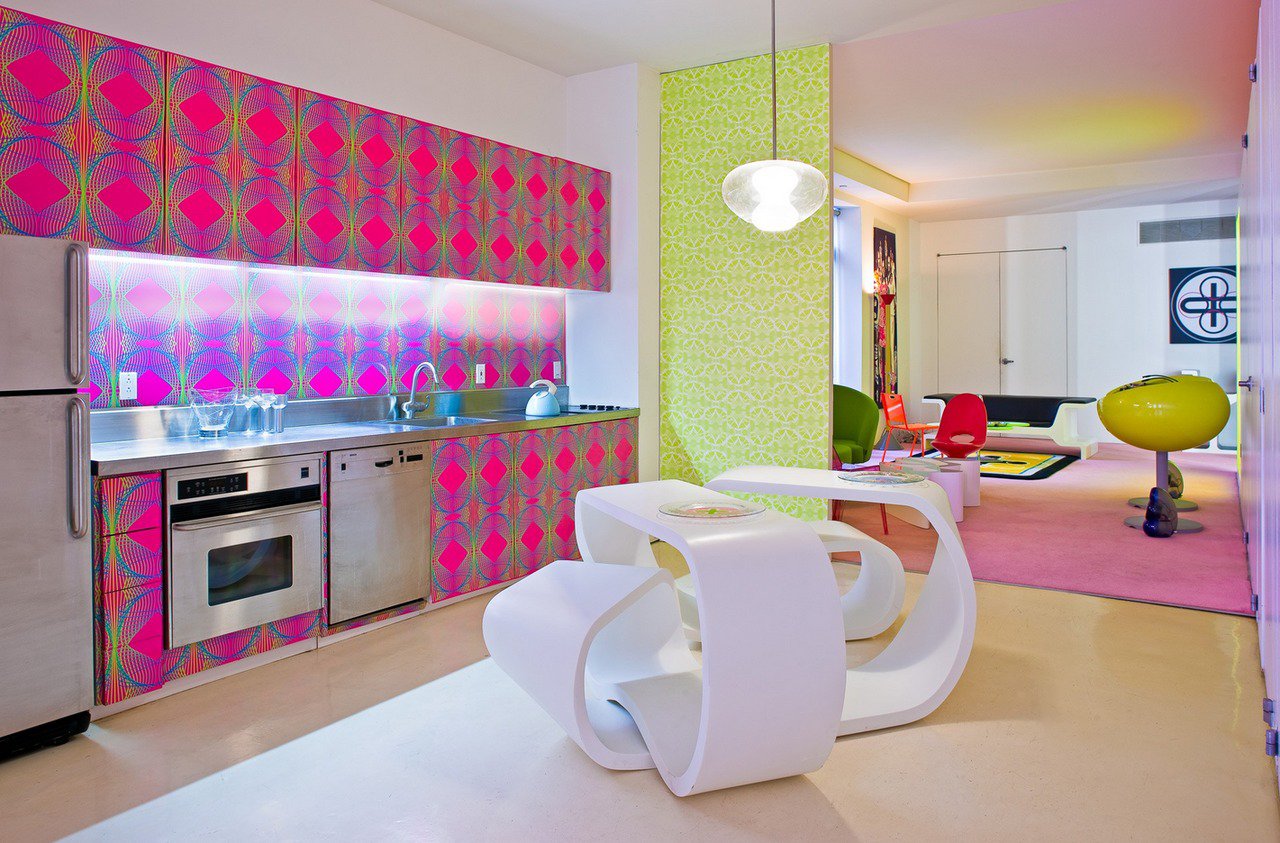 Born in Cairo, Egypt, but raised in Canada, Rashid had an insatiable desire to draw as a child, and a stark affinity for bright colors — a quality that boldly remains and defines his electric character. He describes feeling connected to renaissance people, one of them being the legendary Swiss-French architect Le Corbusier, a pluralist individual who was also a painter, designer, and writer. Rashid's main influence however, was his father: "he was not only a painter and set designer for film and TV, but he also designed every piece of furniture in our house and built it. He would also make dresses for my mother that she would wear out the same night. It was inspiring to see that."

In an interview with Vogue Italia, Rashid revealed that his career as a vibrant force in design began after he was fired from his associate professor position at the Rhode Island School of Design and opened his first design studio in New York in 1993. Then in 1996, he received a call from Portland, Oregon, offering him a position as the head designer of Nike with a "phenomenal salary" that shocked him.
"Immediately, right at that moment, on the phone, realized, 'Here was my tipping point or my turning point.' I either take on a job for security, just kind of fit into the world, which is fine because some people are good for that; I wasn't the type. I'm much too . . . I think, artistic and also at the same time I want to do too much to work for a singular company and I rejected the call within a minute and I remember that feeling, of that moment, that apex, that tipping point where my career was starting to happen and I'm going to pursue this."
Kurve NYC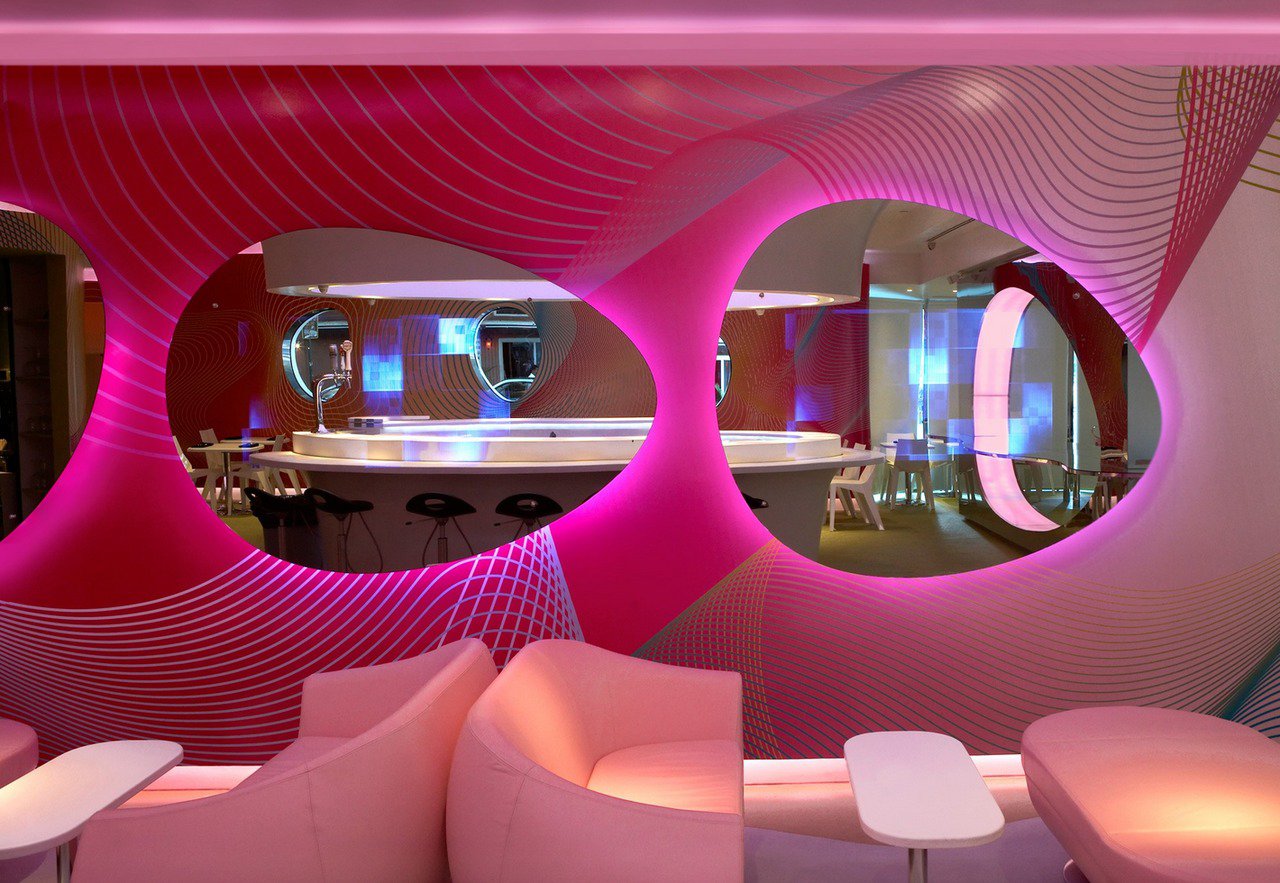 His instincts were correct and his career subsequently exploded with an endless array of award winning designs that "include luxury goods for Christofle, Veuve Clicquot, and Alessi, democratic products for Umbra, Bobble, and 3M, furniture for Bonaldo and Vondom, lighting for Artemide and Fabbian, high tech products for Asus and Samsung, surface design for Marburg and Abet Laminati, brand identity for Citibank and Sony Ericsson and packaging for Method, Paris Baguette, Kenzo and Hugo Boss." In recent years, he's been tapped by HAP Investments to design several real estate developments, including the Diamond Building on 1655 Madison in East Harlem, bringing a new urban lustre to the historic neighborhood. He continues to work in the city and currently resides in Hell's Kitchen with his wife Ivana and their daughter Kiva.
In December 2010, Rashid unveiled one of his most iconic works, the Komb House at the Le Marche exhibit, an annual furniture fair that showcases eco-technological innovations in furniture, in his native Cairo. Arguably his most impressive creation, the celebrated abode was built with eco-conscious principles as eternal as its aesthetic. The Komb House fused elements of traditional Arabesque with sustainable design structures that make use of renewable natural resources. A dual-purpose central skylight keeps the home awash in warmth and natural light and also collects rainwater that is later filtered by an interior plunge pool. LED bulbs provide general interior lighting, solar panels heat the water, and radiant floor heating heats the circumference of the round domain. Leaving no stone unturned, Rashid takes all steps possible to ensure a minimum environmental impact by installing appliances that meet all the highest energy efficiency requirements and a bonus kinetic art sculpture that levitates and rotates to create wind energy.

The Komb House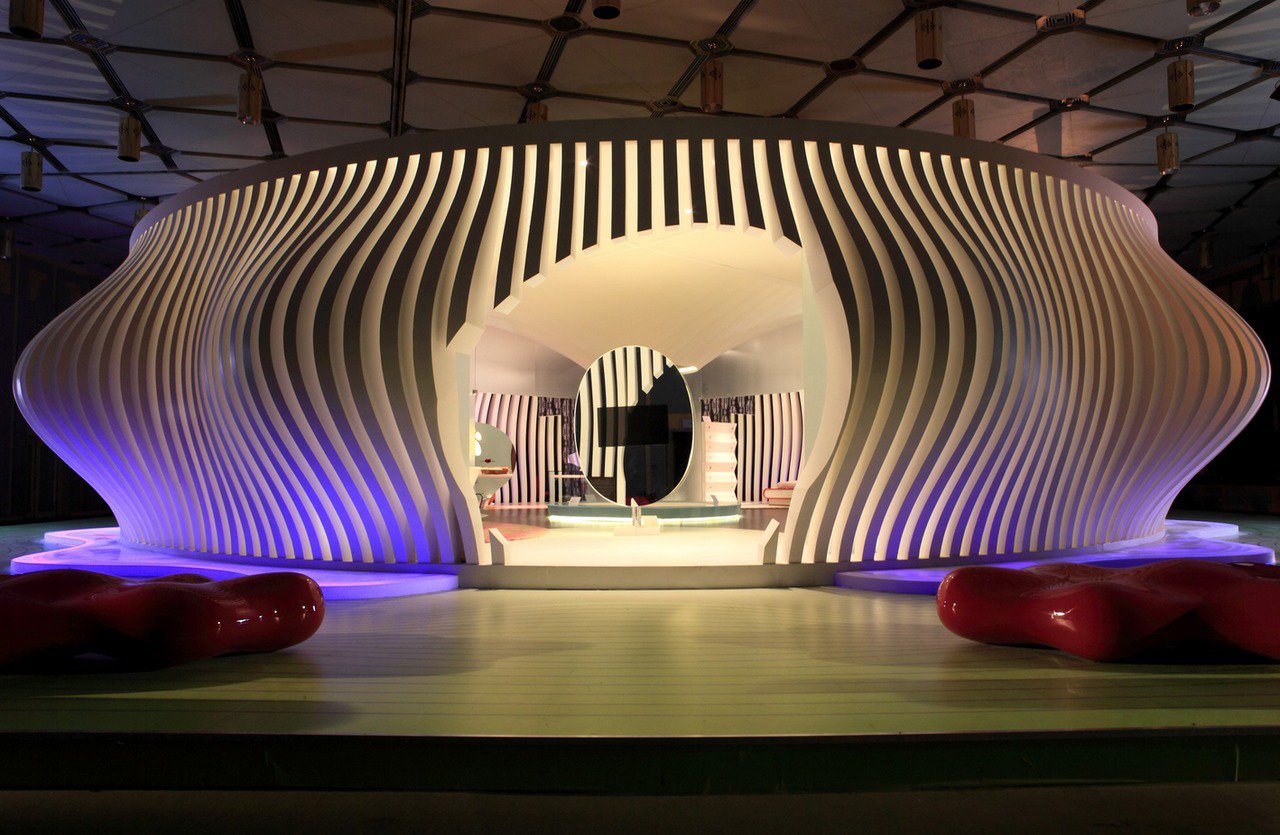 Rashid's staple concept for the future, GLOBJECTS, expands on the basis of sustainability. He describes a GLOBJECT as "an object that transcends place, culture, and creed; is nomadic and omnipresent to the celerity of our new social behaviors. Objects that may be designed in one country, produced by another, manufactured with parts form [sic] several locations, and assembled in anywhere in the world." Rashid claims that this collaborative manufacturing process focuses on creating products that will be locally produced on demand in the places where they are consumed to the same original standards, therefore nothing will need to be shipped internationally. "This new collaborative way of designing, distributing, and manufacturing is the embodiment of the digital age. When we produce only what we need, when we need it, we can reduce unnecessary drawbacks and waste."
Even more central to his modus operandi are the "lucrative, highly experiential infinite possibilities of the digital age." His designs express a new physical language that he's coined as the "techno-organic," which he uses to refer "to the coalescence of the organic amorphous natural world with our third technological revolution." In other words, Rashid is leading a dual revolution of digital & aesthetic design, painting a disruptive landscape ahead of an entire era — the industrial van Gogh of the Millennial age.
nhow Hotel Berlin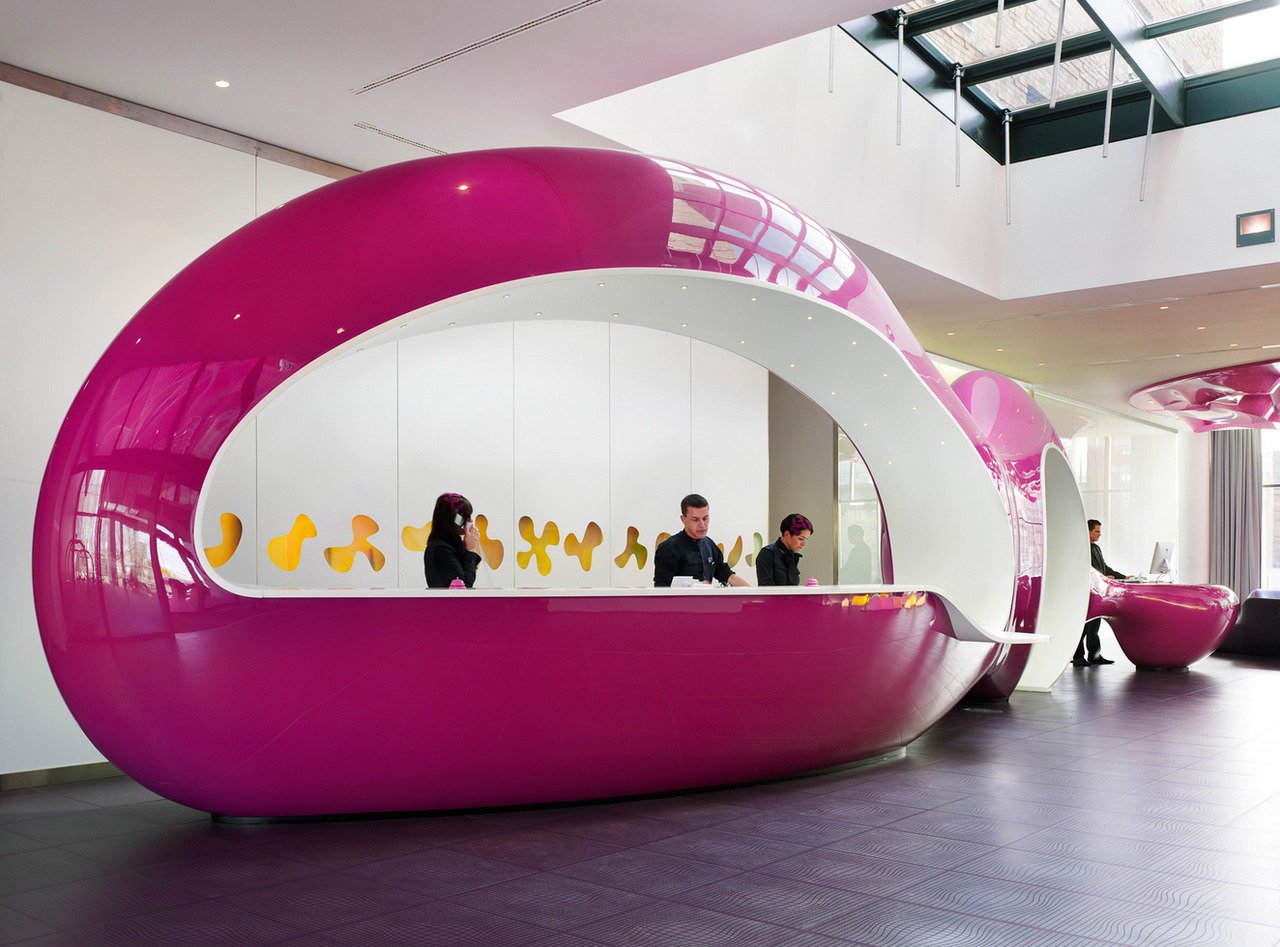 Rashid's mind ebbs and flows with the tides of digital change and recognizes the decaying of analog life. Perhaps he's planted his response to critics within the bones of his designs. If his work stands the test of time in 5, 10, 20 years, precisely adapted to a more digitized, connected, and (hopefully) sustainable society, his critics will be forgotten. Often the greatest artists are not honored or appreciated in their lifetime (van Gogh, Gauguin, Monet), but hailed as legends beyond their passing among future generations. Despite the contested beauty of Rashid's trademark aesthetic, we know two things are true: our world, and in effect our lifestyles, is vastly more connected than ever before and will continue to grow as such, and that we are in global dire need of a sustainability overhaul. Karim Rashid is altogether thoroughly iconoclastic, geniusly aware of the current state of our society with a vision that's perfectly in sync with its projected course, and possibly quite full of himself, but he speaks to what the future begs; the world could use more creators like him.