NYC Seller Stories: A Look Inside Christa Chi's Gut Renovated Apartment
Helen Olivo
| April 21, 2016 | Published in
Elegran Insider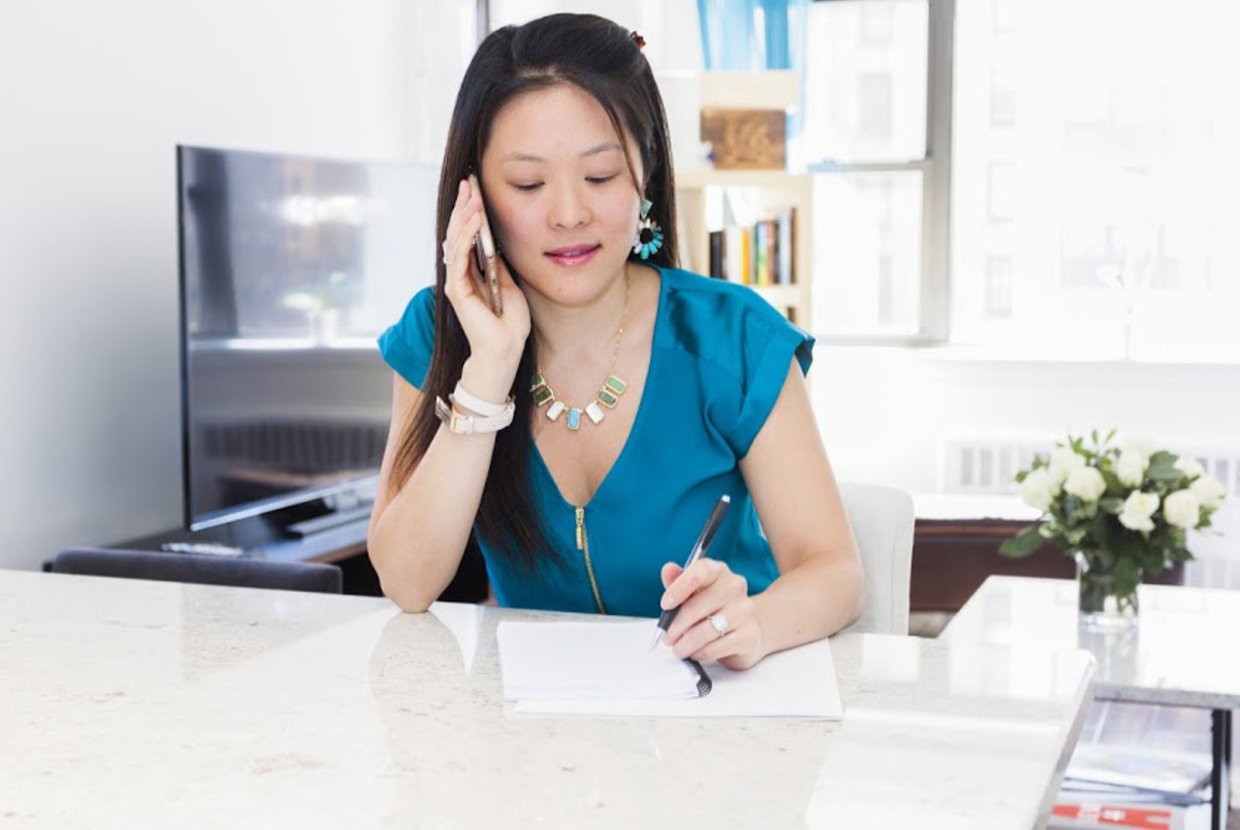 From prestigious financial institutions to high-end listings, Christa Chi's transition to the real estate industry came through a passion reignited by two personal gut renovation projects. The first in Murray Hill, and the second on the cusp of Billionaires' Row, where she currently lives with her husband.
Christa's deep knowledge of real estate is partly attributed to her world travels. Early on, she pursued an investment banking internship in Singapore to expand her financial horizon while studying Hotel Management at Cornell University. This led to a career at Goldman Sachs in Hong Kong, a city that she deems akin to Manhattan. A few years later she was hired by her client into asset management at BlackRock. After spending several years abroad, Christa got homesick and transferred with BlackRock to their headquarters in Manhattan. Soon after, she was recruited by $150B hedge fund, Bridgewater Associates to help raise equity for the launch of their new portfolio.
"Every time I left a top tier financial institution, I thought about switching careers. I always wanted something that felt a bit more meaningful and resonated within me." Being reflective and introspective through each experience gradually lead Christa into a flawless transition into Manhattan real estate, thriving in the relationship-based industry, and always having the best interest of her clients in mind. "For me, as altruistic as it sounds, there's something that's very gratifying about helping a stranger or a friend find a home in the hustle and bustle of the city. I feel like I've finally walked into my calling."
After being pursued by a slew of large agencies, Christa eventually chose to work at Elegran Real Estate for the familial atmosphere—"Today is my one-month mark, and I've had four different agents already send me business." With an expansive marketing background, Christa understood what Elegran was offering her—an advanced lead structure, while being transformative in the real estate tech space. "It's impressive how Elegran operates as one large team of many agents with various backgrounds and skillsets."
As a dual threat, both savvy agent and renovation guru, we sat down with Christa to further understand what it takes to create affordable luxury in today's real estate sphere.
Why consider an apartment that needs renovations?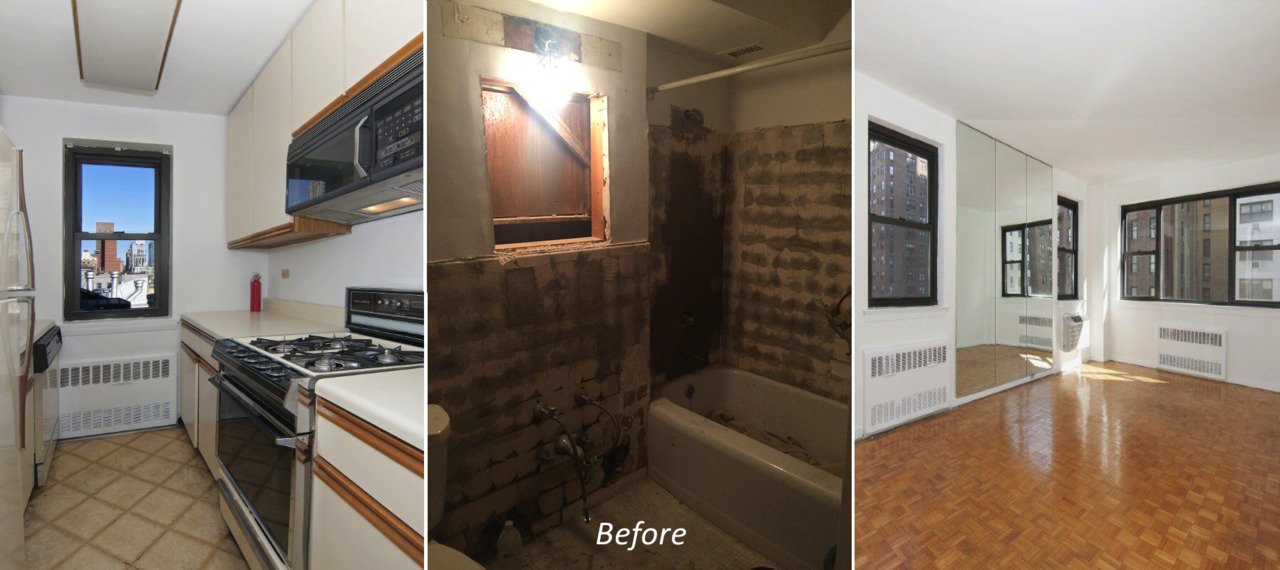 For those who are looking to find value but also want a beautiful home, I recommend considering a property that needs a gut renovation. There are tips and tricks to avoid the horror stories you may have heard. Non-renovated apartments can trade at a 20-30% discount depending on the location and size of the apartment. When trying to find a deal, it's important to ask about how amenable the board is to renovations. Most of the time, I ask to see a copy of the alteration agreement before purchasing the property.

What renovations did you undergo?
This apartment was completely gut renovated. We put in dark wood flooring, crown and base molding, opened the kitchen and selected river white granite countertops. I loved going to the granite factory and being able to pick from a vast selection of beautiful materials. The shop I worked with was both a fabricator and wholesaler, Elite Marble and Tile, so I was actually able to also create a matching coffee table with the leftover granite.
A common misconception is that all renovations have to go through New York City Department of Buildings for a permit. For example, if you are removing a wall under 45 square feet, you do not need a building permit.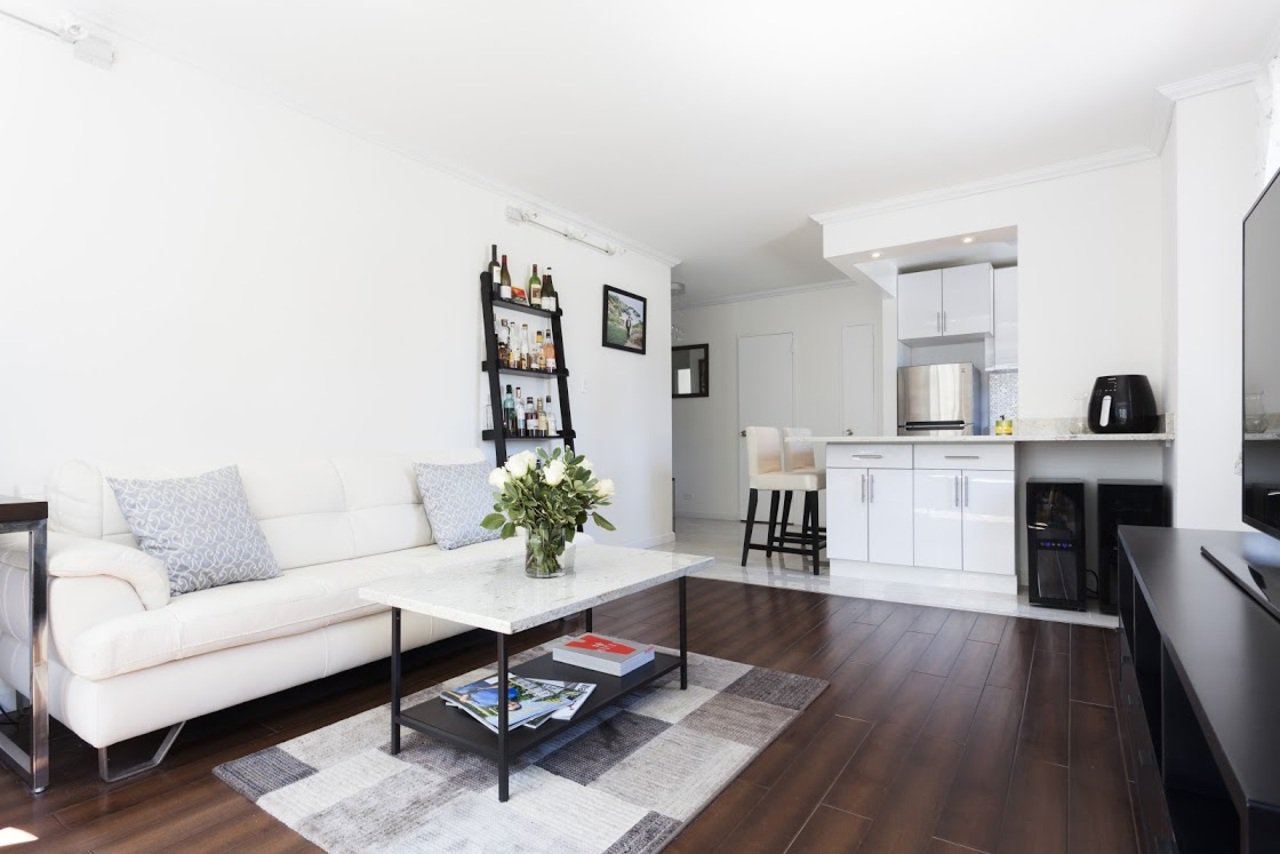 How did you select your contractor?
Because boards can be very strict when it comes to co-ops, it can be difficult to get new contractors approved. My strategy was to work with contractors who have already completed renovations in the building. For my Murray Hill property, there were 3-4 contractor options and we called them all. We got quotes and testimonials, and went with the one we were most comfortable with, in terms of enthusiasm towards the project and trustworthiness. The contractor also renovated over 85 apartments in the building.
While we thought about bringing our prior contractor to our new home, we were on a tight timeline and didn't want renovation delays. We went with the contractor who we felt knew the ins and outs of the new building and could push projects through on a more accelerated basis. A full gut renovation of a one-bedroom apartment could take between 3-4 months, we nailed it in 2.
What were some of the differences between the contractors? And how did you choose one?
We narrowed our latest renovation down to two guys, both in-building contractors. The first contractor completed a ton of renovations in the building. His knowledge and experience was there, but the downside to him was that he had a lot of the materials already, so we were just working with whatever he had. The other contractor, which is the contractor we chose, allowed us to work with the materials we wanted, so long as we delivered them to him when he needed them. We had a lot more control. This time, we requested for more of a labor quote as opposed to a labor plus materials—which is really where some contractors make their margins. We wanted to have responsibility over the materials because we already knew what we wanted as well as the provider, Elite Marble and Tile, our primary source.
Do you recommend planning for contingencies?
As with everything, I think it's wise to plan for contingencies, but I think it's important to push your contractor to give you an accurate quote. I stay on top of my contractors and like to write into their contract that they're going to stay within budget.
What happens if they go over budget? Do they take on that responsibility?
That's what I would recommend, unless there is some fundamental hardwiring, electrical, or plumbing issue. Otherwise, I expect them to stay on budget. If you get your own materials, it's the contractor's responsibility to buffer contingencies in his labor quote.
How do you think your renovations have improved the value of your home? Was there a line that you drew where renovations would no longer yield a return and were simply for personal taste?
The line that we drew was keeping in mind that this is our temporary home. This isn't our beautiful brownstone that I dream of owning one day. The conversation we often had was—"should this renovation be for our dream home or our temporary home?" Ultimately, we designed this apartment to embody affordable modern luxury. Our appliances are from Home Depot, but we hand-picked the ones with the best reviews and decided to go with a stainless steel look.  Although many decisions were driven by cost, I did think about what would raise the value of our apartment. For example, spending $2,000 to combine closets because it allowed for better space efficiency. We designed with the knowledge that we're going to get everything back and more.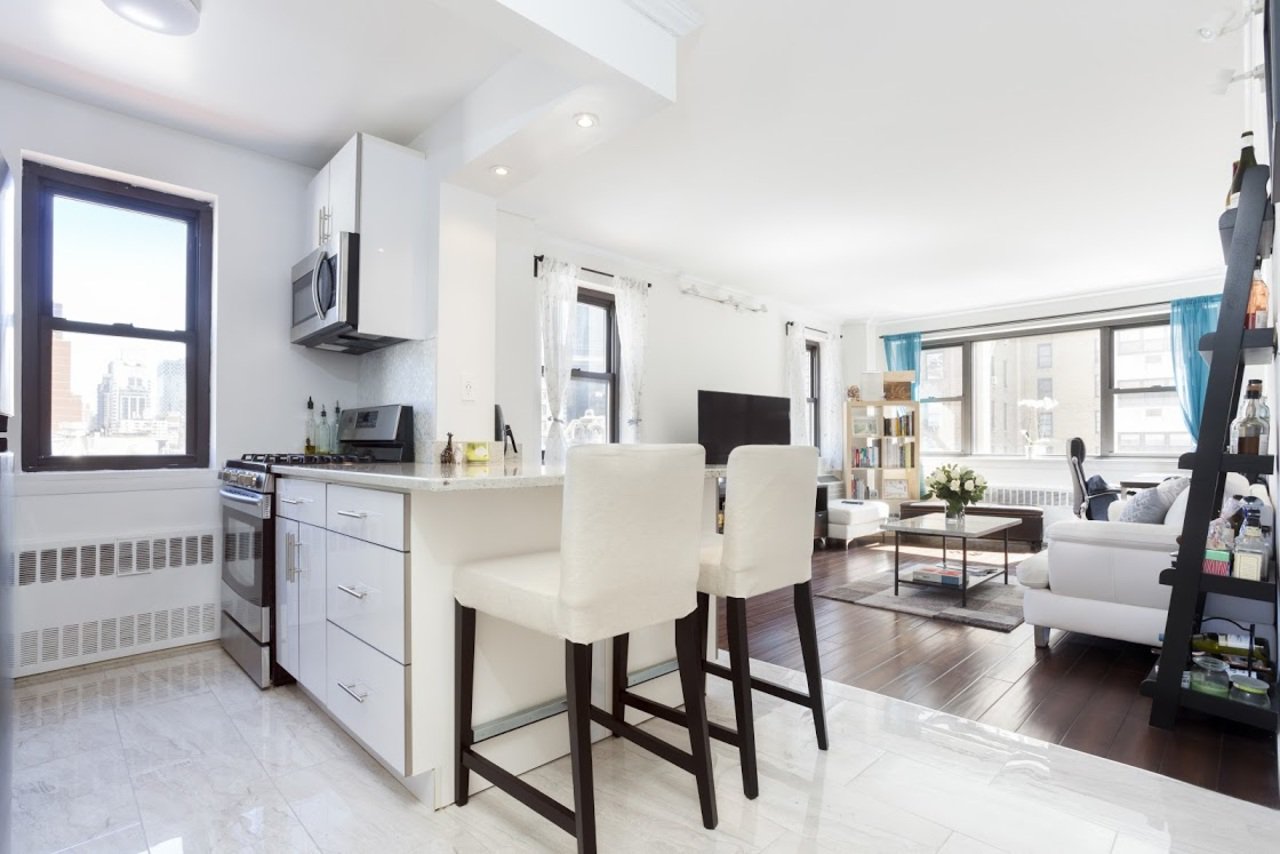 (In addition to river white granite, The kitchen was updated with stainless steel appliances from Samsung and Kenmore)

What are some go-to installations or touches for first time home buyers or renovators?
Many of my clients have a renovated kitchen at the top of their priority list. The color of the kitchen countertop can set the tone of your entire kitchen. Quartz is the most durable if you're considering renovating for an investment property. Personally, I love the look of marble but it's very porous for someone who loves to cook.
Another important renovation is the bathroom. Glass shower doors tend to also be highly desirable. Having a renovated kitchen and bathroom brings up the value of your property and keeps the buyer from trying to nickel and dime you on the selling price.
(The bathroom was given a sleek renovation, including a Houzer sink and Glacier Bay vanity)

As for what finishes add value—A tip would be to add crown molding, it elevates the feel of an apartment and appeals to many. Track lights are also a nice touch since it eliminates the need to purchase lamps. Some opt for recessed lighting, depending on how far you want the lighting to go.
How were neighbor relations during construction?
Our neighbors were quite understanding, although we do like to give people cookies and cupcakes. Hand delivering a card and macaroons to the managing agent during the holidays also allowed us to form a more personal relationship which helped to provide a relatively smooth renovation process.
Did they finish on time?
It's very important to understand the specific rules of your building. For example, what hours are they allowed to work? Can they work on holidays? Our renovations were slightly delayed because of the Christmas and New Year's holiday. The contractor's allowable working hours were between 9:00am-4:00pm with an hour lunch for the workers in-between.
How much project management is necessary?
To complete a gut renovation project in two months requires significant project management. I picked a contractor who was going to be on site every day. He sent one of his workers daily to work on various parts of the apartment. I was fortunate to work close by, so I could visit often and build a relationship with the workers to encourage and thank them for their attention and efforts. Every other Friday I would also buy them lunch. It's important to treat the people working for you well.
If you only tend to check on your renovations once a week, you run the risk of a big overhaul. For example, if you don't end up liking the color of the paint picked, or if the backsplash doesn't actually match the color scheme you were going for, there's a chance to catch it earlier.
For last minute touchups or installations, do you hold any retainage?
We held a 15% retainer until the very end of the project. Typically, contractors require a 30% deposit to begin the renovations, then you pay 20%, and it scales slowly to the end. Most contractors have different payment schedules, which are fully negotiable.
Did everything go as expected?
The only snafu was trying to marry the wood floors with the marble-like tile. It took the contractor about 2-3 weeks to find the perfect transition piece. Otherwise, it wasn't our first time renovating, so overall we were happy.