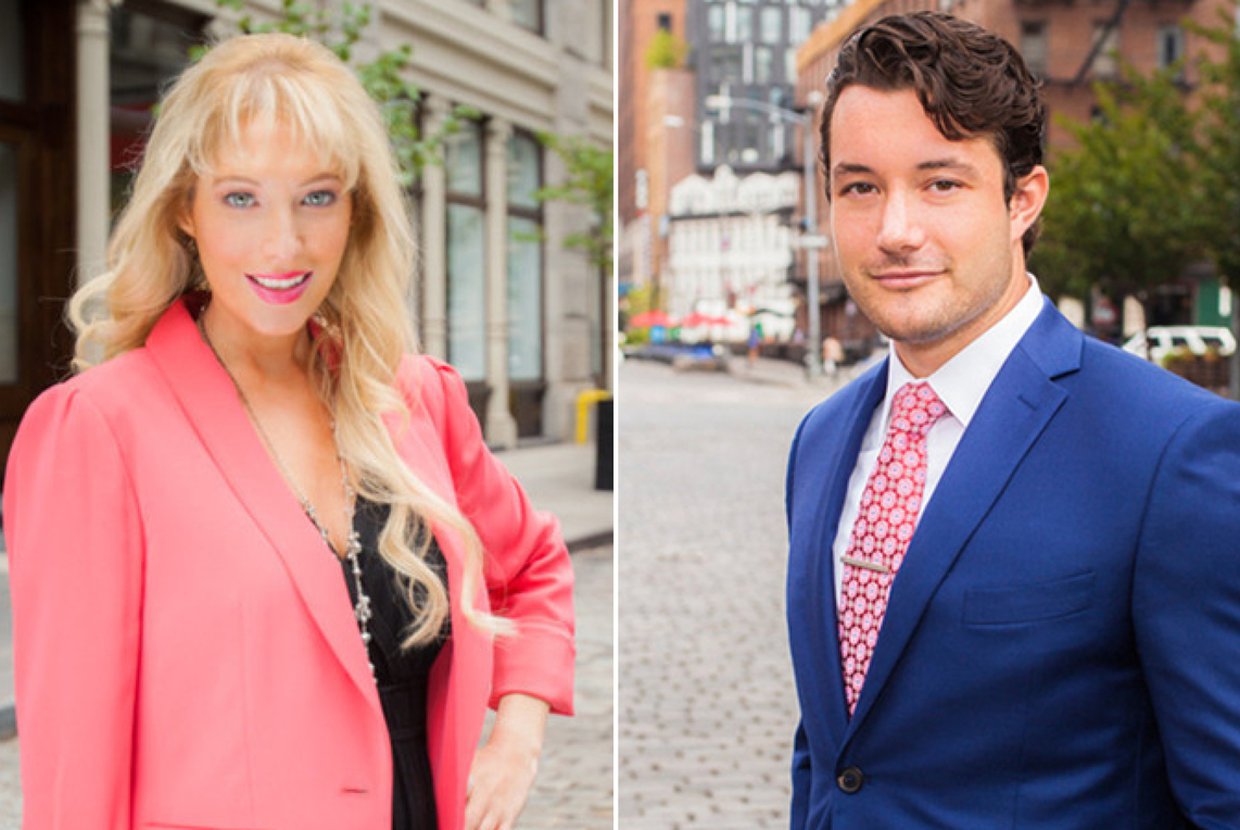 Welcome to Part Two of our Seller Stories interview with veteran agents Heather Glotzer and Andrew Warren—one of Elegran's most dynamic duos. In Part One, they spoke about their background and what drew them to working at Elegran as well as their work dynamic and some of the biggest challenges they've faced in the business. Part Two provides a more in depth look at their partnership and additional slices of wisdom.

What's the best part about the job?
AW: We both agree that one of the best parts of this job is that you get to see some incredible spaces. From modern glass boxes to classic, pre-war options. Everything's different. There's always something new and surprising and I think that's really attractive to us. One day you're walking through construction zones, wearing hard hats, and the next you're showing the finished product.
HG: We've met some extraordinary people through this industry, from c-suite executives, to artists, to actors. This business allows you to develop relationships with people that you wouldn't normally have the opportunity to meet. I think we have an innate ability to connect with our clients, which sets us apart. We have some of the most gracious clients you can imagine. We're so grateful for that kind of business. When I worked in corporate America, I didn't have this kind of platform to really connect with people. This is a big purchase for some of our clients, some of the biggest financial decisions they're going to make, so it is inherently an emotional process and you're there for the journey!
AW: This industry is very relationship based. We've been working with some people for many years, looking at places until they find the right apartment. You know everything about these people. You hear about their families, you hear about their financial situations. You get very close to some of them and build lasting relationships. One of our most recent closings was a beautiful new construction, two-bedroom at 15 Renwick. We started working with this client almost three years ago and we definitely wanted to keep to new construction, no resales. We looked at dozens of projects until we found the right fit and it took a long time. The client just moved in and they couldn't be happier. They have been extremely grateful and that's very rewarding for Heather and I. When I was working in commercial, every decision that people made was very much based on the financials and the economics of the deal. What we do at Elegran is about finding someone a place to live, it's their home, somewhere they're living their life. Making sure that they are satisfied and happy is a priority for us.
That being said, economics certainly comes into play on the residential side. For example, many of our clients want to focus on new construction because of the investment potential. Through our relationships with major players in the developer world, Elegran is often able to get our clients into new construction projects early, during the initial phase A pricing period. Since developers raise prices as they sell off units, someone who goes into contract during phase A will realize those price increases as an increase in equity. By the time closings occur 12 or 18 months later, it's possible the value of your unit has increased by anywhere from 25%-35%.
What do you think are some up and coming neighborhoods?
AW: I really like what's happening in Hudson Square. They rezoned in 2013 and the developers have been snapping up parcels here and there, so there's a lot of new projects in the pipeline. It's going from this former warehouse, commercial district, to a more resident friendly area. I think it's going to be a different world down there in the next five to ten years.
HG: We track over 250 projects here, throughout Manhattan, Brooklyn, and Long Island City. We both tend to gravitate towards new development given our active focus on this segment of the market. We just saw an exquisite development the other morning with a client, 63 Greene Street in Soho. They just launched sales about a month ago, and the interiors are just absolute perfection, from the soaring 11 foot ceiling heights and oak flooring to the ivory mist marble countertops— you should see this kitchen! So yes, we love pre-war, but we do tend to gravitate towards the newer, modern feel.
Favorite New York annual event?
HG: Speaking of events, Andrew just orchestrated a lovely charity event on the Upper East Side for his family's foundation. They run a foundation called Kay's Kamp. The Kamp is for children with cancer; it's a tremendous cause. It was a wonderful evening and we'd like to make it an annual event. It was great. We had a huge attendance from Elegran and a lot of clients attended too, which was really wonderful. It was a great cause and we're looking forward to the next one!
AW: The Kamp is geared toward kids who have cancer, those in remission. It's located in Delaware, but we will take kids from all across the country, and even put their parents up in a hotel nearby, free of charge. These kids go through hell fighting cancer, so we try to give them a week of some normalcy and fun.
What do you attribute to your success? Also, what are the benefits of working together?
AW: A lot of our success is the relationship aspect of it. In this business, if you try to look at your clients as dollar signs, you're not gonna do well. You may have some deals, but you're not getting repeat business, they're not going to be lasting relationships. You have to really understand your clients, really know what they're looking for, understand what kind of person they are, and their likes, their dislikes, and it takes patience. We have had deals where they see one apartment and they love it and they move forward. Other deals, it takes a very long time. It's about building the relationship. It's not about just making a quick buck. I think that being able to realize that and actually put that into practice is something that helped us get to where we are today.
HG: I think our clients trust us. They understand we're working our best on their behalf. As Andrew mentioned, a lot of our clients have become close and lifetime friends at this point. We're very relationship predicated and I think that shows in our business and the way we conduct ourselves. I like to call ourselves consummate professionals, and we're positive. The big distinguishing factor in this industry is your attitude. This is a tough industry, there's a lot of competition and you have to understand that, yes deals fall through all the time and you have to move on, but I think that we both try our best to maintain very positive attitudes and it shows. It shows in our work and in our every day showings we have with our clients.
AW: We did both come from a corporate background. A lot of our clients are C-suite executives and business owners, people who have been very successful. In addition to building that relationship, they expect a level of professionalism and service, which is something we offer them.