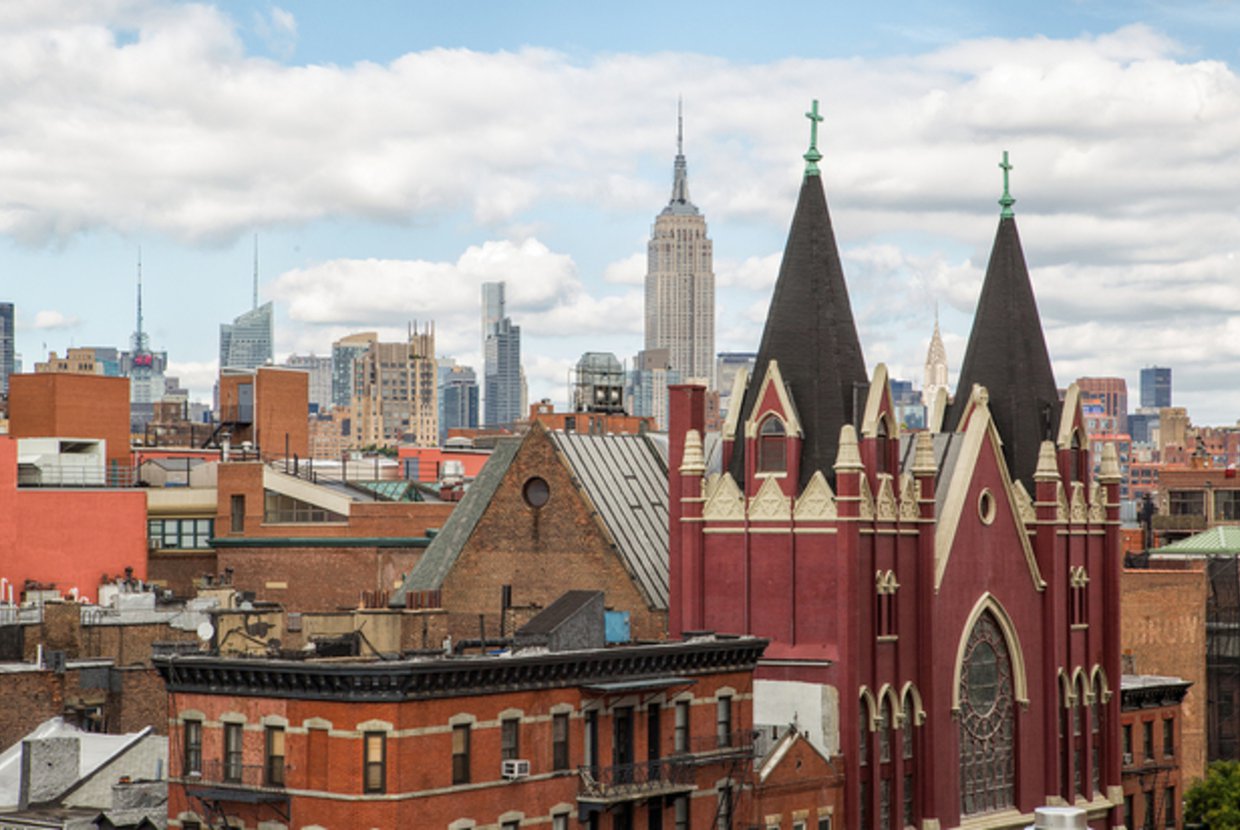 View from 130 Barrow Street, Apartment 512
Since winning approval from the Landmarks Preservation Commission, the Toll Brothers residential development project at St. Luke's in the Fields, is starting to take shape in the church's courtyard. The project at 100 Barrow Street lies within the Greenwich Village Historic District and its design pays homage to the 19th century atmosphere of the West Village while simultaneously exuding its own contemporary feel. The base's facade will feature classic Flemish brick, while the top is to be swathed in glass and metallic panelling. The project's marriage of old and new, traditional and modern, and Old World European with contemporary luxury, mirrors the aesthetic of Barrow Street itself.
The sliver of road that would become Barrow Street was in close proximity to Richmond Hill, the former estate of vice-presidents of the United States, John Adams and Aaron Burr. The carriage house of this historic manor was moved to Barrow Street and is now home to One If By Land, Two If By Sea–the extravagantly romantic restaurant that is also purported to be haunted by the ghost of Aaron Burr's daughter, who was lost at sea.
The etymology of Barrow Street harkens back to the Revolutionary War and the early American political theory of English-American, Thomas Paine. Paine is best known for his pamphlet , "Common Sense", where he advocated America's independence from Britain, and his book, "The Age of Reason", which fundamentally challenged organized religion and revealed corruption in Christianity. His revolutionary ideas were initially quite popular in the newly minted country, and it is alleged that the narrow, cobblestoned street was named Reason Street in honor of Paine–who lived on nearby Bleecker Street and Grove Street. After he had fallen out of favor with the American government, in large part due to his involvement in the French Revolution, Greenwich Village's Trinity Church ordered the street be renamed for Thomas Barrow, a local artist and vestryman who had drawn a widely circulated picture of the influential church.
From 1891 to 1976, one of the chapels of Trinity Church was none other than St. Luke's in the Field; the episcopal church at the corner of Barrow and Greenwich Street was named for the patron saint of physicians, because New Yorkers were moving to Greenwich Village at that time to escape a Yellow Fever epidemic in other parts of the city. The neighboring Barrow Street Gardens opened in 1950 and still offers a beautiful respite; it's open to the public on Sundays afternoons.
Thinking about moving to this beautiful and historic West Village street? Here are two quintessential Barrow Street residences filled with elegant charm.
41 Barrow Street is a classic Federal style 3-story, single family rowhouse dating back to 1824. It was meticulously gut renovated to maintain its historic architectural flourishes while being completely modernized. The 924 sqft, 3-bed, 3-bath townhouse features wood-burning fireplaces, original wide-slatted pine wood flooring, chef's kitchen, stunning conservatory, and an elegant dining room, overlooking a sublime patio that features a an outdoor rain shower.
Further towards the Hudson River is 130 Barrow Street, a six floor loft building built in 1920. Apartment 512 is a duplex penthouse spanning 1,550 sqft, featuring 3-bedrooms, 2.5 baths, private outdoor terrace, and 2 wood burning fireplaces. The main level offers a sunny living room with fireplace, an open kitchen equipped with custom white lacquer cabinetry, stainless steel Bosch, Viking, and Sub Zero appliances, second bedroom, convertible powder room, and washer/dryer. The grand staircase leads to the upper level, which features the master bedroom with ensuite master bath, fireplace, skylight, and abundant closet space.
The amenities at 130 Barrow Street include a spacious landscaped roof deck, offering panoramic city and Hudson River views, and a sublime garden atrium.