#TBT: The Convention-Defying Legacy of Zaha Hadid
Serena Horrigan
| April 14, 2016 | Published in
Elegran Insider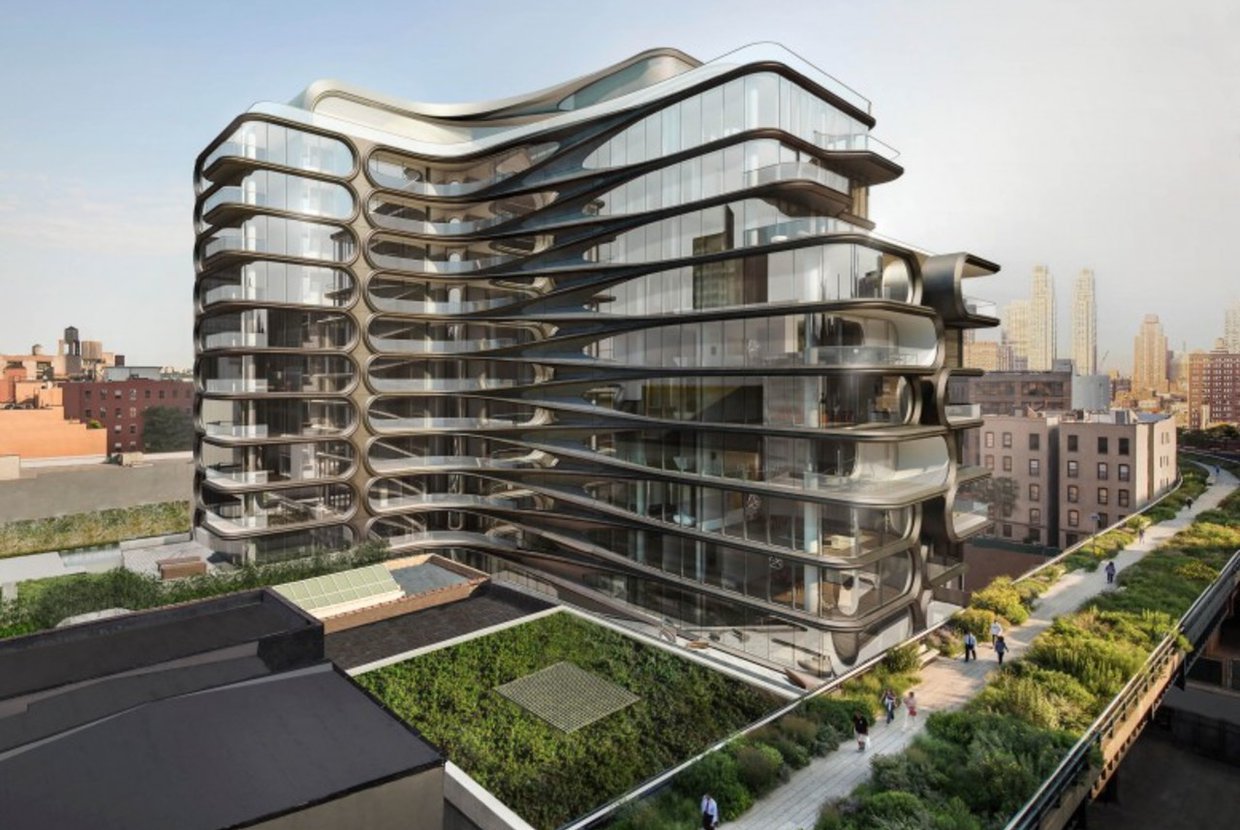 Rendering of 520 West 28th Street via NYYIMBY
When the controversial, visionary architect Zaha Hadid died unexpectedly last month at the age of 65, the world lost a revolutionary and conformity-defying tour de force of contemporary architecture who surely would have added to her repertoire of groundbreaking, awe-inspiring, and often polarizing structures for years, and perhaps decades, to come.
Iraqi-born Hadid was unique–and often peerless–in her trade in many ways. She was a Middle-Eastern woman in an overwhelmingly European male-dominated industry, she embraced an excessively futuristic design aesthetic often criticized by her contemporaries as being self aggrandizing, and when she perceived injustices aimed at herself or her craft, she fought back. This sense of anti-conformity was a thread that ran through her life and award-winning career, and embodied her unapologetically deconstructivist work.
Born in Baghdad in 1950, Hadid studied mathematics at the American University in Beirut, Lebanon before moving to London in 1972 to study at the Architectural Association, a hub of progressive architecture of that era. While there, she met such industry behemoths as Rem Koolhaas and Elia Zenghelis, whom she partnered with at the Office of Metropolitan Architecture in the 1970s. Together they also taught at the esteemed Architectural Association. In 1979, she split with the duo to open her own London-based architecture firm.
Her first project to garner her international recognition came in 1983, when Hadad designed an award winning proposal for a leisure center called the Peak Club at Hong Kong's Victoria Peak. The conceptualized building was a highly geometrical "horizontal skyscraper" that jutted across the site's hillside at a sharp diagonal. Though the proposal never came to fruition, it brought Hadid's frenetic, gravity-eschewing geometric design onto the world stage and solidified her as a powerhouse in Deconstructivist Architecture. Five years later the Museum of Modern Art showcased a landmark exhibit of the genre, making the Deconstructivist movement more mainstream and accepted.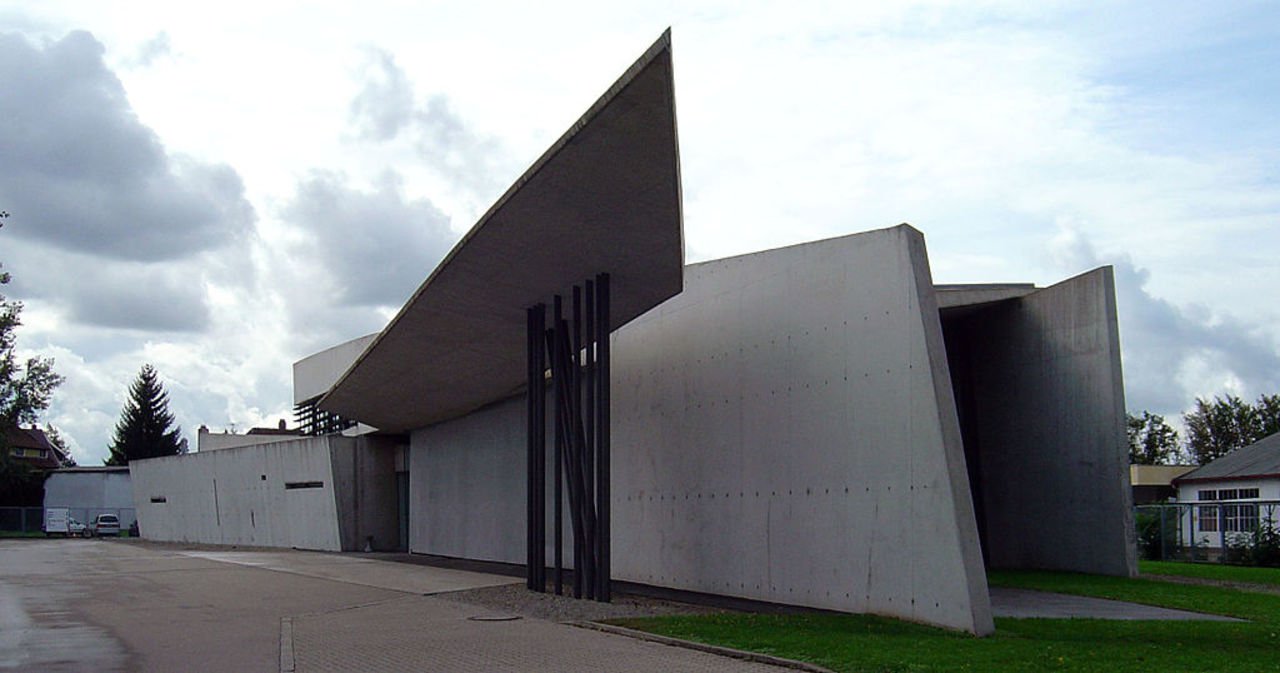 Vitra Fire Station, Rhein, Germany
Hadid's first seminal project was the Vitra Fire Station in Rhein, Germany. Finished in 1993, the sharply angled aerodynamic structure suggests a futuristic bird in flight. For all the aesthetic splendour of its sleekly jutting planes and asymmetrical 90-degree angles, its form did not accurately reflect its function, and the spectacularly geometric fire station now sits idle, something of a monument to the controversy of her craft.
Shortly after designing the Vitra Fire Station, she began creating the Bergisel Ski Jump in Innsbruck, Austria. Completed in 2002, this simultaneously futuristic linear structure starkly contrasts the grace and majesty of the Alps, creating a visually stunning juxtaposition of man-made form and the natural world. In addition, the fluid, upward sweeping arch of the slope visually connects the land and sky. The next year, Hadid designed The Richard and Lois Rosenthal Center for Contemporary Art in Cincinnati, Ohio. The structure's bold, Tetris-style, color-blocked facade is a physical embodiment of the mecca of modern art housed within.
Any controversy that swirled around Hadid could not detract from her conceptual brilliance, nor would it deny her the industry's most lauded acclaim. In addition to being awarded the gold medal from the Royal Institute of British Architects, she was the 2004 laureate of the Pritzker Prize in architectural excellence, the first woman ever to receive this prestigious award. World-renowned architect Frank Gehry, who was on the board of jurors, stated that "The 2004 laureate is probably one of the youngest laureates and has one of the clearest architectural trajectories we've seen in many years. Each project unfolds with new excitement and innovation."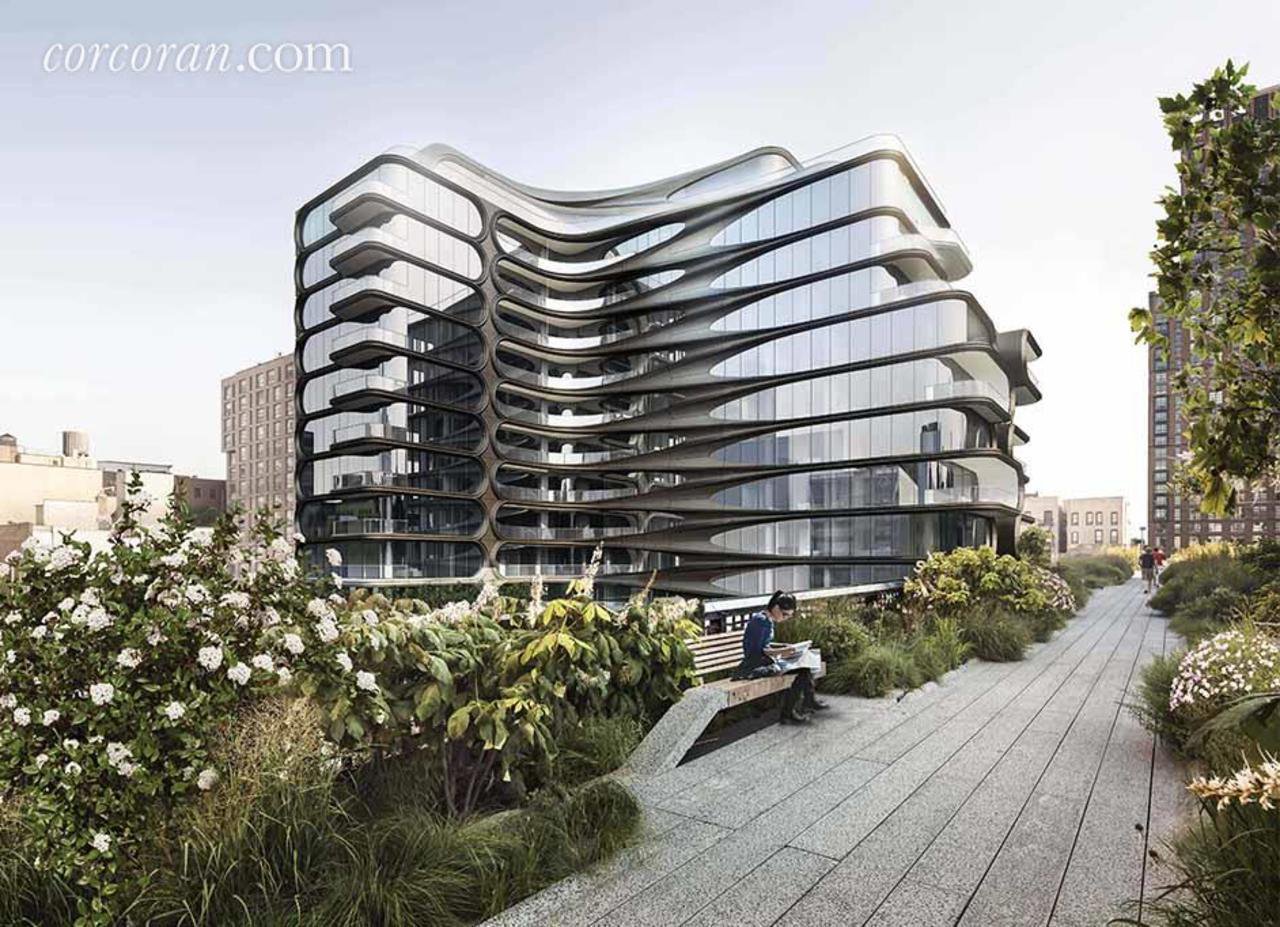 520 West 28th Street and The High Line
For all her international success and acclaim, Hadid's designs eluded New York City's skyline until 2013, when she beat out competing architects for 520 West 28th Street, the Related Companies' 11-story condo project adjacent to The High Line in West Chelsea. Renderings of the still in-construction project reveal a curvaceous intergalactic structure, complete with jutting, pod-like glass terraces, chevron-patterned facade, and asymmetrical heights that suggest some enormous extraterrestrial has dented the structure.
While the infamously prolific Zaha Hadid will sadly not see her first New York City design be realized, her controversial, audacious, and endlessly inspire legacy will live on here as well as in so many cities the world over.