Top 10 Rooftop Bars in NYC
Helen Olivo
| April 14, 2016 | Published in
NYC Lifestyle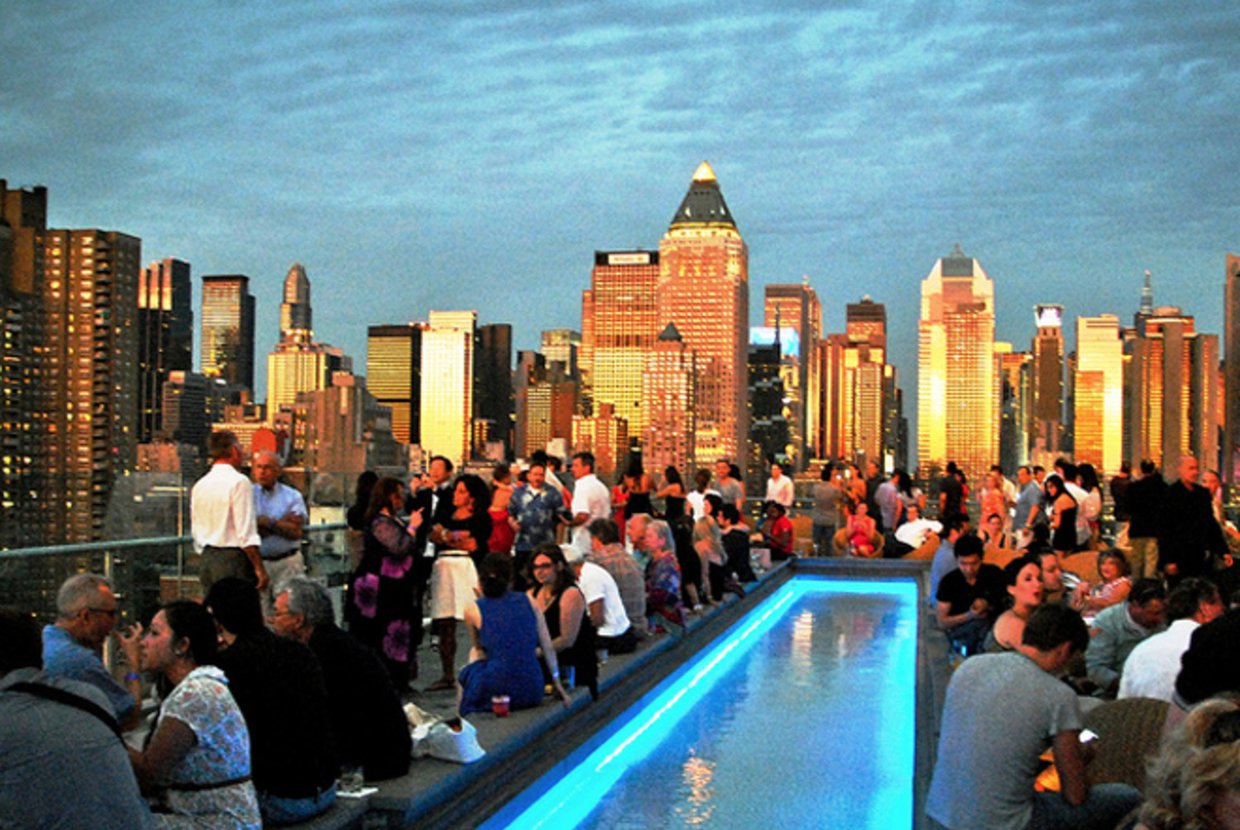 Whether you're on the hunt for a happy hour hang on a Thursday night or want somewhere to take your friends visiting NYC for the first time, lively NYC rooftop bars are hidden all over the city. Why stay inside when you can enjoy the sunset from 30 stories high with a Corralejo tequila cocktail in hand? Here are our top 10 rooftop lounges and bars in the city.
The Ides at the Wythe Hotel (Williamsburg)
Location: 80 Wythe Ave, Brooklyn
Cost: $$
Located on Wythe Hotel's rooftop, this bar is frequently labeled one of the coolest in Williamsburg. The winning feature of this bar is its idyllic views of Brooklyn and Manhattan's skyline, which can be seen from both indoor and outdoor art-deco styled seating. The bar is now serving small plates and takes reservations from parties of 8-20 guests. If you're looking for somewhere to enjoy an incredible sunset with your happy hour comrades, this is the place for you.
The Press Lounge (Hell's Kitchen)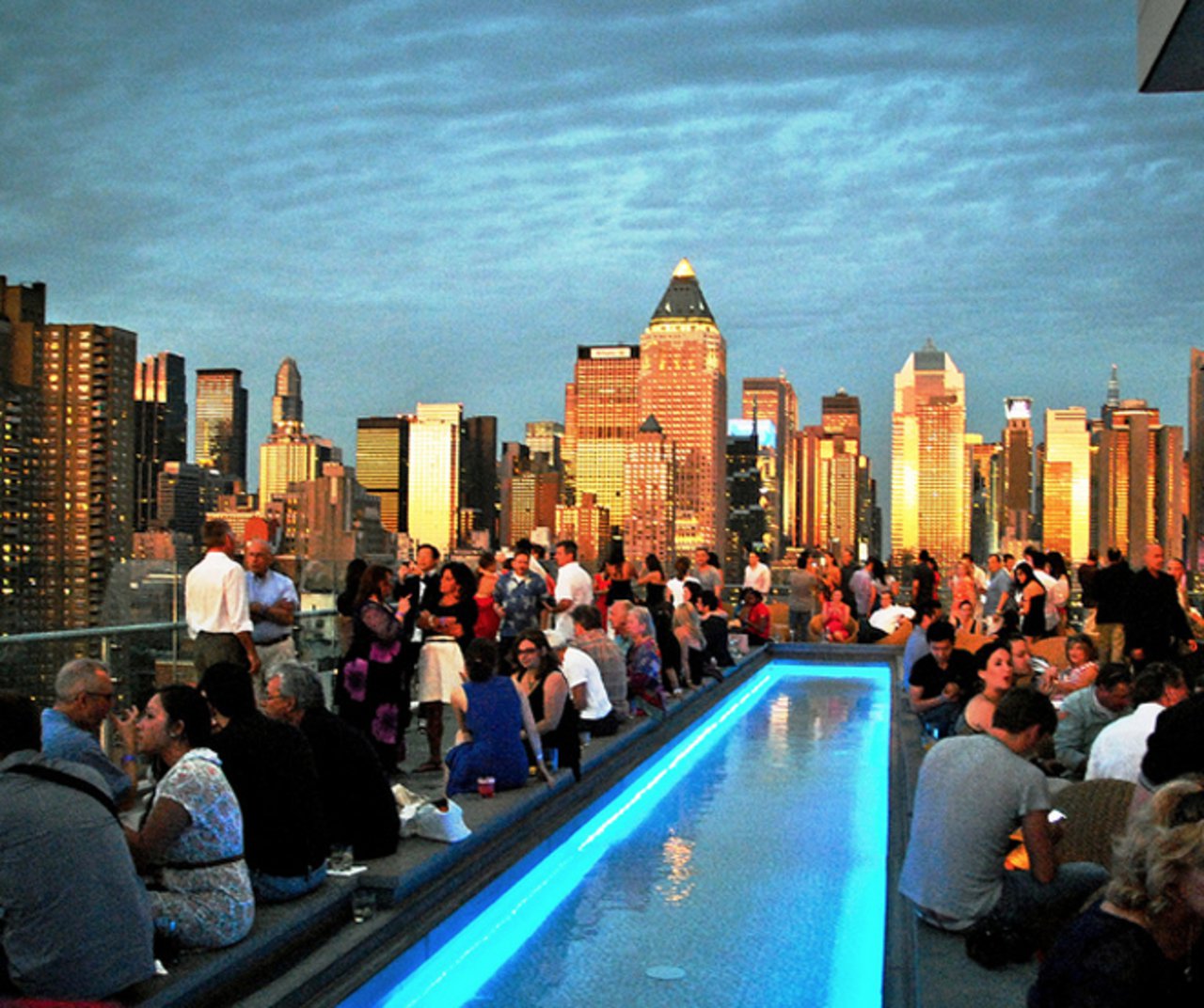 Location: 653 11th Ave Fl 16 b/t 47th St & 48th St
Cost: $$$
Renowned as one of the best rooftop lounges in the world, Press Lounge offers seasonal cocktails and small plates, as well as an extensive wine list. Some of the best panoramic views of Manhattan's skyline and the Hudson River can be seen from its glass walled interiors and attractive outdoor space, perfect for lounging and buzzing the night away. The lounge typically has no line wait and doesn't take reservations. They expect guests to stick to an elegant, casual dress code.
230 Fifth (Flatiron)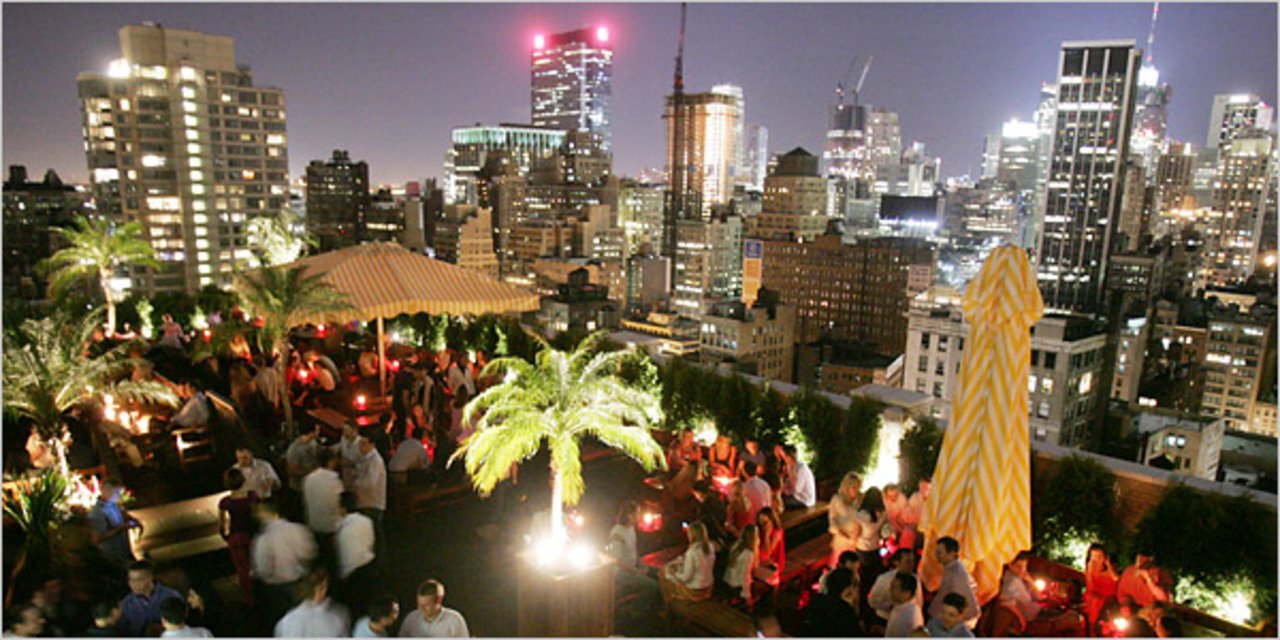 Location: 230 Fifth Ave
Price: $$$
Located in the Flatiron District, 230 Fifth offers front row views of the Empire State Building and surrounding area. The typical crowd is extremely diverse, spread out over both indoor and outdoor seating across two floors. Enjoy a night of fun without worrying about chillier nights, as heat lamps surround the bar and robes are provided year round for customers.
Refinery Hotel Rooftop (Midtown West)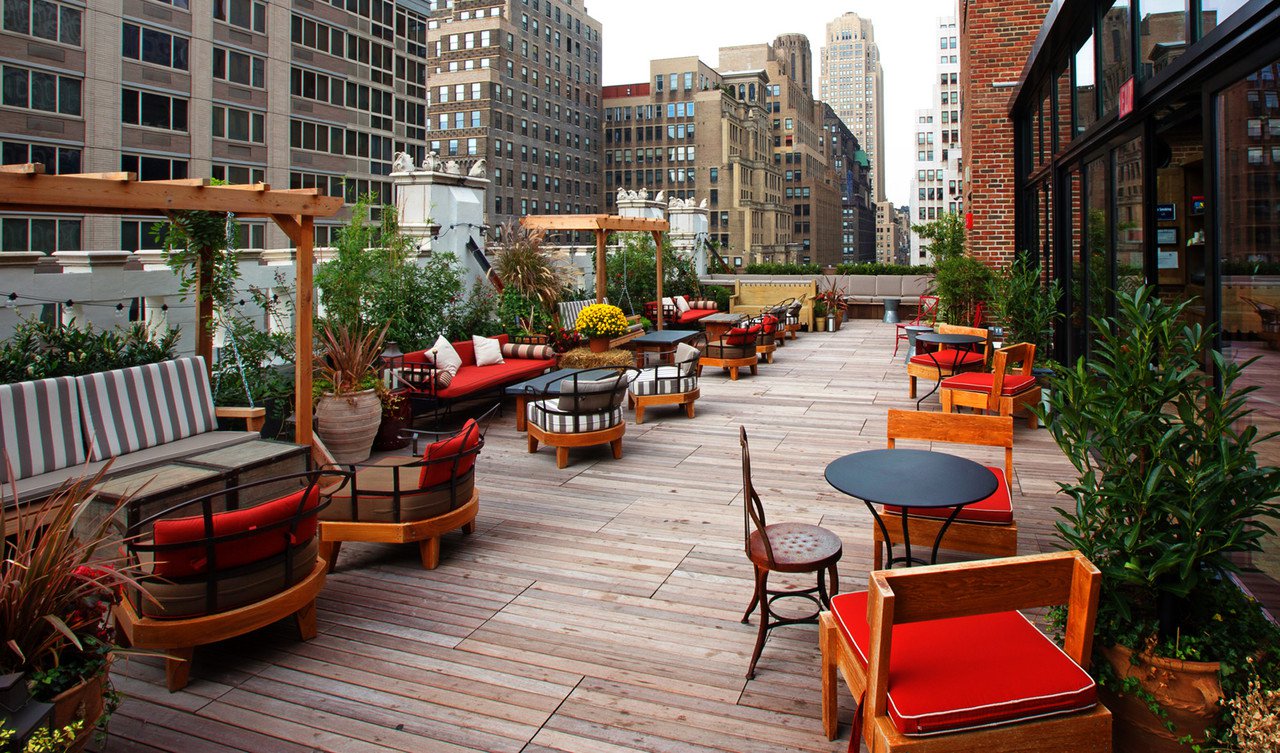 Location: 63 W 38th St b/t 5th Ave & Avenue Of The Americas
Cost: $$$
Open 7 days a week, all year round, this rooftop hideaway has a retractable glass roof that is opened on sunnier days. The bar offers spectacular views of the Empire State building and Midtown West area, with various seating both indoors and outdoors.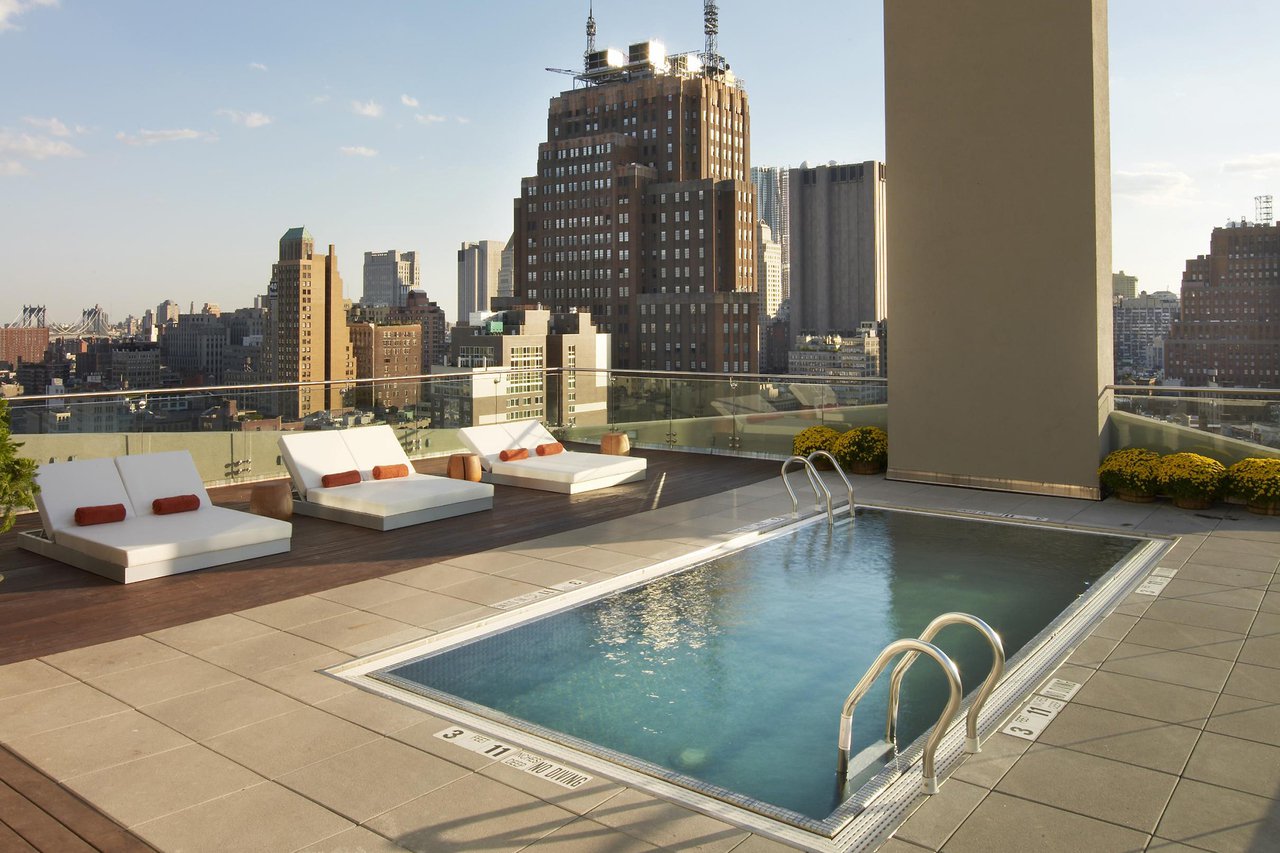 Location: 15 Thompson St
Cost: $$$
Also known as Jimmy, this rooftop bar and lounge offers outstanding views of the Manhattan skyline and the freedom tower. Located in the heart of one of the trendiest Manhattan neighborhoods, this cozy establishment promises an experience that is anything but meager.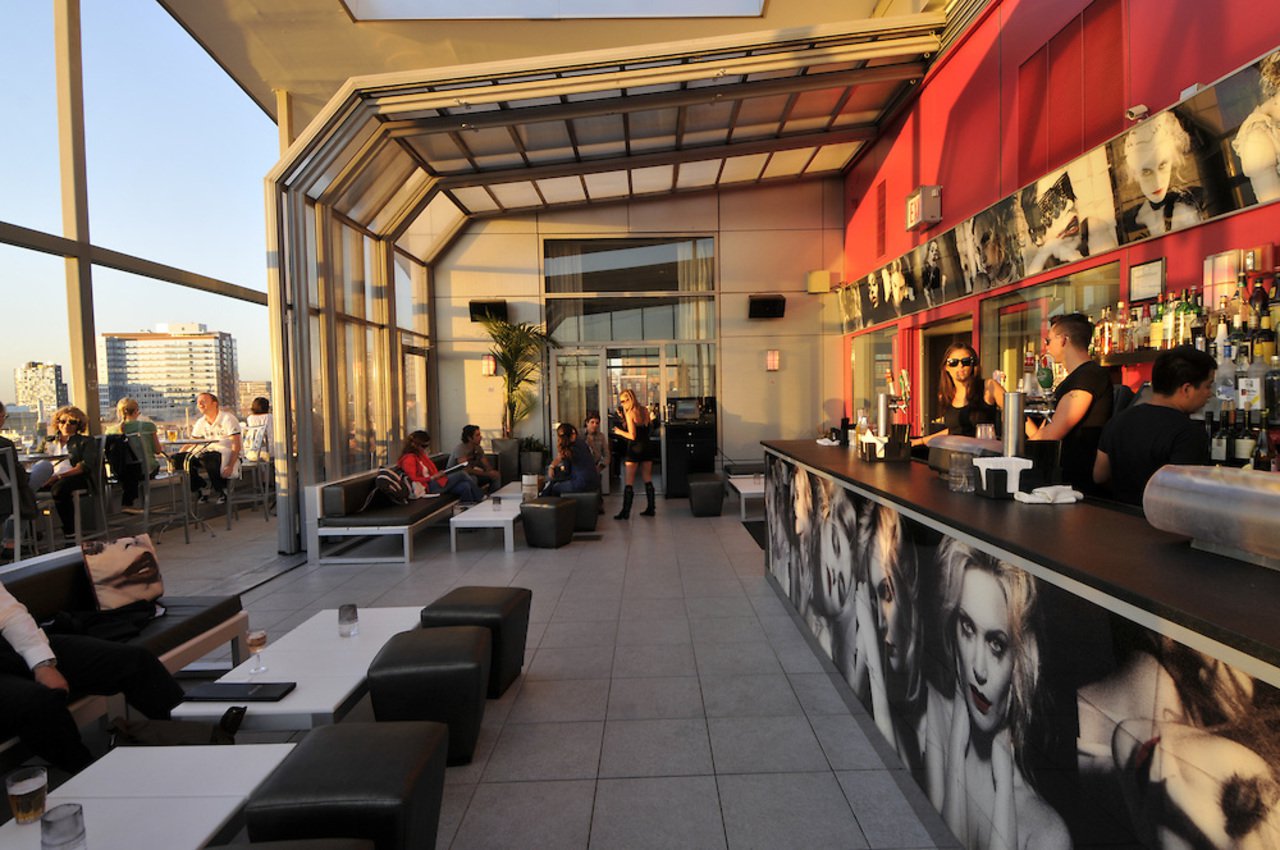 Location: Gansevoort Meatpacking NYC at 18 9th Ave
Cost: $$$
The Plunge rooftop lounge has plenty of seating and lounging areas for guests looking for good time, good music, and a great crowd. Breathtaking views of the city, One World Trade Center and West Village, await at the top of the Gansevoort.
Skylark Rooftop (Midtown West)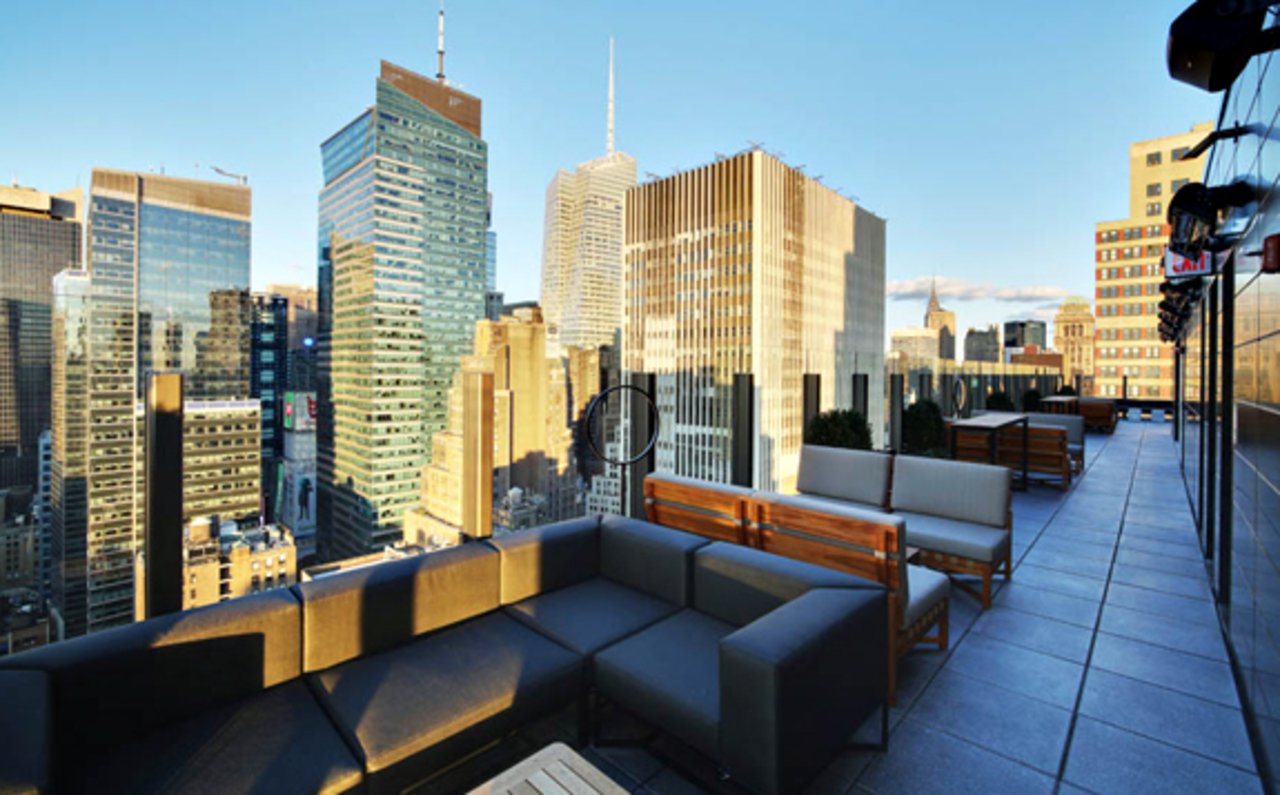 Location: 200 W 39th St 30th Fl b/t 7th Ave & 8th Ave
Cost: $$$
Quick, attentive service and flawless city views are just some of the perks of visiting the infamous Skylark rooftop bar. The ring of lights that surround the bar offer intimate but ample lighting after the sun goes down. Plush seating, as well as tables and bar seating are arranged for any kind of party. Also, you probably won't be able to stop raving about the meticulously crafted cocktails when you leave.
Upstairs at the Kimberly (Midtown East)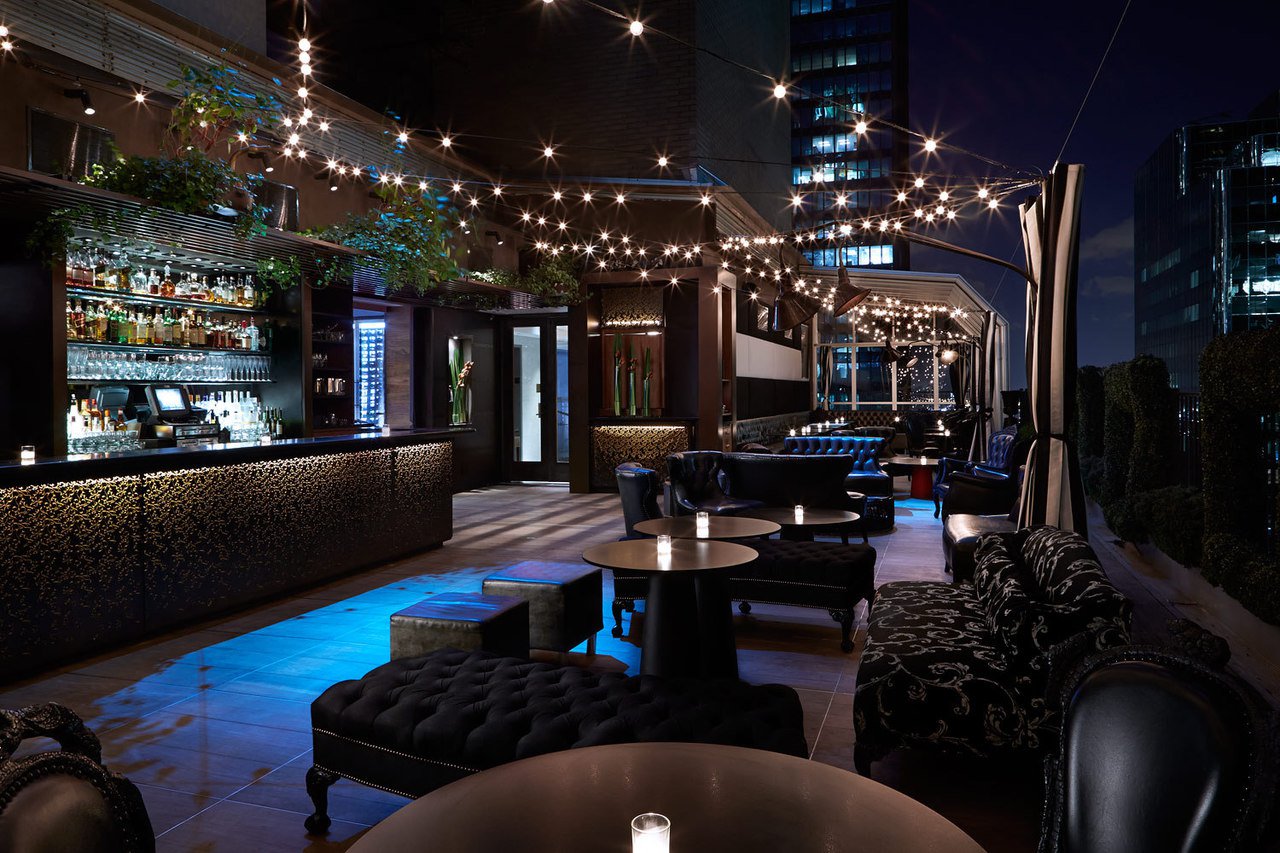 Location: 145 E 50th St 31st Fl b/t Lexington Ave & 3rd Ave
Cost: $$$
Upstairs boasts an enormous 3,000-sqft venue 30 stories high atop the Kimberly Hotel. 3 indoor and outdoor spaces with retractable glass ceilings and walls and heated floors, amazing bartenders and servers, and views of the Chrysler building all year round. If not for the views, come for the small plates and fun cocktails served until late!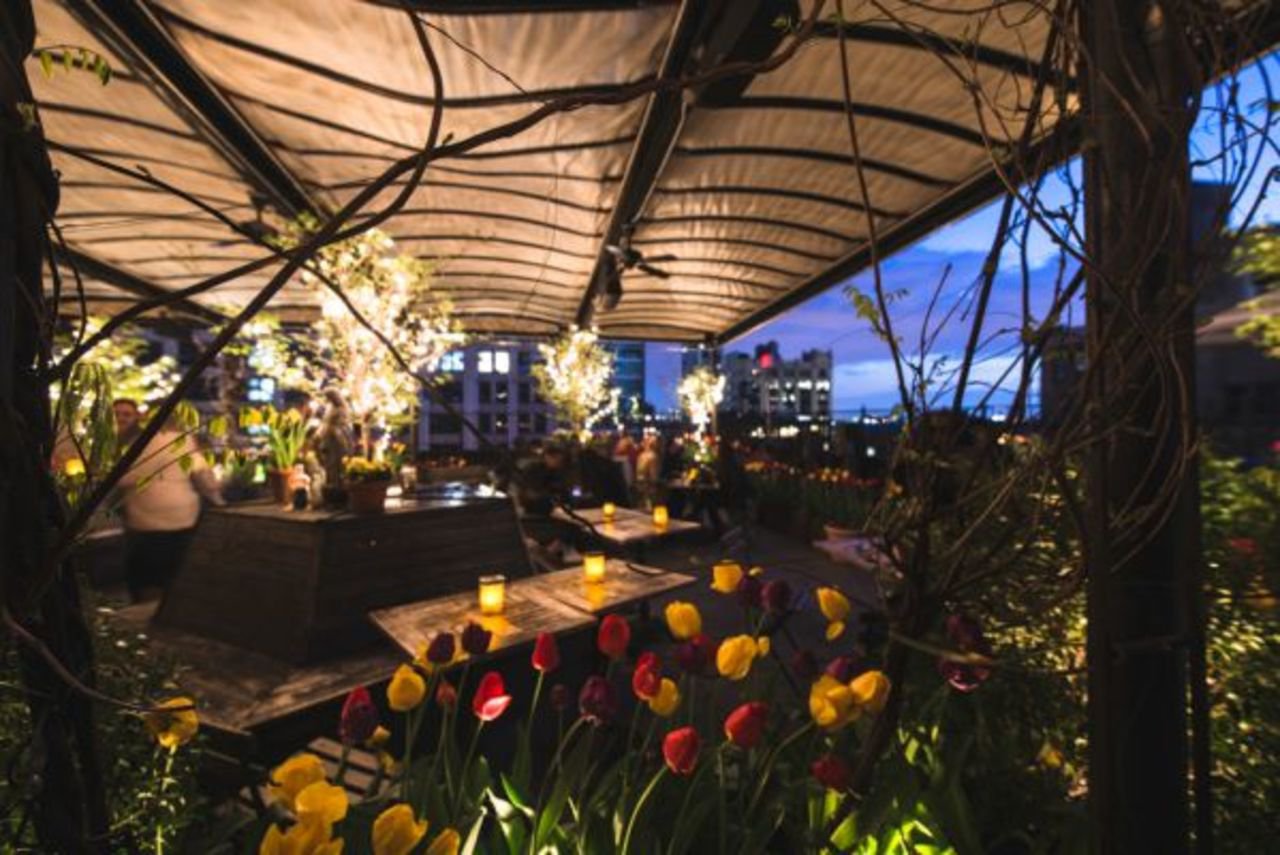 Location: 542 W 27th St b/t 11th Ave & 10th Ave
Cost: $$$
The Gallow Green is a favorite among many New Yorkers for its creative cocktails, outdoor garden, and delicious breakfast menu. Book a reservation for brunch and enjoy the views near the fireplace and intimate atmosphere of the beautifully decorated rooftop lounge.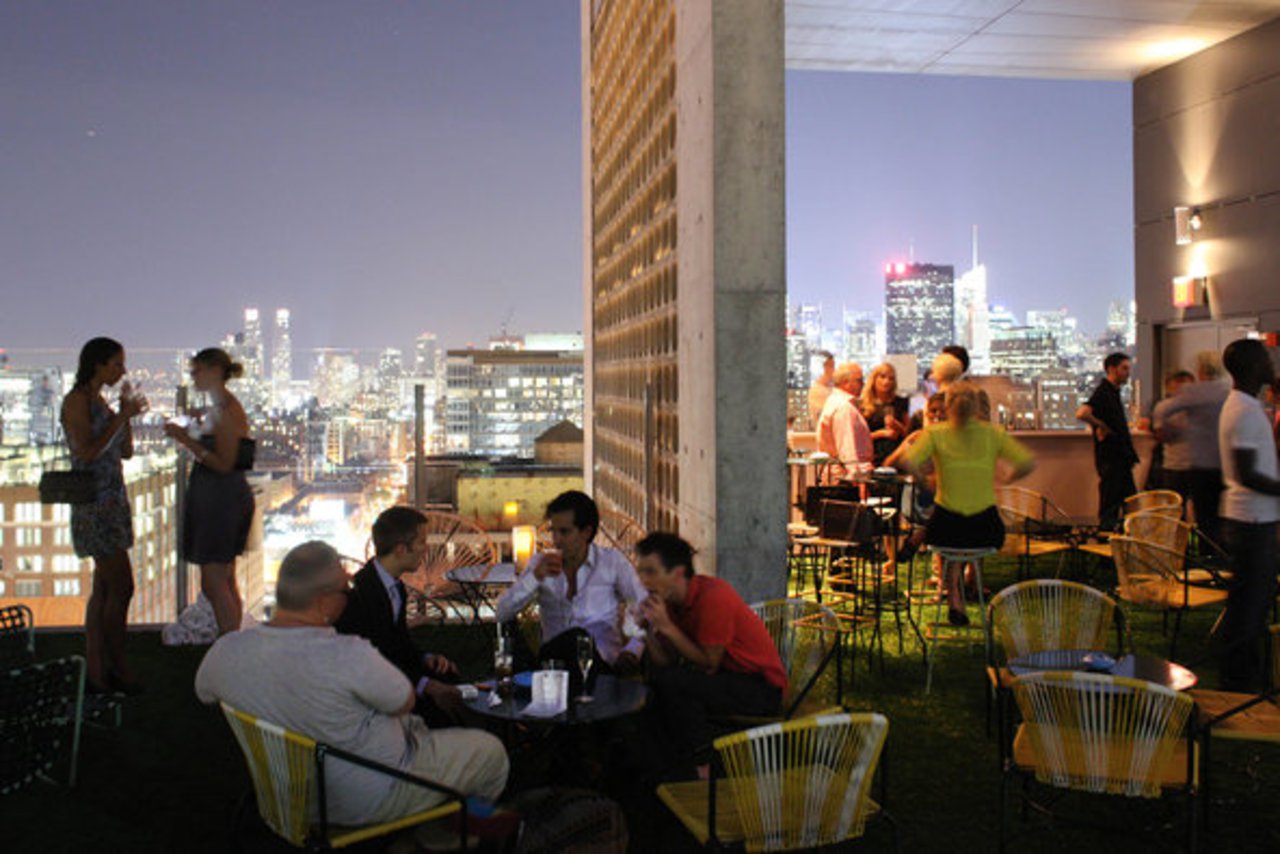 Location: 444 West 13th Street b/t West St & 10th Ave
Cost: $$$
The Le Bain discotheque and bar epitomizes the dark and sexy Meatpacking nightlife. With quirky features such as a crepe stand and views that are to-die-for, it is no wonder this place is regularly packed. Come party with world-famous DJs and get a taste of this exclusive experience.