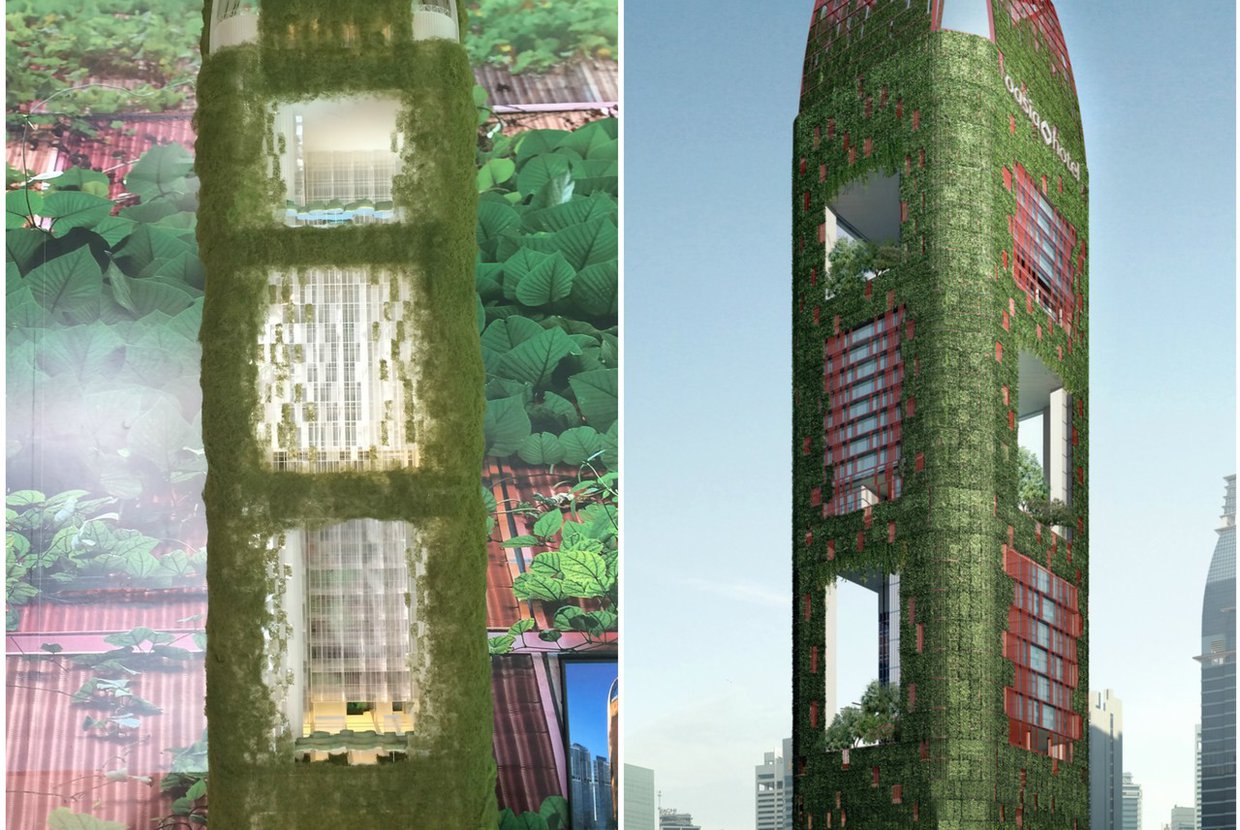 (Personal photograph of model next to actual Oasia Downtown building located in Singapore)
In a time when our future is threatened by global warming, while the pattern of society leads to urbanization, we are in dire need of a solution. Luckily, WOHA, an architecture company started in 1994 by Wong Mun Summ and Richard Hassel, has found one solution—improving the environment and our quality of living with sustainable yet innovative architecture, turning our cities into "garden-filled" ones. Now through September 4th, you can view models of these vertical gardens at the Skyscraper Museum located in Battery Park. Living in a megacity–metropolitan areas that have a population of 10 million or more (New York City has a population of 23.6 million)—it was important for Elegran to visit this exhibition to envision a potential future for NYC architecture. The exhibition, Garden City|Mega City, displays models of construction projects aimed to make urbanized places more environmentally conscious.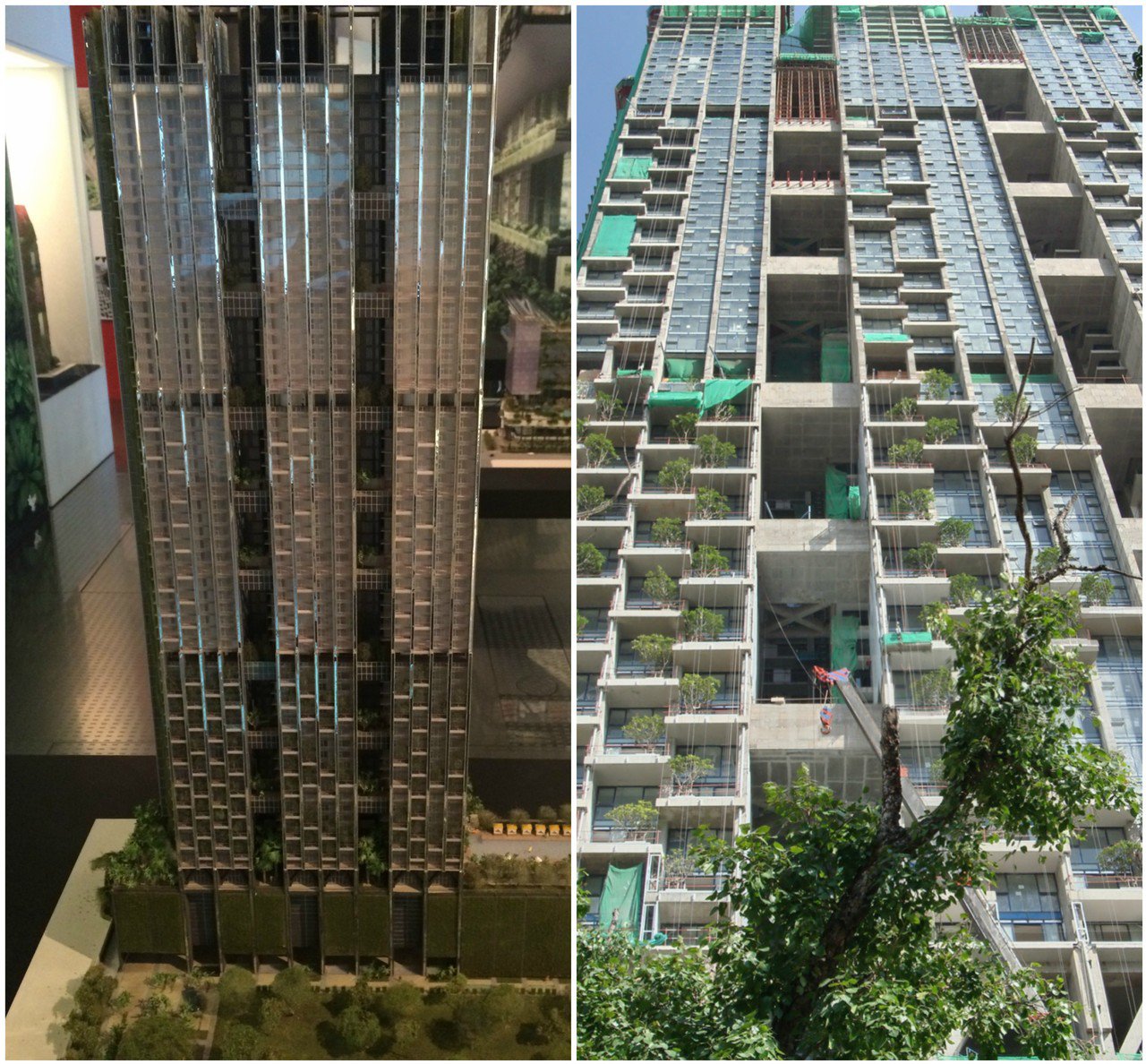 (Personal photograph of model next to actual Met building located in Thailand)
WOHA's goal is to reconstruct urban areas by furthering the connection between nature and cities. Their astonishing creations makes it difficult to believe that developing such extraordinary architecture is possible—even after seeing ten large models of their most recognizable work at the museum. The exhibit also features drone captured video of the actual structures, filming the intricacies of these vast, green buildings.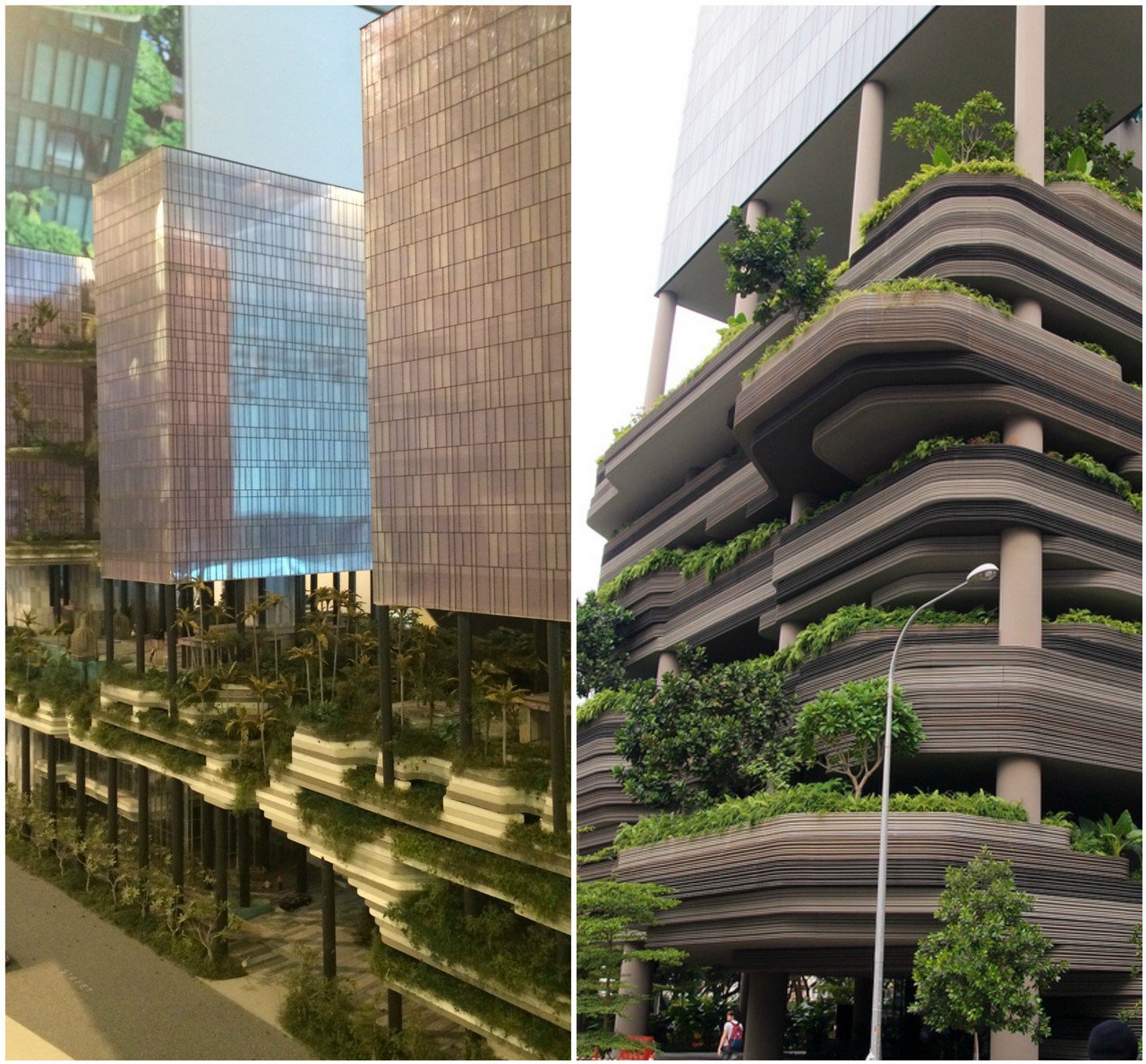 (Personal photograph of model Parkroyal next to actual structure in Singapore)
WOHA's work of towers engulfed in nature, sky gardens, and parks continues to grow in megacities like China, India, Indonesia and Thailand, especially after their iconic work in Singapore—Hotel Parkroyal—which remains one of Singapore's most iconic buildings. 
These green buildings reduce urban heat island effect—when urban areas are often warmer than the surrounding areas due to paved areas that prevent cooling, and other dark surfaces that cover most cities. The vegetation on the interior and exterior improves the quality of the environment, while acting like a filter which cuts dust, improves air quality and dampens traffic noise, all created using low-cost technology. As these are all solutions to issues currently present in NYC—we have taken a less drastic approach—NYC won't be transforming into a vertical garden anytime soon, but our efforts have been successful as the amount of buildings with grassy rooftops begins to grow. Green roofs are also beneficial in the same way WOHA's buildings are, and as a result of them, we have the cleanest air the city has had in 50 years. As green rooftops continue to sprout all over manhattan, the grey skyline appears to be becoming a little more green.