One-of-a-Kind Frank Lloyd Wright House for Sale by Original Owners
Megan Newhard
| June 16, 2016 | Published in
Elegran Insider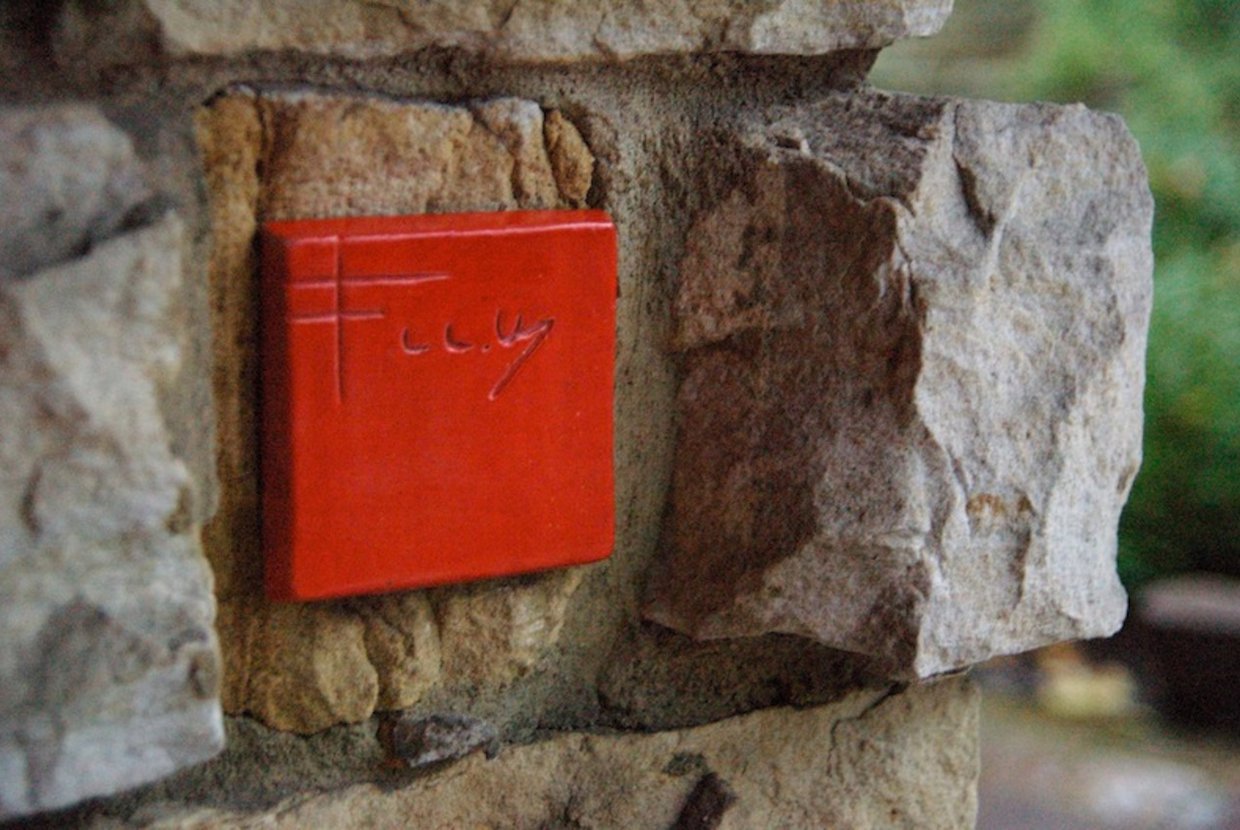 The signature red tile Frank Lloyd Wright installed in his homes.
Completed in 1960, less than a year after Frank Lloyd Wright's death, the Paul Olfelt House is finally on the market. Having personally collaborated on the home with Wright, Paul Olfelt and his family actually still own the home. The three-bedroom, 2,647-square-foot property is currently listed for $1,495,000 and sits on nearly four acres in Minneapolis, MN. What makes this home especially appealing is the condition it's in, appearing to have sat completely untouched for the past 56 years. Located on a cul-de-sac and built directly into a hillside, this home is the epitome of Wrightian architecture, with massive windows, built-in seating and shelving, and a distinctly sloped roof.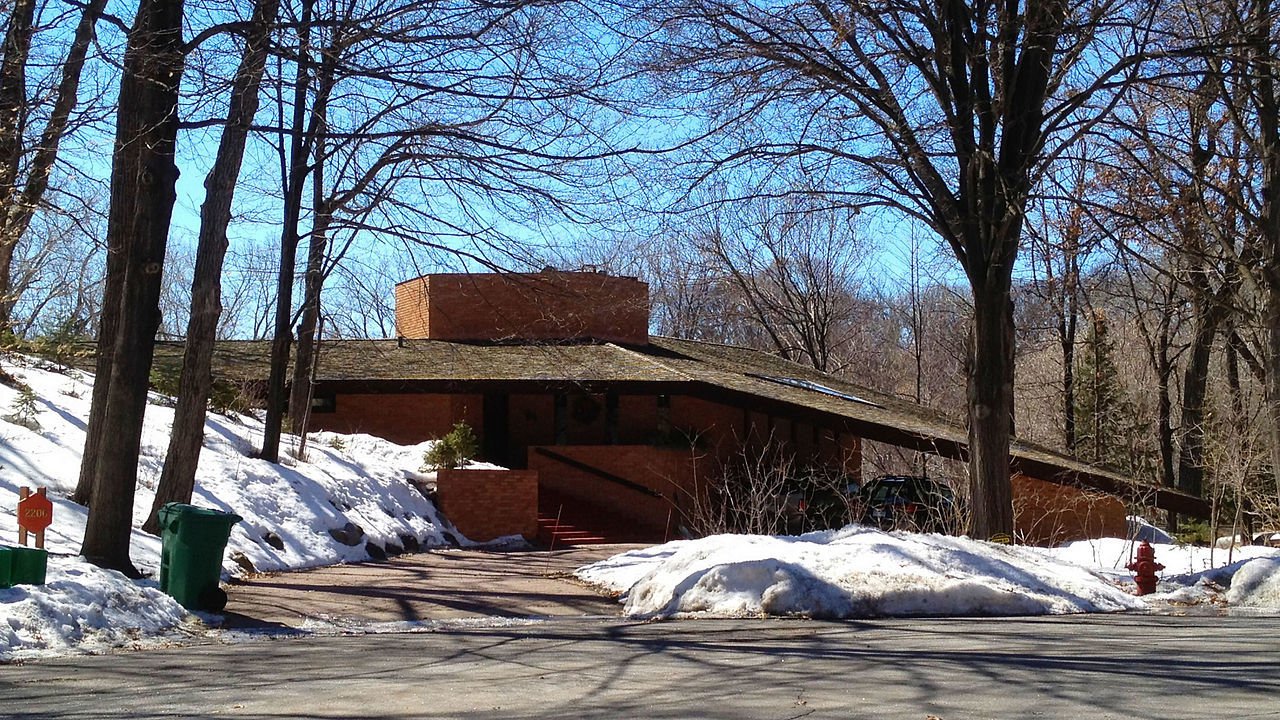 The Paul Olfelt House.

Located in Virginia Beach, VA and designed in 1953, this gorgeous vacation home is located right on Crystal Lake. Spanning over 3,000 sqft, this 4-bedroom 3-bath can be yours, if you have a spare $2,750,00 laying around. If that isn't the case, fear not, the Cooke house's current owners have also chosen to list their home on AirBnB, at the much more manageable price of $148/night. With a gym, sauna, pool, hot tub, deep water boat dock, and access to the Atlantic Ocean, this hemicycle home is the perfect getaway.
If you're looking to own a piece of history, but don't want to break the bank, this newly-restored Frank Lloyd Wright home in Galesburg, MI may be the perfect fit. For the price of $455,000, you can buy this gorgeous 3-bedroom 2-bath, built from individual concrete blocks. Designed in 1948 by Wright, the Eppstein house provides immense privacy with a one acre circular plot of land in Wright's personally designed development, The Acres. Both the home and The Acres are included on the National Register of Historic Places, and you're not going to be able to find an authentic FLW home anywhere else with this many perks.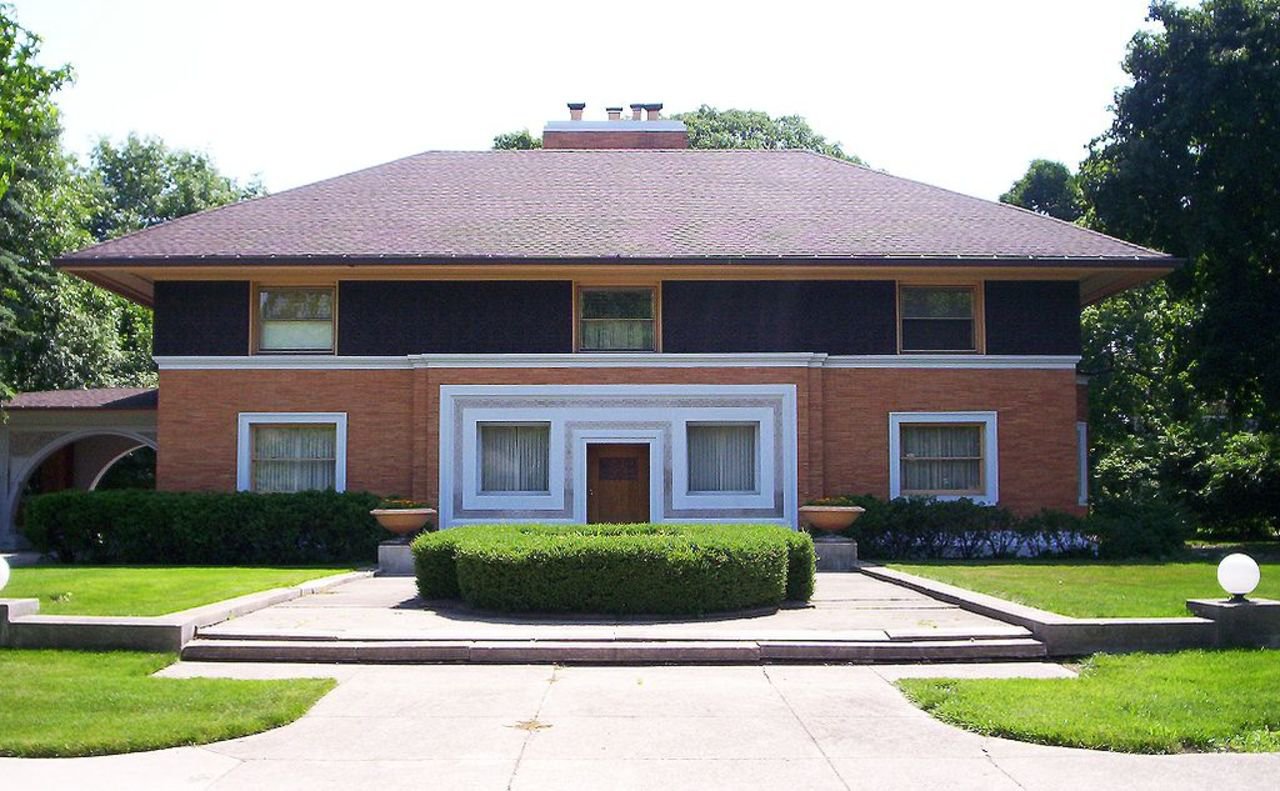 The William H. Winslow House.
While the Wrightian details are still very prominent in this River Forest, IL home, many of the necessary amenities have been updated and renovated to provide for a comfortably modern life within this landmark. Built in 1893, the Winslow House is an incredibly spacious home, boasting 5 bedrooms, 3 bathrooms, and a newly-renovated coach house with a 1 bedroom, 1.5 bath suite. Immaculate landscaping, a renovated kitchen and appliances, and fresh paint and carpeting are the cherry on top of this abode, which is currently listed for $1,375,000.
Another Frank Lloyd Wright design for sale by its original family, this Willoughby Hills, OH home has been completely restored to maximize aesthetic appearance and utility. Built in 1955, this 3-bedroom 1.5-bath home sits on almost 19 acres of wooded land, and provides stunning panoramic views of the Chagrin River. In addition to the main residence, two other income-producing homes are located on the property, which can too be for sale. Since 2003, the Penfield House has served as a vacation rental, however the sale is open to either private residence seekers or tourist destination offers.
The J. Kibben Ingalls House.
This home is over a century old, yet it has managed to stay in pristine condition, still containing much of its original decor. This unique prairie-style house contains 4 bedrooms, plenty of living areas, and a screened in porch, making it ideal for those who love to entertain. The symmetrical appearance appeals to the eye, and that appeal continues to the interior of the home with perfectly maintained oak floors and trim throughout. For the asking price of $1.18 million, this River Forest, IL masterpiece, plus the detached three car garage, can be yours.
For all you Frank Lloyd Wright fans, the excitement doesn't end here. Next summer, the Museum of Modern Art will be hosting an exhibit of the late architect's work, to commemorate the 150th anniversary of his birth. Entitled "Frank Lloyd Wright at 150: Unpacking the Archive", the exhibit will run from June 12th to October 1st, and will display 450 of his works. True to its name, there will certainly be a lot of unpacking, including architectural drawings, models, building fragments, films, print media, furniture, tableware, textiles, paintings, photographs, scrapbooks, and television broadcasts. In the MoMA's official statement on the upcoming exhibit, it was said that some of the pieces have never been on display to the public before, so it's definitely not something you're going to want to miss.