Timber! : The Age of the Wooden Skyscraper?
Megan Newhard
| June 14, 2016 | Published in
Urban Design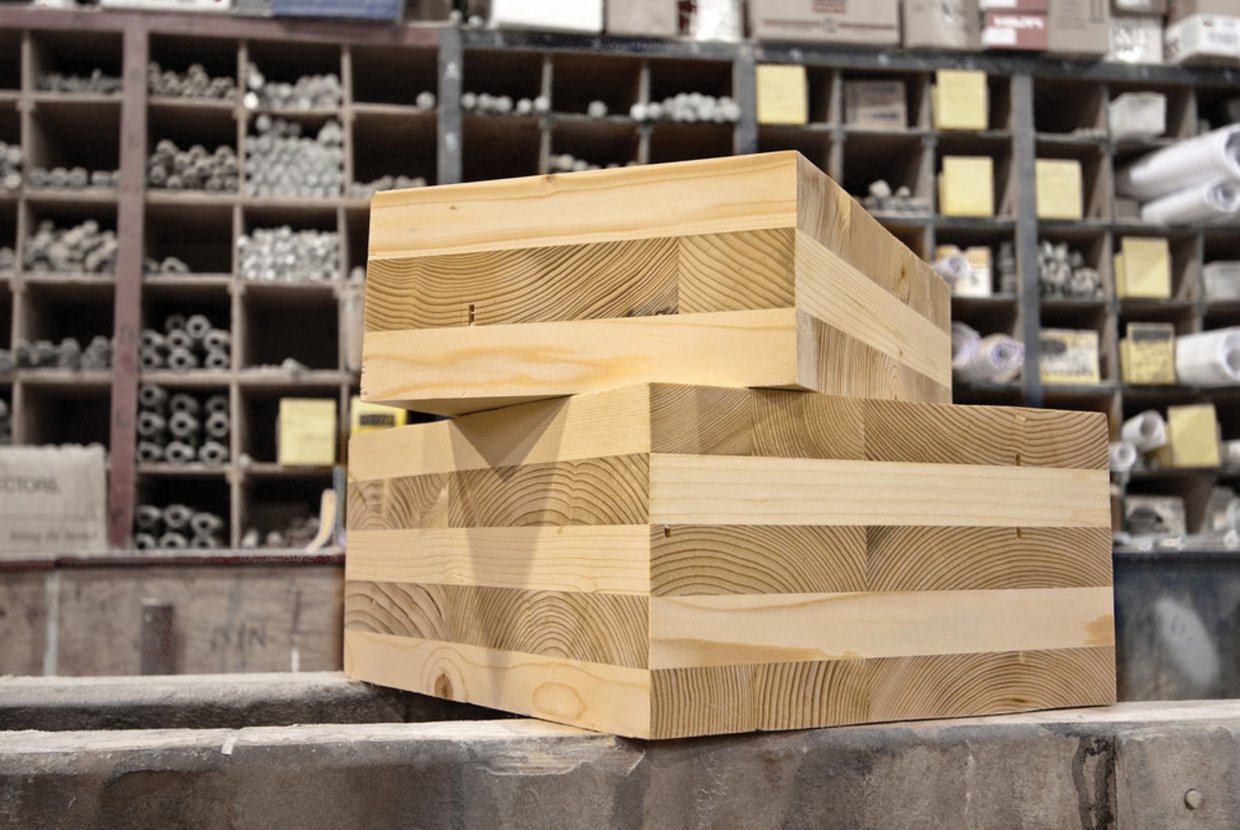 A block of cross-laminated timber (CLT), ready for use.
"Wooden skyscraper" may sound a bit like an oxymoron, but according to many of the world's architects, there's nothing strange about them. Although a tower made of wood and glue may sound reminiscent of a high schooler's woodshop project, Valerie Johnson, co-owner of D.R. Johnson Wood Innovations claims they are not only structurally sound, but also cost effective and environmentally friendly. Finding the solution to the harsh environmental footprint left behind by bulky, expensive steel and concrete buildings has been at the forefront of the construction world recently—and it turns out the answer was much simpler than we could have imagined. For those who shudder at the mere thought of a 30-story wooden skyscraper, fear not, these towers are not haphazard stacks plywood and Elmer's glue, they are built using CLT, or cross-laminated timber, a very durable material made by overlaying thin layers of wood at right angles to one another, which is then sealed with a fire-resistant glue. In the near future, another alternative material used could be bamboo, which is even stronger than timber. So to answer the burning question, these wooden skyscrapers are not a fire hazard. In fact, the few that have been proposed and built thus far actually exceed the fire-resistance of most steel and concrete buildings.
You may be thinking, "don't these buildings require a lot of trees to be cut down?" Environmental conservation is a continually pressing issue, but fortunately, these wooden skyscrapers will be built solely by using trees that have been planted and grown with the specific intention of being used for construction. Cutting down trees in never ideal, but in a controlled environment where new trees are replanted to replace the old—it's progress.
It appears the positives of wooden buildings go beyond an environmental and economical impact, with new information showing that people are actually more relaxed around structures made of wood—something New Yorkers could certainly benefit from.
Although the U.S. has yet to hop on the wooden bandwagon, there are examples of this fascinating feat in other countries such as England, Austria, Norway, and Australia. Skyscrapers reap a major environmental toll, and architects and engineers alike have finally decided enough is enough—perhaps we should follow in the footsteps of our neighbors across the pond and give a wooden supertall a try.