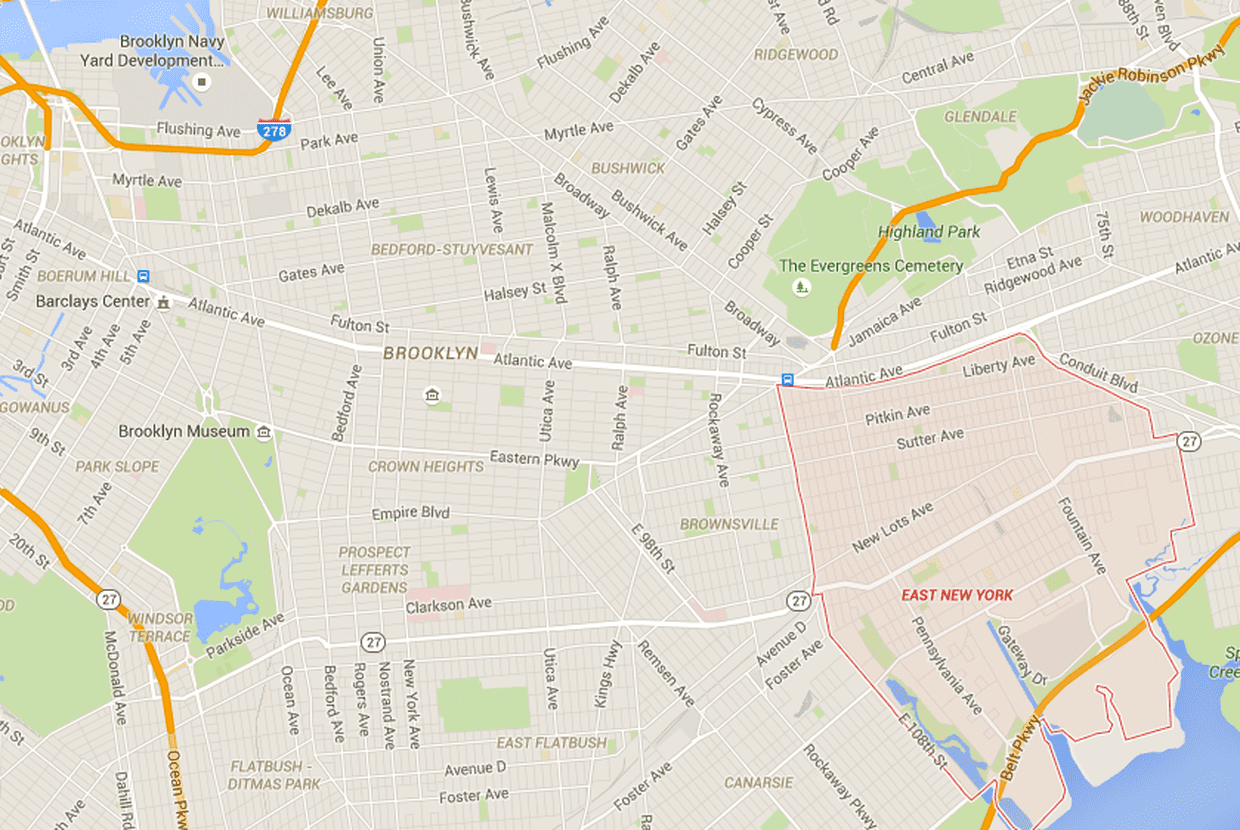 A huge part of Mayor Bill De Blasio's political vision has been his quest to create more affordable housing in the city, materialized in the "Housing For New York, A Five-Borough, Ten-Year Plan". However, the vision is not simply confined to the creation of more affordable units, it encompasses facilitating infrastructure, spurring economic activity, and increasing residential stock as well—a wholescale revitalization of underserved neighborhoods. This past April, the City Council, after nearly two years of deliberation, approved a rezoning plan for the Brooklyn neighborhood of East New York—in a vote of 45-1. East New York is the first of 15 neighborhoods underlined in the Mayor's citywide rezoning plan aimed at making 200,00 affordable housing units available by 2024. However, according to some critics, real estate developers may stand to the benefit more from the rezoning plans.
East New York serves as a blueprint, a litmus test of sorts, for the future implementation of the plan on a citywide level. The NYC Department of Planning claims to have worked for two years, partaking in community-engagement and research on neighborhood potential, to create their Sustainable Communities report on East New York. The neighborhood was chosen for its "rich transit network, vacant and underutilized land available for redevelopment, and strong local organizations and leaders ready to help realize a new vision for the area".

These zoning changes incentivize developers to include affordable apartments in their buildings in return for allowance to build taller buildings. The plan concerns land use spanning nearly 200 blocks in the area. Over 6,000 apartments are expected to be added under the plan, half of them affordable and half of them market-rate. Part of the plan is the Mandatory Inclusionary Housing, under which developers can receive city subsidies if they set aside up to 30% of units for families earning less than the area's median income.
The plan for the neighborhood also encompasses an overhaul of streets, schools, parks, retail, and industry. $40.8 million is expected to be spent on developing Atlantic Avenue, $1.7 million to bring high-speed Internet to homes along Atlantic Avenue, and a large-scale repair of roads in the area. The Wall Street Journal reports that the city is planning to spend around $17 million to improve infrastructure in an industrial section of East New York. The aim is to create jobs and provide impetus to the local economy. WSJ also reports that the plan is expected to bring 1.3 million square feet of office space, retail space and community amenities and facilities, and 2.7 million square feet of industrial space, to the area. Many think that East New York is the exciting next frontier for the redevelopment of Brooklyn, citing Bushwick and Bed-Stuy as precedents where property values have risen dramatically as the neighborhoods gained widespread appeal. Investors are reported to be already scoping out future prospects of the neighborhood. However, some long-time residents remain skeptical of the plan's ability to protect them from displacement.