Dreamforce 2016: Elegran Invited to Speak at the Largest Tech Conference in the World
Written by Tigh Loughhead
September 14, 2016
Published in Elegran Insider, How To NYC, Real Estate Market Trends
Among the first in real estate technology, Elegran is honored to be invited by Salesforce to speak about Marketing Automation at Dreamforce 2016, held October 4th-7th in San Francisco. Dreamforce is the largest software conference in the world, attracting over 175,000 technology entrepreneurs and business leaders from all over the world to connect with their peers and learn from industry pioneers.  Elegran will join speakers Melinda Gates, Mark Cuban, Marc Benioff, Tony Robbins and many more on the stage at Dreamforce this year. Elegran prides itself as a pioneer in technology and real estate marketing in NYC and is eager to present successful marketing strategies on a national stage to other leaders of the global business community.

Tigh Loughhead, Marketing Director at Elegran Real Estate and Development, was asked by Salesforce to speak at Dreamforce this year about Elegran's innovation in lead nurturing and marketing automation, which it has used successfully to build an inbound marketing strategy, align marketing and sales teams, and leverage cold and dormant leads. Recently quoted on the Salesforce blog and Pardot product release announcement of Engagement Studio, Tigh has used lead nurturing technology strategies to close the loop between the traditional marketing and sales funnels at Elegran, about which he recently gave a presentation at Salesforce's NYC headquarters in Manhattan.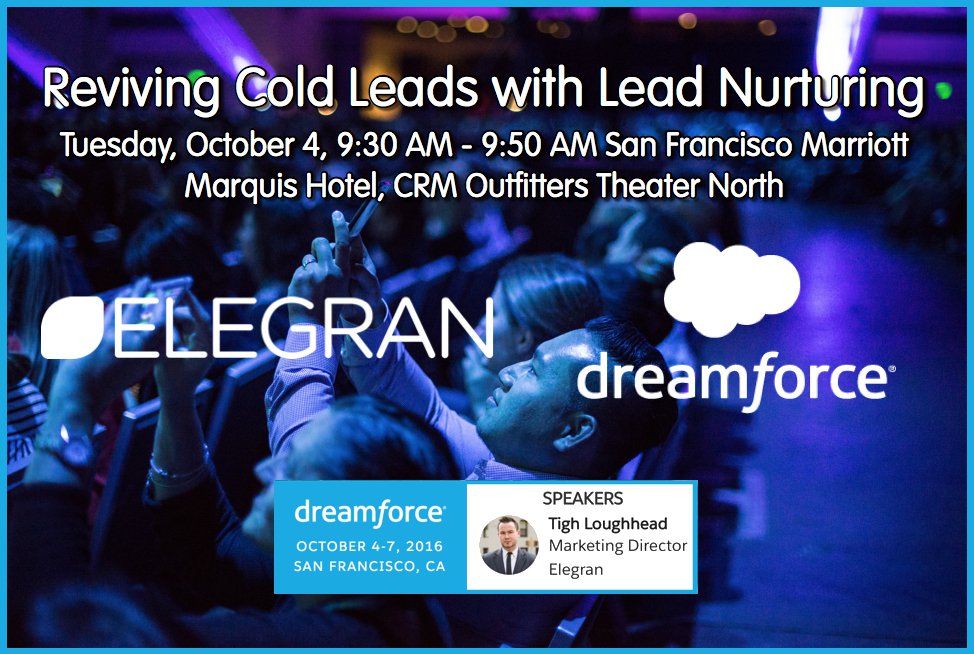 Details about Elegran's Dreamforce session can be found below.

https://success.salesforce.com/Sessions#/session/a2q3A000000LBY1QAO
Elegran attributes its rapid growth in becoming one of the leading firms in New York City to its high level of customer service, the excellence of its team, and its investment in technology and marketing. Elegran's mastery of customer segmentation, nurture and conversion have propelled it to become one of the fastest-growing and most exciting firms in the industry; and the first to totally customize Salesforce for real estate, investing in the software for every member of its sales team, becoming one of the leading firms in the world of marketing automation.
Tigh Loughhead is an expert in digital marketing with a background in advertising and real estate technology, helping to grow several startups in New York City. As an expert in marketing automation, lead generation and real estate marketing tech, Tigh brings a wealth of digital marketing knowledge and management skills, such as CRM implementation, SEM, SEO, automation, content strategy, branding and conversion optimization to Elegran. In 2014, Tigh was one of only 10 people asked to sit on Trulia.com's "NYC Rental Advisory Council." For the past two years, Tigh has run Elegran's marketing team, focusing on lead generation, data analysis, and aligning sales and marketing to build Elegran as a scalable business.