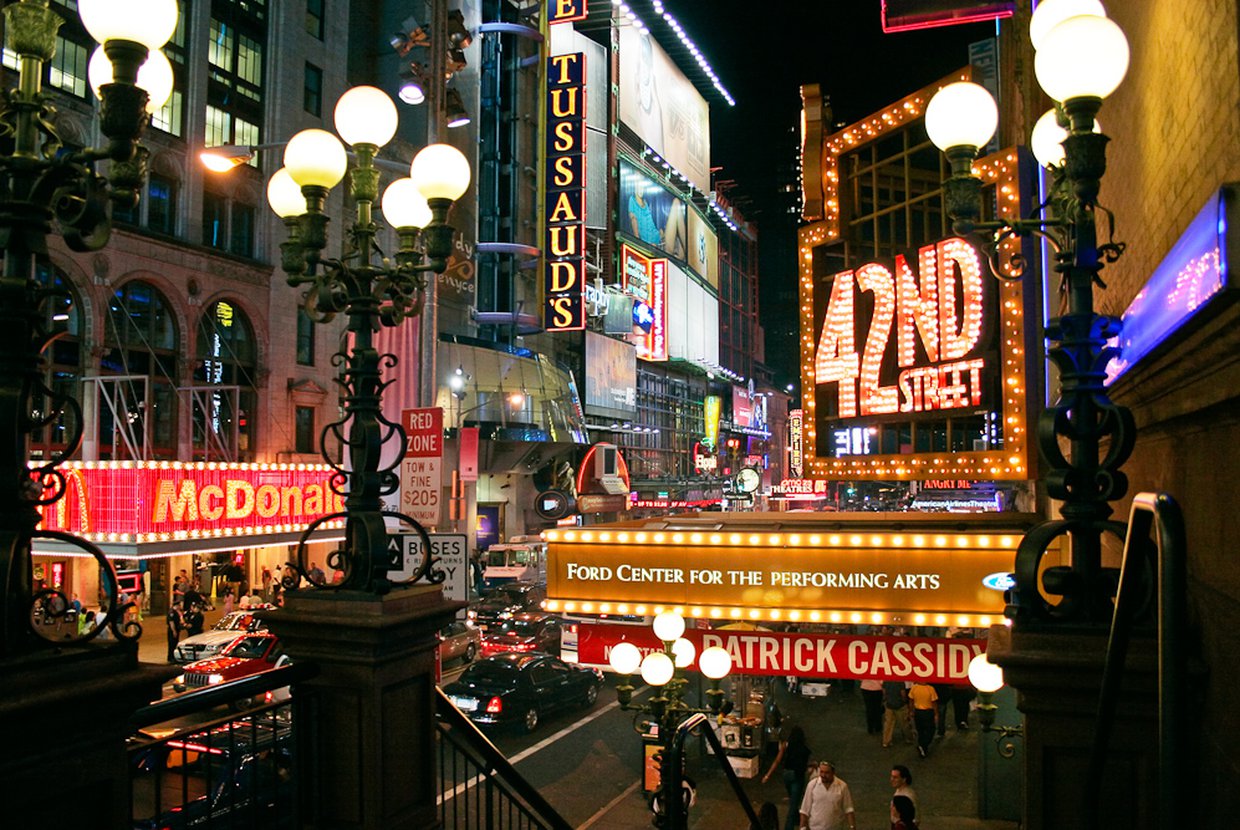 Of all of New York's most recognizable locations, 42nd Street is at the top of the list. Known for its historic buildings, bright lights, and bustling culture, 42nd Street is arguably the heartbeat of Manhattan.
The rich history of 42nd Street dates back to the American Revolutionary War. George Washington used it as a location to rally his troops against invading British soldiers that landed at Kips Bay.
In the Commissioner's Plan of 1811, 42nd Street was one of 15 streets that would be 100 feet wide, versus the standard 60 feet. After complaints of lack of building space, the Street Committee opened lots for building up to 42nd street, making it the northern boundary until more space was allotted.
In a city full of skyscrapers and booming invention, it's hard to imagine New York without its major buildings. In 1869, however, New York was just beginning to gain its larger than life reputation with construction of its first major development on 42nd Street: Grand Central Depot.
The land between 42nd and 48th Streets, Lexington and Madison Avenue were purchased by Cornelius Vanderbilt for the development of Grand Central Depot for horse drawn carriages running on his Central, Hudson, Harlem, and New Haven lines. The Depot officially opened in 1871. After modern technology came knocking and safety concerns prompted design restructuring and reinvention, Grand Central Depot was replaced first with Grand Central Station, and finally with Grand Central Terminal in 1931.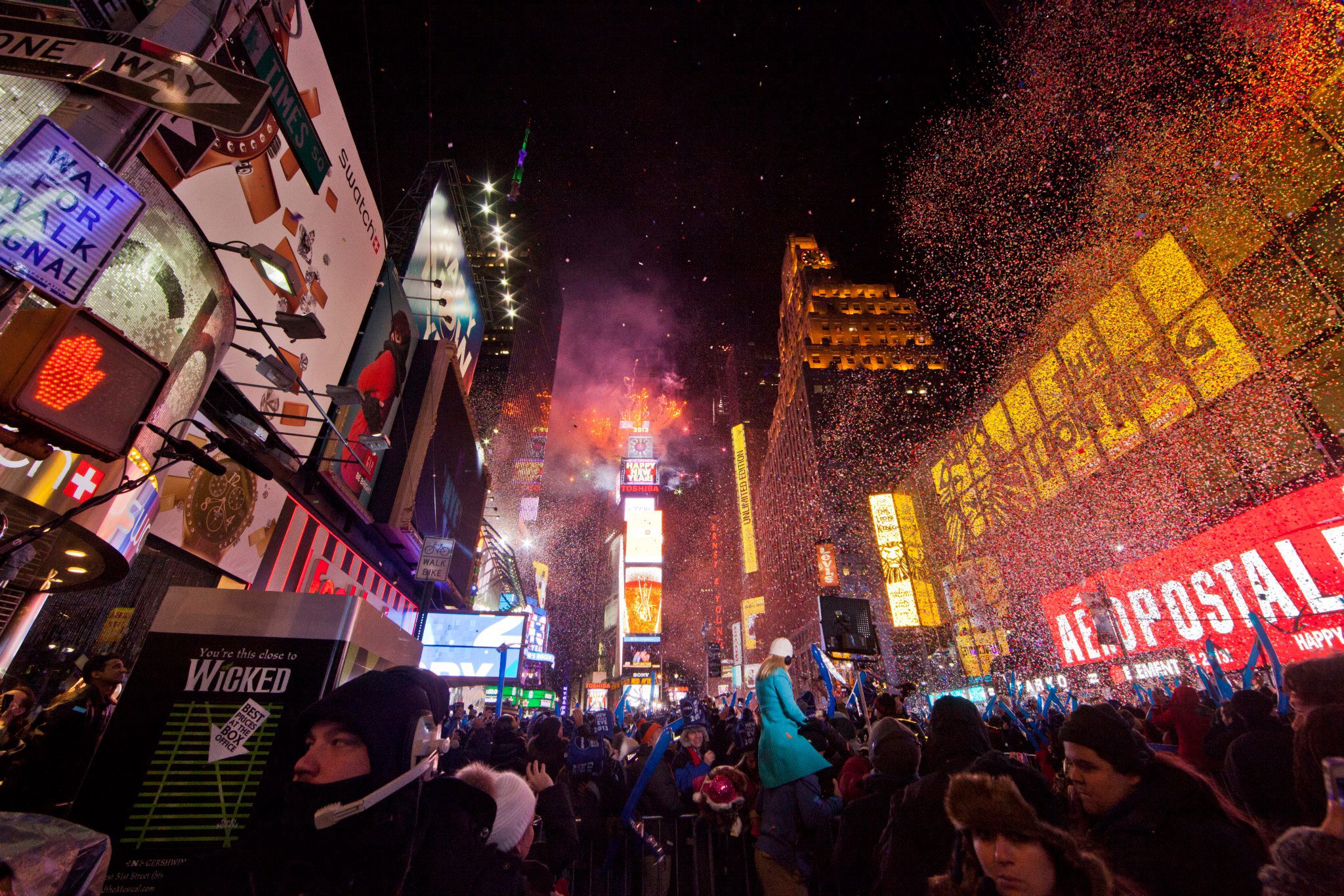 New Years Eve ball dropping in Times Square
West 42nd Street is known for its excitement and wonder, making it not only a sought after tourist attraction, but also a popular NYC native location. 1904 marked the opening of the new New York Times headquarters and the introduction of what we now know as Times Square. After a massive New Year's Eve celebration thrown at Times Square, the location became a hotspot for NYE celebrations, prompting former New York Times owner, Adolf Ochs to purchase a 400 pound glass ball to be lowered to the ground at midnight, introducing New York's famous ball-drop that occurs yearly at midnight on January 1st.
Times Square is globally known as being part of the theatre district. After the Metropolitan Opera House moved to West 39th Street and Broadway in 1883, the area began attracting more theaters. However, due to an influx of seedy businesses, the 42nd street area was losing its charm, making it an X-Rated part of the district most didn't want to visit. After the revitalization of 42nd Street in the 1990's however, most of those businesses were closed. Six historic theaters were taken over by the government, and New 42nd Street Studios was formed, officially opening in 2000 to oversee renovations on an additional seven historic theaters in the Theatre District. Currently it operates The Duke on 42nd Street Theatre and The New Victory Theatre. New 42nd Street Studios also acts as a premier location for major Broadway production rehearsals.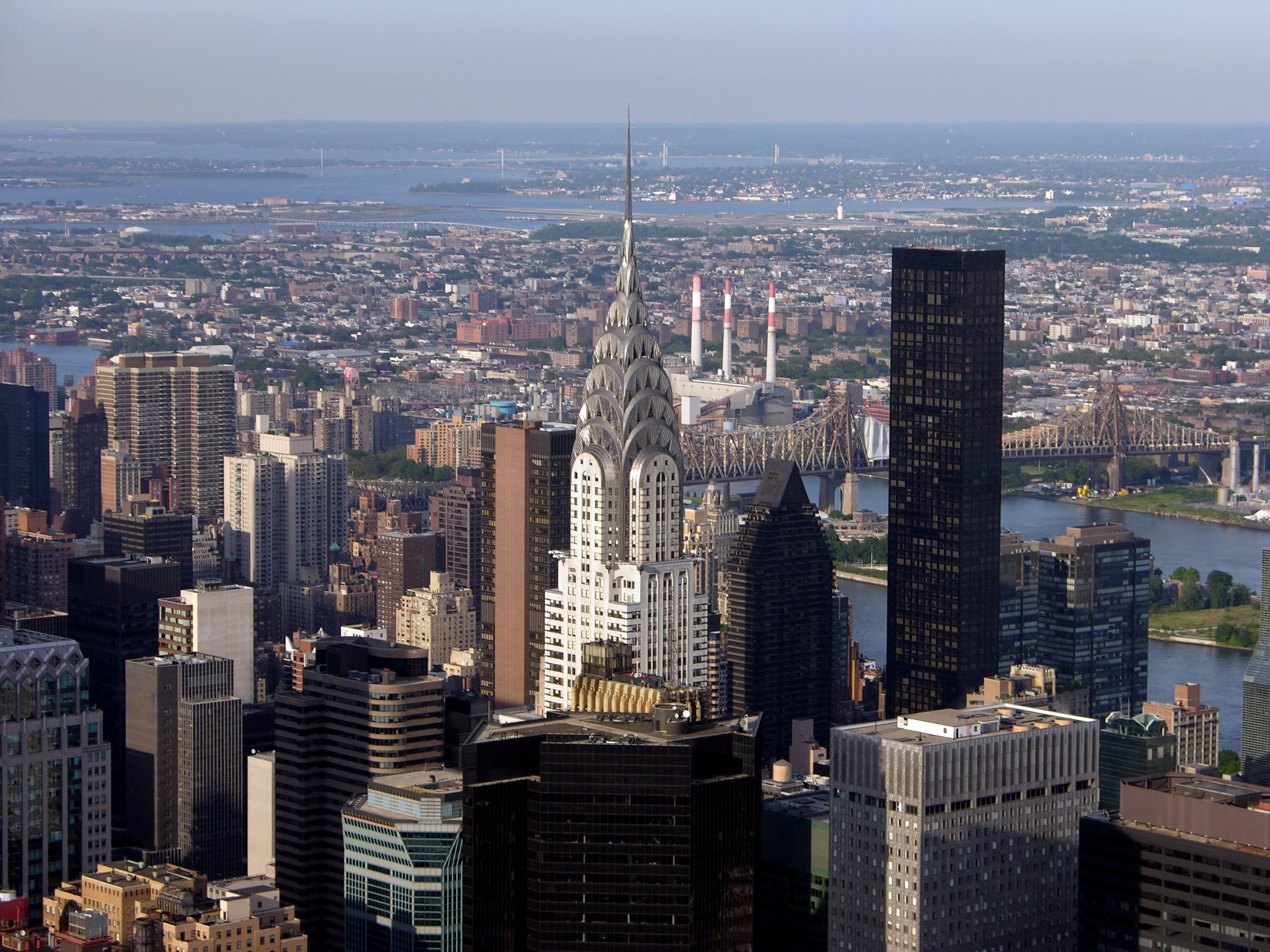 The Chrysler Building
Another one of New York's most famous landmarks is the Chrysler Building, constructed in 1930.
Also located on the East Side in Turtle Bay, The Chrysler Building resides on the corner of Lexington and East 42nd Street. When it was completed, it was the tallest building in the world at 1,046 feet. Designed by William Van Alen for Walter P. Chrysler as a commercial property that rents out office space, it is still possible to view the lobby and historic ceiling mural.
42nd Street isn't all bright lights and commercial buildings, however. For anyone looking to move to the exciting area, check out two options located on the iconic street:
Apartment at The Orion

In Midtown West, find The Orion at 350 West 42nd Street. Monitored by a 24/7 lobby attendant, The Orion includes a fitness center, swimming pool, roof deck, and health club. Designed by Cetra/Ruddy, The Orion is 58 stories tall, with 550 units ranging from $600,000-$2,500,000.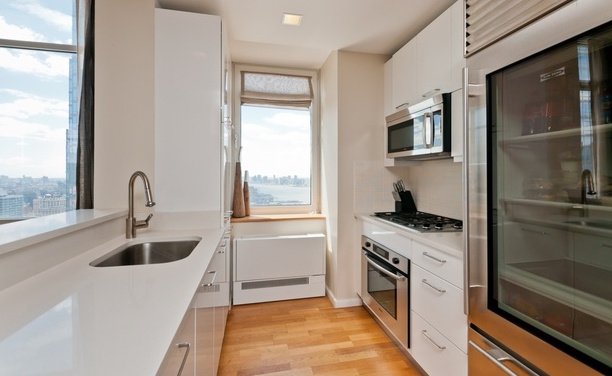 Apartment at The Atelier

The Atelier is a high-rise also in Midtown West, located at 635 West 42nd Street. From the gallery-esque lobby to the floor to ceiling windows, The Atelier exudes high-living in midtown. The building includes a yoga and fitness center, sundeck, full-sized basketball, tennis, and volleyball courts, along with concierge service and free bicycle usage. Prices range from $830,000-$12,000,000.