Elegran Presenting at Dreamforce
Written by David Dam
October 27, 2016
Published in Elegran Insider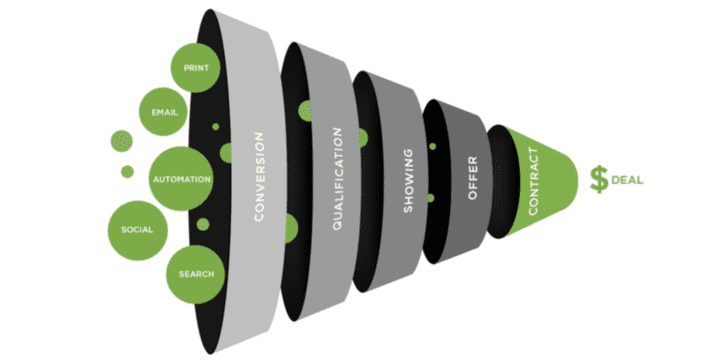 A few weeks ago, Elegran was invited to be one of the first real estate brokerages to speak at Dreamforce in San Francisco, on a national stage at the largest tech conference in the world. Salesforce invited Elegran's Tigh Loughhead to speak about the company's industry-wide leadership in lead generation and nurture, and innovation with marketing automation. Elegran was recognized for its revolutionary use of marketing automation technology to segment its clientele—for in depth training of the firm's sales and marketing teams, to educate their team about the product working for them, and finally for achieving success by building hyper-targeted, complex lead nurture and drip campaigns built around specific buying criteria and friction points throughout the purchasing process. Elegran has grown rapidly as a result, with the company's relatively small team of salespeople generating 7-800% more revenue than the average NYC real estate agent.
Marketing automation is a burgeoning technology. As more and more businesses move towards digital transformation, there is an inevitable thrust to automate inefficient tactics and scale processes that generate profit. Traditionally, marketing has been an entirely separate endeavor from sales. However, digital advertising creates the opportunity for granular data analysis at every stage in the supply and demand chain, from brand awareness to marketing conversion, to sales outreach and follow up, to closing a deal.
Marketing automation closes the loop in the consumer lifecycle, allowing automated processes to supplement the inefficient administrative tasks of marketers and salespeople, and generates the insight to let ROI drive business decisions, and a number of tech companies are taking notice. MailChimp, a popular entry-level email marketing platform, now offers drip campaigns out of the box, and Zillow, the largest internet listing website, is starting to offer automated follow up and lead nurture as part of their Premier Agent product. What these tech companies have realized is that marketing automation, if done correctly, can allow a traditional business to scale their profit.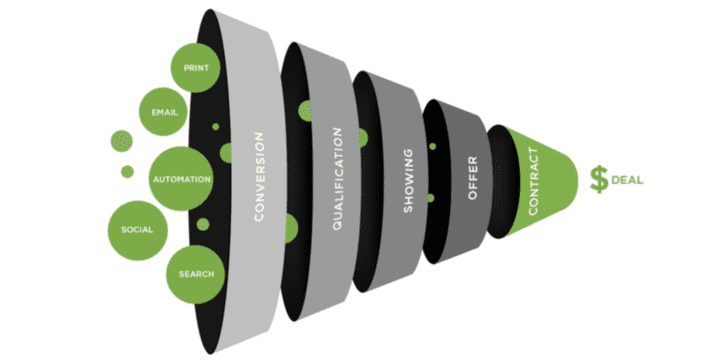 Elegran has been optimizing lead generation tactics in New York City for years, building a complex, multi-channel marketing strategy encompassing SEO, SEM, Remarketing, Display, SMM, inbound and content marketing, email and much, much more… As a result, Elegran amassed a large database of leads to feed a powerful sales team, but lacked the insight at a high level to track each lead all the way to closing a deal, within its customer relationship management platform.

Elegran had invested in the premier enterprise CRM platform in Salesforce for the entire sales team, though before launching drip campaigns, Salesforce adoption among their actual sales team was extremely inconsistent, as there was no standardized operating procedure for client classification or workflows in Salesforce. Although Elegran was profitable, the lack of a data structure restricted sales people's individual ability to grow their business, and limited Elegran's expansion and profit as a company.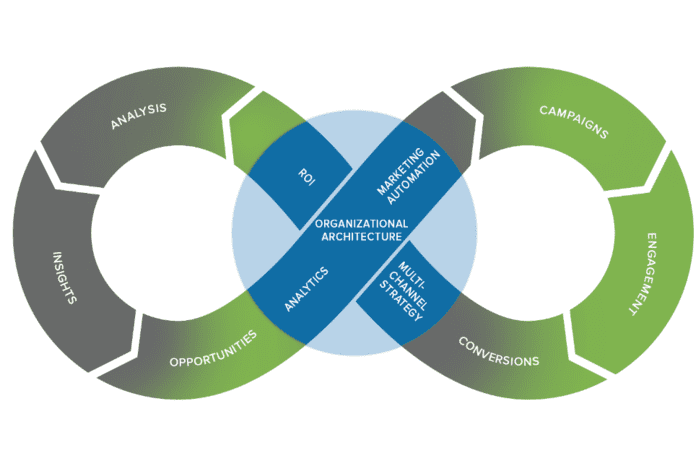 Elegran realized that defining a data architecture would provide the foundation for growth and scalability, empowering both sales and marketing teams, and offering management the business intelligence to make smarter investments. To define this structure, the team dove into the entire consumer journey of a client, from a prospect's first exposure to the Elegran brand, to the needs of a long term client transacting their third deal with a trusted real estate advisor, and every potential progressive step in between.

The four stages Elegran derived from the customer journey were Awareness, Follow Up, Nurture and Re-Engagement, encompassing the entire consumer journey and the different needs at every stage. Each stage was further segmented by lead or client type (Buyers, Sellers, Renters, etc.), as well as micro-segmented by purchasing criteria, such as budget, neighborhood or amenity.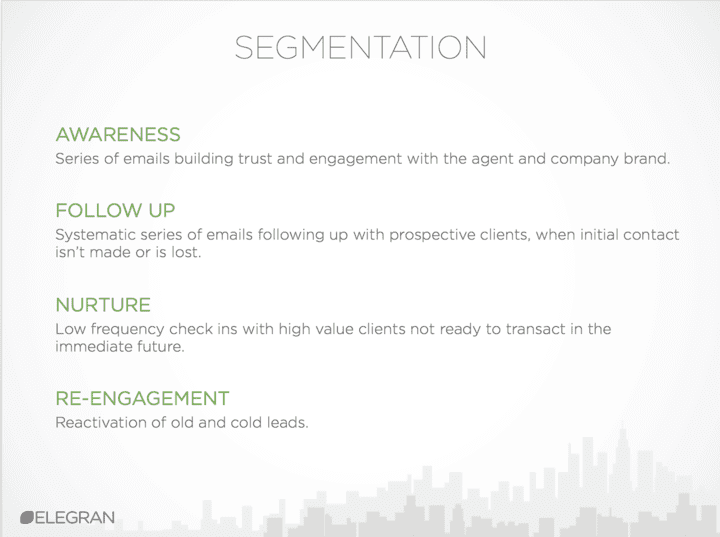 In the interest of transparency and accountability, to educate the sales team, Elegran hosted in-depth focus groups and numerous training sessions on the what, why and how of each drip campaign. In addition, a marketing automation campaign directory was provided to every Elegran employee, outlining what criteria or action would opt a prospect into that specific campaign, details about that drip, and the specific business goal the firm was trying to achieve.

Elegran is now running between 10-15 drip campaigns across the Awareness, Follow Up, Nurture and Re-Engagement stages, providing personalized content and contextual messaging dynamically generated to provide value to a consumer's experience. In April, Elegran participated in a closed beta-test of Pardot's "Engagement Studio," providing the inspiration for one of Elegran's first complex, multi-path drip campaign, which was presented at Dreamforce.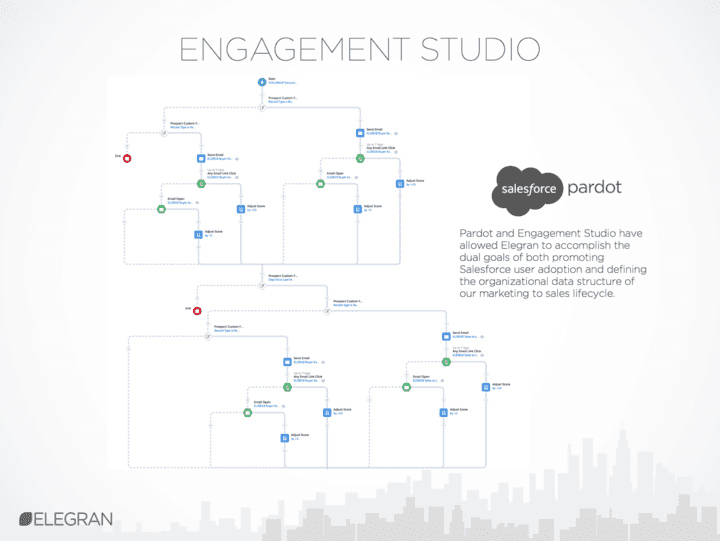 As a result of the success of this complex, multi-path journey generating significant revenue for the firm, Elegran's Marketing Director, Tigh Loughhead, was asked to speak about the success of this campaign at the Marriott Marquis in San Francisco on October 4th at Dreamforce. Tigh talked about how, as a result of one of many active campaigns, Elegran has to date, funneled a little more than 1200 prospects through the Awareness stage, that previously would not have even been touched by the sales team, which now have been properly nurtured all the way to the closing table.
This single innovative campaign resulted in numerous deals and tens of thousands of dollars in profit that would have been untouched otherwise. Prospects that would have been discarded or overlooked last year were turned from dormant or cold leads into luxury real estate clients. This single campaign eliminated the need to cold call (or email), allowing Elegran to scale email outreach to new leads, using a totally automated solution. Elegran continues to experiment with automated strategies across all segments of their data architecture, optimizing campaigns, diving into ROI, and being the first in real estate to create automated strategies to serve their clients and their entire team.
For Tigh's full presentation at Dreamforce, please see below: