New York has acted as a backdrop for countless films and television shows, featuring real establishments all throughout the boroughs, and some of NYC's most recognizable buildings, such as The Empire State Building—seen in King Kong, How I Met Your Mother, and more. The famous landmark isn't the only spot you can visit in the city though—check out some other iconic locations from your favorite TV shows and movies:
Cafe Grumpy — Girls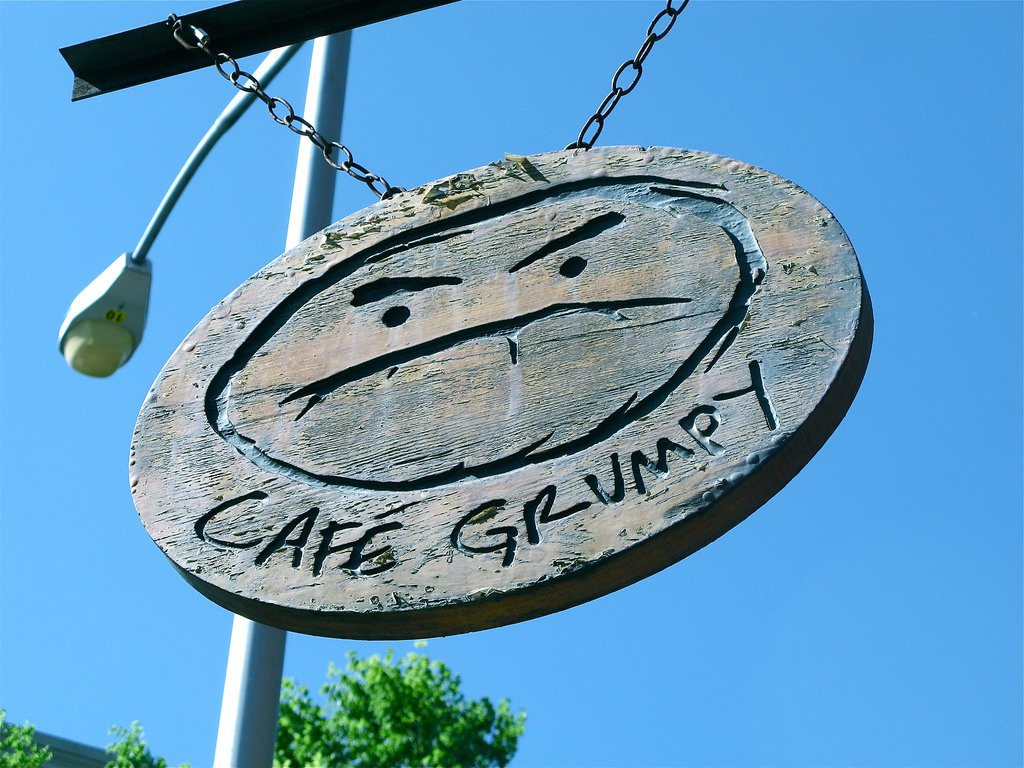 Made famous by it's staple in the hit HBO show Girls, Cafe Grumpy's Greenpoint location has gained some serious notoriety. With locations all throughout New York including Chelsea, the Lower East Side, and in Grand Central Terminal, Cafe Grumpy is a real life coffee spot fit to hang out, study, and get your morning caffeine fix in.
Central Perk — Friends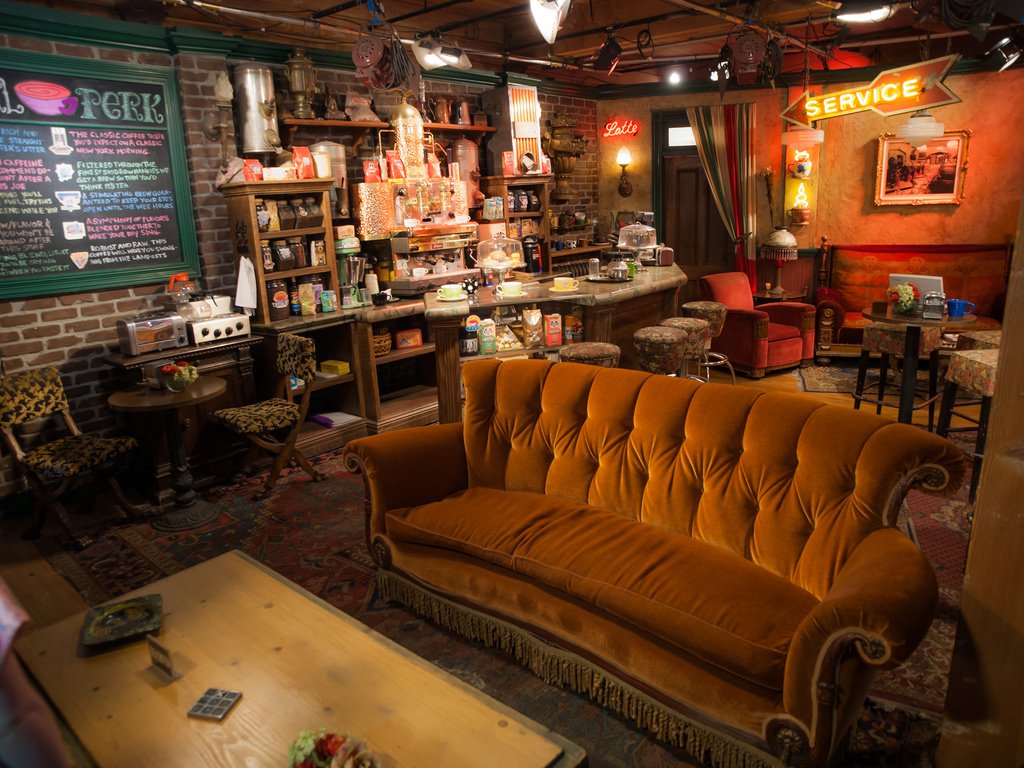 Possibly the most recognizable spot on the list, Central Perk was made famous by the TV show, Friends. While Central Perk was just a made-up cafe, created for the television show, a pop-up shop in honor of the show's 20th anniversary was opened for a limited time in Greenwich Village.
Joe's Pizza — Spiderman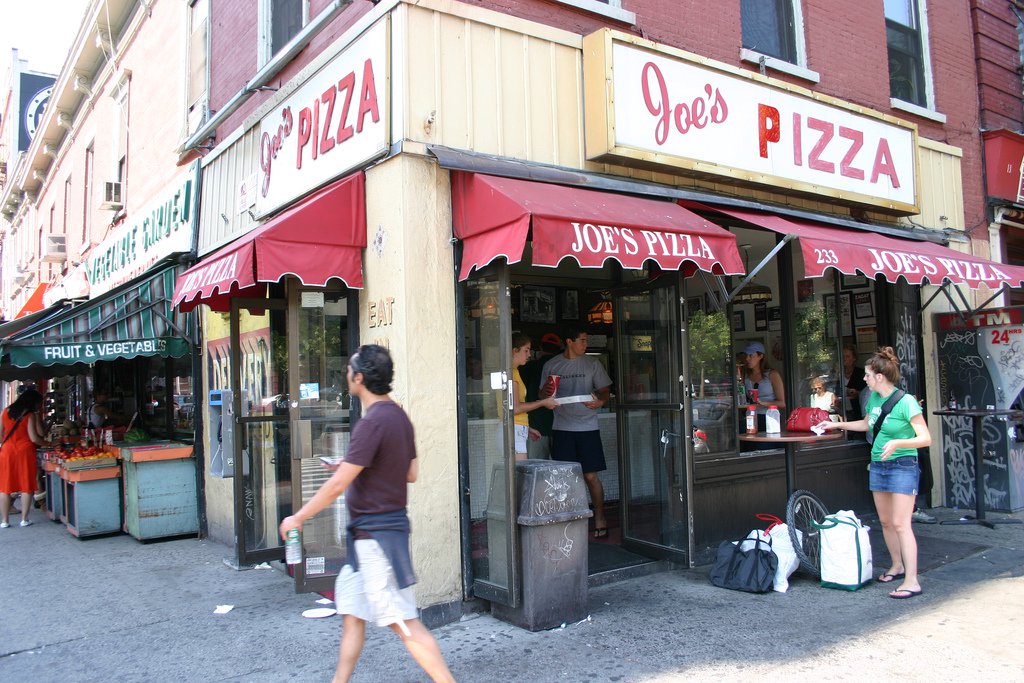 Joe's Pizza has multiple locations in NYC, but if you're looking to visit the one made famous by none other than Peter Parker himself, take a trip to Greenwich for a slice and a chance for some cheesy nostalgia.
Gray's Papaya — Sex and the City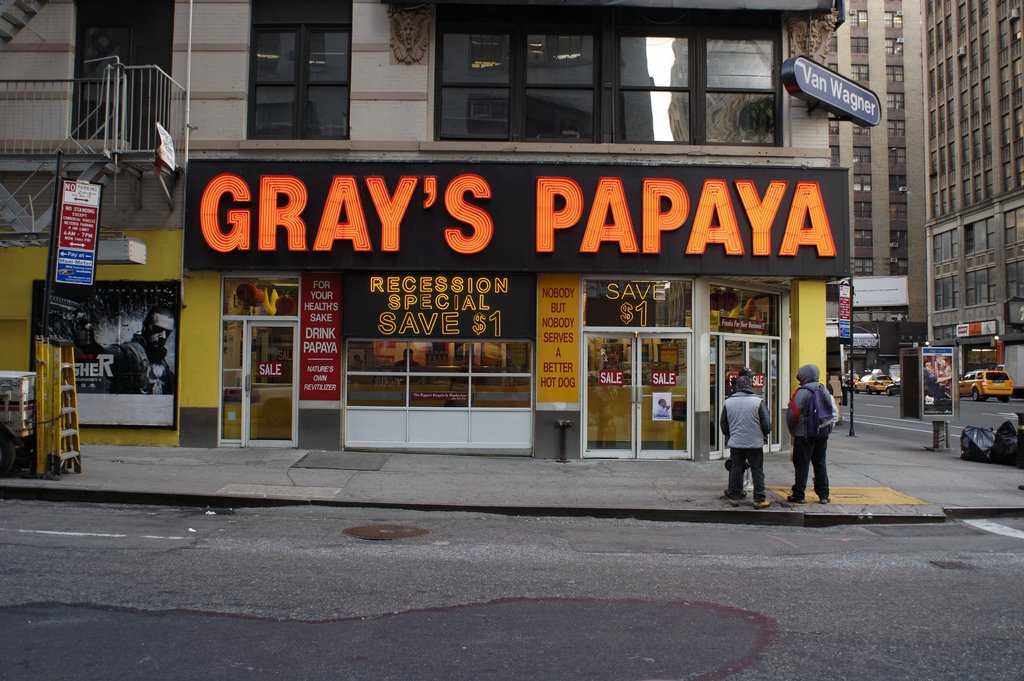 Sex and the City fans remember Gray's Papaya as the place Carrie Bradshaw stopped off for some juice and a hotdog after her fancy book party. Their name comes from their staple, papaya juice. Find them on the Upper West Side.
Pershing Square — Friends With Benefits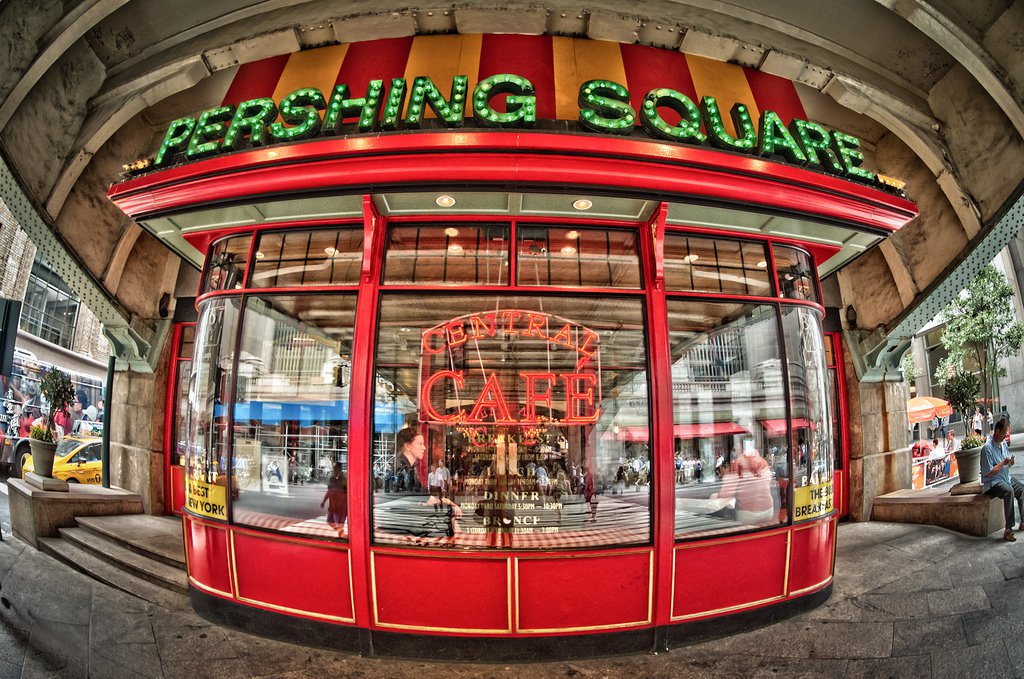 Located on 42nd Street underneath the Park Avenue Viaduct, this Midtown West cafe is where Justin Timberlake and Mila Kunis professed their love for each other in their 2011 film. Known as Central Cafe in the movie, Pershing Square has been in business since 1999.
Tom's Restaurant — Seinfeld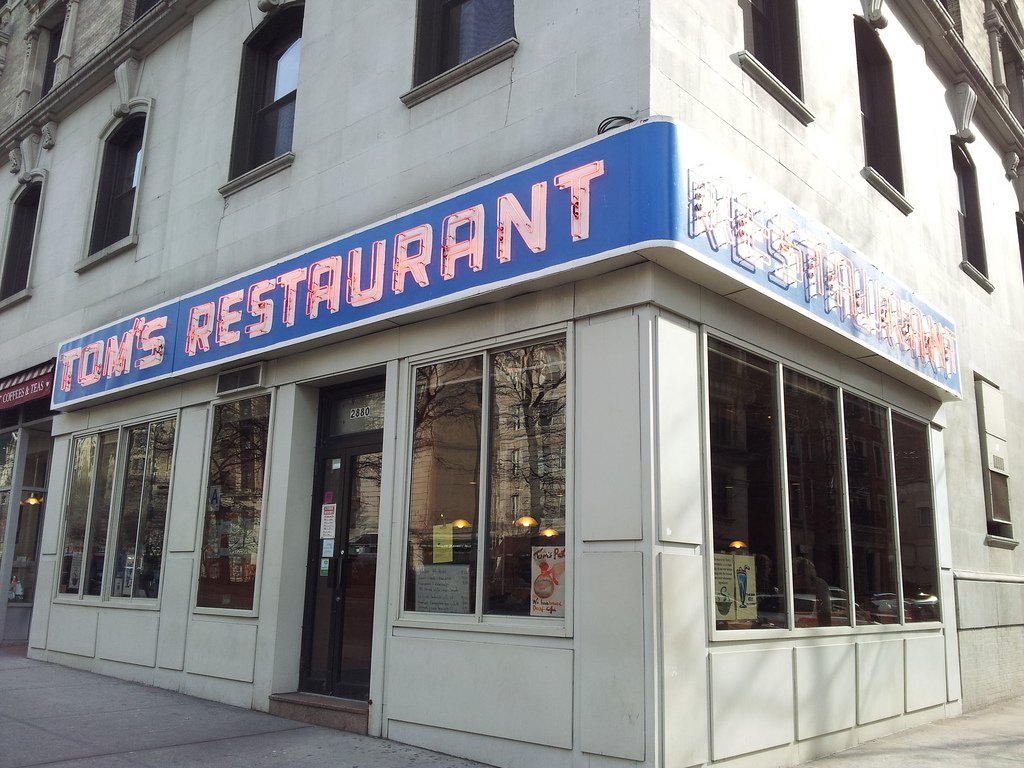 The exterior of this long standing diner is used as the exterior of Monk's Cafe, the fictional hangout spot for Jerry, George, Kramer, and Elaine in Seinfeld. The restaurant has boasted about it's longevity, with it's doors being open in the Upper West Side since the 1940s and a song being dedicated to it by Suzanne Vega.
Katz's Delicatessen — When Harry Met Sally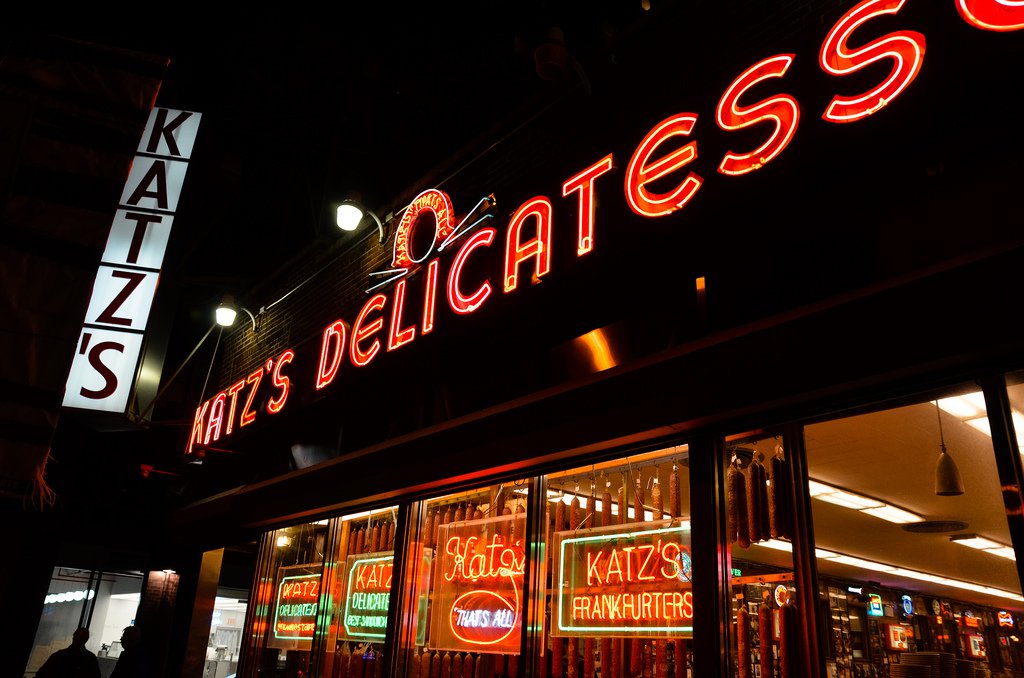 Katz's Deli in the Lower East Side is the site where the infamous "I'll have what she's having" line was first spoken. The restaurant even has the table Meg Ryan and Billy Crystal sat at marked as "where Harry met Sally", for fans of the movie to visit and order up a pastrami sandwich.
The Magnolia Bakery — Sex and the City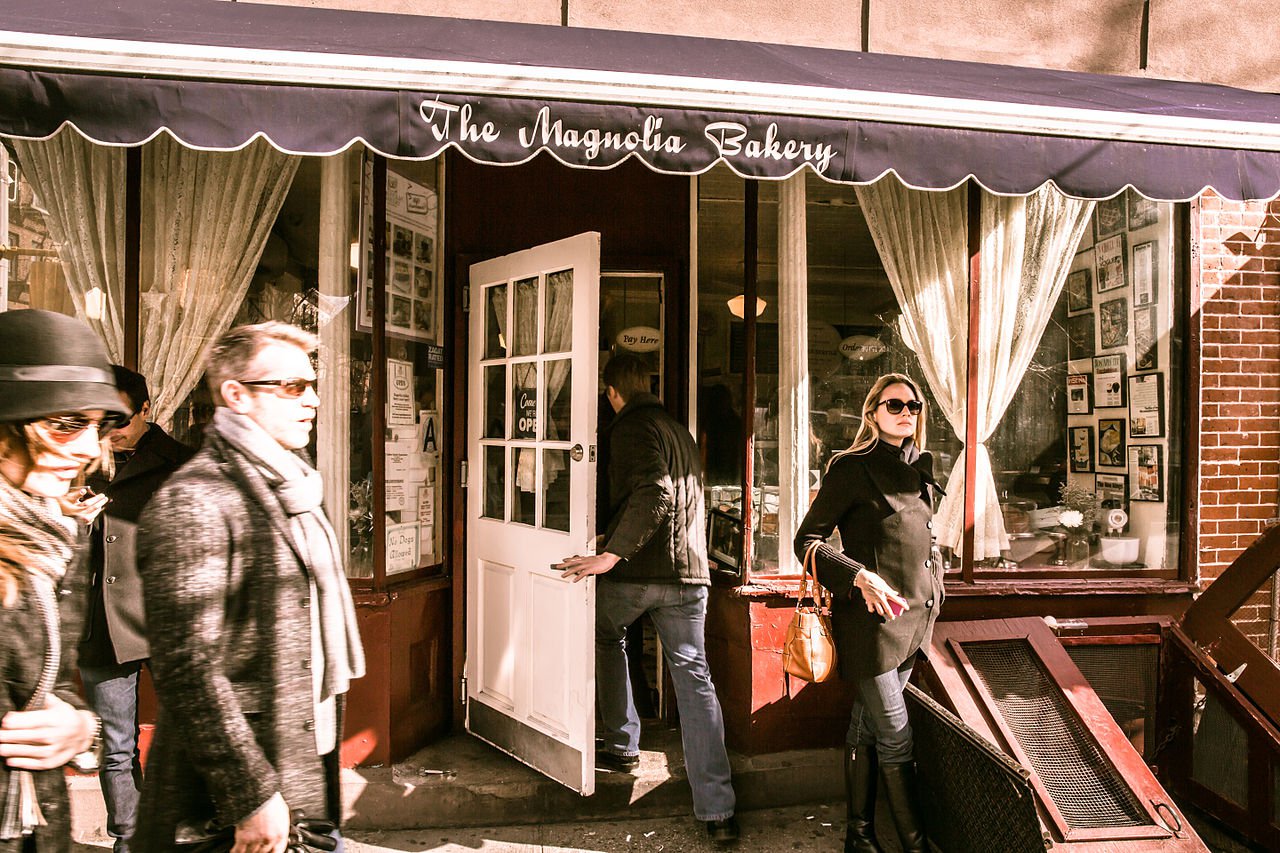 Another nod to Sex and the City, this time featuring Magnolia Bakery in Greenwich. Carrie and Miranda sat outside and chatted about their texts, blunders, and boys—what better way to combat your love faux pas than over delicious cupcakes? Since it's appearance on the show, the bakery has become wildly popular, with lines out the door.
The Oyster Bar — Mad Men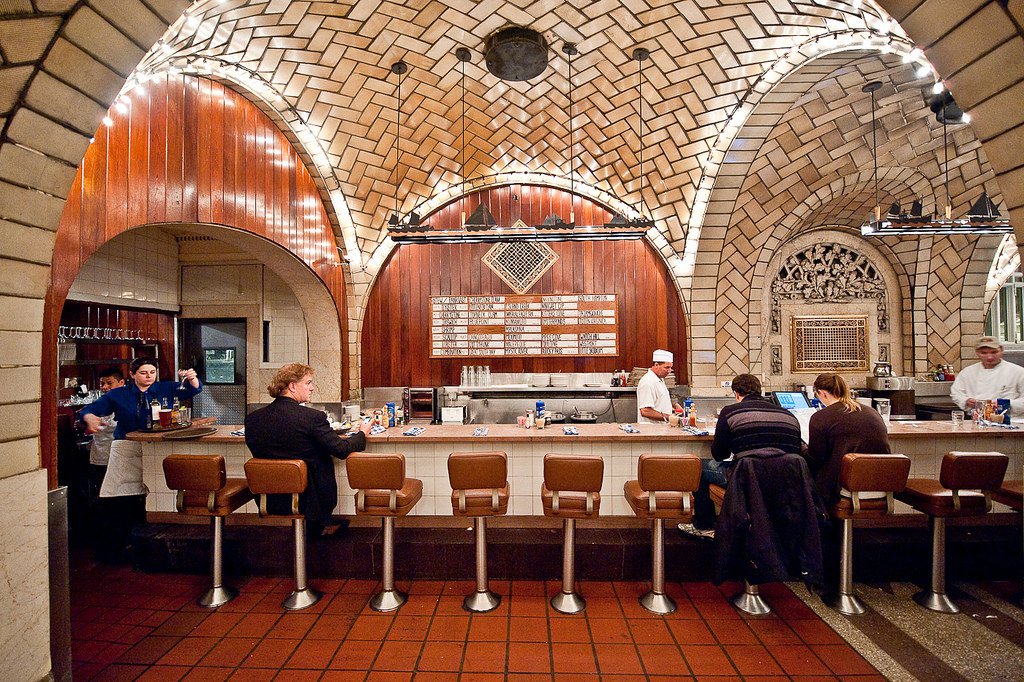 Since it's opening in 1931 on the lower level of Grand Central Terminal, The Oyster Bar has been a coveted location for numerous movies and television shows, most recently, Mad Men. The seafood restaurant is the spot where Don Draper sabotaged his boss, and made for great TV.
Coyote Ugly Saloon, NYC — Coyote Ugly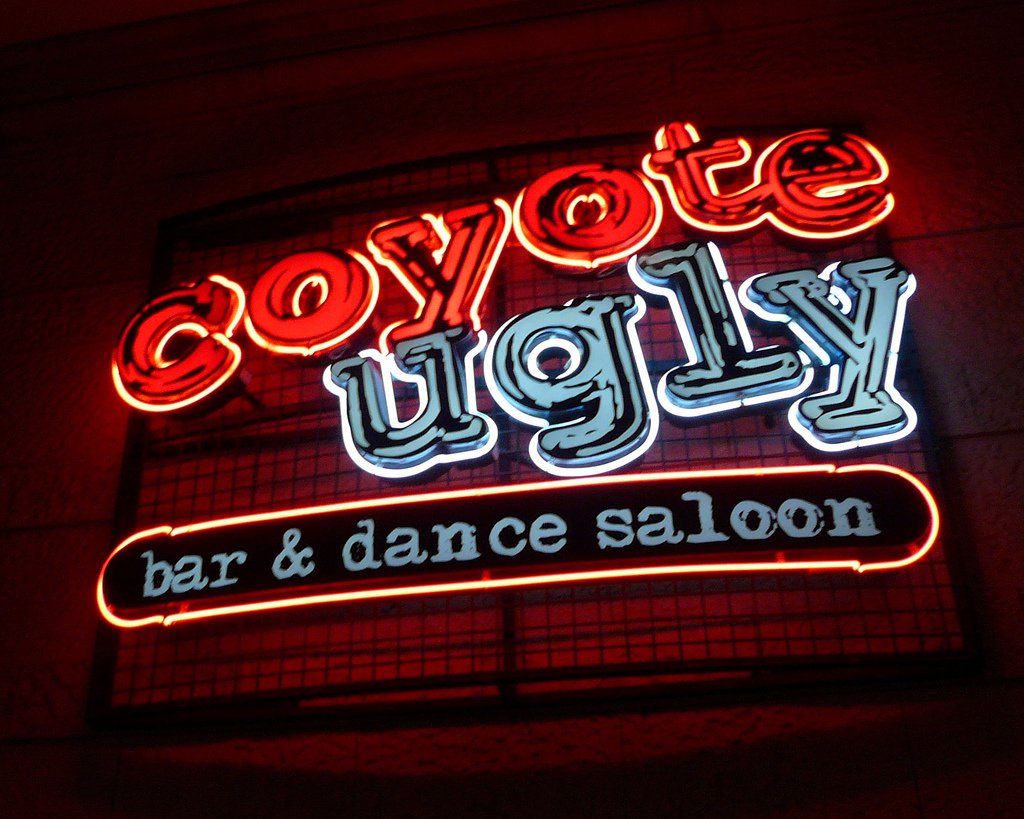 Coyote Ugly is where Violet Sanford escapes to, chasing her dreams of being a star. The bar has been open in the Lower East Side since 1993, attracting partygoers who love to watch a good show while they throw down cash for their drinks.