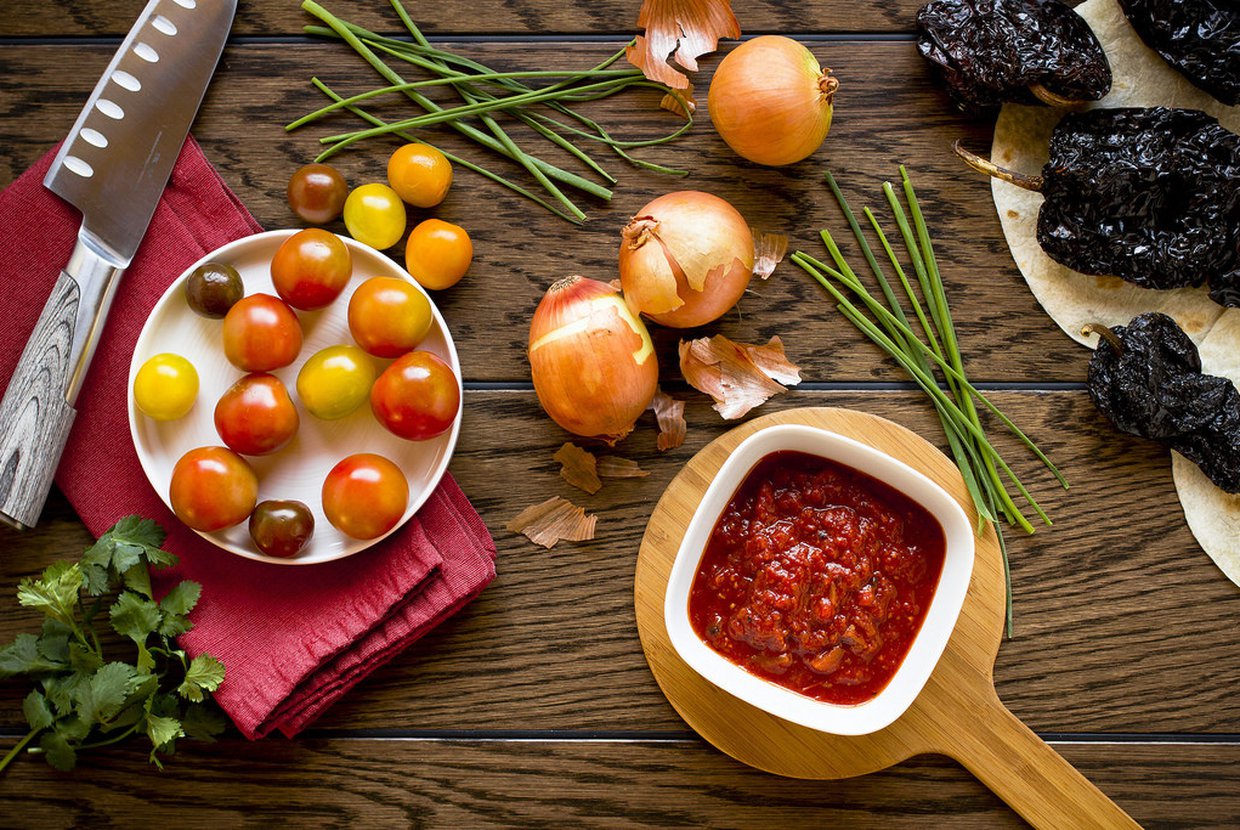 New York City is well-known for its restaurants as prime locations for satisfying the palette while also serving course loads of rich, delicious history on the side. Such institutions have made the public and tourists alike admire the historic eateries and adore the new ones opening throughout the city. These restaurants often define their respective neighborhoods — Little Italy's streets are teeming with the smells of fresh pasta and the numerous street vendors selling gelato or cannoli, Chinatown offers authentic cuisine at affordable prices, and Midtown West's Restaurant Row serves all kinds of ethnic foods that reflect its diversity. But restaurants aren't the only ones looking to feed the average New Yorker's cravings.
Popular grocery stores — defined by their wide variety of high-quality products — such as Trader Joe's, Whole Foods, and Fairway Market also add much value to their neighborhoods by providing convenient access to fresh produce, diverse options of meats, grains, and other treats. There's no question about the tight relationship between these grocery chains and the neighborhoods they are located in.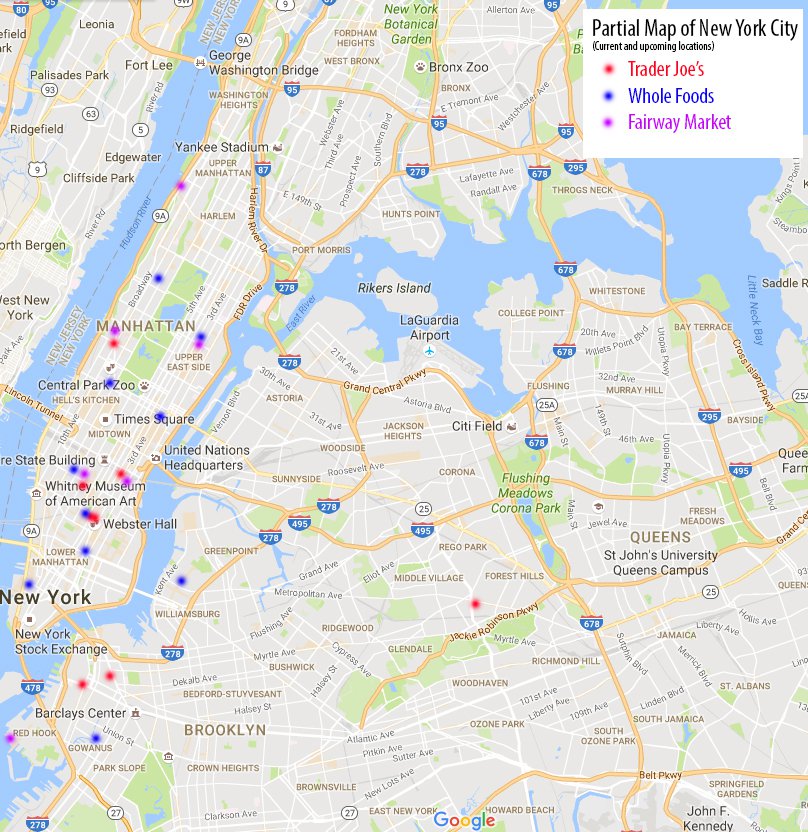 For example, the map depicts store locations of the aforementioned grocery chains. Despite the overwhelming geographic area featured in the map, most stores are located around Midtown West, Midtown North, Midtown South, and both the Upper East and West Sides where rents are some of the most expensive in Manhattan. Some of Brooklyn's priciest neighborhoods — Dumbo, Brooklyn Heights and Cobble Hill — also see their share of these stores. The Bronx, where median rents are sometimes several thousand dollars lower than the top neighborhoods in Brooklyn and Manhattan, does not have any of these stores.
Whether more affluent neighborhoods tend to attract these stores or whether these stores attract more affluent residents is the real question. The former seems to be a more accurate description as to why higher quality grocery chains are in more affluent neighborhoods. Looking at real estate market trends in certain neighborhoods before and after the arrival of one of the three chains shows that real estate values could be tied to their presence.
A previous study conducted by Zillow concluded that homes specifically near Trader Joe's and Whole Foods rose more rapidly in value, a pattern that occurs across the United States. Homes located within one mile of either of these stores saw values rise within three years regardless of the health of the neighborhood's real estate market prior. But while the study looked at homes within one mile, one mile is actually a very long distance for neighborhoods where walking reigns as the supreme form of transportation, which could potentially dwarf the "Whole Foods effect."
For example, using real estate market data provided by Trulia, the Whole Foods (which opened in late August of 2012) that primarily serves residents of Midtown East and Sutton Place (Manhattan has the fewest number of vehicle registrations in NYC) did not significantly impact median sales prices even four years later. The Trader Joe's probably did impact property values in this area, but only those that are super close. Meanwhile, six years after Trader Joe's opened in Forest Hills, Queens, which accounts for more than a third of total vehicle registrations in New York City, median sales prices have largely risen as a whole. The effect of these high-end grocery stores on property values seems to be maximized when it's more easily accessible.
Another growing trend that may dwarf their effects is the rise in food and grocery delivery services. For quite some time now, meal-delivery services such as Grubhub and UberEats have allowed people — such as residents in primarily quiet residential neighborhoods such as Gramercy Park — to enjoy various cuisine options without leaving their homes, closing the restaurant advantage in various neighborhoods. The successes of food-delivery services have paved the way for grocery-delivery services. Instacart offers deliveries from local grocery stores including Whole Foods, and one can buy food to have it delivered directly from websites such as Amazon Fresh. Food delivery services, like meal-delivery services, could reduce the importance of a neighborhood's proximity to fresh food.
However, lower-income neighborhoods still suffer without higher quality grocery chains. These areas — called "food deserts" where access to decently priced, good quality healthy food is lacking — do have other options, such as Key Food Supermarkets or Associated Supermarkets, but both are often seen as on the pricier side with fewer healthy food options when compared to Trader Joe's. Delivery services (or even the internet access to it, for that matter) for poorer neighborhoods is more of a luxury than convenient tool.
But that could all change soon. New York City-based FreshDirect started accepting electronic benefit transfer cards — commonly used to distribute food stamp benefits or temporary assistance — a few years ago to deliver groceries, but far too few grocery-delivery services currently accept these. The City has also been exploring zoning laws and cost-reduction options to attract more supermarkets to high-need areas, areas which impact three million people in New York City, with lower-income households bearing the weight of it. A Trader Joe's or Whole Foods in the area — as the Zillow study shows — could attract further development to a neighborhood that needs it. The dispersion of quality grocery chains may signal a huge divide on the quality of foods certain income levels have access to, but increasing grocery mobility may bring convenience — and much needed access — to all.