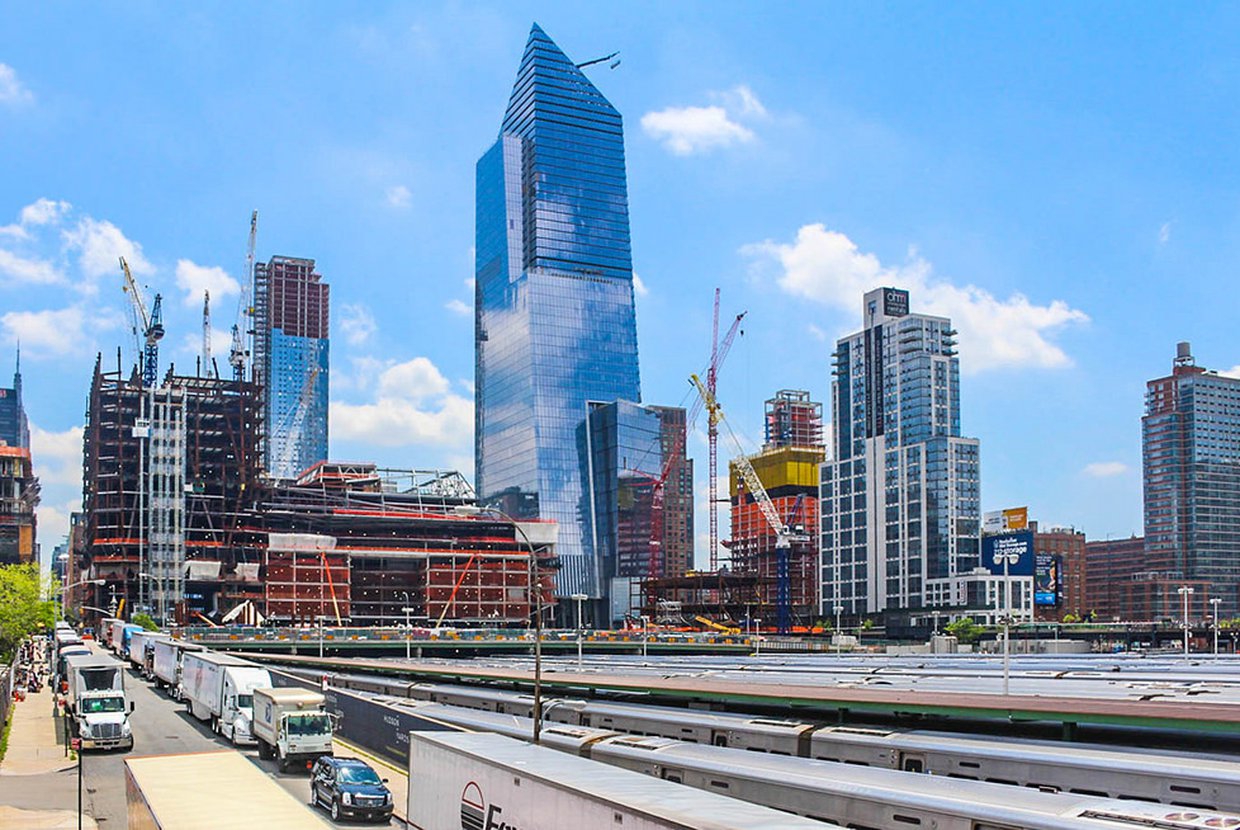 There's a lot to be excited about when it comes to Manhattan's newest neighborhood, Hudson Yards. Penned as a neighborhood where life, work and play morph together, the more than a dozen skyscrapers that make up Hudson Yards are slated to be used for residential, commercial, and office purposes. While the neighborhood won't be entirely complete for a few more years, it's already hit quite a few milestones in 2017.
One of Hudson Yards's condo buildings — Fifteen Hudson Yards — has already sold 25 percent of its apartments since sales launched in the fall of 2016. While some developers were concerned that apartments would be on the market for longer periods of time, the rate at which the apartments are selling at Fifteen Hudson Yards has been the fastest for a new construction project in 2016. And Fifteen Hudson Yards won't even be finished until 2018 — the building is still under construction.
Related Companies, one of the developers of the site, sees that success in sales comes from the attractive idea of Hudson Yards. It's close proximity to the activities and conveniences of Midtown and is impressively built over 30 active train tracks. But it's the promise of innovative technologies in its modern luxury towers, state-of-the-art public spaces, and the combination of condos, office space, and shopping and dining that makes the neighborhood so attractive to live in.
The neighborhood, once completed, will cement its place in Manhattan. One of its office towers, 50 Hudson Yards, will become the most expensive office building in New York City once it's completed in 2022: that title currently belongs to One World Trade Center. At the center of the neighborhood will be a climbable sculpture that many believe will become a staple landmark in New York City for years to come. And the way Hudson Yards is built has inspired the City to look at similar ways to build in land-starved New York City.
In fact, the New York City Economic Development Corporation is currently requesting proposals to build a housing development in Long Island City that would contain mixed-income housing, public and commercial space, and community facilities. The Long Island Rail Road currently occupies the site, and any developer willing to tackle this project would have to build over the railyard.
Even if you don't plan on living at Hudson Yards, it's still a great place to visit with its multitude of fine dining options, shopping, and public space. The High Line, which weaves through apartments in Chelsea, also wraps around Hudson Yards.