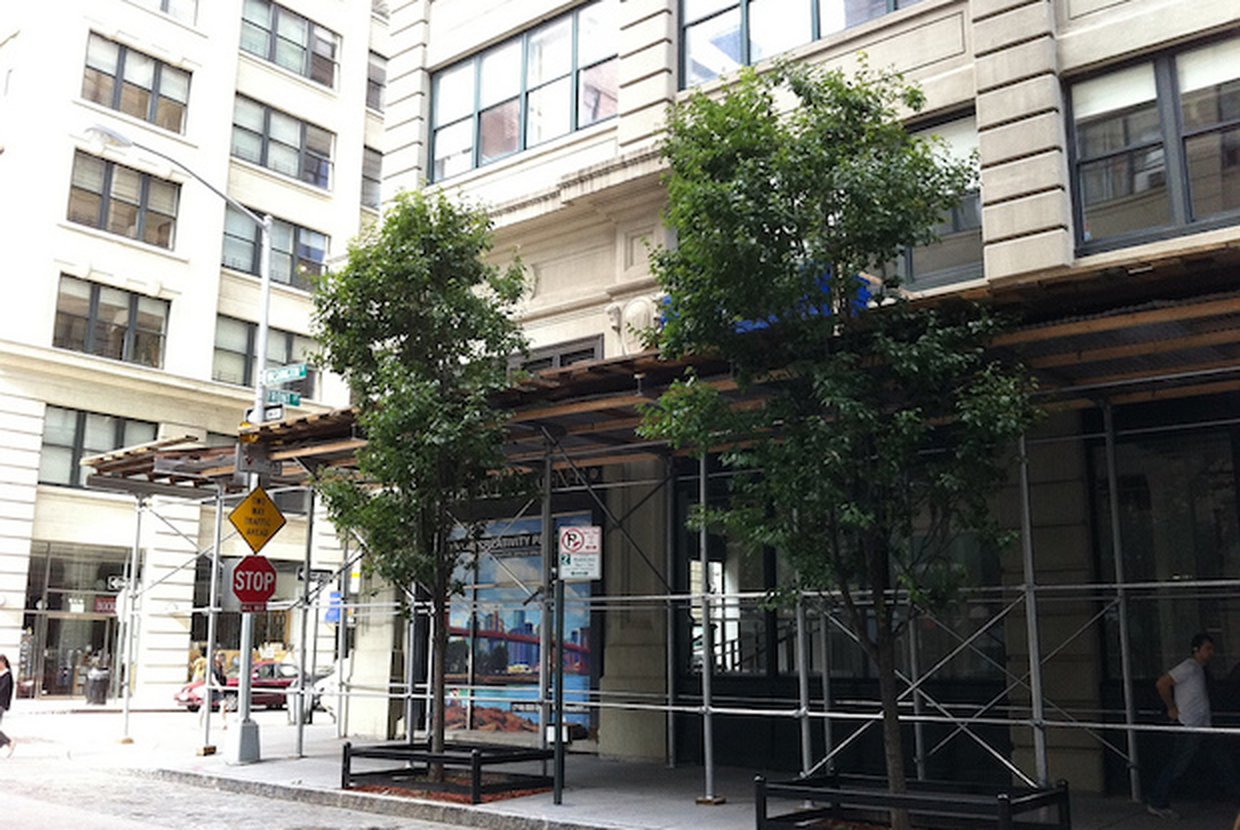 If there's one thing New Yorkers see more often than pigeons and hot dog vendors it's scaffolding. Sometimes known as "sidewalk sheds" scaffolding around the city is put up to protect pedestrians from any debris that could fall onto the sidewalk while a city building is undergoing construction. However, many New Yorkers claim that these sheds are nothing more than eyesores, and are staying up long past their welcome. Recently, The Department of Buildings began tracking scaffolding around the city in an effort to root out sheds that have been on the sidewalk for far too long.
According to the department's findings, there are 7,700 sheds of these sheds throughout NYC, spanning a total of 280 miles. What's more, officials discovered that some of this scaffolding dates to as far back as 2006, and they are unsure if it is even serving a purpose anymore. This has led City Council to consider legislation that would target scaffolding that has stayed on the street for longer than six months. City Councilman Ben Kallos's proposed legislation would call on building owners to complete any facade restoration projects within three months, with the possibility of filing for an additional three-month extension. However, some building owners opposed the new legislation, stating that they do not always have the funds to complete construction projects within that time frame, and adding that they keep the scaffolding up to ensure the protection of pedestrians walking past their sites, and calling them a "necessary evil."
NYC began requiring scaffolding in 1980, as part of a law that was created to establish regular inspections of the outsides of buildings. It was in response to an accident that occurred where debris fell from an Upper West Side apartment building built in 1912 that killed a college student. However, the Times noted that often, temporary sidewalk sheds that are designed to be up for only a short period of time remain in place for years while construction is stalled, serving no real purpose and blocking clear sidewalk access.
While the necessity of some of these long-standing sidewalk sheds may be up for debate, one thing is certain - New Yorkers are tired of putting up with them on a daily basis. The New York Times spoke to one city resident who said he views scaffolding as an additional city obstacle that makes it harder for him to get where he needs to go. Another New Yorker told the newspaper that scaffolding has been a long source of frustration for him, adding that it encourages loitering and the creation of unofficial homeless encampments on busy Midtown streets.
While the future of sidewalk sheds remains unclear, NYC residents can at least take small comfort in the fact that government officials are finally addressing the overwhelming number of these city obstacles.