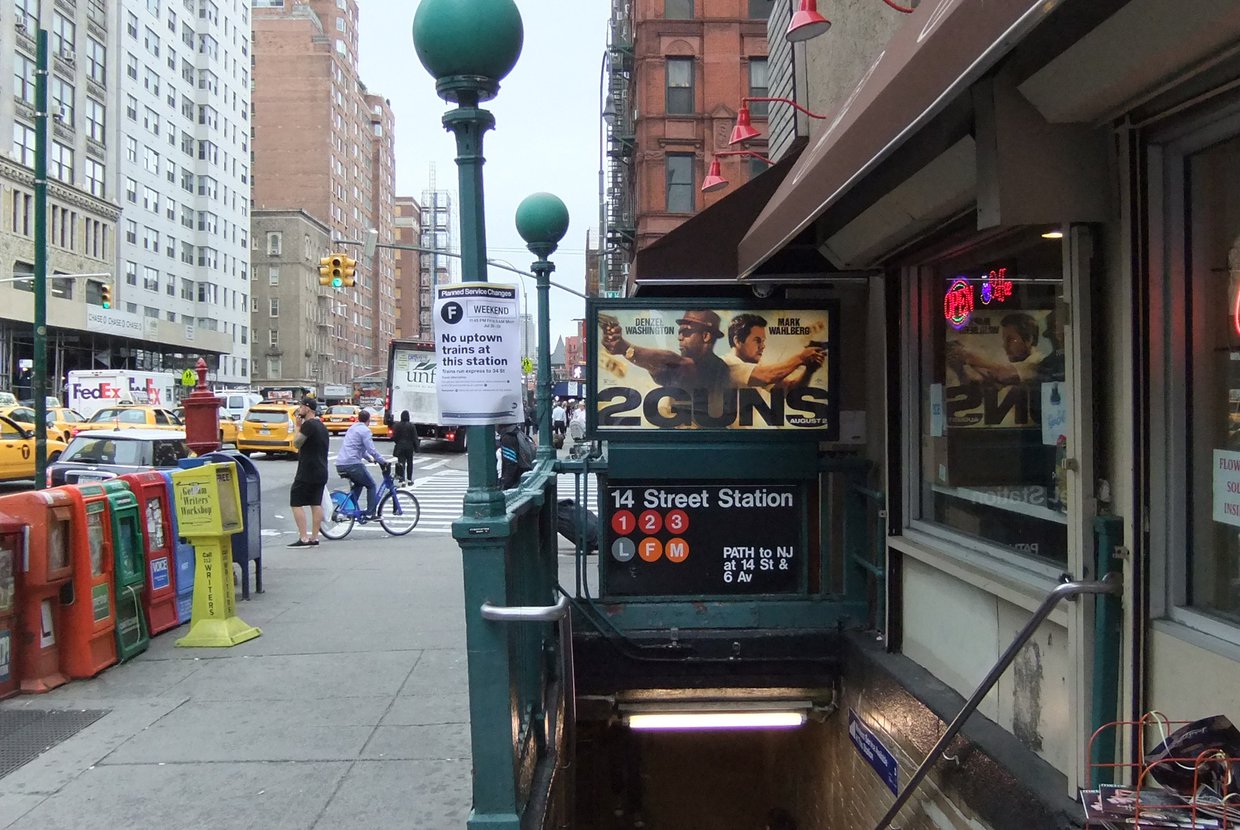 Every week, millions of New Yorkers ride the Metropolitan Transit Authority subway system, making it an essential part of how the city runs and operates. Easy access to an MTA station is absolutely critical no matter where you live in the city because closer proximity to a stop usually means less stress, more flexibility and shorter commuting times.
But chances are if your apartment or luxury condo is near a subway, you're paying a high price for all that convenience.
According to a recent report, living adjacent to a subway station can result in substantial rent increases. Using data from the first quarters of 2016 and 2017, the site calculated median rents for areas within an eighth-of-a-mile radius of stops across the city to show how each station corresponded with rental cost.
For example, on 14th Street in Union Square -- which is close to the 4, 5, 6, L, N, Q, R and W trains, respectively -- the median rent for a one-bedroom is $5,265. Comparatively, on 42nd street in Times Square -- which is also close to the N, Q and R trains -- the average monthly rent is $3,468. That translates to monthly savings of about $1,797.
Prospective renters looking to get the best bang for their buck can use the chart to get a better sense of how rent differs between each station. Some of the largest price disparities occurred between just one stop. Brooklyn renters could save an estimated $702 by moving from Nassau Ave (average monthly rent for a one bedroom is $3,102) to Greenpoint Ave ($2,400), while those in Queens could save up $625 monthly by moving from Astoria Blvd ($2,500) to Astoria-Ditmars Blvd ($1,875).
While living near a subway station definitely has its perks, prospective renters and buyers should not be deterred if the condo of their dreams is a little farther away from a stop than they had anticipated. Spending a little extra time walking to the train could be a good way to get some morning exercise and with frequent train delays, people who live farther from stops may not even miss the train they intended to take. In February 2017, The New York Times reported that train delays have more than doubled since 2012, when data was last taken. More than 70,000 delays occur each month, up from about 28,000 per month in 2012. Some trains arrive late more than half the time, the source reported.