Elegran Monthly Round-Up: June
Julia Troy
| July 18, 2017 | Published in
Elegran Insider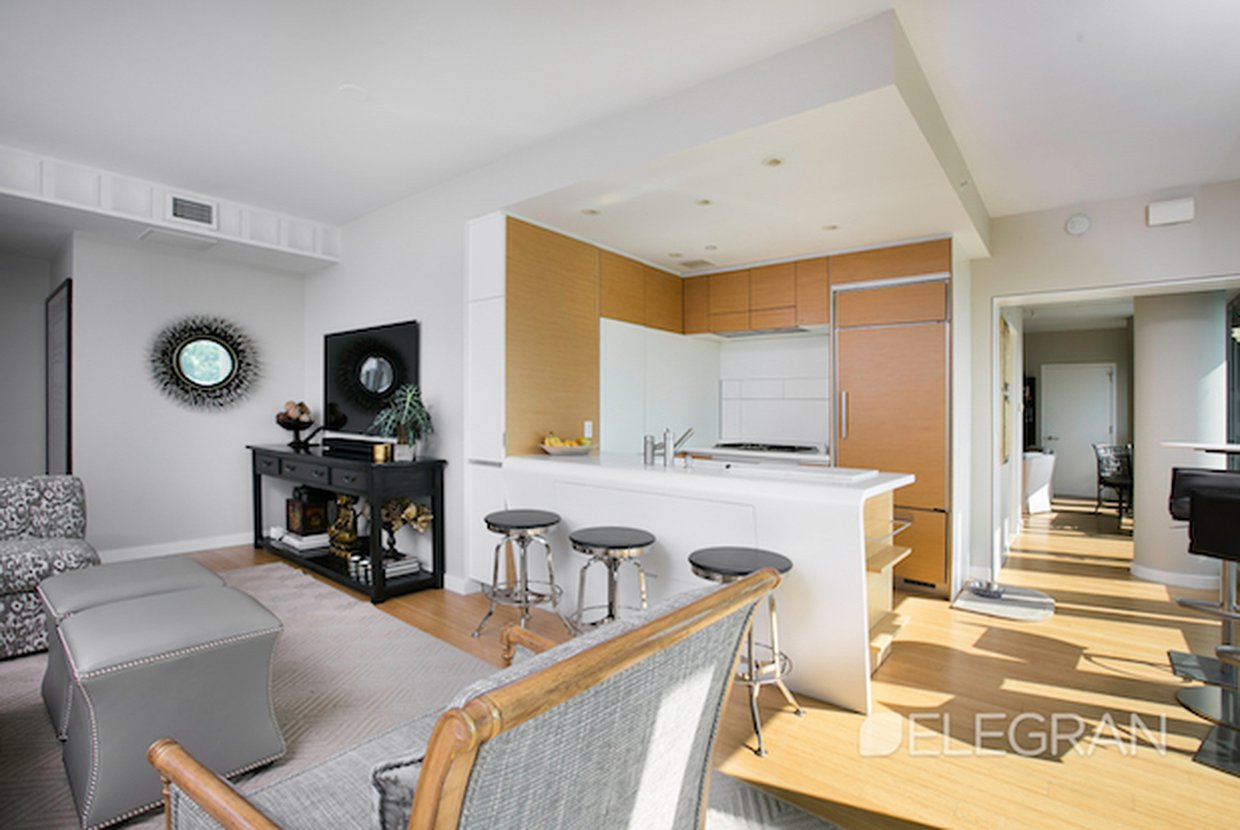 The end of the second quarter of 2017 saw housing prices on the rise in Manhattan, as developers continue to build new beautiful luxury homes throughout NYC. This rise in prices didn't scare buyers away, however, as Elegran agents continued to close major deals in June and secure new luxury listings for the beginning of the third quarter.
Neighborhood: West Village
Building: 58 Downing Street
June Deals Closed For: $5,430,000
The West Village is one of the most scenic and sophisticated places to live in Manhattan. Beautiful cobblestone streets and trendy shops make this neighborhood highly sought-after, and the result is highly competitive home prices. Over the past few years, the West Village has become an increasingly popular place to live; the price of an average home has risen from $887,500 in 2012 to over $1.31 million today, as NYC residents scramble to find apartments in this coveted neighborhood.
In June, Elegran agent Chris Fry sold a stunning townhouse on the tree-lined streets of West Village for more than $5.4 million. This 1800's home is a beautiful example of classic NYC architecture but has also been meticulously renovated to suit the modern lifestyle. 58 Downing St. includes lots of exposed brick, high ceilings, five fireplaces, original wood paneling and a chef's kitchen with top-of-the-line appliances, among many other charming and luxurious features.
Neighborhood: Carnegie Hill
Building: Carnegie Park
June Deals Closed For: $1,775,000
One arguably cannot get more prestigious than Carnegie Hill, an affluent Upper East Side neighborhood known for its historic integrity. Filled with brownstones, Neo-gothic mansions and wood-framed houses on tree-lined streets and avenues, this area is the perfect combination of old-fashioned and sophisticated. And over the years it has become ever more popular; according to the New York Times, a typical 2-bedroom apartment that sold for $1.65 million in 2012 would go for $2.79 million today.
Those looking to live somewhere that truly captures the spirit of Carnegie Hill should look no further than Carnegie Park, a building where agents Nick Agostinelli and Andrew DiDomenico closed a $1,775,000 deal this past June. This impressive building was designed by Robert A. M. Stern Architects and features a three-lane swimming pool that opens onto a patio and half-acre private park, children's playroom, fitness center, roof terrace, 24/7 attended lobby, entertainment lounge and more.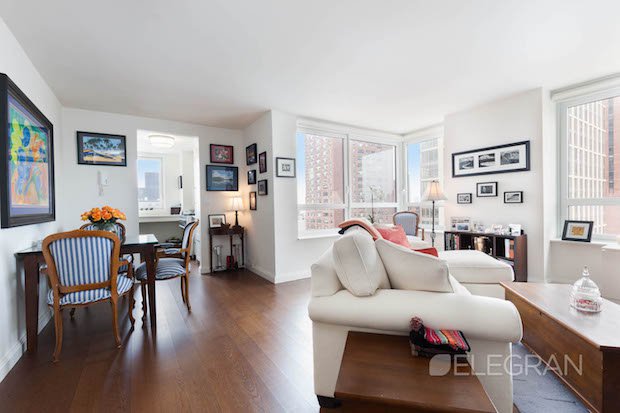 Carnegie Park Living Room 
Neighborhood: Yorkville
Building: Continental Towers
June Deals Closed For: $1,600,000
Located on the scenic waterfront of the East River, Yorkville is diverse, homey, and rich with history. Filled with various ethnic bakeries, beer gardens and mom-and-pop stores, this Upper East Side neighborhood is becoming increasingly popular, as well as easily accessible with the Second Avenue subway line, a new addition to the area. Yorkville has been increasingly popular and changing rapidly past few years, and a report done by StreetEasy predicted that Yorkville would be 2017's hottest neighborhood.
Walking into Yorkville's Continental Towers, where Elegran's John Cella sold a 1,600,000 home this past June, it's easy to see why this is such a coveted building. The large, beautiful lobby is almost two stories high and staffed with a full-time doorman. There is also a courtyard, fitness center, concierge, roof deck, a garage, storage room, and more. Many of the apartments in this beautiful building also feature balconies that allow residents to take in gorgeous NYC views.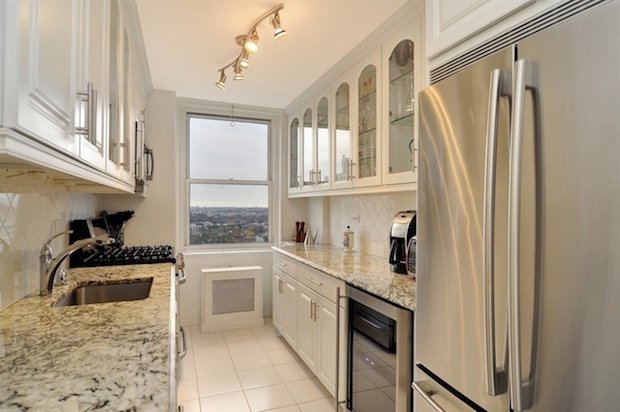 Continental Towers Kitchen 
Battery Park City

Neighborhood: Battery Park City
Building: The Riverhouse
July Listing Total: $2,975,000
With a close proximity to trendy Downtown Manhattan and quiet, calm atmosphere, Battery Park City is the place to be. Upscale and secluded, it's one of the most peaceful areas in Manhattan, with plenty of parks and stunning waterfront views. This neighborhood is an ideal place for families and people looking for a peaceful place to live with lots of greenery. And with plenty of restaurants, shops, and concerts, there is no limit of things to do. The average apartment sells for $1.7 million, up from about $896,000 in 2012.
This July, Elegran agent Andrew DiDomenico has an exclusive listing at the Riverhouse, a luxury Battery Park City building on the waterfront. Apartment 4-S boasts bamboo floors throughout, marble en-suite bathrooms, custom kitchen cabinets, a washer and dryer and much more. Residents get to enjoy the building's 24-hour concierge, 50-lap swimming pool, children's playroom, media lounge and all of the beautiful riverfront, green spaces, and playgrounds this neighborhood has to offer.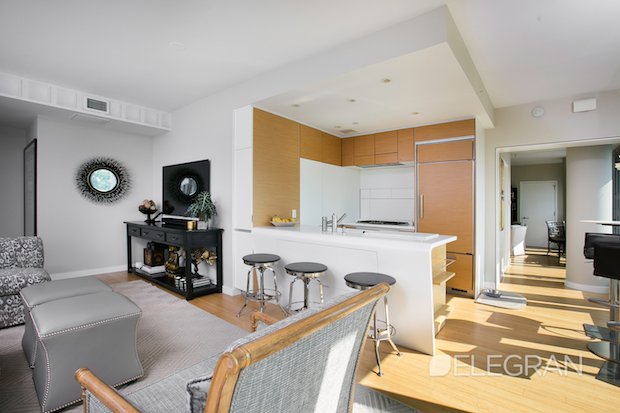 The Riverhouse, Apartment 4-S
To learn more about this listing and see other luxury Manhattan homes, visit our listings page.