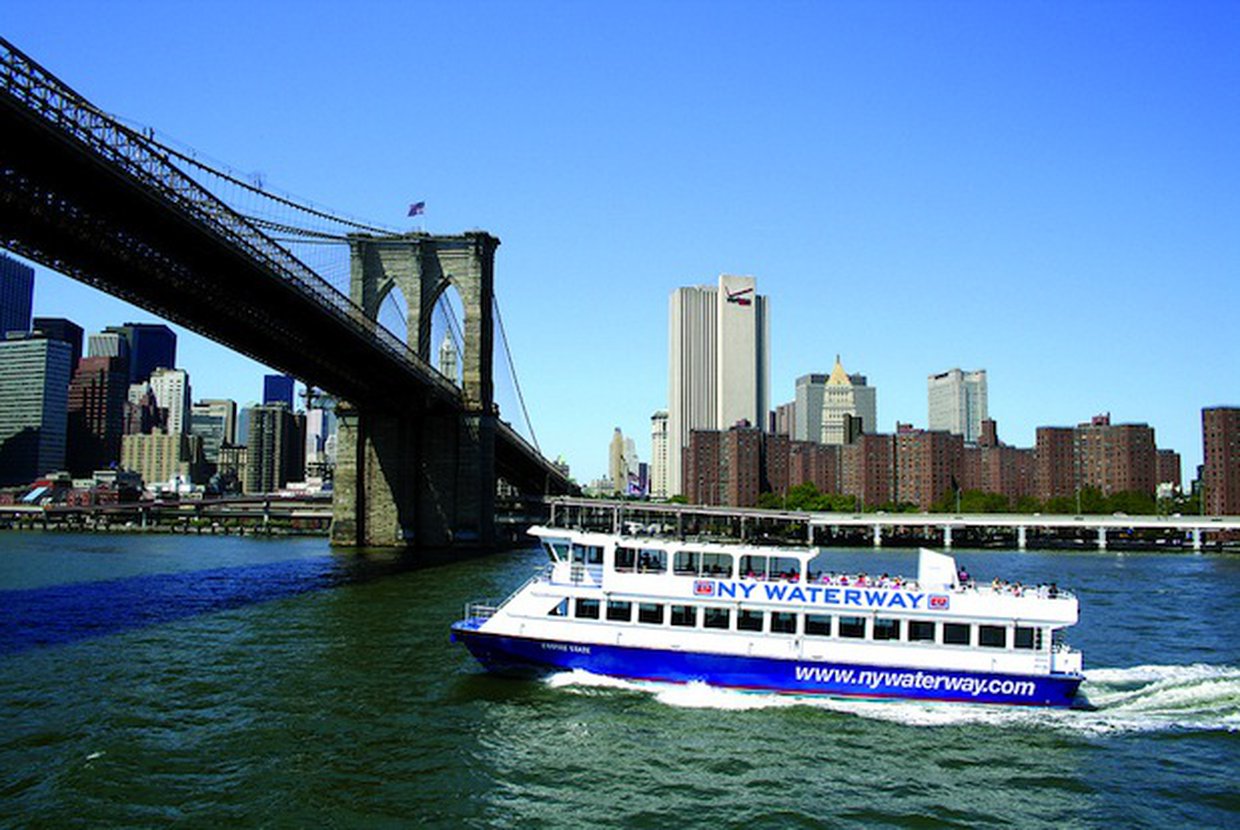 The NYC ferry, which officially opened in May, is a scenic, relaxing way to commute with stops at Manhattan, Brooklyn, and Queens. But it has become so much more than just a method of transportation. Now, the ferry is a place for New Yorkers to socialize and enjoy happy hour, and has become so popular that ridership reached 1 million less than 3 months after the new-and-improved ferry service opened.
The ferry is not only an enjoyable way to travel, but a relatively quick and inexpensive way as well. A typical ride from Wall Street to Greenpoint, Brooklyn only takes 21 minutes and costs $2.75. That's the same cost as a ride on the subway, but with the ferry you get a much better view and more relaxing experience. Each seat is equipped with cup holders and outlets to charge your phone, and there are picnic tables on the open-air roof deck. Ferry riders can buy food at the snack counter and check out the boutique that sells fun things for kids such as coloring books and beach toys. They can even buy drinks at the bar, which is fully stocked with rosé and beer.
While other alternative modes of transportation are also effective, in many ways the ferry is superior. New Yorkers who previously took a taxi or car share to get where they wanted to go can now spend less money, have a more enjoyable time, and in some cases get to their destinations faster. Now, there are more people who take the NYC ferry to get to the beach and go out in the city on the weekends, in addition to the daily commuters during the weekdays. Many riders have grown to love the ferry over the past few months, stating that it's "a unique social experiment and an efficient mode of transportation". Additionally, The New York Times fondly calls it "a party before the party".
With its happy atmosphere and new amenities, the ferry is in higher demand than ever before. The original plan was that 20 ferries, each holding up to 149 passengers, would be in service. Now that lines are hours long and weekend crowds are bigger than ever, the city was forced to charter 2 boats holding 400 people each. Additionally, city officials are ordering 3 of the 20 boats to be expanded in order to hold 250 people, a project expected to be complete by next year. Until then, New Yorkers will just have to deal with the lines and crowds; but for such a unique commute experience, it seems like it's worth the wait.