Elegran Monthly Round Up: August
Julia Troy | September 21, 2017
Manhattan's price per square foot is once again the highest in the U.S., beating out other heavy-hitters like San Francisco and Washington D.C. Despite the high cost of living in the greatest city in the world, Elegran agents were still able to find their clients gorgeous apartments and great deals this past August.
Neighborhood: Clinton Hill
Building: 201 Clinton Ave
August Deals Closed For: $2,395,000
Clinton Hill is one of the most sought-after neighborhoods in Brooklyn to call home, and it's easy to see why. This quiet, tree-lined area is both picturesque and trendy, with a host of neighborhood restaurants, bars, bookstores and small shops. Known for its majestic mansions built in the 19th century, Clinton Hill has retained much of its classic charm. This can be seen in the many brownstones and other beautiful homes that occupy the area, the median price of which is a little over $1.2 million.
This August, agent Daniel Chun sold a $2,395,000 home at 201 Clinton Ave. in Clinton Hill. This full-service coop has a 4-hour doorman, on-site laundry facilities, additional parking, and a full-time maintenance staff, all conveniently located near beautiful Fort Greene Park.
Neighborhood: Upper West Side
Building: 203 West 81st Street
August Deals Closed For: $2,225,000
It's hard to find better examples of quintessential NYC streets than the streets of the Upper West Side, where everyone's favorite New York films and television series take place. While many people associate this neighborhood with the scores of families that live there, that doesn't mean it's low on bars and nightlife sports, not to mention museums and theaters. Currently, the median price for an apartment in the Upper West Side is $1.1 million.
Last month, agent Sumner Crosby sold a $2,225,000 home in 203 West 81st Street, also known as The Barrington. This pre-war luxury building is pet-friendly and has a full-time doorman, laundry room, bike room, and is located just a short distance from major grocery stores, public transportation options, and The Museum of Natural History.
Neighborhood: Chelsea
Building: Chelsea Stratus
August Deals Closed For: $2,180,000
When people think of Chelsea, they think of art. Not just the many art galleries that are located in this neighborhood, but also its artful outdoor spaces like the High Line and it's stunning plants, flowers, and views of the city. Even the most iconic food court in the city, Chelsea Market, looks like a work of art with its fascinating collection of eateries and specialty food stores. There's so much to do in this bustling part of Manhattan it's impossible to list it all, which is likely why so many people are eager to make it their home. The median price for an apartment in this exciting area is $1.2 million.
In August, agent Thomas Duger sold a $2,180,000 in the Chelsea Stratus, the tallest tower in Chelsea. This high-rise includes a modern fitness center, a billiards room, catering kitchen, basketball court, and one of the best rooftop lounges in all of Downtown Manhattan.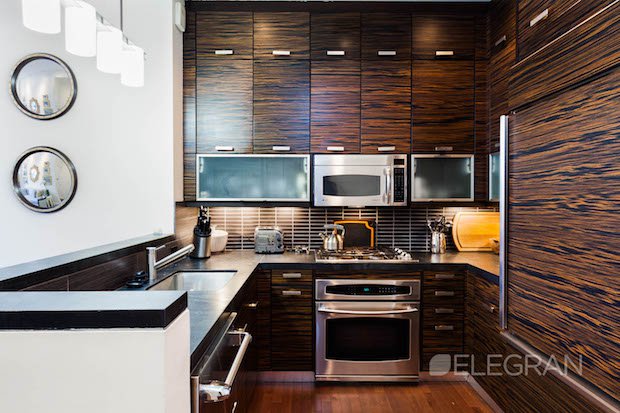 A kitchen inside the Chelsea Stratus 
Neighborhood: Carnegie Hill
Building: 1080 Fifth Ave
September Listing Total: $2,895,000
Carnegie Hill is one of the most affluent neighborhoods on the Upper East Side, which is not surprising when you consider that it is named after the Andrew Carnegie Mansion. Despite its popularity and the high demand for housing in the area, it's rare to find new high-rises and more common to see classic buildings, though you can still find some more modern buildings that offer luxury amenities. It's also one of the quietest areas to live in Manhattan and has been described as "an oasis" and "a great place to raise kids" by local residents.
Agents Seth Podell and Nick Anabel have an exclusive listing in Carnegie Hill on its most iconic block, Fifth Ave. 1080 Fifth Ave. apartment 3-C is a stunning three-bedroom home with oversized windows that overlook Central Park and a generous entertainer's living and dining room. The building has a full-time staff, including a doorman and live-in super, and is just steps away from landmarks like the Guggenheim Museum.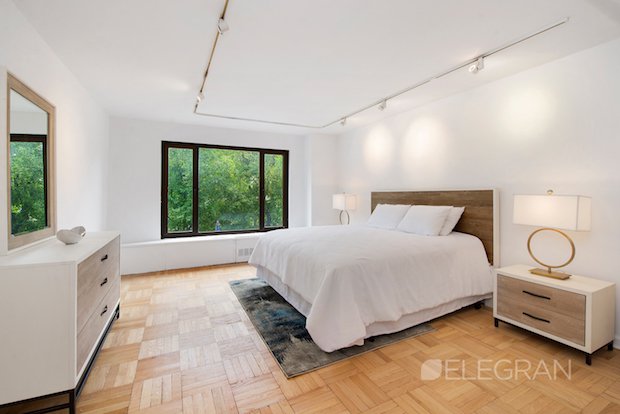 The bedroom in 1080 Fifth Ave. apartment 3-C
Neighborhood: Lincoln Square
Building: 155 West 68th Street
September Listing Total: $1,580,000
Lovers of arts and culture will be hard-pressed to find a better neighborhood than Lincoln Square, named after the Lincoln Center for Performing Arts and home to the New York Philharmonic, the New York City Ballet and the Metropolitan Opera. There's plenty to do for those who aren't fans of theater since these cultural landmarks also draw excellent restaurants and bars to the area. On top of all that, the Central Park and Riverside Park are just short walks away from this neighborhood.
This month, agent Ignacio Cesped is representing a recently renovated 1-bedroom in Lincoln Square, with a layout that could allow it to easily be turned into a 2-bedroom. Apartment 23-A features 10 large windows, new hardwood floors, and a marble-clad kitchen. 155 West 68th Street, also known as the Dorchester Towers, is a full-service building with a beautiful roof deck to allow residents to take in all the beauty of Lincoln Square.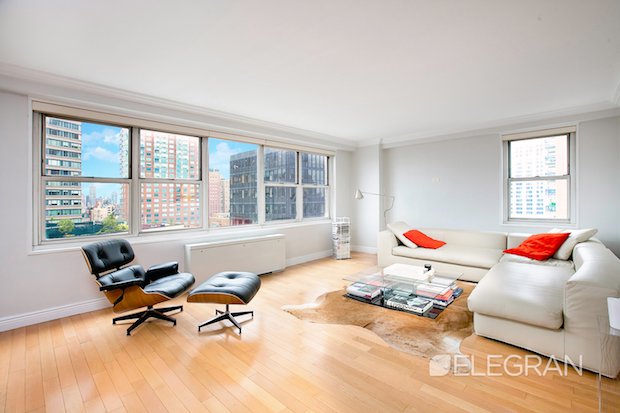 A room in 155 West 68th Street, apartment 23-A
Neighborhood: West Chelsea
Building: 452 West 19th Street
September Listing Total: $1,199,000
While West Chelsea used to be considered more of a nightlife spot that was relatively empty during the day, things have changed dramatically in the past few years with the addition of the High Line. This area has also become somewhat of a tech and media epicenter thanks to both Google and IAC choosing the area for their headquarters. West Chelsea has become so popular in recent years that it's not uncommon to see homes sold for anywhere between $10 million and $50 million, but it's still possible to find some less expensive apartments.
Agents Daniel Chun and Brett Michaels are representing a condo at 452 West 19th Street. This is a rare opportunity to own over 1000 square feet of space in this popular neighborhood that could significantly increase in value after renovations. This boutique condo building is just steps from the High Line and Chelsea Market and all of the popular boutique shops and restaurants in NYC.
To learn more about these listings, visit the Elegran sales page.