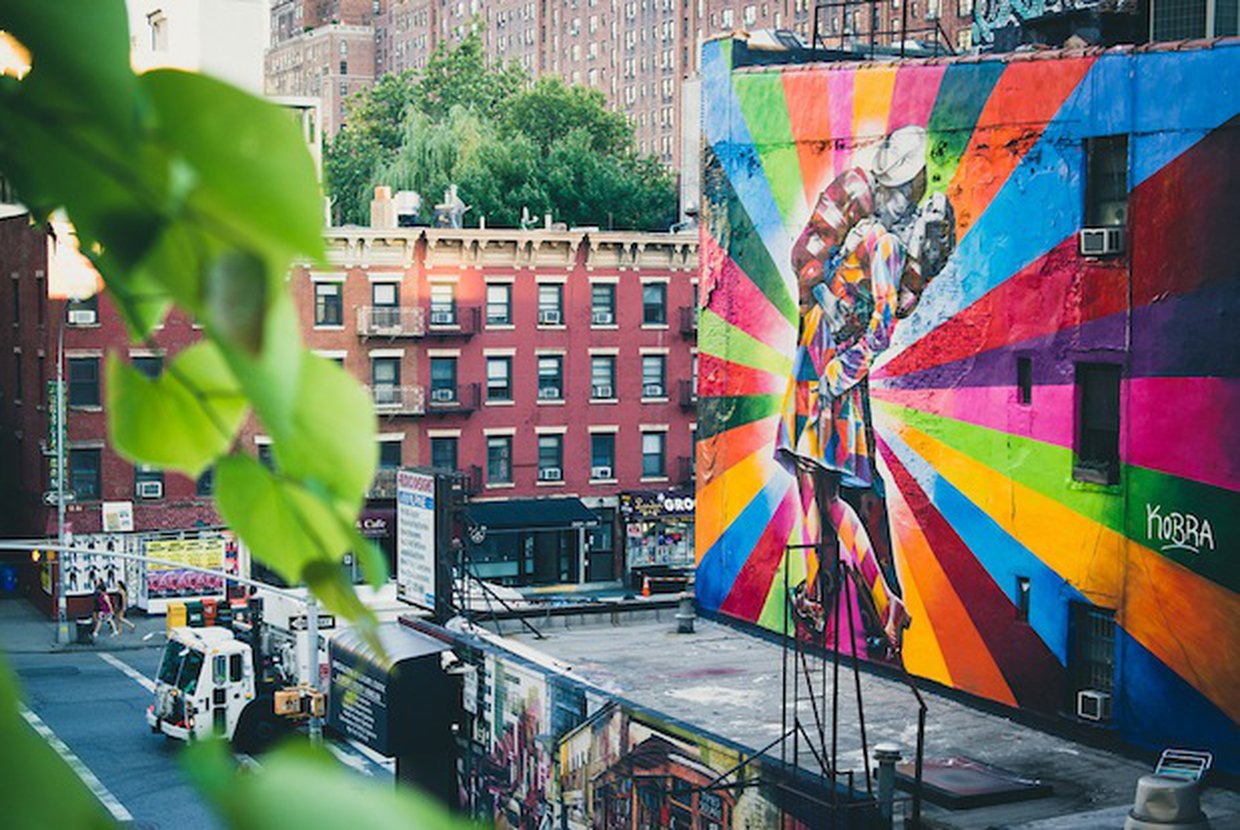 A recent report by the Center for an Urban Future (CUF) states that there has been an increase in artists in every NYC borough and neighborhood since 2000. This may come as a surprise considering the high cost of living in NYC, but there's still no better place for burgeoning artists than the Big Apple.
According to the CUF study, the number of self-identified artists living in NYC has reached a whopping 56,268 with growth of 17.4% from 2000 to 2015. Neighborhoods in Brooklyn have experienced a recent boom of artists, such as Bushwick, which saw a 1,116% influx over the past decade and a half. Bushwick, which has been called "the new frontier for unpretentious, experimental art", offers not only more affordable living than many NYC neighborhoods, but also hosts events in the area such as Bushwick Open Studios, a three-day event that invites artists to showcase their creations. And with many affordable warehouse spaces in the area, this dynamic, culturally diverse neighborhood is only one example of popular neighborhoods in Brooklyn for the artistically-inclined and creative-minded to live.
Brooklyn is by far the borough with the highest growth of artistic residences. On Curb's list of the Ten Neighborhoods with the Largest Increase in Artists (2000-2015), Brooklyn neighborhoods took 7 of the 10 spots. Among those on the list are Williamsburg/Greenpoint, Bedford Stuyvesant, Brooklyn Heights/Fort Greene, and Sunset Park, which have experienced a flood of artistic residents over the past few years. Fort Greene also made the list. This creative and diverse community is known for its institutions such as the Ironsdale Ensemble Project and BRIC, which encompass the community's artistic and cultural values as a whole.
As artists are flocking to various NYC neighborhoods, rent has never been higher. CUF reported its top ten neighborhoods associated with creativity have seen a 32% rise in rental costs from 2000 to 2015, higher than the citywide rent inflation. Although the number of artists is not affected by rent growth, their location in the city is. Because of rising rent prices, many artists have experienced "artistic diaspora", the isolation that arises from living a greater distance away from their work space, exhibition spaces, and other artists. The study also shows that Manhattan neighborhoods such as the Upper West Side and Tribeca, popular artist havens over the years, have recently experienced a slower trickle of artists coming to the area, and some neighborhoods have even experienced a sharp decline. The Upper West Side, first on the list of the Ten Neighborhoods with the Most Artists, has an impressive 5,584 self-proclaimed artists, but this number has only grown by 2.5% from 2000 to 2015. Although the Greenwich Village/Tribeca/Financial District is second on the list, this area saw a 24% decrease in its artist population in that same 15 years. Simultaneously, there was a 28% influx of artists in the Chelsea/Hell's Kitchen.
Despite rising rent, artists are continuing to flock to the city, and many are effortlessly getting around the soaring real estate prices by moving to more affordable areas such as Bushwick, Brooklyn. Based on the most recent statistics and the rise in artist-friendly neighborhoods, it seems that NYC will keep its title as the artists' capital of the world.