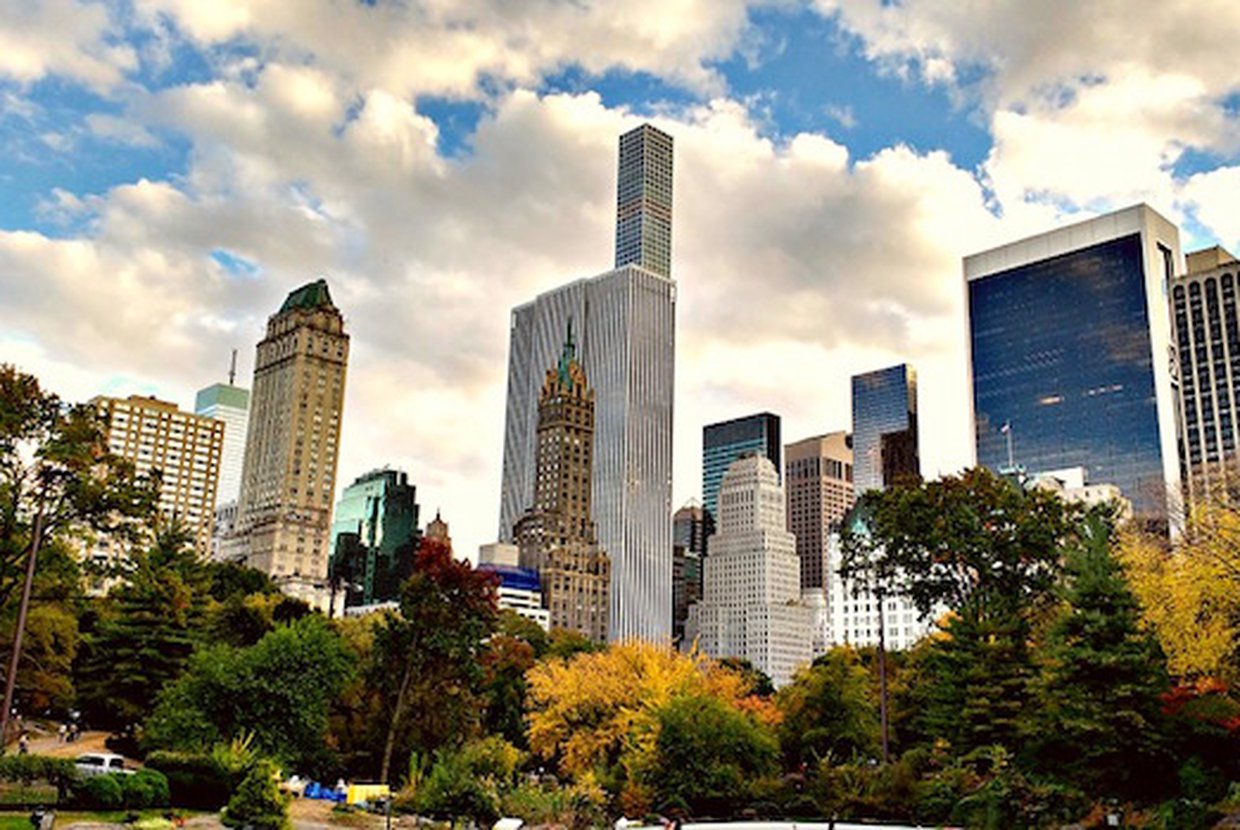 252 East 57th Street was recently completed on Billionaire's Row and stands at 712 feet, almost 300 feet below the typical upscale residential tower on the 57th street corridor. Despite its location, some New Yorkers are wondering whether this building should truly be considered part of Billionaire's Row.
The new residence was designed by Roger Duffy, an American architect who currently works at the firm Skidmore, Owings & Merrill. 252 East 57th consists of 169 luxury rentals on the first 35 floors and 95 condos above them. The building is simply being referred to by its address, and its entrance is located on tony 57th Street. The rental segment of the building is called Aalto57 and its entrance is located along Second Ave, occupying the entire block between 56th and 57th streets. Its name comes from the fact that its design is a play on the emblematic design created by Alvar Aalto, a famous Finnish modernist architect. The iconic design of the new residence building was crafted after an undulating vase, originally designed in 1937 by Alvar and his wife Aino. They created the vase for a restaurant in Helsinki. One of the designs that really shows its similarity to the vase is the building's curving grooves, which truly invoke Aalto's style. Another building designed after Aalto's famous structure is Gwathmey Seigel's Astor Place Tower in downtown Manhattan.
252 East 57th Street's interiors were designed by Daniel Romualdez, who also reportedly designed interiors for Mick Jagger and various heiresses. With accents of steel, dark wood, and stone, as well as bilateral symmetric arrangements, he successfully and tastefully created an elegant post-war look for the building. Romualdez most frequently uses blacks, greys and dark browns which create an austere but elegant look. He incorporated Art Deco-inspired designs as well, with a three-ringed light in the residence's lounge and a stark white structure which stands at the entrance to the garage.
Whether the new building should be considered part of Billionaire's Row is still up for debate. That is partly due to the softening luxury market, as well as the new trends adopted the World Wide Group and Rose Associates (both developers) of lowering prices and offering other incentives to seal more deals. And most buildings on this upscale corridor usually soar to 1,000 feet at least. But with its Art Deco, post-war vibe, and design similar to 13th-century French Rayonnant architecture, the building might just be the perfect addition to Billionaire's Row.