Bryant Park is Flourishing Into a Modern Residential Neighborhood
Kristina Kennedy-Aguero
| December 26, 2017 | Published in
Neighborhood News
,
NYC Lifestyle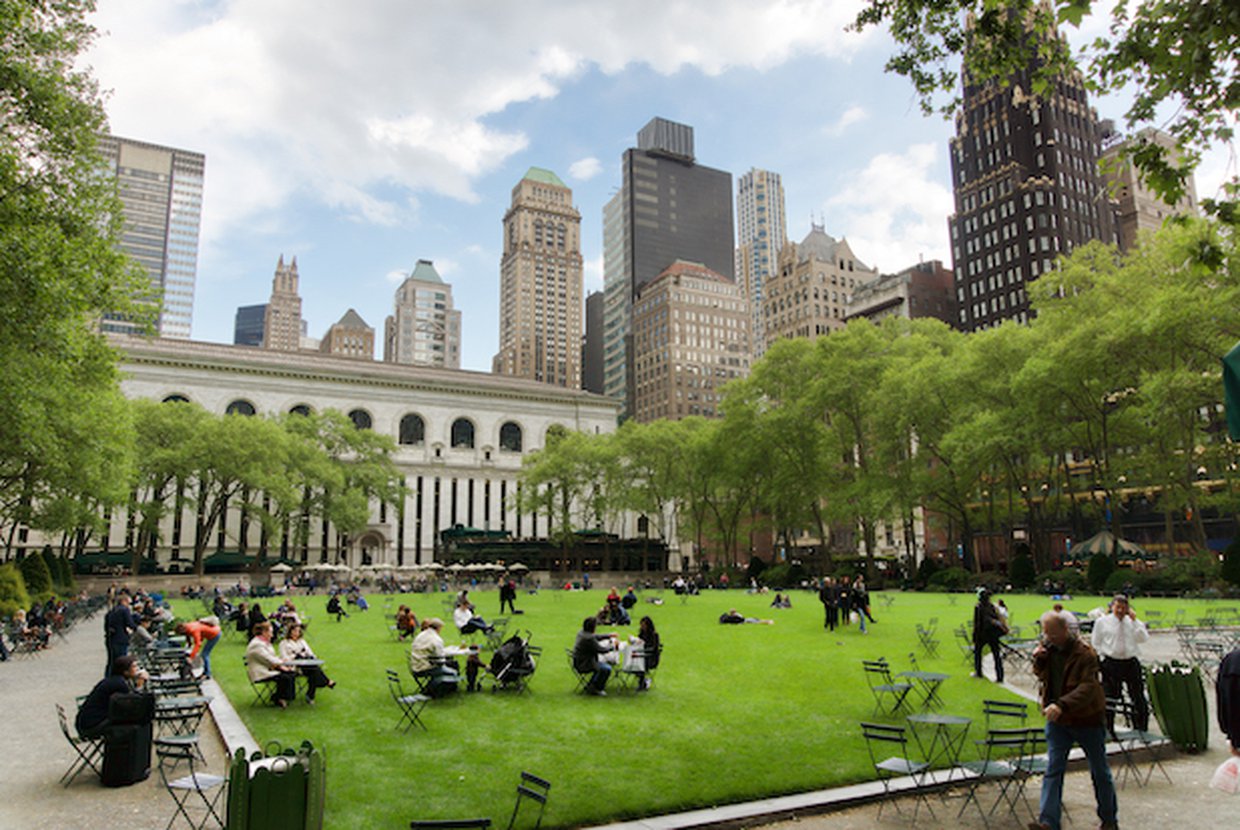 Bryant Park has transformed itself over the past few decades into a thriving community space. The park's evolution has also resulted in a dramatic change in the surrounding area, which is fast becoming an upbeat, highly sought-after neighborhood.
Bryant Park has undergone many changes throughout its history. The Landmarks Preservation Commission records that during the Revolutionary War, the park was the site of a battle against the British led by George Washington. In the 1920's, the park fell into disrepair and received a make-over creating it into a symmetrical garden in the French style. By the 80's this design was not helping the park any, and it received a $16 million revamp. This time removing hedges to create a more open space, with bluestone paths, elegant lampposts and public bathrooms with classical music and fresh flowers. The administration of the park was also handed over to a local non-profit corporation, which was later backed by local landlords. They managed to restore order to the area and to create a more people-friendly space.
Bryant Park itself measures just under 200,000-square feet. It stands between West 40th and 42nd street, and 5th and 6th Avenues. The surrounding neighborhood, spanning nearly 10-acres, has traditionally been a business district. Now, however, many older office and industrial buildings are being refurbished and transformed into apartments and condos. With the increase in people living in the area, stores and restaurants are moving in, and the transformation into an active community is well underway.
Many people are attracted to the area for its convenience. Not only does it have good subway access, it's proximity to the business district means that many commuters can actually walk to their jobs. With ever increasing traffic congestion this is a big selling feature, and property prices are showing a steady, but sure, increase in the area. One local resident who purchased a one-bed co-op for $385,000 in 2004 now has it on the market at $599,000.
Although things are changing, the area around Bryant Park remains essentially a business district. This means that after working hours the neighborhood takes on a peaceful atmosphere which local residents enjoy. The long-standing Bryant Park Grill provides a classy eating place and also offers an excellent weekend brunch. Its rooftop garden and heated holiday tent are popular event venues. Many new locales have sprung up around the park, offering tempting treats, and the area is building up quite a reputation for its desserts. Winter in the park is a magical time, with the 17,000-square foot seasonal skating rink offering free entertainment for all ages. Also, the annual Winter Village brings together artisans and vendors for some fun Christmas shopping and great food.
The jewel of Bryant Park, however, is the New York Public Library main branch. Construction of the magnificent Stephen A. Schwarzman Building was started in 1902 on the remains of a former reservoir. When completed, in 1911, it became the largest U.S. building made of marble. The ceiling mural, depicting Prometheus, in the McGraw Rotunda is a marvelous piece of artwork which draws tourists to the area.
Bryant Park and the surrounding neighborhood has lots to offer to both residents and visitors and looks set to continue its transformation into a sought-after neighborhood.