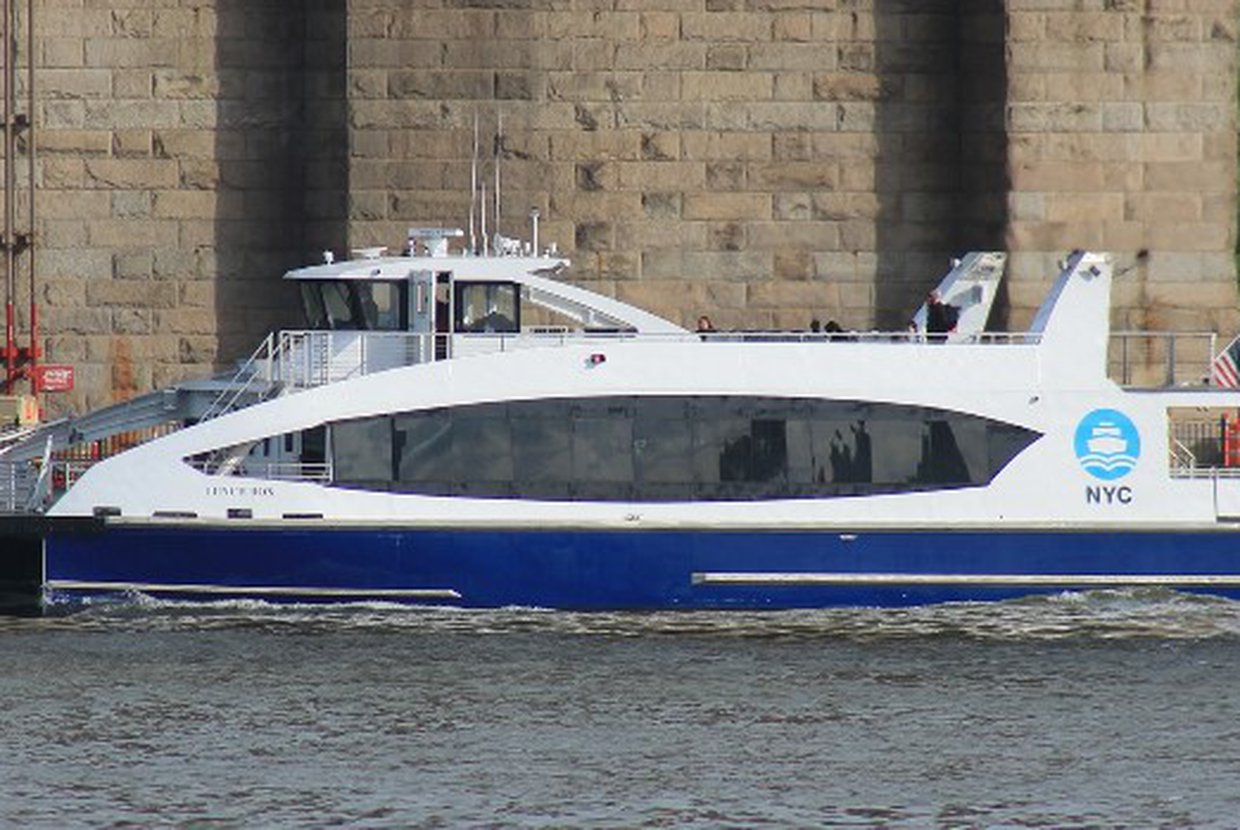 The new NYC ferry service is having a major impact on the Brooklyn-Queens waterfront area. The service, which replaced the old East River ferry, offers a fast, economical, and comfortable way to travel from these boroughs into Manhattan, and that means that residential properties in the area are now becoming much more attractive to commuters.
Since the city subsidized and expanded the routes of the NYC ferry service seven months ago, passenger numbers are increasing steadily. The fleet of sixteen modern vessels, each with capacity for 149-passengers, have climate control, WIFI, and a food counter serving organic snacks, beer, and wine. The Astoria loop runs between East 34th Street, and Pier 11 at Wall Street on Manhattan, and makes five landings along the Brooklyn and Queens riverfront. With the complete trip taking just 37-minutes and costing $2.75, covered waiting areas at the landings, and Citibike stations throughout, many people are being enticed to make use of the new service. According to the Economic Development Corporation, the Astoria route carried 28,000 riders in its first week of service and reached the million rider mark a month earlier than predicted. There are currently four lines which connect Manhattan, Brooklyn and Queens, and next year two further routes to Soundview in the Bronx and to Manhattans Lower East Side are due to come into operation. Express routes are also being considered for the future, to further reduce commuting time.
It is estimated that currently, 500,000 people have a ferry stop within a half mile of their homes. This figure is set to rise dramatically as developers are purchasing all available land along the 16-mile strait which runs from Western Queens down to south Brooklyn. While for many years, this area has been a neglected stretch of industrial waterfront, thousands of new apartments are now in process, and some locals are already concerned about overbuilding. Long-time residents have also expressed concerns that most of the proposed housing units are studios and one bedroom apartments, and feel that the lack of larger options may not bring in the families which the neighborhoods need to develop. Critics have also stated that some of the "affordable" apartments that are being built in these areas are actually quite expensive and require tenants to make six-figure salaries in order to afford them. Despite these concerns, the number of developments of these areas, luxury or otherwise, continues to be on the rise and with the upcoming closure of the L train, more people are sure to be turning to the new ferry service for transportation.
At present, there are only 30 residential buildings with 1,667 apartments situated less than a 10-minute walk from a ferry landing, and prices of existing properties have almost doubled over the last eleven years. However, another 38 rental and condo projects are already underway which will more than double this figure, offering a further 2,102 homes. In addition, the massive Halletts Point project will bring a further 2,100 apartments onto the rental market in the area. A StreetEasy analysis revealed that rental prices of properties close to the new Astoria landing are rising 1.5 percent quicker than rents of properties located further away. While in Greenpoint and Atlantic Avenue, a 1.9 percent faster increase in rents was recorded. Thirty percent, up from 23 percent the previous year, of the one thousand Queens and Brooklyn listings that were sampled included the proximity of a ferry landing in their sales pitch, showing the impact that the ferry is having in the residential development of the area.