Domino Refinery Redesign Set to Move Forward
Laura Schier
| January 18, 2018 | Published in
Urban Design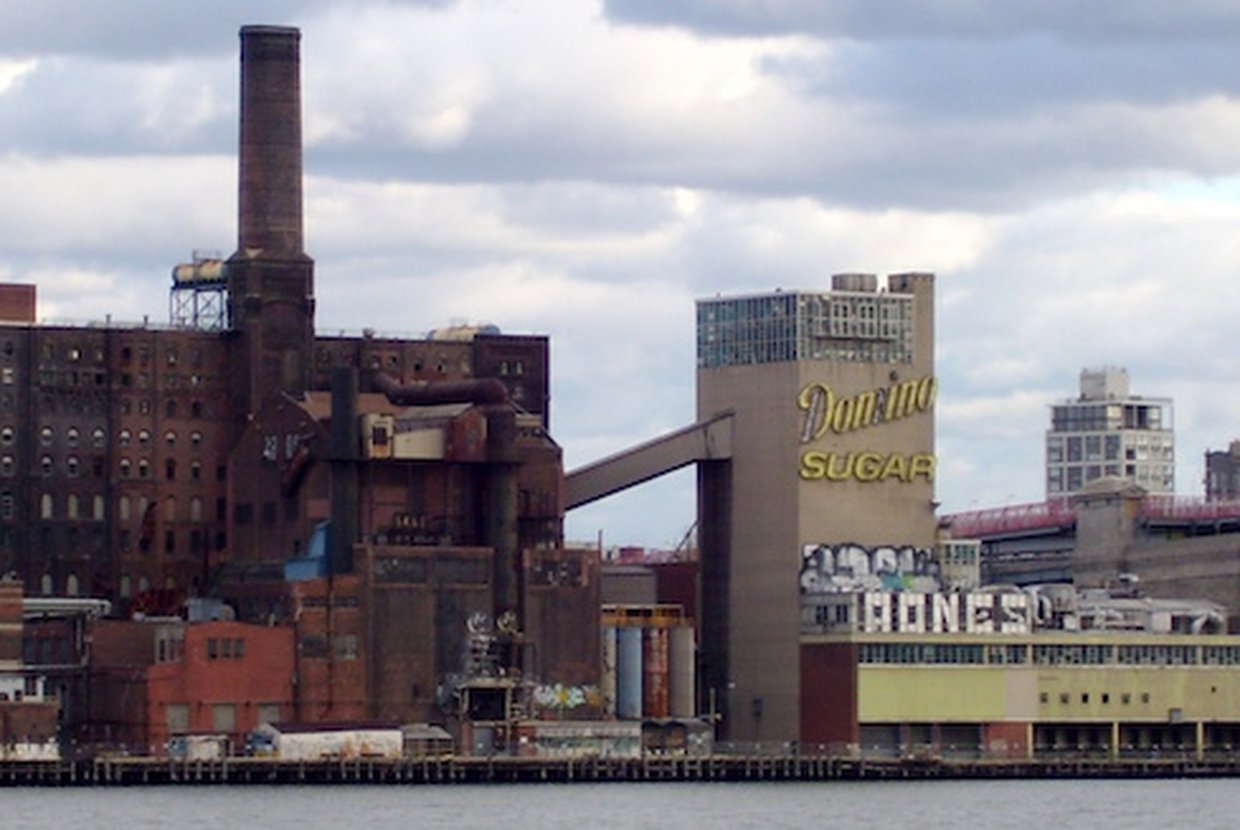 Practice for Architecture and Urbanism's (PAU) vision to redesign the Domino Sugar Refinery, located on the waterfront in Williamsburg, Brooklyn, will soon become reality. The architecture firm's proposal to re-imagine the protected development as a modern office space, complete with ground-level public amenities, was approved several weeks ago by the Landmarks Preservation Commission.
Practice for Architecture and Urbanism was originally founded by Vishaan Chakrabarti, a former SHoP Architects partner. This was the second proposal the architecture firm pitched for redesigning the landmarked refinery; the first version was presented with Two Trees, the project's developer, in late October. Two Trees cofounder Jed Walentas called the refinery building the "epicenter" of the Domino redevelopment project, having concluded with PAU and all those involved in the project that the refinery is the most marketable. The original plan involved a new glass structure to be situated within 10 to 12 feet of the refinery's already-existing brick walls, and a barrel vault made completely of glass which Chakrabarti described as a "structurally simple form that's also striking." The proposal also included the addition of a large public space on the refinery's ground floor, which could be accessed through an entry inside Domino's iconic smokestack and would be dedicated to a restaurant-like area, a retail space, and a public courtyard.
When the original proposal was presented to the Landmarks Preservation Commission it was a controversial topic among the commissioners, who could not decide whether the new design was beneficial to the refinery's current structure. Some agreed that the proposed architecture did not relate to the existing structure in an effective enough way; Commissioner Devonshire was among others who were particularly troubled by the idea, and thought that the redesign would take the refinery's iconic structure and qualities and "turn it into a ruin." The Commission eventually sent the proposal back, seeking a revision of the plan.
PAU's new proposed plan touches on the details of the building's redesign in particular, and how the detail will echo the landmark's already existing qualities. PAU emphasized that the plan involves treatment of the landmark's brick and that the barrel vault's mullions will be in sync with the refinery building's fenestration patterns. In this version of the plan, PAU paid greater attention to detail in the redesign, which won the support of the Landmarks Preservation Commission. The commissioners agreed that PAU's redesign plan preserved the landmark's already existing features while simultaneously giving it the opportunity for revitalization, so it looks like the approved proposal allows for the best of both worlds.