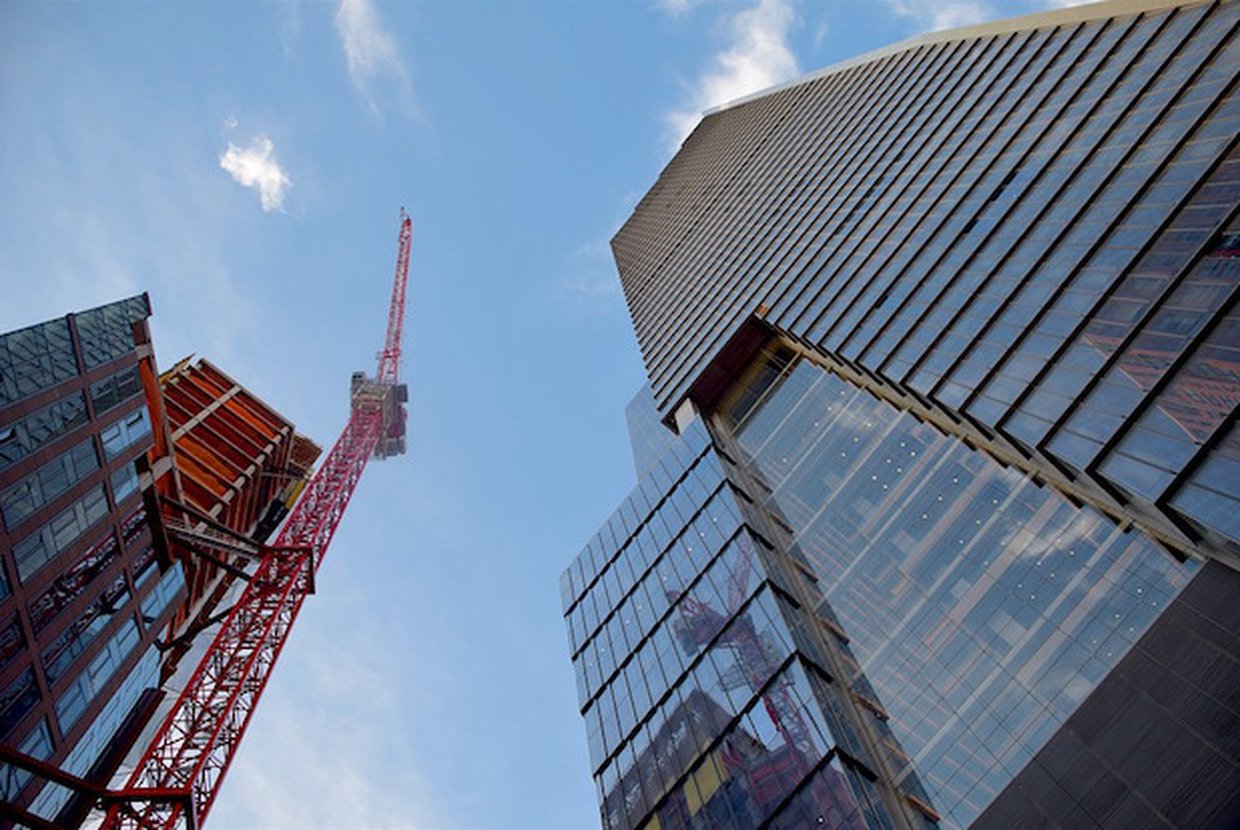 Construction has resumed for 111 West 57th Street in Midtown after legal troubles were resolved this past summer. The development will stand at 1,428 feet once it is complete, which will make it one of the tallest residential buildings in the world. According to Field Condition, the supertall building is currently 30 floors high and rising fast.
The building is being developed by JDS and Property Markets Group. Construction site photos were published in November, showing the building's bronze and terracotta exterior. The facade currently extends up to the 10th floor, along with an alluring glass curtain wall along the North facade which will provide sweeping views of Central Park. The development, designed by SHoP Architects, will house 60 condos once construction is complete in 2019. In their design of the building, SHoP architects aimed to "bring back the quality, materiality, and proportions of historic NYC towers." In doing this, the developers wanted to take advantage of the latest technology and push the limits of modern engineering. 111 West 57th Street's base is situated in a courtyard wrapped by the existing Steinway Building but does not obscure visibility of the landmarked building's front facade and its main showroom.
Various lawsuits surrounded construction of the building and involved cost overruns in particular. One investor, AmBase, sued the developers back in July, alleging that the project was $50 million over the planned budget already and at that point had not even reached 20 stories yet. The cost increase was possibly due to construction crane costs, which developers did not take into account when creating the budget. AmBase also claimed that the developers, specifically JDS and PMG, were working with their mezzanine leader Spruce Capital in an attempt to take the investor out of the picture by "diluting its stake" in the development project. AmBase had originally paid $56 million into the budget, but with the developers' miscalculated budget they had already fallen $100 million short, according to an investor involved in the project. What AmBase hoped to get out of this lawsuit was an injunction on the foreclosure proceeding.
But after months of ongoing litigations against the project, a State Supreme Court judge gave the developers a favorable verdict in August, allowing them to move forward with construction. The verdict allowed a "strict foreclosure" proceeding of the building, meaning that developers JDS and PMG can choose to voluntarily hand over ownership of the property to Spruce Capital, if they wish. Now that troubles with the development are finally over, construction has been making steady progress for the past few months, and a number of 111 West 57th Street's condos have already entered into contract with future buyers.