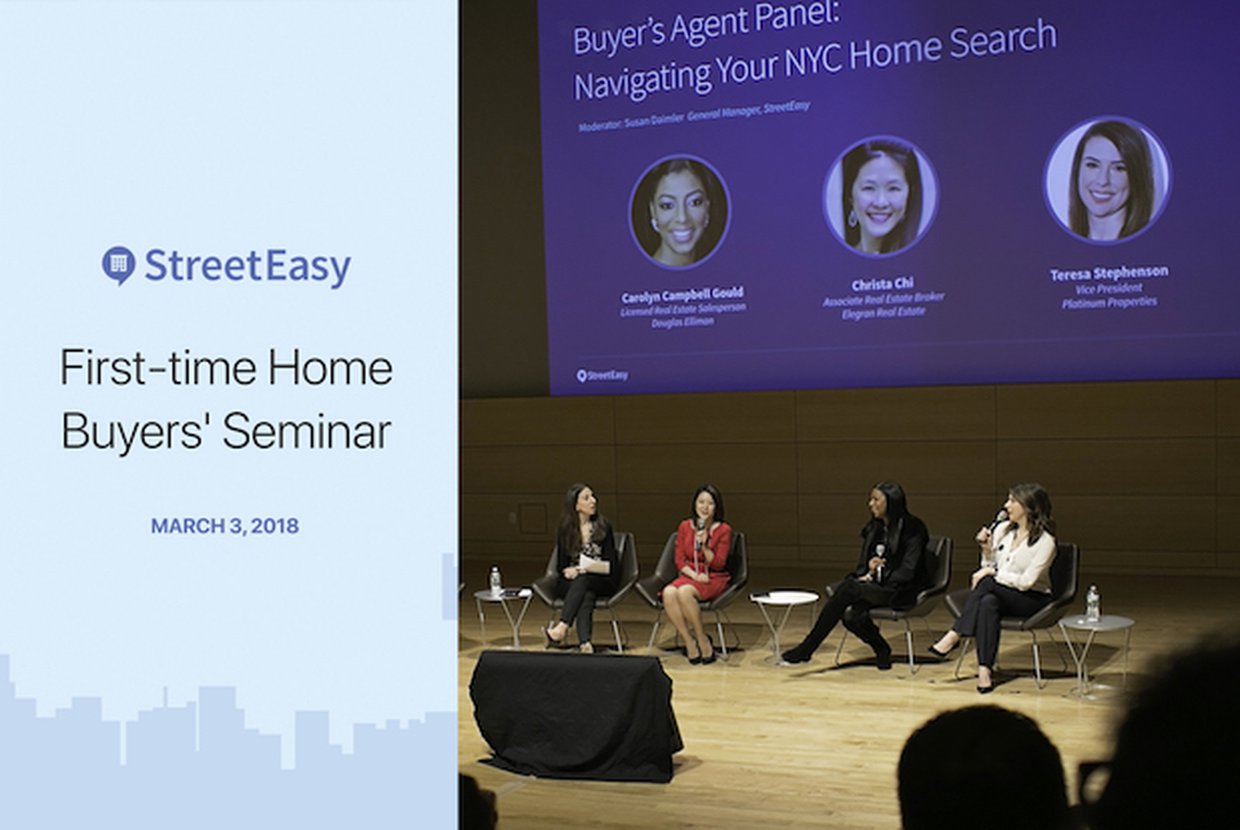 StreetEasy recently hosted their 3rd Annual First-time Home Buyers' Seminar on March 3, 2018, at the New School auditorium in Union Square.
Attendees were given the opportunity to text in and vote on questions for the NYC real estate expert panel that included Elegran's own Christa Chi. Christa's vast real estate knowledge comes from both her professional experiences as a successful agent and also her personal experiences in purchasing, renovating, and selling property in NYC.
For Christa, buying a home is not just one of the biggest financial decisions someone will make in their lifetime, it's also one of the most personal. She encourages her clients to look inward before beginning their home search and to ask themselves things such as: Where do I picture myself in 5 years? What do I need in an apartment in order to be comfortable in my day to day life? What do I like about the neighborhoods I'm interested in? How important is it for me to be close to work? Where do my friends live?
Christa considers herself a lifetime New Yorker and truly loves helping her clients find a piece of the city to call their own.
Here are some of the top questions Christa answered during the event. To see more highlights from the seminar, click here.
We're going to start with the basics! What is a buy-side agent and why should home buyers have one? What value and services do agents provide?
The main responsibility of a buyer's agent is to help educate the buyer so that they can make an informed decision on what often is one of the biggest financial decisions of their life. Their role is to ask the buyer the right questions so they can understand the buyer's unique needs and the type of home to satisfy those needs. For example, how long do you see yourself in New York? Are you considering purchasing property as a home or purely for investment? What is your lifestyle like? Where do you tend to spend your time?
Most buyers would be surprised to find out that only 10% of an agent's role is sending them listings. Thanks to modern day technology, Streeteasy, and email alerts, most active buyers tend to be very on top of their own search, immediately aware of new apartments that come to market within their search criteria.
The other 90% of an agent's role includes giving buyers an understanding of the real estate market in the neighborhoods they are interested in, streamlining the purchase process, conducting due diligence, research, and negotiating on their behalf. One of the most important responsibilities of the buyer's agent is to present the buyer in the best light to the seller and real estate management company to secure their client the apartment they want. The seller's agent wants to find the most qualified buyer at the highest price for their seller and the buyer's agent focuses on making their buyer look like the best candidate for the apartment.
On the importance of setting expectations with your agent
The best clients are ones that are candid and honest with their agents, and willing to set clear expectations from the beginning. For example: Do you expect your agent to send you listings? Do you prefer to go to open houses on your own so you don't have to coordinate schedules? How involved do you want or expect your agent to be?
Most buyers see 10-20 apartments before deciding on their dream home. Even the most caring agent cannot be with them on every single appointment. I always tell my clients if I'm not able to be with them at the open house and they see an apartment they like, I will make an appointment the next day to see it. I never submit an offer for my clients without seeing the apartment first.
I also take extra care to build a relationship with the seller's agent. I want the seller's agent on my side if the client is seriously interested in pursuing the apartment.
What buyers don't always realize is how small the real estate industry is and having a buyer's agent actually makes the seller's agent's job easier. When it comes to negotiations, thoughtful buy-side agents will craft emails with apartment comparables that the listing agent can forward directly to the seller to help best manage conversations around price.
Are you seeing a lot of bidding wars these days? How do you handle them?
Apartments that are reasonably priced (ie., priced around what the last apartment in the building sold for or similar apartments within a 3-block radius) and desirable tend to get multiple offers. Some examples include 1 bedroom apartments in the $575,000-$750,000 price point, 2 bedrooms in the $1,000,000-$2,500,000 price point, and 3 bedrooms in the $2,500,000-$3,250,000 price point.
When trying to secure a home that has multiple offers, I establish a price with my clients that, if another buyer is willing to pay that amount, they would be willing to walk away from the property without regret. This begins with understanding how much they like the property and its intrinsic value. NYC real estate is a very efficient market, meaning if there is a lack of inventory and the selling agent fairly priced a desirable apartment, serious buyers will see the value and make offers. What someone is willing to pay does eventually become the actual value of the property.
What is the most common mistake you see homebuyers make? How can they prevent it?
One mistake I see is when buyers approach purchasing a home the same way they approach buying stock. Namely, they see a property as just an investment, not a home. Purchasing a home is not just a financial investment for future returns, it also provides you the invaluable comfort of owning the space where you live. Most New Yorkers tend to move every 1-2 years and owning a home takes away the stress that comes from increased rents, roommates moving out, and constantly uprooting your life. Some buyers overlook the main daily benefits of owning a home that's theirs to keep, love, experience and enjoy. Therefore, the mentality of owning a home to make money vs. owning a home to enjoy and save money makes a huge difference.
Let's talk co-ops. Should home buyers embrace them or steer clear? What should home buyers think about when considering a co-op?
The overwhelming majority of apartments in Manhattan are co-ops and are usually priced 30-40% cheaper than condos. If you think you'll live in the apartment you purchase for at least 2-3 years, it's worth considering a co-op since most of them allow you to sublet after 2 years for at least 2 years before you'd have to consider selling.
There's a lot that first-time NYC homebuyers should be aware of before beginning their search to have an enjoyable home purchase experience vs. a stressful one. If you're interested in finding a new home, visit Elegran.com and contact agents like Christa who can help you find something that's perfect for you.