Hudson Heights: NYC's Best-Kept Secret is On The Rise
Julia Troy
| March 06, 2018 | Published in
Neighborhood News
Hudson Heights has long been one of the best-kept secrets in New York City, but that secret is about to come out as well educated buyers begin to take note of this fast-growing area. With curving, tree-lined streets, beautiful green spaces, and gorgeous views of the Hudson River, this neighborhood offers New Yorkers the opportunity to experience the tranquility of a slower paced lifestyle, without giving up the convenience and culture of Manhattan.
In 2014, The New York Times described this neighborhood as a place where you could get apartments "at discounts as steep as the neighborhood's hills," without having to give up quality subway service. While this is still true, change has come to Hudson Heights in the past four years and brought with it large, renovated co-op apartments, a new modern luxury condominium, eclectic dining options, and gourmet grocery stores.
A perfect example of the new face of Hudson Heights is The Ammann, one of the first new condominium developments to come to the area in decades. This highly-anticipated building at 40 Pinehurst Avenue boasts a stunning glass and brick facade that contains 24 one- and two-bedroom residences, including four two-bedroom penthouses.
It's not just new developments that are on the rise in Hudson Heights, but home prices as well. The median home price in Hudson Heights is $589,000, up from $399,000 in 2015. Real estate agents representing listings in the area have noticed dramatic price per square foot increases in buildings around The Ammann in just one year.
"A larger pool of buyers, typically those who previously were only willing to buy on the Upper West, are now grasping that Hudson Heights offers more spacious layouts, stunning views, ample green space, and a friendly community at an exceptional value. In 2017, my Hudson Heights sales listings were only on the market an average of 12 days, before receiving accepted offers," said Elegran agent Tanya Bishai.
Along with The Ammann, Hudson Heights is also home to a burgeoning culinary scene. Restaurants like Saggio, a classic Italian spot that boasts handmade pastas and Tampopo, the first Ramen restaurant in the Washington Heights area and gourmet Pizzeria's like Fresco's serves gluten-free pizza. There is also a selection of gourmet grocery stores like Frank's Market, which offers top-quality meats and cheeses, and Vines on Pine, which has a selection of rare wines and craft liquors.
While these shopping and dining options are welcome additions to Hudson Heights, the real reason New York families are eyeing this area is its amazing selection of parks. From the ample wildlife and lovely paths of Fort Tryon Park to the classic beauty and history of The Cloisters, which is part of The MET, there is no shortage of green spaces for adults and children alike to explore and enjoy.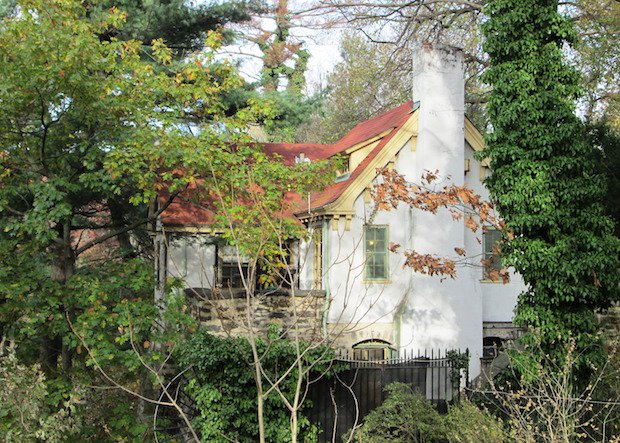 The cottage in Fort Tryon Park

Time is of the essence for buyers want to purchase in Hudson Heights, who should be prepared to make an offer when an apartment hits the market. When renovated pre-war apartments, selling between $700 - $900 per square foot become available, there is no time to waste.
To learn more about Hudson Heights and The Ammann, visit Elegran.com.