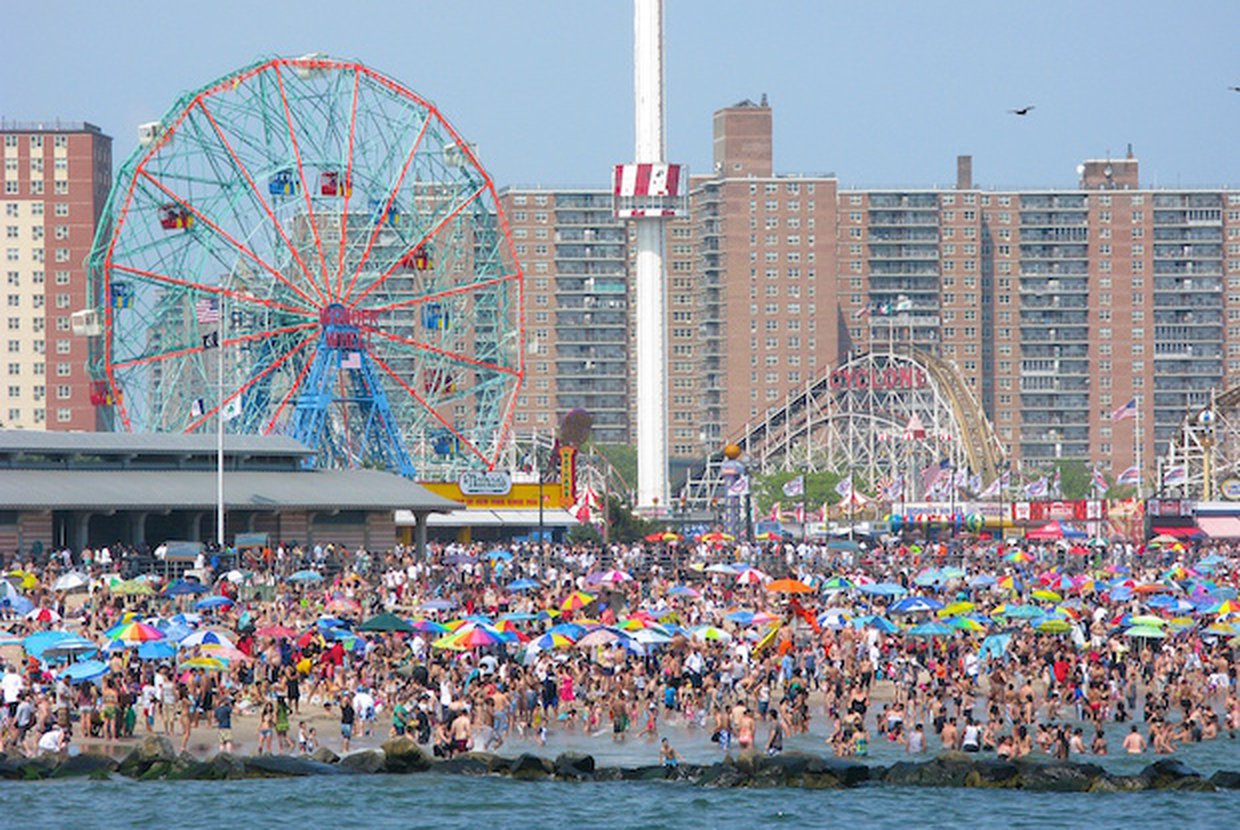 The Coney Island boardwalk is one step closer to officially becoming a landmark in New York City. On March 20 during its weekly meeting, the Landmarks Preservation Commission (LPC) voted to put the boardwalk and its elements (among which include Steeplechase Pier, railings, light fixtures, its comfort stations, and the sand below the boardwalk) on the calendar to become Brooklyn's fourth scenic landmark.
The 2.7 mile long boardwalk has a wooden section which was built in 1923, during the peak of Coney Island's heyday. Other features dating back to the early 20th century include Deno's Wonder Wheel, which opened in 1920 and was named an NYC landmark in 1989, and the Cyclone roller coaster, which opened in 1927 and was named a landmark in 1988. The fight to preserve the boardwalk began in 2014 when City Councilman Mark Treyger argued that the historic walkway should be kept in its original state. The NYC Parks Department had been planning in previous years to convert the walkway into concrete and fake wood, as park officials stated this substitute was sturdier and cheaper than using real wood. But many noted that after Hurricane Sandy, the portions of the boardwalk with real wood sustained minimal damage compared to those renovated with concrete. Even though the boardwalk was largely spared from damage, the city maintained its stance that it should be renovated due to public safety, resiliency, and climate change issues, as Curbed columnist Nathan Kensinger reported in 2015. Treyger did not support the boardwalk's conversion to cement, and urged the LPC to deem it a landmark, stating that "the Boardwalk is a globally recognized, iconic structure that draws millions of visitors each year." At the time, Brooklyn had only three scenic landmarks: Prospect Park, Ocean Parkway, and Eastern Parkway.
The LPC did not approve the boardwalk as a landmark in 2014, and since then a few more of its sections were converted to plastic and concrete. In 2016, Treyger and his colleagues on the City Council adopted a resolution which called on the LPC to rethink their decision and reconsider making the Coney Island boardwalk a landmark. Their efforts to preserve the boardwalk have paid off, as it is now one step closer to preservation and protection against any further changes. Now that the LPC has calendared the boardwalk, the next steps will involve hearing from the public and the city's Public Design Commission. And according to Curbed, the entire process may be complete just in time for the boardwalk's peak season this summer.