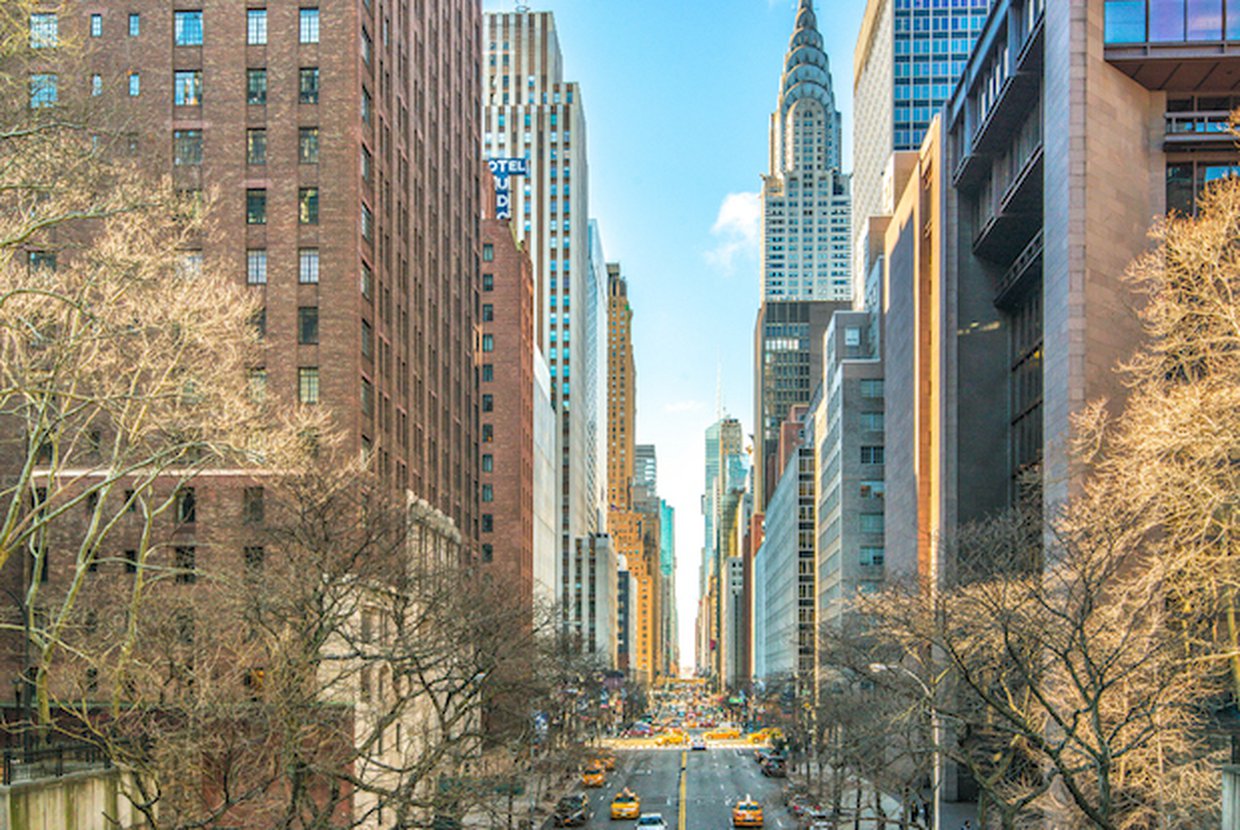 Turtle Bay, situated right next to the United Nations, is a neighborhood with character and flair. Described as homey and quiet, Turtle Bay spans from East 43rd Street to East 53rd Street, and from Lexington Avenue to the East River.
The mini-neighborhood is a mixture of 200-year-old townhouses and modern high rises, along with bars, culturally diverse restaurants, mom-and-pop stores, and popular chains like Starbucks and Duane Reade. Buildings of brownstone, red brick, white brick, limestone, granite, terra cotta, and glass pepper the streets and give the area its own unique, elegant look.
In recent years, Turtle Bay has attracted many young residents and new families in recent years. The neighborhood's flair, combined with numerous new restaurants and bars located along Second Avenue, such as wine bar Bottle & Bine, have increased the area's appeal. Additionally, Turtle Bay offers relatively affordable prices on housing and is in a prime location, at the heart of Midtown. Property Shark recently ranked Turtle Bay at 39th in median sales price out of all 54 neighborhoods in Manhattan, Brooklyn, and Queens. The median sales price in 2017 for a home in Turtle Bay was $893,700, which was a 10 percent year-on-year decrease, based on 396 sales. The median rent for an apartment in Turtle Bay is $3,200, according to StreetEasy.
This riverfront neighborhood is internationally diverse as well, according to The New York Times. Turtle Bay visitors and residents can check out art at the Japan Society, visit the cafe in the Norwegian Seamen's Church, and work on their Spanish speaking skills at Instituto Cervantes, The area is also diverse by architectural standards, with a slew of building designs that make the neighborhood visually unique.
"Turtle Bay is a great location. It has amazing restaurants and bars, yet the rents are still affordable. It's an excellent area to find a first Manhattan home for working professionals and young families, with all of the amenities you could need within walking distance," said Elegran Real Estate Agent Zino Angelides.
The Turtle Bay Association has strived to keep the neighborhood pleasant and small in scale for 60 years. Founded in 1957, the organization's original goal was to stop the expansion of East 49th Street, and since then it has worked with other groups in the community to renovate neighborhood parks and rezone side streets to allow development of low-rise housing. One of the association's recent projects was adjusting a rezoning plan involving the development of high-rise commercial buildings in Midtown East throughout 78 blocks, which included a section of Turtle Bay. The Turtle Bay Association's adjustment implemented height limits from East 47th to East 52nd Streets, along Third Avenue.
With quiet, clean streets, uniquely beautiful buildings, a vast array of shops, restaurants, and bars, and a homey atmosphere, Turtle Bay is an ideal spot to live. More information on home sales and prices for the Turtle Bay area can be found here.